Age is just a mindset
From a shy child turned teenage model to a 25-time pageant winner, mentor, mother and determined entrepreneur, Roberta is the epitome of love, sacrifice and strength. She's won the hearts of many thanks to her humility. In spite of her obvious outward beauty, she's quick to point out that looks aren't her identity, her story is – and it's one she would live over and over just to be where she is today.
"One of the best things in the world for me is the fact that I am a mom, fiance to my incredible partner, Jon, and soon-to-be stepmom too, and I believe it's the little things in life that makes it so great. Little thoughts and gestures, little bits of time with each other, feeling good about what you do on a daily basis, not sweating the big stuff and never forgetting to take pleasure in the things you love at some point each day, even if it's listening to your favourite song."
Roberta's modelling career took off in the 1980s.  By the age of 23 she'd walked off with countless pageant titles, won three cars, featured on several magazine covers and TV commercials, travelled the world as a professional model and opened her own modelling agency, focussed on bringing modelling classes to disadvantaged areas.
"Many of the pageants I entered, I did for fun. I was always positive because I knew I had to be if I wanted to succeed. Modelling encourages professionalism, perseverance and discipline, which was good grounding for me as a teenager and it taught me about business etiquette."
With that knowledge and perseverance, Roberta built her business from a modelling agency to Roberta Alessandri Events and Models, through which she continues to run modelling workshops for girls and co-ordinates some of the most beautiful, well-attended exhibitions in malls across South Africa.
"I'm a Durban girl through and through. I love the heat, the beach and the ocean. I love to dance and have fun. I love life and view it is a gift. My faith is very important to me as this is the strength that sees me through hard times. I am passionate about helping people stand up for themselves and being assertive. I love teaching girls how to see their beauty and improve their self-esteem."
Knowing what your skills are and having a purpose allows you to do what you love as a career, says Roberta, adding that she loves the creation and organisation of events and productions because she is good at it and it feeds her soul.
"We can have more than one gift in life, but it's how we use it that counts. If we use it wisely, it will bring us joy."

Loving yourself solves a lot of your problems
Roberta is a firm believer in self-love and says it can help people who have suffered rejection and abuse in their lives.
"As hard as it is, when you learn to believe you are beautiful and worth so much more, you grow in confidence and believe in your ability to go after the things you want in life. I have seen how beauty lives in the eye of the beholder, and how people are attracted to those who love themselves in a humble, but confident way. Just look at me! I am where I am today because of the challenges I've had to endure and because I am a mother. I got divorced nearly three years ago. At the time it seemed like an awful thing. Divorce was something I never thought would happen to me. It was hard for me to accept, but in hindsight the best thing for me. It took a lot of courage for me to walk away, but I was fortunate to have a wonderful support system."
"I am living proof that you can start over and rebuild your life after traumatic experiences," she says, adding that she would go through the pain over and over again just to be where she is in life at the moment – happy, fit, surrounded by family, rekindled and new friendships and a new man in her life she has grown to cherish and love.
There's more to life than a perfect body… 
"It took a while, but I lost some of the weight I'd put on and got back into teaching modelling again once I felt stronger and happier. It is important to be healthy and stay in shape, but finding the time to exercise is not always doable. I eat as clean as possible but love chocolates and sweets. I would never deprive myself of any kind of food I enjoy. Diet is torture and stretchmarks, let's be honest, I'm pretty sure we all have them. They are not ugly; they are a part of us. In fact, no scar is ugly. Each can add character and be used to one's own advantage."
While Roberta agrees ageing is inevitable, she says it is a mind-set  that we can slow down  with exercise and healthy eating, and doesn't mean frequenting the gym for hours.
"I'm talking about the kind of exercise based on the things we love to do when we have the time to do them. When it comes to skincare, I don't follow a routine. I wash my face with soap and don't use a moisturiser. I do believe in things like non-surgical face lifts, facials etc. – whatever people choose to do that makes them happy. I have recently started doing Caci (a non-surgical face lift) at Crowhurst Spa after I noticed a bit of staffing in my chin and forehead area. It's amazing. It lifts the muscles to where they are supposed to be. Ultimately, I think if we eat well and are  renewed from within – peace, joy, kindness and goodness – the traits that fill our lives with energy – we will age slower."
Forced to pull her self-esteem out of the gutter, Roberta created a picture in her head of the kind of man she would one day like to meet and left it to fate, while she worked on herself and did her best to take care of her two children, Luke and Sarah. And then… she found love again.
"This year has been incredible for my career. I was chosen as a brand ambassador for Ever Beauty SA and Crowhurst Spa and did a swim wear shoot at the age of 51! Through it all, my family, my friends, my children and my now fiancé Jon and his daughters Morgan and Troy, have been an integral part of this journey. The kids have kept me strong and Jon has encouraged me to get back out there and model, to work on my fitness, believe in myself and has helped to rebuild my self-esteem.
The power of self-talk is very important to Roberta. When she has doubts and is down, she prays or finds power in scripture.
"After experiencing trauma you have to be able to tame triggered thoughts and realize they have no power unless you allow it. I have also learnt to have a stronger mind, be more positive and remember what I have accomplished. The way we choose to look at our situation and handle things is the key to recovery."
As if her days aren't jam-packed enough, Roberta also home schools her children because she believes it gives them more time to discover their interests in life.
"The perception that home schooled children are isolated or become anti-social isn't true. I did not choose to home school because I don't agree with the school system. I loved school and my children will probably go to school eventually, but for now I think they are thriving better in a home school environment. It is tough at times to fit everything into my day, along with the pressure of making my own income, but I chose to have a career that allows me to be there for my children as much as possible."
As moms, we always put our children first, and so we should, but Roberta also reminds about the importance of a balance. Spending time with partners, she says, is equally as important as the need to spend time on our own interests and selves.
Creating your own life is essential…
"I like to work and earn my own money and even if I did not have to, I would still do something as I am an entrepreneur. It is important to put your partner and children first, but also to have friends and look after yourself by having that time to relax and think. There's an upside to downtime. We need downtime so we can think and put things into perspective and recharge. My down time is music – putting it on every day and dancing to it, or getting in the ocean with my fiancé and surf skiing or sup boarding and spending lazy afternoons with the kids. It's okay to take things slow. With decision making I never rush. If I cannot get something done today, I will get it done tomorrow. Life is too short to destroy yourself with stress."
"There are so many things I still want to do. I want to take acting classes and travel with my family. I would like to venture into new business opportunities and take on new hobbies. I think that when a woman starts entering her late 40s and 50s, she has to reinvent herself and remember the things in life that made her feel good. If she has given up those things, she should consider starting again. Life is a journey not a destination. I look back and can see how God planned every path for me to walk down to get where I am today. The people I have met and places I have been. How He was in control of every detail, from pushing me through the hard times to planning ahead for good things to happen."
Follow Roberta on…
Instagram: Roberta Alessandri Models
Facebook: Roberta Alessandri Events and Models
Website: www.robertaalessandri.com
Credits:
Make up by: Bianca de Gouveia
Clothing: Gold dress: Seventy Two 72 at Musgrave Centre
Blue dress:  Jasmins Bridal
Hair colour: by Claire at Fusion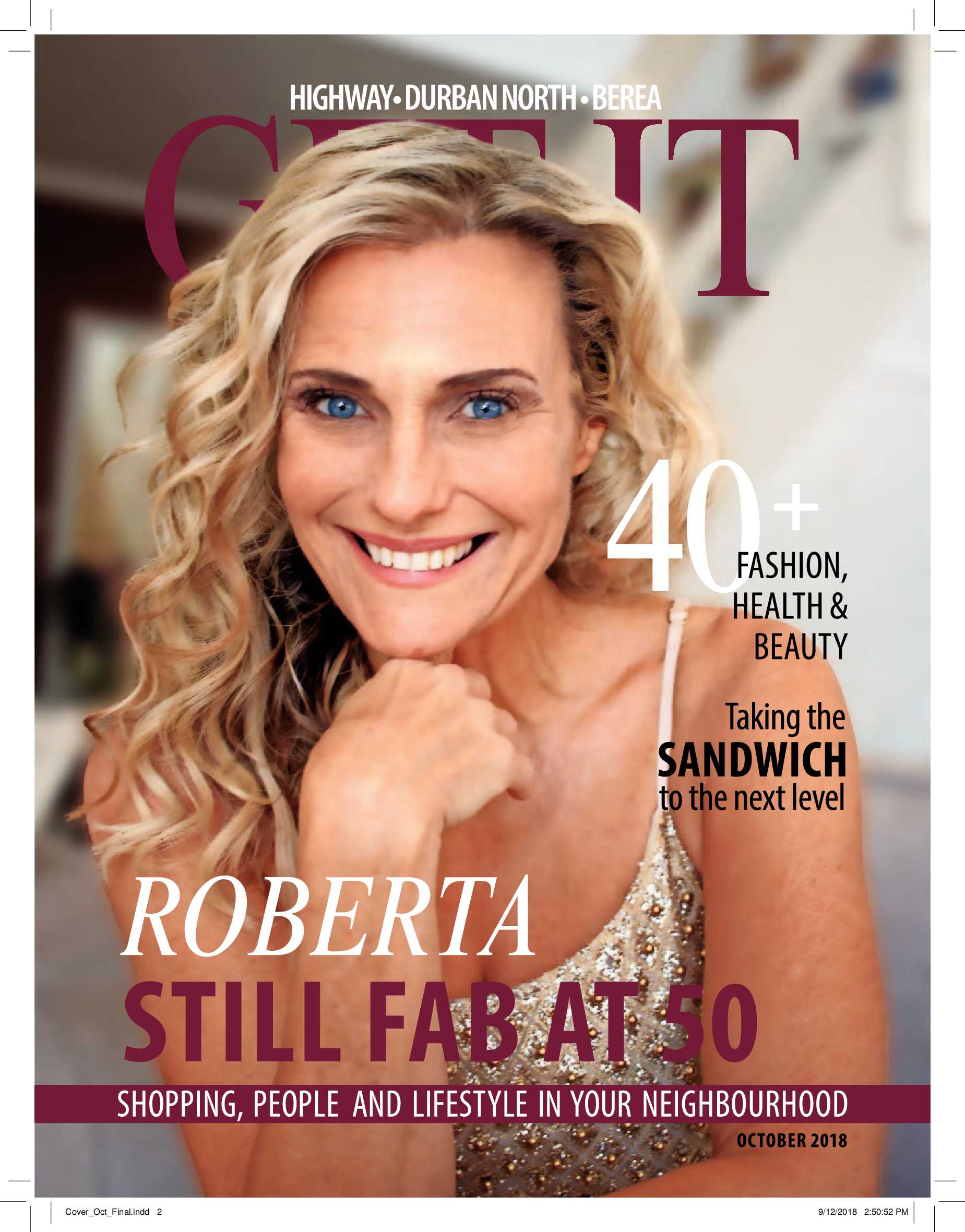 Get It Magazine Durban October 2018
Roberta still fab at 50
View magazine

The Santa Run is Back!
It's the most wonderful time of the year; and what better way to enjoy it than with family and friends at this year's Santa Run powered by The Hub. KZN's very own Christmas themed 5km family run is a fun-filled experience that takes participants in, through, up, down, out and around the beloved Jonsson Kings Park precinct. And we have some tickets to giveaway!
Durban gets the nod for highly anticipated Calum Scott 'Only Human' South Africa Tour
Platinum selling singer/songwriter and Britain's Got Talent finalist, Calum Scott last month announced the South African dates for his 'Only Human' Tour in November with performances in Cape Town and Johannesburg. Following an overwhelming response from Durban fans via social media, Calum Scott has felt the love from KZN and has added 9 November at the Durban Botanic Gardens to the SA tour. And… we are giving away tickets!
Something new on your burger bun
Most of us love the idea of a burger, no matter what our food preference is, and burgers are certainly not for meat eaters alone. For those who are health conscious or don't eat meat, why not add this Pouyoukas recipe of spicy lentil burgers to your burger night as an extra option.
Summer scents
October Spoil
An afternoon of decadence.
21 reasons to open a bottle of FAT Bastard
Life, like FAT bastard, should be filled to the brim and enjoyed in large, delicious gulps. And this year, this well-loved, delicious, full-bodied range of wines, is celebrating 21 years of living large. So named because when first created by
Pinkies up, it's time for tea!
There's nothing quite like tantalising your taste buds in spring with a tall glass of iced tea, which is why we are over the moon that one of our favourite fruit juice brands, Sir Fruit, has introduced a bold, low sugar Ice Tea to its range.
It's fun, there is food, it's the Bierfest at Suncoast
Bierfest is back at Durban premier entertainment destination, SUNCOAST, with an offering of good food, music and beer at this year's TOPS at SPAR Bierfest!
August Spoil
Chocolate biscuits …and a luxury breakaway!
Its time to READ competition
A wise man once quipped: Creativity is contagious. Pass it on. Albert Einstein certainly knew what he was speaking about, and when it comes to encouraging creativity and imagination in our youth, just think of the untold treasure, waiting to be discovered!
is a national brand of premium free magazines available in centres across the country.
to see other Get It magazines in the network.