A simple but revolutionary non-electric, portable slow cooker.
Jackie Cameron
WONDERBAG Heritage Samp and Beans:
Serves: 4
6 portions
Red Wine Sauce:
Ingredients:
750ml Red Wine
150gr Tomato Paste
5L
Beef Stock
Method:
In a large pot, bring the red wine to the boil.
Whisk in the tomato paste and allow to cook for about 5 minutes.
Add the stock, combine well and allow this mixture to reduce by about 3/4.
Strain through an oil filter, place back on the heat, keeping the sauce hot.
Left-over saucecan be placed in the fridge.
Samp and Beans:
Ingredients:
250ml Samp
125ml White Butter beans
125ml Speckled Red Sugar beans
Place the samp, butter beans and the sugar beans into separate bowls, cover with water and leave to soak overnight.
Place into separate pots and boil the samp for 10 minutes, boil the butter beans for 40 minutes and boil the sugar beans for 20 minutes, remove from the heat, placethe lids onto each pot and place into separate tightly closed WONDERBAGS.
Leave the samp and beans in their separate WONDERBAGS for up to 4 hours or overnight.
Any left-over samp and beans can be frozen for later use.
Ingredients:
30gr Salted Butter
30gr Sunflower Oil
500gr Onions, finely chopped
15gr Fresh Onions, grated
250gr Topside Beef Mince Meat
375ml Samp, cooked from the WONDERBAG
187.5ml White Butter beans, cooked from the WONDERBAG
187.5ml Speckled Sugar beans, cooked form the WONDERBAG
250ml Red Wine Sauce
3 Egg Yolks
Salt and Black Pepper
Method:
Heat a pot well, add the butter and oil.
Sauté the onions and garlic until well caramelised, this is very important.
Add the mincemeat and cook, be careful not to overcook.
Add the cooked samp and beans with the red wine sauce and allow to come to a simmer.
Add the egg yolks and season well with salt and black pepper. Allow then mixture to simmer for 2 minutes, then remove the pot from the heat, place the lid on the pot and place the pot
 into the WONDERBAG. Close the WONDERBAG tightly and leave the pot in the WONDERBAG overnight. This will continues cooking very slowly and the mixturewill become really creamy.
Serving Suggestion:
Once the Samp and Bean mixture has been removed from the WONDERBAG, place
the pot back on
the stove to heat up.
Serve with Beef Tongue, Horseradish Potato Crème, deep-fried Capes, crispy Carrots and fresh green
Cabbage.
Wonderbag Mutton Biryani (Serves 6 – 8)
Ingredients:
1.5kg mutton pieces with bone
2 cups whole lentils
2 cups rice
2 stick cinnamon
4 cardamom
5ml cumin
4 green chillies
250ml sour milk
30ml fresh grated tomato
2 sprigs mint
2,5ml saffron
2,5ml turmeric
5ml salt
5ml dhania powder
7,5ml crushed red chilli
6 small potatoes
375ml ghee / oil
2 medium onions
2 cloves garlic, crushed
5ml grated ginger
Directions:
Fry the sliced onions in half the ghee or oil until pale golden. Drain and cool
Leave aside 1 tablespoon of fried onions aside
Place the meat in a large bowl. Add the saffron, ginger and garlic, sour milk, tomatoes, spices, remaining fried onions, whole green chillies and mint and leave to marinate for 1 hour
In the meantime, boil the lentils in salted water until done. Drain off in a colander.
Boil the rice with 2 cardamom pods and 1 cinnamon stick until half cooked and drain.
Peel the potatoes and cut each potato in 6. Fry the potatoes until light yellow in the Ghee used for frying the onions. Set aside In a large flat bottomed pot, add the ghee used for frying and the half that was kept aside and gently heat.
Sprinkle a handful of rice and lentils over the base of the pot.
Arrange the marinating meat and masalas carefully over the rice and lentils
Spread the remaining lentils over the meat
Arrange the potatoes on top of the lentils, then spread the rice on top
Decorate with the fried onions that were set aside, sprinkle with any remaining ghee and 125ml water
Close the pot and turn up the heat and simmer for 5 minutes.
Reduce the heat to low and simmer for 30 minutes
Place the sealed pot in the Wonderbag on a cloth or mat and seal.
Leave for 4-5 hours, then open and serve with fresh dhania, poppadum's and minted sour milk
Medium – difficult
Prep time: 30 minutes
Time on stove: 35 minutes
Time in the Wonderbag: 4 hours
Time save on stove: 1 hour
You will wonder how you ever lived without it!
Wonderbag is a simple but revolutionary non-electric, portable slow cooker. Inspired by her grandmother taking pots off the stove and wrapping them in furniture cushions to keep food cooking after the stove turned off, Sarah realised this age-old heat-retention cooking method could be used everywhere, greatly reducing the need for electricity or fuel.
Made from re-purposed foam, the insulating Wonderbag continues to cook food which has been brought to the boil (using conventional methods) for around 8-12 hours, depending on the density of food in the pot, ultimately saving up to 90% of the energy normally required for cooking. Not only does it keep food hot due to its insulating properties, the Wonderbag also keeps food cold, making it perfect to use all year round.
So, whether you're a busy mum feeding a family of five, an outdoor enthusiast looking to spice up camping meals, or a group of friends looking to simplify dinner parties, look no further than the award-winning, eco-friendly Wonderbag to provide you with a delicious and nutritious home-cooked meal.     
Wonderbag is supported by the Buy And Give (BAG) model. For every large Wonderbag purchased, a donation is made to the Wonderbag Foundation, which enables Wonderfeasts to take place in rural communities and subsidises Wonderbags to vulnerable communities across the globe.
Wonderbag has been recognised, applauded and accepted as a ground-breaking device for all women of the world and a way to heal the world, by dignitaries, world leaders, heads of states and companies from around the world.
How To Use: 
Simply bring your favourite dish to the boil in a pot, simmer for a few minutes, cover with a lid – pop it into the Wonderbag to allow your food to safely continue cooking for up to 12 hours, retaining moisture, nutrients, and bags of flavour.
10 Wonderbag Wonders:
HEALTHY:Cooking in the Wonderbag keeps moisture inside food and prevents nutrients being boiled away.
SAFE:Slow cooking in the Wonderbag uses less water plus food cannot burn. Your family also remains safe from burns or the risk of fire caused from an unattended appliance whilst cooking.
TASTY AND DELICIOUS:Cooking in the Wonderbag over time tenderises meat, keeps vegetables firm, and allows flavours to develop, resulting in tasty and delicious meals.
PORTABLE:The Wonderbag is perfect for transporting meals to picnics and to friends where they are ready to share and eat whilst still piping hot.
CATALYST FOR CHANGE:The Wonderbag changes lives. For every large wonderbag purchased a donation is made to the Wonderbag Foundation. The Foundation distributes wonderbags to families in need in Africa who, by using a Wonderbag, can create more disposable income for education, enjoy better health, have more time with their families, live safer lives and use considerably less fuel which contributes to reforestation.
WONDERTIME CONVENIENCE:Eat when you're ready. Family or friends running late? Keep your Wonderbag meal fresh and hot without spoiling it. Or, prepare meals in advance either the night before or in the morning, and just serve.
INSULATES:The Wonderbag keeps things cold too, so it's a great farmers' market or supermarket companion to keep your groceries cold and frozen while travelling.
VERSATILE:The Wonderbag is not just a slow cooker. It's a great yoghurt maker, rice cooker and bread 'prover' as well.
GOODNESS IN A BAG:The Wonderbag is good to the environment and good to you.
GORGEOUS:Wonderbags are designed and made in attractive fabrics that are easy to wash, wipe and clean.
Large Wonderbag
Small Wonderbag,
Wonderbag products are available from www.wonderbagworld.com
For further information, images or samples please contact:
Follow us @mywonderbag #wonderbag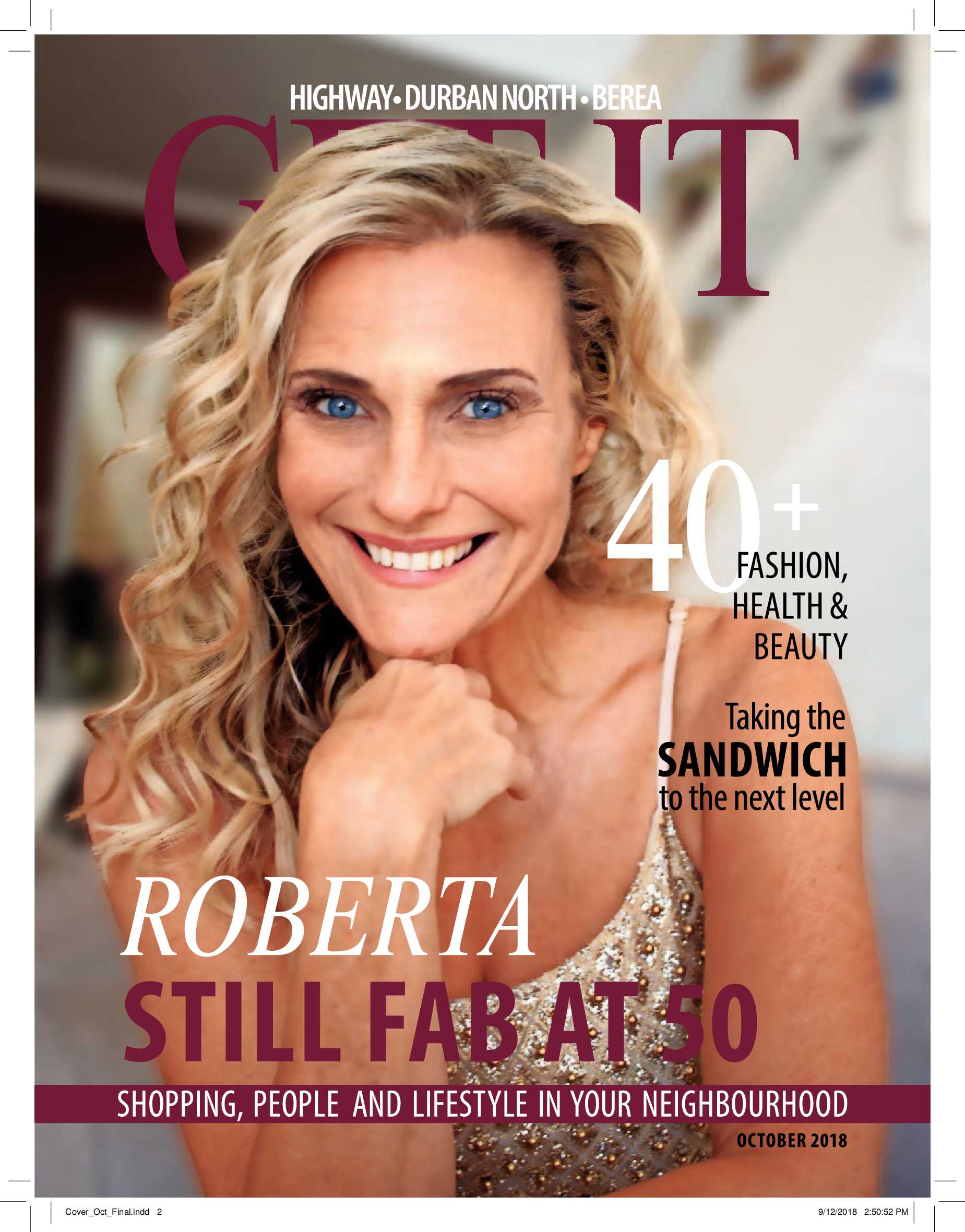 Get It Magazine Durban October 2018
Roberta still fab at 50
View magazine

The Santa Run is Back!
It's the most wonderful time of the year; and what better way to enjoy it than with family and friends at this year's Santa Run powered by The Hub. KZN's very own Christmas themed 5km family run is a fun-filled experience that takes participants in, through, up, down, out and around the beloved Jonsson Kings Park precinct. And we have some tickets to giveaway!
Durban gets the nod for highly anticipated Calum Scott 'Only Human' South Africa Tour
Platinum selling singer/songwriter and Britain's Got Talent finalist, Calum Scott last month announced the South African dates for his 'Only Human' Tour in November with performances in Cape Town and Johannesburg. Following an overwhelming response from Durban fans via social media, Calum Scott has felt the love from KZN and has added 9 November at the Durban Botanic Gardens to the SA tour. And… we are giving away tickets!
Something new on your burger bun
Most of us love the idea of a burger, no matter what our food preference is, and burgers are certainly not for meat eaters alone. For those who are health conscious or don't eat meat, why not add this Pouyoukas recipe of spicy lentil burgers to your burger night as an extra option.
Summer scents
October Spoil
An afternoon of decadence.
21 reasons to open a bottle of FAT Bastard
Life, like FAT bastard, should be filled to the brim and enjoyed in large, delicious gulps. And this year, this well-loved, delicious, full-bodied range of wines, is celebrating 21 years of living large. So named because when first created by
Pinkies up, it's time for tea!
There's nothing quite like tantalising your taste buds in spring with a tall glass of iced tea, which is why we are over the moon that one of our favourite fruit juice brands, Sir Fruit, has introduced a bold, low sugar Ice Tea to its range.
It's fun, there is food, it's the Bierfest at Suncoast
Bierfest is back at Durban premier entertainment destination, SUNCOAST, with an offering of good food, music and beer at this year's TOPS at SPAR Bierfest!
August Spoil
Chocolate biscuits …and a luxury breakaway!
Its time to READ competition
A wise man once quipped: Creativity is contagious. Pass it on. Albert Einstein certainly knew what he was speaking about, and when it comes to encouraging creativity and imagination in our youth, just think of the untold treasure, waiting to be discovered!
is a national brand of premium free magazines available in centres across the country.
to see other Get It magazines in the network.