Durban's Mama Rugby
When we meet Dawn, she's gathered – with her brood of course – around a table in one of her favourite local restaurants and sipping on a late afternoon glass of easy-drinking chardonnay. Dressed in bright yellow for the simple reason that she believes in uplifting a tired body by wearing colours that stimulate joy, she's more than ready to give us a lesson in rugby lingo.
With a wealth of experience in the eventing and hospitality industry and her expertise in rugby and its code of conduct, Dawn is on a proudly South African mission to break down barriers and restore confidence in our boys in green and gold and unite fans across the country. It is this passion that has earned her the respect of her peers and colleagues, and made her a household name.
"There are two things I love most in life. One is being a mum and the other is rugby, a game in which I prefer to indulge as the role of spirited spectator, shouting myself hoarse and praying for our boys to prove themselves as great sportsmen. You see for me, modern rugby is like a game of chess. If you look closely at this beautiful parallel, you'll see some of the surface characteristics are similar, but there is a deeper structure with even more system similarities."
Wide eyed, with hands in motion, Dawn is as animated as she is wildly expressive and fanatical about the game. Nurturing by nature, she is also clearly smitten by the players she has come into contact with over the years and has great ambitions for. She's probably the only woman in the world who compares the game of rugby to deliciousness – likening it to opening and savouring a box of luxury chocolates.
It goes without saying that it is always bound to be a heated affair when Dawn has an encounter with someone she doesn't exactly see eye to eye with. She's straight forwarded, doesn't mince her words and will take you on without hesitation when she feels strongly about something. She is also admired, by those fortunate to have gotten to know her, for sharing powerful lessons about authenticity and forgiveness.
"When it comes to South African rugby, there are those women who love and watch the game, and those who avoid it at all costs. I am the former, in the biggest kind of way. I come from the apartheid era, where non-white schools did not offer rugby as a sport and traditionally, we did not grow up amidst the hype of it, so my love affair with rugby is a late one."
It began with the 1995 World Cup but it was her first live match at the Shark Tank that initially sparked her fondness for rugby.
"I was invited by a Hotel Group to watch a match between the Blue Bulls and the Sharks.  I'll be honest, I knew nothing about rugby at the time. I'm a very proud nerd, I love to read and I never liked sport at all, so this was something completely foreign to me. But, I took the bull by the horns and dressed for the occasion, and then something magical happened. It was as if I'd been klapped in the face with this incredible energy. The fast-paced physical game and the enthusiasm behind it; the laughter, the cheering and the passion from the crowds was undeniable. I found myself enthralled and knew I wanted more."
Dawn wanted to learn all she could about rugby, so she immersed herself in anything to do with the game. It didn't take long before rugby became the catalyst for a beautiful arrangement she had with her late father, Ben Fynn, and Saturdays were reserved for the game. Then came the World Cup, hosted and won by South Africa, following the end of apartheid.
"I remember it as though it were yesterday. It was the first World Cup in which South Africa was allowed to compete and of course, I watched it with my dad. The more I watched, the more engrossed I became. We defeated New Zealand 15 – 12 largely thanks to the incredible drop goal scored by Joel Stransky in extra time. It was a proud moment and one I won't forget because it was a game that unified our broken nation and opened a gateway to peace. What followed was a knock-on effect that led to the Springboks becoming the team everybody wanted to play against. South Africa's history might have been scarred, but that day, the Springboks inherited an aura of another kind."
When Dawn's father died a few years ago, it left a huge void in her heart, but she also knew that her love for rugby meant she would carry his torch with her during every game. By this stage in her life, she was no stranger to the rugby fraternity, a popularity she attributes largely to her determination to bombard the Sharks and Springboks with weekly emails lecturing them about putting the past behind them and moving forward to do great things. As it turns out, this perseverance opened doors and, having caught wind of her effervescence, East Coast Radio invited her to join the show as a rugby commentator.
"It was a no-brainer for me. I finally had a platform through which to share my passion and my instinct for the game, and you can say what you like, but I've earned a great deal of respect, from men especially. While I can lose my nut when we get snot-klapped in the first 20 minutes of a game, I understand the structure of the game and what's involved and I can always back what I say with the stats. You see, I really do know my stuff."
She may be feisty, no-nonsense and renowned for her crazy mood swings at the rugby, but if you're as dedicated to the game as Dawn is, you'll understand her match-day superstitions.
"There are some things that just should not be messed with and our National Anthem is at the top of that list! To massacre an anthem for which our country's people have bled is a gross violation of what is regarded as sacred among a united body. Following close behind is the blatant disregard for what is morally or patriotically good practice. I will not stand for South Africans who openly display their support for opposing teams, and yes, I'm talking about wearing an All Blacks Supporters T–Shirt. OUR players need OUR support. We owe them that much."
When it comes to predicting the outcome of an upcoming game, Dawn is not shy to boast about her brilliant built-in accuracy system.  "When you good, you good hey! LOL! In all honesty, I may not always be on the mark, but I am always on my game, so it goes without saying that I must always be prepared for anything.
As teams across the globe prepare for the 2019 Rugby World Cup, Dawn is doing some preparation of her own. Her efforts are focussed on educating more women about the game of rugby, and in doing so garnering greater interest in the sport and support for our players. She is also clinging hard to the hope that the Springboks will repeat the glory of 1995 and 2007 and bring home the Webb Ellis Cup for the third time in their history.
"I love watching open play with good hands or really inventive play. I love guts and determination. One of the reasons I am so passionate about our Bokke is that they don't always win, but they don't give up. They keep on playing until the last minute. In the old days especially, that was what made them so exciting. Things have changed over the years, reputations have been damaged and I've not always been a fan of the team's selection or the strategies put in place, but just like I must put aside my gripes, so too should the rest of the nation if we are to stand together and support our team as they go head to head against some of the greatest teams in game."
In 2009 South Africa was the reigning World Cup and Tri-Nations champions, and voted the IRB Team of the Year. Since then the Springboks' winning percentage has dropped drastically and Dawn puts this down to coaching and mental conditioning.
"I don't think many people understand the pressure resting on the shoulders of our Bokke – their desire to play an exceptional game and be victorious. None of this is possible without the right coaching, mental conditioning and ultimately crowd support. Looking at our current team and its diversity across the board, I am hopeful. The appointment of flank Siya Kolisi – the first black rugby captain in our 127-year Test history – is fundamental to our rugby journey. He's a true gentleman, and on merit and leadership he deserves enormous respect. Then there's Zimbabwean Tendai Mtawarira who begged for citizenship and whose journey eventually transformed him from a schoolboy soccer player to an international rugby icon; S'busiso Nkosi who's followed in the footsteps of fellow Sharks players and childhood heroes Lwazi Mvovo and Odwa Ndungane by becoming a springbok wing; Jesse Kriel, a utility back who has firmly established himself as a front-line player. These are all players worth believing in and who need us just as much to believe in themselves and their roles in rugby world cup history."
For the first time in a long time, Dawn says she sees pride in the Springbok jersey again.
"I see fear; I see passion and I am reminded of my favourite players of all time: first-choice hooker Bismarck du Plessis and dapper fly half Pat Lambie; our demons on the field – The Beast and Duane Vermeulen; Joel Stransky – most notable for scoring points and his dramatic winning drop goal; and our fallen hero, Joost van der Westhuizen. The list goes on."
"I'm like the neighbourhood Tannie to these guys, but I do my best to do right by them. I think it's high time for dinner at mine, and I cannot exclude Curwin Bosch and Breyton Paulse here. I'd knock them up my famous ninja prawns, followed by lamb curry and finished off with a delicious chocolate cake loaded with caramel filling and topped with Ferrero Rocher. I mean, I've baked every weekend in flip flops when its rugby season and the menu is always planned around the game, so why not?"
During the season, depending on Saturday's game, a Sunday is usually the only day Dawn's mom cooks, because if the Sharks or the Boks have lost, Dawn is nowhere to be seen.
"It's a fact; rugby genuinely has the power to either make me deliriously happy or utterly miserable for days. If we played badly, then it's safe to say I'm usually the moer in. I can also be pretty horrible when I foresee disaster during the first half of a game. In fact, I've been known to turn the TV off, pack up my stuff and my family and head to the park, because I'd rather let go and meditate in the outdoors rather than have to fight the urge to klap somebody."
"My life would be impoverished without rugby. It's something that's given me pleasure over the years. And so I say, with a humble dose of confidence, that the stage has been set for the comeback kid, and South Africa is that comeback kid. We've stood together in trying times, things are now falling into place and we are well on our way to winning a world cup. If anybody can do it, our boys can. Magic happens when you believe in it, so let's."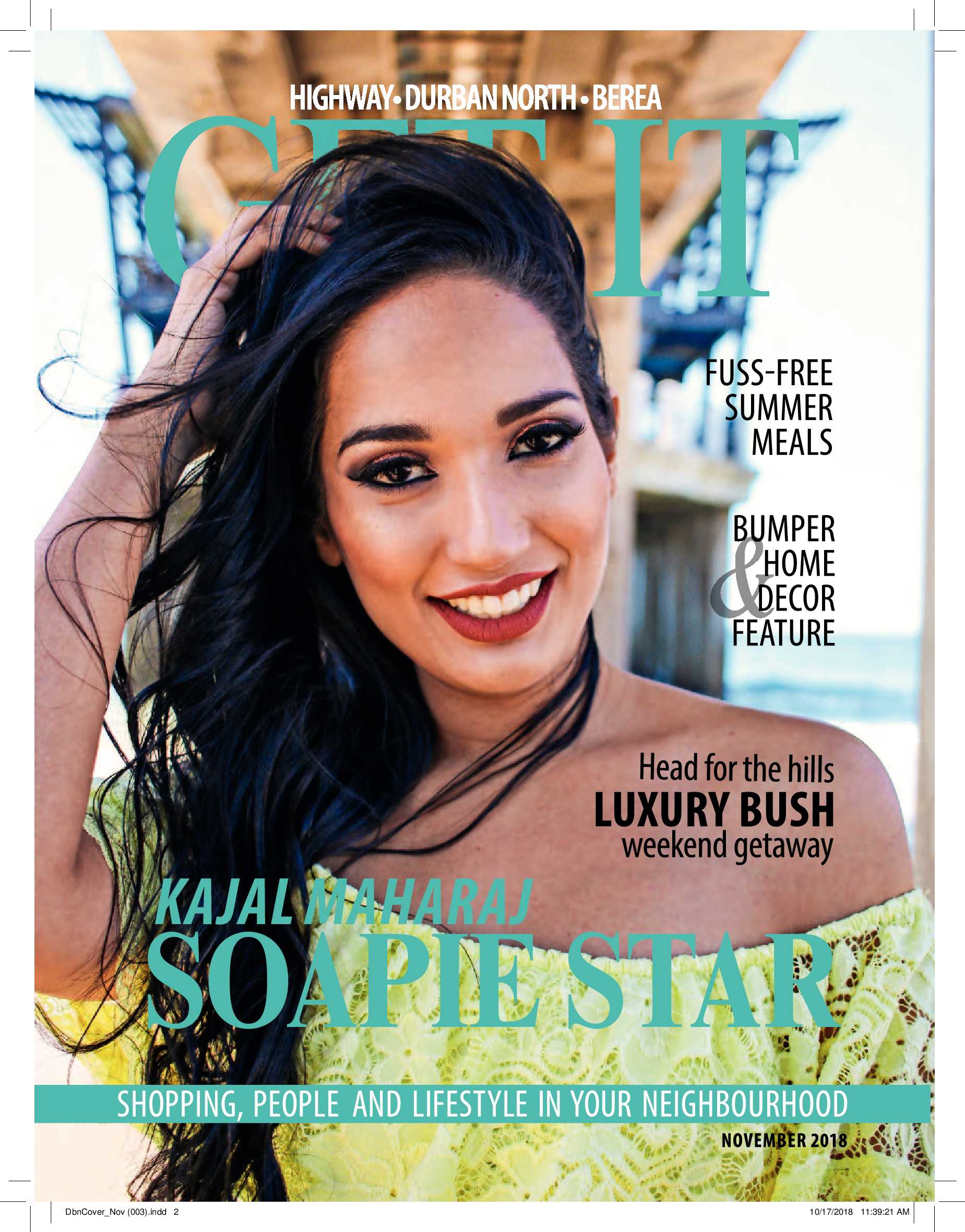 Durban Get It Magazine Nobember 2018
Kajal Maharaj : Soapie Star
View magazine

Win a trip to Disneyland Paris with JAM Clothing
You could win a trip to Disneyland Paris for a family of four!
Summer Spoil
Summer's looking more and more colourful. With shades of sunset pink, marine blue, grenadine and more, these Chameleon ICE watches go from the beach to the cocktail bar … beautifully!
It's wine o' clock
Whether you're partial to a crisp dry white, a fruity zesty rosé, or a ripe and full-bodied red with oodles of citrus or spice or rich mineral finishes, these are some really great bottles that should be in everyone's summer wine rack.
The Santa Run is Back!
It's the most wonderful time of the year; and what better way to enjoy it than with family and friends at this year's Santa Run powered by The Hub. KZN's very own Christmas themed 5km family run is a fun-filled experience that takes participants in, through, up, down, out and around the beloved Jonsson Kings Park precinct. And we have some tickets to giveaway!
Something new on your burger bun
Most of us love the idea of a burger, no matter what our food preference is, and burgers are certainly not for meat eaters alone. For those who are health conscious or don't eat meat, why not add this Pouyoukas recipe of spicy lentil burgers to your burger night as an extra option.
Summer scents
October Spoil
An afternoon of decadence.
21 reasons to open a bottle of FAT Bastard
Life, like FAT bastard, should be filled to the brim and enjoyed in large, delicious gulps. And this year, this well-loved, delicious, full-bodied range of wines, is celebrating 21 years of living large. So named because when first created by
Pinkies up, it's time for tea!
There's nothing quite like tantalising your taste buds in spring with a tall glass of iced tea, which is why we are over the moon that one of our favourite fruit juice brands, Sir Fruit, has introduced a bold, low sugar Ice Tea to its range.
It's fun, there is food, it's the Bierfest at Suncoast
Bierfest is back at Durban premier entertainment destination, SUNCOAST, with an offering of good food, music and beer at this year's TOPS at SPAR Bierfest!
is a national brand of premium free magazines available in centres across the country.
to see other Get It magazines in the network.