Barilla – Italy's No. 1 pasta brings the taste of Italy to your kitchen
Barilla, Italy's No. 1 pasta, has been the cornerstone of Italian cuisine for over 140 years.
Made of the best quality 100% durum wheat semolina and inspired by authenticity and family tradition, Barilla pasta is the preferred choice of the world's top chefs.
"In Italy every person of my generation grew up with Barilla pasta in the classic blue box. Its presence in every store is hard to miss but above all, it's the good quality and value that has made Barilla Italy's favourite choice of pasta," says master of pasta, Chef Giorgio Nava.
Proprietor of 95 Keerom which has been a bastion of authentic Italian dining in Cape Town for the past 15 years, Chef Giorgio won the Barilla World Pasta Championship in 2013 and is an ambassador of Academia Barilla in Parma.
Barilla pasta comes in a myriad of shapes giving home cooks and master chefs alike ample variety to demonstrate their creative flair. When it comes to the cooking process, however, the pasta masters stand united: Pasta must always be cooked al dente. Directly translated al dente means 'to the tooth' or firm to the bite.
"Pasta should never be soft or over-cooked. A firmer pasta texture has a better mouth-feel and taste to enrich your favourite sauces, but there are also real health benefits to cooking your pasta al dente," explains Chef Giorgio.
Pasta made from durum wheat semolina and is cooked al dente has a lower glycaemic index (GI) than other starches. The protein structure of durum wheat pasta lends elasticity and strength, and when cooked al dente, is digested more slowly than most other carbohydrates.
Lower GI foods help to regulate your blood sugars. Soft pasta has a higher GI as the longer cooking time accelerates the gelatinisation of the starch.
"The firmer the pasta, the longer the digestion time which means a lower spike in blood sugars," adds Chef Giorgio.
In Italy the golden rule for cooking pasta is 1:10:100 which translates to 1-litre of water, 10g of salt and 100g of pasta. The cooking time will depend on the cut and shape of the pasta. Follow the cooking time on the Barilla box and make sure the pasta is slightly resistant to the bite by tasting your pasta while it's cooking for the best results.
An essential part of the healthy Mediterranean diet, pasta is the culinary heart of Italy. Pasta shapes come in a wide variety of forms that have their origins in different Italian regions. Traditionally long cut pastas such as spaghetti, linguine and tagliatelle are ideal for soaking up light olive oil or tomato based sauces as well as a heartier Bolognese sauce. Short cut pasta on the other hand such as penne or shell shaped pasta, is perfect for capturing chunkier sauces like hand cut beef ragu or vegetables.
"Perfectly cooked pasta al dente is good for your health and good for the soul," adds Chef Giorgio.
Qualities that set Barilla pasta apart
Made of 100% semolina, the inner part of durum wheat kernels
Golden amber colour
Al dente quality
Low GI energy food
Water remains clear during cooking with no excess starch
Protein structure lends elasticity and strength
It does not break or stick during cooking and will always hold its shape
The story of Barilla
The Barilla Group is a famous Italian family owned, global food company whose commitment to quality, authenticity, innovation and improving people's lives, has stood the test of time. It all began in 1877 when Pietro Barilla opened his family pasta and bakery shop in Parma. During his lifetime the business grew into a successful company culminating in the establishment of the first Barilla factory in 1910. Continuing the family legacy, his sons, grandsons and great grandsons took his vision further establishing Barilla factories across Italy, Europe and the world. Today this family owned business, headed by Guido, Luca and Paolo Barilla, is a truly international company with representation in over 100 countries and 29 manufacturing sites throughout the world. Uncompromising when it comes to quality and best practice in manufacturing, nutrition and protecting the environment, the Academia Barilla was founded in 2004 followed by the Barilla Centre for Food and Nutrition in 2009.
Despite its size, the Barilla company remains inspired by the mantra of founder Pietro Barilla: "Give people food you would give to your own children."
Recipes for Barilla pasta
Spaghetti al pesto
Ingredients:
(Serves 4 people)
350 g Barilla Spaghetti n. 5
180 g Barilla Pesto Genovese
40 g Pine nuts
Basil leaves
Method:
1- Bring a large pot of water to the boil; once boiling, add salt (7 grams per litre) and cook the Spaghetti al dente (firm to the bite) for the time indicated on the pack.
2- In the meantime, in a non-stick pan, gently toast the pine nuts; set aside.
3- Pour the Barilla Pesto Genovese in a large bowl; add a couple of tbs of the pasta cooking water and mix for a smooth consistency.
4- Carefully drain the Spaghetti; transfer the pasta into the bowl and mix with Pesto Genovese.
5- Serve in individual dishes, garnishing with toasted pine nuts and basil leaves to taste.
Penne pomodoro
Ingredients:
(Serves 4 people)
350 g Barilla Penne Rigate n. 73
400 g Barilla Basilico Tomato and Basil sauce
2 tbs Extra Virgin Olive Oil
10 Cherry tomatoes
Fresh oregano
Fresh basil leaves
Pecorino cheese shavings (or Parmesan cheese)
Salt and black pepper
Method:
1- Cut the cherry tomatoes into quarters, and put them in a bowl with 1 tablespoon of olive oil, a pinch of salt and chopped oregano. Set aside and let season.
2- Bring a large pot of water to the boil; once boiling, add salt (approx. 7 grams per litre) and cook the Penne Rigate al dente (firm to the bite) for the time indicated on the pack.
3- At the same time, heat the Barilla Tomato and Basil sauce in a pan, bringing the sauce to a simmer.
4- Drain the Penne and toss with the Barilla Tomato and Basil sauce. Add the fresh tomatoes.
5- Dress the individual dishes adding some shavings of Pecorino, freshly ground black pepper, a few drops of extra virgin olive oil and fresh basil leaves on top.
Lasagne alla Bolognese
Ingredients:
(Serves 12 people)
1 box Barilla Lasagne sheets
For the Bolognese sauce:
¼ cup extra virgin olive oil
2 stalks celery, chopped
1 medium carrot, chopped
1 small onion, chopped
340 g ground beef
230 g ground pork
½ cup dry white wine
3 cups water
⅓ cup tomato paste
Salt to taste
Freshly ground black pepper to taste
For the béchamel sauce:
4 tbs butter
4 tbs flour
4 cups milk
Salt to taste
Freshly ground black pepper to taste
1 cup Parmesan cheese, grated
Method:
Bolognese sauce:
1- Process onions, celery and carrots in a food processor until finely minced.
2- Heat oil in a large frying pan. Add minced vegetables and sauté over medium high heat for 20 minutes.
3- Add ground meat; cook until meat sticks to bottom of pan. Add wine; scrape browned bits of meat on bottom of pan into wine and sauté until wine is reduced.
4- Cover meat with water; stir in tomato paste; season with salt and pepper. Cook at least 1-1 ½ hours or until meat is tender and sauce is thick.
Béchamel sauce:
1- Melt butter in a saucepan. In a separate saucepan, heat milk.
2- Add flour to melted butter. Cook 3 minutes, stirring with a wooden spoon.
3- Add hot milk gradually to flour and butter, beating mixture with a whisk until thickened.
Assemble lasagne:
1- Preheat oven to 180°C. Assemble lasagne in a baking dish (approx. 33×23 cm).
2- Spread ½ cup béchamel sauce on the bottom of pan. Top with ¼ cup of the meat sauce.
3- Assemble 5 layers each with 3 sheets Barilla lasagne, béchamel sauce, meat sauce and grated cheese.
4- Bake uncovered for 20 minutes or until heated throughout. Let it stand for 10 minutes before cutting.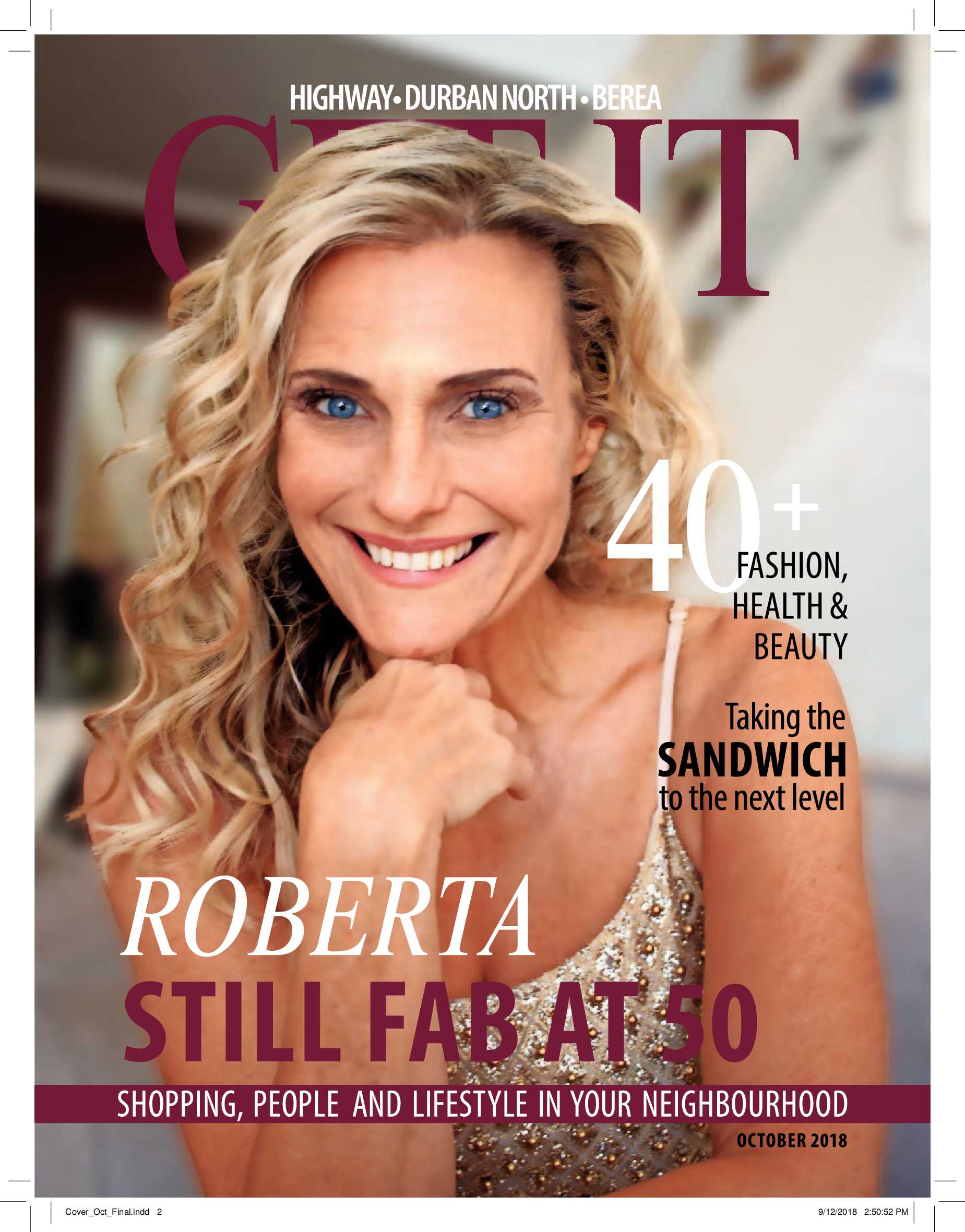 Get It Magazine Durban October 2018
Roberta still fab at 50
View magazine

is a national brand of premium free magazines available in centres across the country.
to see other Get It magazines in the network.