Because we are women, we celebrate
Jailoshini Naidoo (Jennifer Kandasamy)
For Jennifer Kandasamy, Women's Day is very important as the values and significance of the day resonate with those she believes in and wants to instil in her daughter Jodi – how to be bold yet sensitive, confident yet humble, resolute yet charming and strong yet compassionate
Personally, for me, women's empowerment means honouring your heritage and never losing touch with your roots while being a bastion of strength and progressive thinking. It means being secure and comfortable with who you are…staying true to yourself and celebrating your uniqueness. As women, we're often very hard on ourselves. It's important to be kind to ourselves and understand our value and how much every single one of us has to offer. We are truly a force to be reckoned with
My character is a real, authentic South African woman with universal appeal. I think all women across the board can identify with her, not only as a strong-willed woman who takes charge, but also as an independent woman with the ability to make choices and openly voice her opinion. She's overcome many challenges and taken charge of her life yet there is still a gentleness and kindness within. She's the kind who won't tolerate the toilet seat being left up but ultimately would stand by and  support her husband with a fierce loyalty. She pushes her family and is hard on them but also protects them ferociously. Jennifer is a strong, multifaceted, remarkable woman – indeed an ambassador for Women's Month!
Jennifer also has a compassionate side. She can be a real softie when she's celebrating with friends and family.   That's not all, play her favourite bangra time and she'll dance the night away as vibrantly as a teenager!
Jennifer is inspiring in that she takes care of herself, she's into healthy eating (save for the "birdie poo" smoothie) and loves exercising. This serves to inspire women and remind us
that even though being a mother often calls for one to be self-sacrificing, one needs to realize that it's okay to listen to your inner voice and pay attention to your own needs occasionally. Indulge in a good book and bar of your favourite chocolate, have coffee with friends, pamper yourself by having your hair and nails done, or just bask in the sun with your man one day in the week! You can't be your best for others if you don't take care of yourself. We should never feel guilty to do that….we owe it to ourselves.
More importantly, as women, let's celebrate and champion each other. We need each other and the world needs us …so laugh loudly, cry bravely, dance wildly, sing freely, love unconditionally and celebrate wholeheartedly. Because we are women!
Maeshni Naicker (Shanti Naidoo)
For me empowerment is when a woman can make choices for herself, for her own benefit , for  her family and her society. My mother instilled these values and way of life in my from a young age . My dad passed away when I was very young and as a single parent my mum empowered herself and was able to make correct choices for herself and educate her three children. She taught me to always stand tall and be strong and independent. But together with this strength, she proved how important it was to be gentle and to stay true to my inner self.
How important is it for women to build each other up?  United we stand, together we can move mountains! I think that women together are a solid force. We are the foundation of the family and society. Like the women of 1956, we should translate the common bond that we have into action. There are so many ways in which we can support and empower one another in our everyday situations.
Being a fuller-figured woman makes life difficult at times and we feel insecure and have low self-esteem, but if we can change that mind set we can achieve anything. We have to won it! Love ourselves and our bodies and be proud of the strides we have made. I think my characters have always been loud and fun and the life of the party . You don't need to have all the material wealth in the world and the beautiful body to be somebody. Love, family and compassion are the most important things we should value.
Stand together as women. Support one another. Motivate, and show love always!
Mishqah Parthiephal (Jodi Kandasamy)
When I first started acting I was 19 years old. I had just completed my first year of Law and felt restless and unsettled with this choice of career. Deep within m, I knew that it had not won over my heart and that my calling lay elsewhere. Was I going to brave enough to make the leap of faith, to plunge into the world of Arts? That decision to change my degree to a Bachelor of Arts changed the course of my life entirely.
I joined an acting agency and started auditioning immediately. Sounds so easy, I know. It really wasn't. Even though I was auditioning often for commercials, TV series, soapies and movies, I learnt that rejection is something you have to embrace. This left me feeling miserable about myself. As soon as I decided to give up on my dreams of being an actress, I came across an audition for a low budget feature film. I auditioned and landed my first acting job.
I've been an actress for 10 years now. Most of those years I went back and fought between quitting acting and soldiering on through a very unforgiving film industry. I often felt weak and defeated. But it was in these low moments in life where I felt strength in my fellow female colleagues and drama classmates. They urged me to power through and never give up on myself. I now look back and feel eternally grateful for their love and support. Women empowerment doesn't only speak to adult women, but young women too. We often forget this. As high school and university students, our unwillingness to support fellow female classmates are often blamed on immaturity and naiveté. We need to stop the bullying and the name calling. To me, women empowerment means that we need to uplift and support other women and celebrate their successes and achievements. We should not discourage and put down other women just to make ourselves feel better.
Mariam Bassa (Aya)
As a young girl I always dreamed of being in the Arts, performing on stage in a serious drama or a musical .  Whilst it was predicted that I would be a movie star, being naive I followed the other conventional dream of the "happily ever after." So, tertiary education went out of the window to be filled by a lifetime of fetching , carrying ,  cooking and cleaning .Having pursued this with great vigour, I  suddenly found myself  with nothing to do as the kids moved on. My passion for the arts returned.
After a few years in radio drama, I was approached to audition for the part of an old lady  in a movie. I needed a little persuasion as I was unsure of myself. I had never really been part of a major feature film project before. I was delighted to land the part and my most exciting journey began.
Shooting  the movie was  exciting as it was scary. I was surrounded by such professional and amazing talent, but  the cast and crew were most patient and helpful. It gets pretty scary believe you me when silence descends on the shoot and the cameras are on you and  they go' Action'  and you have to promptly start acting .
So to all the ladies out there who feel that they are getting on in life and that there may have been missed opportunities and that it's a bit too late, I say ' never give up on your dreams.'  It is never too late . No matter how old, there is a place for your dreams . Nothing comes of nothing . We have to find the something.
WIN
We were thrilled to hear that the sequel to the highly successful Keeping up with the Kandasamys is on the cards and will be released in 2019. In the meantime, you can win a DVD of the highly successful movie, Keeping up with the Kandasamys by entering our competition online. Just find the competition on our home page and follow the prompts to enter.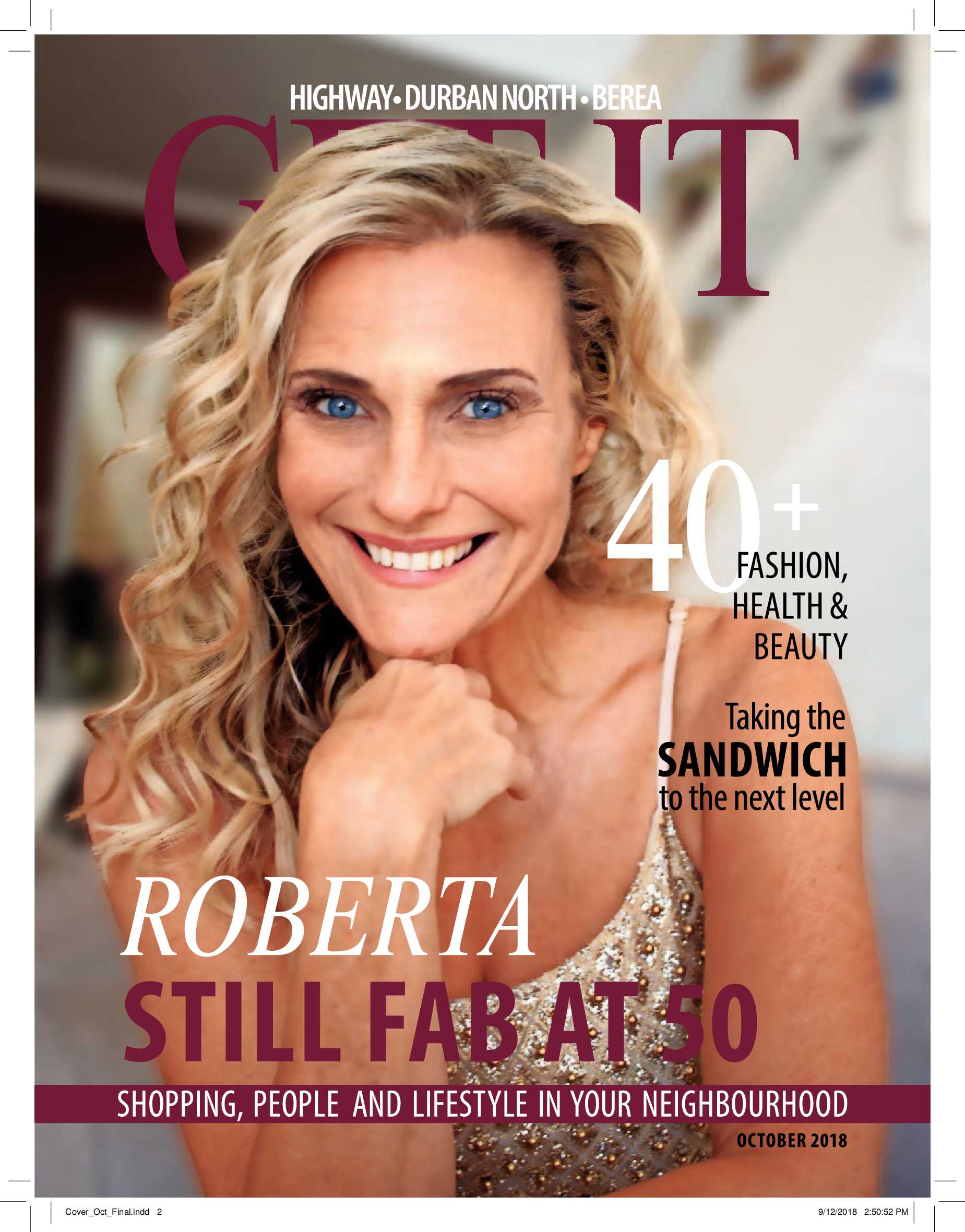 Get It Magazine Durban October 2018
Roberta still fab at 50
View magazine

The Santa Run is Back!
It's the most wonderful time of the year; and what better way to enjoy it than with family and friends at this year's Santa Run powered by The Hub. KZN's very own Christmas themed 5km family run is a fun-filled experience that takes participants in, through, up, down, out and around the beloved Jonsson Kings Park precinct. And we have some tickets to giveaway!
Durban gets the nod for highly anticipated Calum Scott 'Only Human' South Africa Tour
Platinum selling singer/songwriter and Britain's Got Talent finalist, Calum Scott last month announced the South African dates for his 'Only Human' Tour in November with performances in Cape Town and Johannesburg. Following an overwhelming response from Durban fans via social media, Calum Scott has felt the love from KZN and has added 9 November at the Durban Botanic Gardens to the SA tour. And… we are giving away tickets!
Something new on your burger bun
Most of us love the idea of a burger, no matter what our food preference is, and burgers are certainly not for meat eaters alone. For those who are health conscious or don't eat meat, why not add this Pouyoukas recipe of spicy lentil burgers to your burger night as an extra option.
Summer scents
October Spoil
An afternoon of decadence.
21 reasons to open a bottle of FAT Bastard
Life, like FAT bastard, should be filled to the brim and enjoyed in large, delicious gulps. And this year, this well-loved, delicious, full-bodied range of wines, is celebrating 21 years of living large. So named because when first created by
Pinkies up, it's time for tea!
There's nothing quite like tantalising your taste buds in spring with a tall glass of iced tea, which is why we are over the moon that one of our favourite fruit juice brands, Sir Fruit, has introduced a bold, low sugar Ice Tea to its range.
It's fun, there is food, it's the Bierfest at Suncoast
Bierfest is back at Durban premier entertainment destination, SUNCOAST, with an offering of good food, music and beer at this year's TOPS at SPAR Bierfest!
August Spoil
Chocolate biscuits …and a luxury breakaway!
Its time to READ competition
A wise man once quipped: Creativity is contagious. Pass it on. Albert Einstein certainly knew what he was speaking about, and when it comes to encouraging creativity and imagination in our youth, just think of the untold treasure, waiting to be discovered!
is a national brand of premium free magazines available in centres across the country.
to see other Get It magazines in the network.