The taste of Africa
Recently selected to represent SA for Culinary Arts in the Chefs in Africa Foundation, and officially a member of The Executive Advisory Board for Culinary Arts and Hospitality at DUT in association with The Department Of Co-Operative Education, Sherwyn is about to publish his third cookbook.
"I have travelled across four continents, launched a comic cookbook for teens and I am a mentor for Project Enza, an organisation that uplifts South Africa's Youth, and gives back because no matter how high you go in life, should always remember your roots and offer a helping hand. I want people to fall in love with food, let food start the conversation, whether it's that awkward first date or simply bringing family and friends together in a kitchen, the heart of the home."
My kitchen Story…
Sherwyn's love of cooking stems from having grown up in a home surrounded by food, spending time with his mother in the kitchen and in the company of family and friends. He draws inspiration from childhood memories, his experiences and travel.
"It goes without saying that food was always on my mind. Be it breakfast around the table with my brothers and sisters or the cup of tea and biscuits after dinner with our grandmother. My parents shared 12 siblings between them, so Sunday lunches averaged on 40 to 50 family members running around our house. Money was certainly not flush and there were times we had close to nothing, but what we did have, was each other. I now have a treasure chest of memories captured in the tastes and smells that up unto this day remind me of home."
Why I love local
"I love the authenticity and diversity in South African food. I grew up visiting my grandmother on the farm and recall eating Usu made over the fire with dombolo and atchar, and then visiting my grandfather and having a slice of milk tart. I think it's fairly obvious I am mixed race, so that has given me the opportunity to eat many different foods made from the same ingredients but just prepared differently. Some people say that sport brings a nation together, but I believe its food! I've never seen a person miserable and eating at the same time. It's just not possible."
How to, with breads
Being raised in a home with so many, we were taught to share. Most times we really hated it, especially if you were the one doing the sharing, though I look back now and those are some of the memories I hold closest to my heart. My cousins and I used to sit on the steps at my grandmother's house sharing thick slices of freshly baked bread for lunch with jam and peanut butter or just regular butter. It's the kind of thing that makes your childhood great, not just because you ate like a king whilst sitting on the floor, but because you were with people who were are there for you no matter what, your brothers, sisters, cousins (even the ones I don't really like), and your first real best friends.
The Standard Loaf
It is not known when yeast was first used to bake bread, but the first records that show this use came from ancient Egypt. Bread is now a staple across every home around the world, and if you get this one right, you might just be South Africa's Master Baker.
What you will need:
3 cups cake wheat flour
1 sachet instant dried yeast
1 teaspoon salt
1 1/2 cups warm water
2 tablespoons vegetable oil
What you need to do: Make the dough by pouring the flour, yeast and salt into a large bowl and making a well in the middle. Pour in most of the water and use your fingers to combine the flour and water together until combined to a slightly wet, pillowy, workable dough if the mixture is slightly dry, add a splash more water if necessary. Toss the dough onto a lightly floured surface and knead for at least 10 mins until smooth and elastic. Tthis can also be  done in a table top mixer with a dough hook. Place the dough in a clean oiled bowl, covering it with your dish cloth and leave to rise until it doubles in size, normally around 30 minutes. Knock back the dough by tossing it back onto a floured surface and pushing the air out. Mould the dough into a rugby ball shape and place in the tin. Cover with a clean dish cloth and leave to rise for 30 mins. Dust the top of the loaf with a little more flour and slash the top with a sharp knife if you want. Bake your bread for 15 minutes at 200°C, then reduce the heat to 180°C and bake for another 30 minutes. It's ready if you knock on the bottom of the loaf once out the tin and you get that hollow noise, pretty much like my younger brother's head.
Curry up…
"Turmeric is the mother of all spices and curry. If it does not have manja powder in it, it's not a curry. Also, my gran always put it on open cuts to prevent infection. I'm not quite sure how accurate it was. This is my take on a korma, a North Indian delicacy (using turmeric) and the stuff dreams are made of. Chicken Korma is one of those family dishes that seems to fill up 95 per cent of my plate whenever I visit an Indian food buffet. It is rich, creamy, full of spices and flavour and just begs to be soaked up with a piece of fresh naan."
Chicken Korma
What you will need:
1 onion diced
4 tablespoons vegetable oil
1 clove of garlic crushed
1 thumb-sized piece of ginger crushed
1 small cassia stick
4 skinless chicken breasts cut in thumb sized pieces
1 teaspoon manja/turmeric powder
1/2 teaspoon garam masala
1/2 teaspoon ground jeera/ cumin
3 chillies split and diced
1/2 teaspoon chilli powder
salt and pepper to taste
1/2 bunch coriander roughly chopped
1 handful of cashew nuts toasted
1 can coconut milk
What you need to do: In a large pot heat your oil, once heated add in your, onions, garlic and ginger. Gently fry until your onions are slightly see through. Once sautéed, toss in your cassia stick and chicken pieces with your chilli. Cook this off for about 3 to 4 minutes until any excess water given off by the chicken is evaporated and add in your dry spices. You need to constantly stir to prevent your food from sticking or your spices burning. There is a very fine line between cooked spices for maximum flavour OR burnt spices for that bitter taste. Now that your spices are cooked off add in your salt and pepper with coconut milk or cream for a thicker texture. Simmer for about 20 minutes uncovered and garnish with your roughly chopped coriander just before you serve it with your roti or your steamed basmati rice.
Steak 
"So, it goes without saying that South Africans are always in search of the perfectly cooked steak. I mean the flavour profiles that blush of pink surrounded by that garlic and spice rub seared off in a stainless steel pan.  Here are my favourite and top tips when cooking the perfect steak. But, I am an African, so I've added a little twist."
"In my travels across Africa, I fell in love with freshly ground cumin, we call it, "ground jeera," in Durban. Make sure your steaks are always at room temperature before seasoning and don't add any salt to your meat until the very last moment before you throw it in the pan.  So my Moroccan Steak goes a little like this…"
What you need to do: Grab a 200g steak which is at room temperature. Season it generously with freshly cracked black pepper and a generous amount of ground cumin. Get your pan nice and hot because you want your steak to sear giving you that beautifully balanced char-sear. However, please avoid any non-stick cookware when cooking a steak. You want it to stick, so you want a good quality cast iron or steal pan. If the meat sticks, it just means you need to wait a little longer for it to cook. You shouldn't have to fight with the steak in the pan, just let it cook. As your steak goes into an oiled pan, season with salt to taste. This way, you prevent the steak from drying out but the salt also raises the temperature of the pan by 2 to 3 degrees as salt is a conduit for heat. Once your steak is cooked to perfection, you can slice it up and serve it on a board with a few steamed broccoli stems and some extra salt… oh and a good glass of red wine!"
Why the salad?
"With the current food waste pandemic in South Africa, most of the food thrown away is fresh produce. By combining these two classical ingredients (green beans and mielies) which are inherently African, we support the local farmers growing our economy and we fight food waste in a tasty but nourishing way. Mielies are a staple not just in South Africa, but in Africa, and I love to showcase how to use our foods in a cost -effective way. Education in food is something that is new to South Africans. With more than 30 per cent of our population unemployed, we have a duty to inspire others and to educate people about our most precious resource, our food supply, and to ensure that everyone in our South African home is fed and nourished.
Pan-Roasted Mielies and Green Bean Salad with Tequila Vinaigrette   
What you will need:
1 teaspoon Dijon mustard
3 tablespoons sherry vinegar
1/4 cup extra virgin olive oil
Salt and pepper
4 ears of sweetcorn, grilled
500 g green beans, blanched and cooled
150 g cherry or grape tomatoes, halved
1/2 red onion, thinly sliced
1 cup basil leaves, thinly shredded
250g ricotta salata, shaved
100 ml tequila
What you need to do: Prepare vinaigrette by whisking together mustard, vinegar, oil, tequila, salt and pepper. Set aside. Place corn in a hot pan and watch it sizzle away, bursting and blistering with flavour and starting the natural caramelization process. Cut kernels off corn cobs and leave a few whole and put in a large bowl. Add in your green beans, tomatoes, onion and basil. Drizzle vinaigrette over and toss to combine. Top with ricotta salata and serve.
Fresh ocean gems…
"Well, it all started in the dirt roads of Namibia after spending two nights in Luderitz in a two-man tent and waking up to the sounds of hyenas rummaging around the Lighthouse. Yup, I love the outdoors and a while back in my travels I spent a week on set filming a TV show where I got to visit a National Heritage Site in Namibia and explore their beautiful history and culture. I sat around a fire one night with a few friends, and after a day of swimming in the Atlantic Ocean we all wanted, no needed, a bit of sustenance. A friend and I went to the local market and grabbed a few mussels and we had a few bottles of wine to keep us warm. Out came the Potjie and I had to use these fresh ocean gems to make something memorable for the occasion.
Mussel Pot
What you will need:
1 knob butter
1 shallot finely diced
2 cloves of garlic crushed and diced
Salt and Pepper to taste
250ml cream
Flat leaf parsley to garnish
What you need to do: Place your Potjie pot over open coals and let the flames lick and dance the sides as the temperature rises, heating your cast iron super tool – a South African masterpiece! Once heated add your butter, shallots and garlic. You want to get your onion translucent and your garlic with golden brown edges to give you that buttery delicious flavour that only garlic can. Add in freshly cracked black pepper and sauté. Add in your mussels and a glass of your favourite wine. I went with Running Duck Sauv Blanc, a beautifully balanced white with a hint of acidity for that perfect balance. Cover and let it simmer for no longer than 3 minutes, and watch your mussels pop open releasing that ocean flavour with the makings of Olympic Gold in a pot. Once your mussels have popped, pour in your cream and add salt to taste. Let the cream reduce, giving you that creamy garlic sauce and garnish with some freshly chopped flat leaf parsley. Yup, it goes without saying that Luderitz was a trip worth remembering and the food made that night are in the memories of quite a few good friends who are now family.
The Love Bug…
"They said work hard, you will love it. Well they never lied, I love what I do. Beaten, battered and bruised, always bounce back no matter how stressed or sick or tired I am. So, here is something that keeps me on my feet and is a quick treat for any love bug, especially when you have a broken oven. It's a quick chocolate pud that makes your heart melt and oozes with taste. (I mean who doesn't like chocolate dipped in chocolate). And to add some African authenticity to it, I've adjusted my initial recipe to include coffee, one of Africa's strongest exports. From Kenyan to Ethiopian and Ghanaian,
some of the best varieties of ground beans are uniquely African and available throughout the world."
Triple Chocolate Pudding
What you need:
For the batter:
I level teaspoon ground coffee
1 cup sugar
4 whole large eggs
3 teaspoons baking powder
4 tablespoons dark cocoa
1 cup cake wheat flour
1/2 cup olive oil
1/2 cup tap water
For the ganache:
2 cups dark chocolate
1 cup fresh cream
What you need to do: Start your fire and let your coals burn white, bringing them down to a medium heat. Now, it may seem fairly simple, but it can go horribly wrong so pay attention, this recipe is older than my grandmother who is knocking on 80 plus, and she passed it down from her grandmother! Whip your eggs until they get fairly light in colour and gradually add in the sugar. Toss in the baking powder and cocoa and fold it in. Gradually add in your flour and cocoa, and mix through until it is combined. Add in your water and oil, and you should get a slightly smooth yet runny batter.  Pour the mixture evenly into your enamel cups (an empty cocoa tin will also do) with each cup (or tin) filled about halfway. Cover tightly with foil and place in your potjie pot, letting them steam for about 30 minutes. In a separate pot, take your chocolate and add it to your cream and melt it through until you get a smooth and runny chocolate ganache. When your dessert is ready, place it on a chocolate board with a few strawberries and drizzle the chocolate ganache over just before you serve.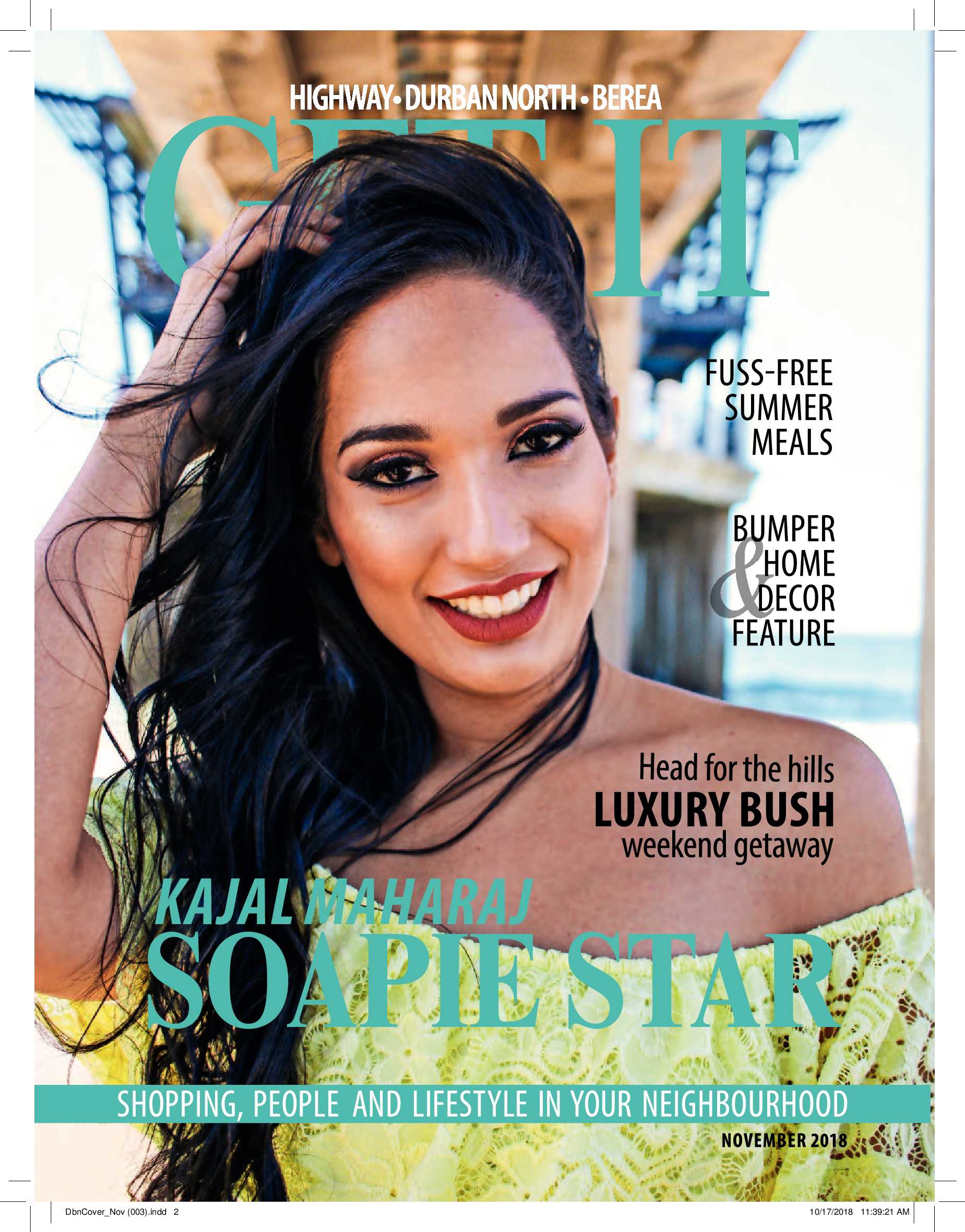 Durban Get It Magazine Nobember 2018
Kajal Maharaj : Soapie Star
View magazine

Win a trip to Disneyland Paris with JAM Clothing
You could win a trip to Disneyland Paris for a family of four!
Summer Spoil
Summer's looking more and more colourful. With shades of sunset pink, marine blue, grenadine and more, these Chameleon ICE watches go from the beach to the cocktail bar … beautifully!
It's wine o' clock
Whether you're partial to a crisp dry white, a fruity zesty rosé, or a ripe and full-bodied red with oodles of citrus or spice or rich mineral finishes, these are some really great bottles that should be in everyone's summer wine rack.
The Santa Run is Back!
It's the most wonderful time of the year; and what better way to enjoy it than with family and friends at this year's Santa Run powered by The Hub. KZN's very own Christmas themed 5km family run is a fun-filled experience that takes participants in, through, up, down, out and around the beloved Jonsson Kings Park precinct. And we have some tickets to giveaway!
Something new on your burger bun
Most of us love the idea of a burger, no matter what our food preference is, and burgers are certainly not for meat eaters alone. For those who are health conscious or don't eat meat, why not add this Pouyoukas recipe of spicy lentil burgers to your burger night as an extra option.
Summer scents
October Spoil
An afternoon of decadence.
21 reasons to open a bottle of FAT Bastard
Life, like FAT bastard, should be filled to the brim and enjoyed in large, delicious gulps. And this year, this well-loved, delicious, full-bodied range of wines, is celebrating 21 years of living large. So named because when first created by
Pinkies up, it's time for tea!
There's nothing quite like tantalising your taste buds in spring with a tall glass of iced tea, which is why we are over the moon that one of our favourite fruit juice brands, Sir Fruit, has introduced a bold, low sugar Ice Tea to its range.
It's fun, there is food, it's the Bierfest at Suncoast
Bierfest is back at Durban premier entertainment destination, SUNCOAST, with an offering of good food, music and beer at this year's TOPS at SPAR Bierfest!
is a national brand of premium free magazines available in centres across the country.
to see other Get It magazines in the network.