Living for adventure
Once better known as the Fat Kid on a Bike after spending 27 months in 2013 undertaking the world's first solo 43,000km bicycle expedition through every country in Africa and Europe for a cause close to his heart (#LettiesRide), the self-confessed hopeless golfer last year jumped at the opportunity to join fanatical scratch golfer, Adam Rolston, as his caddie on an extreme charity golf adventure – The Longest Hole.
Serving as a platform to showcase the work of, and raise funds for, Laureus Sport for Good and the South African Golf Development Board (SAGDB), the expedition which has become widely hailed as one of the most incredible sporting moments of 2017, saw the pair trek (on foot), hauling their gear in a specially designed cart, for 80 days, unsupported and unaided, across 2011km of vast plains, valleys, mountains and deserts of Mongolia.
"We teed off on 30 June 2017 in the most westerly point of Mongolia (at the base camp of Khüiten Peak), and finished on the 18th green of the Mt Bogd Golf Club just outside the capital city, Ulaanbaatar. We played every inch of that journey as a real hole – i.e. within the spirit and laws of the game of golf, tracking every shot and keeping score using a purpose-built app. The European Tour recognised our challenge as an 'official' hole, and as a result, we set a World Record for the Longest Golf Hole ever played. We ambitiously projected a par of 14,000 when we started, but ended up 6,093 over par. We also took 400 balls, but only used 135 (with the most successful ball covering over 50km), so on that side of things, we exceeded our expectations. I put that down to good caddying!"
Moving at a relentless pace, Ron and Adam faced the inevitable challenges of finding food and water, dealing with the region's notoriously unpredictable and extreme weather and staying motivated when things got tough. But for Ron, who admits to a once miserable existence as a former banker, completing a challenge of this kind would prove to be nothing short of one of the most incredible experiences of his life.
"I woke up, mid-life, to the realisation that no one gets out of here alive, and that the power of the made up mind is an incredible thing. It sounds like the start of a bad joke, but a Northern Irishman and a South African who knew each other from playing rugby together in Hong Kong, reconnected in Nairobi, Kenya, where the idea of playing golf across Mongolia was dreamt up over a few cups of coffee! Adam was playing rugby for Hong Kong, in two test matches against Kenya, and I joined the team for a week to watch them play, and told the team about my experience cycling through Africa. It hit a chord with Adam, and the rest, as they say, is history."
Since his very first golfing memories comprise hacking around the early morning dew-covered fairways of Papwa Sewgolum and Windsor Golf Courses in Durban, when Adam and Ron planned on golfing across Mongolia, they had to be honest about their individual skills.
"He's a +1 handicap golfer, and I was always 'scratching' for enthusiasm, with more like a 13 or 14 handicap for skill! Putting and a short game around the green was always my relative strength – wayward everywhere else. Also, I haven't played in years, thanks to a double wrist reconstruction and manic travel, so it was an easy case of 'playing to our respective' strengths. I would do the dirty work and leave the glory up to Adam!"
For Ron, from a caddy's perspective, putting a finger on what made this adventure so incredible was quite simple… the wilderness. Where else, in 2017, can one walk 2011km and never cross a fence or need a permit or permission to pass through anywhere?
"Mongolia is one of the most sparsely populated places on the planet, and we felt like we had it all to ourselves as the world's biggest fairway. We had a genuine partnership approach to the expedition, and I liked the simplicity of hauling our cart across the country, and leaving the 'thinking' up to Adam. We also had a dog that joined us on day three and walked every km with us for the next 77 days. To be able to be part of the greatest golf adventure of all time, and undoubtedly one of the greatest canine endurance exploits of all time, in one of the most incredibly beautiful and wild places on the planet, all while raising money for the greater good, means that it was the most incredible time of my life imaginable."
The biggest challenges for Ron were the physical ones. Withstanding extreme temperatures and the sheer physical intensity of the journey were often impossible to comprehend. The climate of the Gobi is one of great extremes, combined with rapid changes of temperature. These can occur not only seasonally but within 24 hours.
"At times on this journey, I have never been colder or hotter in my life. The mozzies, the language barrier, finding food and water were all huge challenges we had to endure. I don't have the best hip or ankle, and for the last few weeks in particular, every step was sore while hauling a cart, that at times, weighed over 130kg. But, the silver lining we found was in the people we met, and in the kindness and warmth they showed us."
Of course those closing moments of Ron's adventure with Adam were pretty sad, but he says he cannot forget what a privilege it was to be able to do something so many other people could only dream of.
"The immediate aftermath of an expedition is always hard – it took us six months of planning and then for 80 days we had one simple focus and purpose… to reach the last hole in the desired time and with the desired effect. Then literally, overnight, it was all over. Now there is an anti-climax that's tough to deal with."
Recovering physically having undergone a hip replacement in April,  he is living and loving life as General Manager for Business Development for the Hong Kong Rugby Union. He recently completed production of a documentary (with Adam, and cameraman Andrew King) on the expedition which was launched at the Cape Town Adventure Film Festival in April.
"We are hoping to do a tour of as many golf clubs as we can in South Africa and the United States during the course of the next year or so, showing the docci…so watch this space! If I ever had 'realistic' dreams of being a pro sportsman, the only potentially viable option would have been rugby, but golf is always the sport I would have really liked to have been pro in, so if I had the co-ords and opportunity in a second life, then absolutely. I would love to have given pro golf a go. But, day-to-day I believe best in living a life true to myself. In a nutshell, I wish to improve myself as a person and as a part-time adventurer. I want to discover more of the world and its people, and find ways of testing myself, living as simply as possible and having a good time doing things I enjoy, that ultimately,  will have some sort of positive effect on the planet and hopefully some people on it."
Quick Questions
What's your favourite golf tournament? The British Open.
What's the best golf gadget on the market today? I'm a bit behind the times, but I saw someone recently using a rangefinder telescope type of device which I thought was pretty handy looking.
On the rare occasion you do get your clubs out, who would you invite for a dream four ball?
Mike Horn – no idea if he plays golf, but as the world's greatest living adventurer, any chance to spend a few hours with him would be gold;  Tiger Woods – for golfing reasons of course, but his stories from off the course would be amazing; and Leo Babauta – his blog and approach to living a simple life changed my life.
Where would you play this epic match? Mt Bogd Golf Club in Mongolia – for obvious emotional and sentimental reasons, but also, it's a wonder of modern golf course manufacture. How such an incredibly well-manicured course survives the one of the harshest and longest winters on the planet boggles the mind.
Who you'd love to caddy for? Rory McIlroy – I followed him for a round (with probably six other people) when he played in the 2008 SA Open at Pearl Valley and said at the time I thought he was going to be special. It was amazing to watch, and he looks like he's good fun and would be good company in the pub afterwards too.
If you were a famous golfer, who would you like your caddy to be? Adam Rolston – the tables turn!
Photo credits: Andrew King.
DCIM103_VIRBVIRB0226.

DCIM101_VIRBVIRB0067.

DCIM100MEDIADJI_0040.JPG

DCIM102_VIRBVIRB0194-

DCIM102_VIRBVIRB0124-

DCIM100GOPROG0011307.JPG

Photo by Andrew King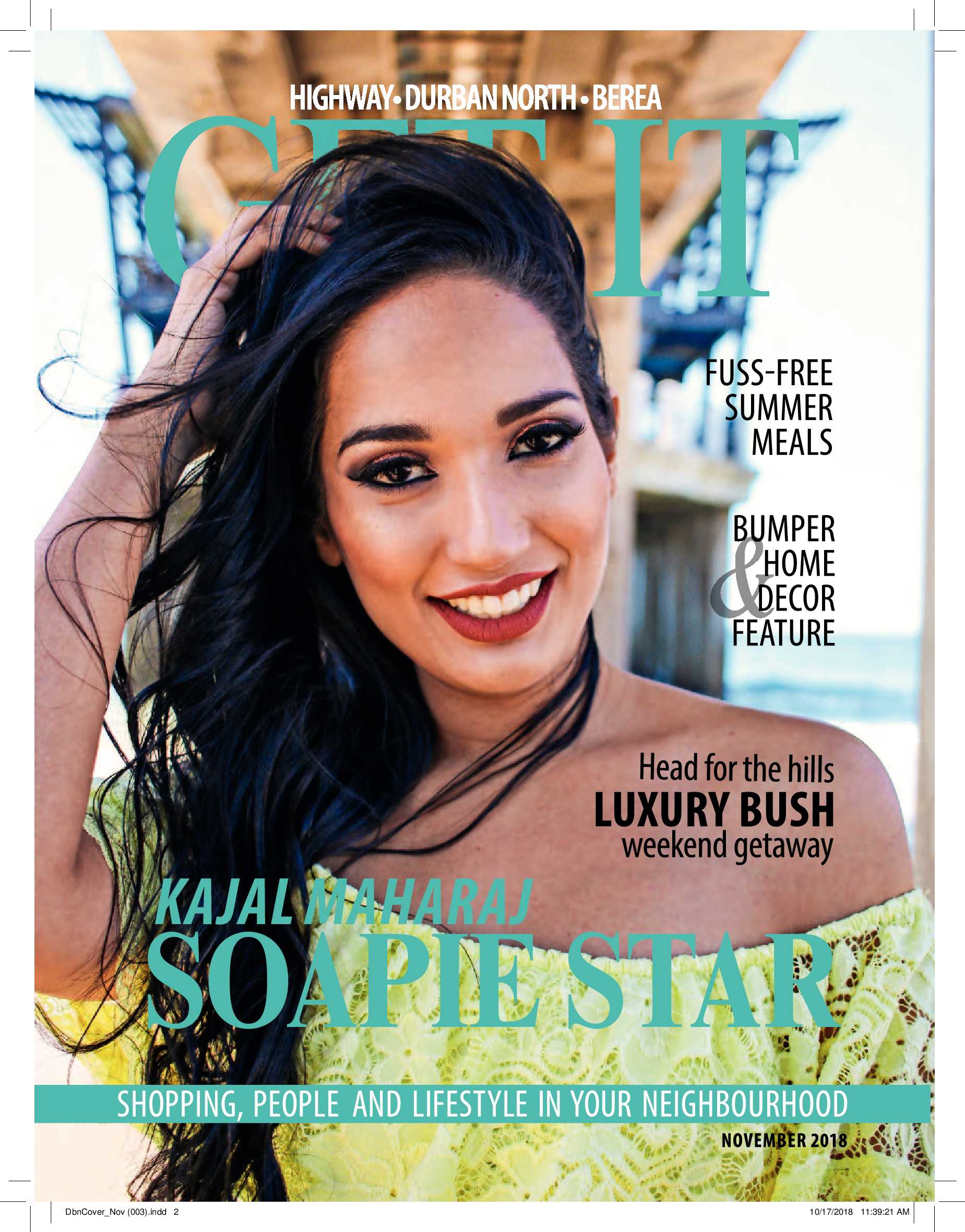 Durban Get It Magazine Nobember 2018
Kajal Maharaj : Soapie Star
View magazine

Win a trip to Disneyland Paris with JAM Clothing
You could win a trip to Disneyland Paris for a family of four!
Summer Spoil
Summer's looking more and more colourful. With shades of sunset pink, marine blue, grenadine and more, these Chameleon ICE watches go from the beach to the cocktail bar … beautifully!
It's wine o' clock
Whether you're partial to a crisp dry white, a fruity zesty rosé, or a ripe and full-bodied red with oodles of citrus or spice or rich mineral finishes, these are some really great bottles that should be in everyone's summer wine rack.
The Santa Run is Back!
It's the most wonderful time of the year; and what better way to enjoy it than with family and friends at this year's Santa Run powered by The Hub. KZN's very own Christmas themed 5km family run is a fun-filled experience that takes participants in, through, up, down, out and around the beloved Jonsson Kings Park precinct. And we have some tickets to giveaway!
Something new on your burger bun
Most of us love the idea of a burger, no matter what our food preference is, and burgers are certainly not for meat eaters alone. For those who are health conscious or don't eat meat, why not add this Pouyoukas recipe of spicy lentil burgers to your burger night as an extra option.
Summer scents
October Spoil
An afternoon of decadence.
21 reasons to open a bottle of FAT Bastard
Life, like FAT bastard, should be filled to the brim and enjoyed in large, delicious gulps. And this year, this well-loved, delicious, full-bodied range of wines, is celebrating 21 years of living large. So named because when first created by
Pinkies up, it's time for tea!
There's nothing quite like tantalising your taste buds in spring with a tall glass of iced tea, which is why we are over the moon that one of our favourite fruit juice brands, Sir Fruit, has introduced a bold, low sugar Ice Tea to its range.
It's fun, there is food, it's the Bierfest at Suncoast
Bierfest is back at Durban premier entertainment destination, SUNCOAST, with an offering of good food, music and beer at this year's TOPS at SPAR Bierfest!
is a national brand of premium free magazines available in centres across the country.
to see other Get It magazines in the network.