Brilliant books for the enthusiastic home cook
Anytime is a collection of recipes from chef Liezie Mulder, who takes us through a day in her Knysna restaurant, Ile de Pain. Dishes to serve from sunrise to sun down …. Think Rock Star Baked Oats, Summer Berry Tart, Pear and Pearl Onion Tart. The recipes are inspired by Liezie's childhood and family heritage, as well as by places she's visited .. Bali, Israel, America. The recipes are straightforward and celebrate fresh, local ingredients, there are loads of useful tips and gorgeous photos … and she's a master baker, so the specialist chapter on baking is particularly brilliant. Quivertree, R450.
Cape Town-based food photographer and blogger Melissa Delport learnt to cook at her mother and grandmother's knees. Whole : Bowl Food for Balance is her first cookbook … and is filled with close to 90 recipes that are all nourishing, healthy and balanced. Many, but not all, are vegan or vegetarian, all are easy to make. Loads of info about good food choices … this book is a marvel. Penguin Random House R300. Follow Melissa on Instagram (@trufflejournal) or her blog (www.thetrufflejournal.com).
Food to make for the people you love. Who wouldn't want a copy of Cherish by Ann Shooter, who's favourite childhood memory is going to her grandparent's house on a Friday, where she'd find her grandma in the kitchen, checking the potatoes roasting with the chicken and stirring the soup? Now, every Friday, she makes this wonderful comforting dinner for her family and friends. The recipes in Cherish are inspired by her Jewish roots, but she's written them for the modern table. Think one-tray chicken with pomegranate, walnuts and aubergine suppers, lamb shanks with apricots for Sunday lunches, roasted pepper with chickpeas, quinoa and feta … seriously yum. Ann describes, quite correctly, her recipes as east to cook, delicious to eat and full of love. Headline, R583.
Liezie Mulder, whose book Ile de Pain: Anytime is our must-have of the month, shares some of her favourite foodie facts.
This is my second cook book- I wrote my first book in 2009 and we self-published and sold 3000
copies.
What makes your book different from any other cookbook?
Its more than just a cookbook, it captures a day in the life of ile de pain, through different times of the
day and is a visual feast for the eyes. The recipes are well tested, uncomplicated and easy to follow.
What was the core inspiration behind creating this book?
I have so many wonderful food memories. I want to celebrate them, and celebrate food. I wanted to
create something lasting, beautiful and useful. Something that captures the essence of what we do, and
the same time inspire others.
What were some of the coolest food experiences during your travels?
Truffle hunting in Croatia
A foodie journey through Vietnam
Eating pizza three times a day … when trying to find the best pizza in Italy
Eating at some of the worlds best restaurants
How would you describe the tone and personality of your book?
It's me, it's my voice, it's about my favourite recipes, its fun, unique and light
How would you describe your food style?
Fresh, simple, uncomplicated and fun. I like to keep flavours in a recipe clean, working within the
flavour palette of one region or country. I like to combine unexpected flavours and present it in a way
using few components on a plate, so as not to confuse the palate.
What was the most surprising thing you learnt in creating your book?
What an amazing and enjoyable experience it can be when you are working with like-minded
professional people and how supportive and willing to help friends family and staff have been .
What did you enjoy most about writing your book?
Working with creative like-minded people, and seeing how the book took shape. I loved being part
of the food styling and food photography and experiencing how the book gets put together in a
professional way.
The menu at Ile de Pain and some of the recipes are quite unusual, are the recipes easy to
duplicate at home?
Yes. This was part of the part of the inspiration for writing the book. To present recipes that are unique,
but well tested and easy to follow. These are recipes that we use in our restaurant kitchen daily, all
the ingredients are readily available and they were written with the food enthusiast and home cook in
mind.
Best advice received about cooking and who did it come from?
'Attention to detail, being consistent and not taking yourself too seriously − its only food.' Jody
Adams
Most significant food memory as a child?
Helping my mom entertain at home and trying out recipes for dinner parties. Cutting out recipes from
magazines and creating my own scrapbook cookbooks.
What are your favourite recipes in the book?
Morrocan pie
Lobster rolls
Steamed buns with pork belly
Which recipe in the book do you usually make for your loved ones?
Pizza. I love pizza
Braaibroodjies
Grilled prawns, my personal favourite.
As a chef, what do you consider to be very important in running a successful kitchen and
delivering great service?
Quality and consistency.
In the kitchen …  great leadership and working as a team, mental and physical preparation, meticulous
planning of the menu with its ingredients, methods and tools. For service … same as in the kitchen with
an added dose of genuine sense of service towards your guest – be of service but not a servant.
Who is your favourite chef and why?
Jody Adams, my early mentor and inspiration
Jan – for what he did and how he did it.
Your best food destination?
That's a tough one, but I think It would be Thailand or somewhere in Asia
What five ingredients are essential to you and will always be in your pantry?
Pomegranate molasses
Cumin
Olive oil
Canned tomatoes
Dijon mustard
What is your comfort food and why?
Pap en wors – seriously
Pizza and pasta – it's my go to thing when I cook at home. I always have some of our pizza bases in
the freezer and spelt pasta from a local grain mill.
What food aroma reminds you of your childhood?
Sun ripened strawberries from our farm
What are your dreams for the future?
Living on a farm close to the ocean growing/cultivating my own food.
Anytime by chef and baker Liezie Mulder, is a collection of dishes from her Knysna restaurant, Ile de Pain. Quivertree, R450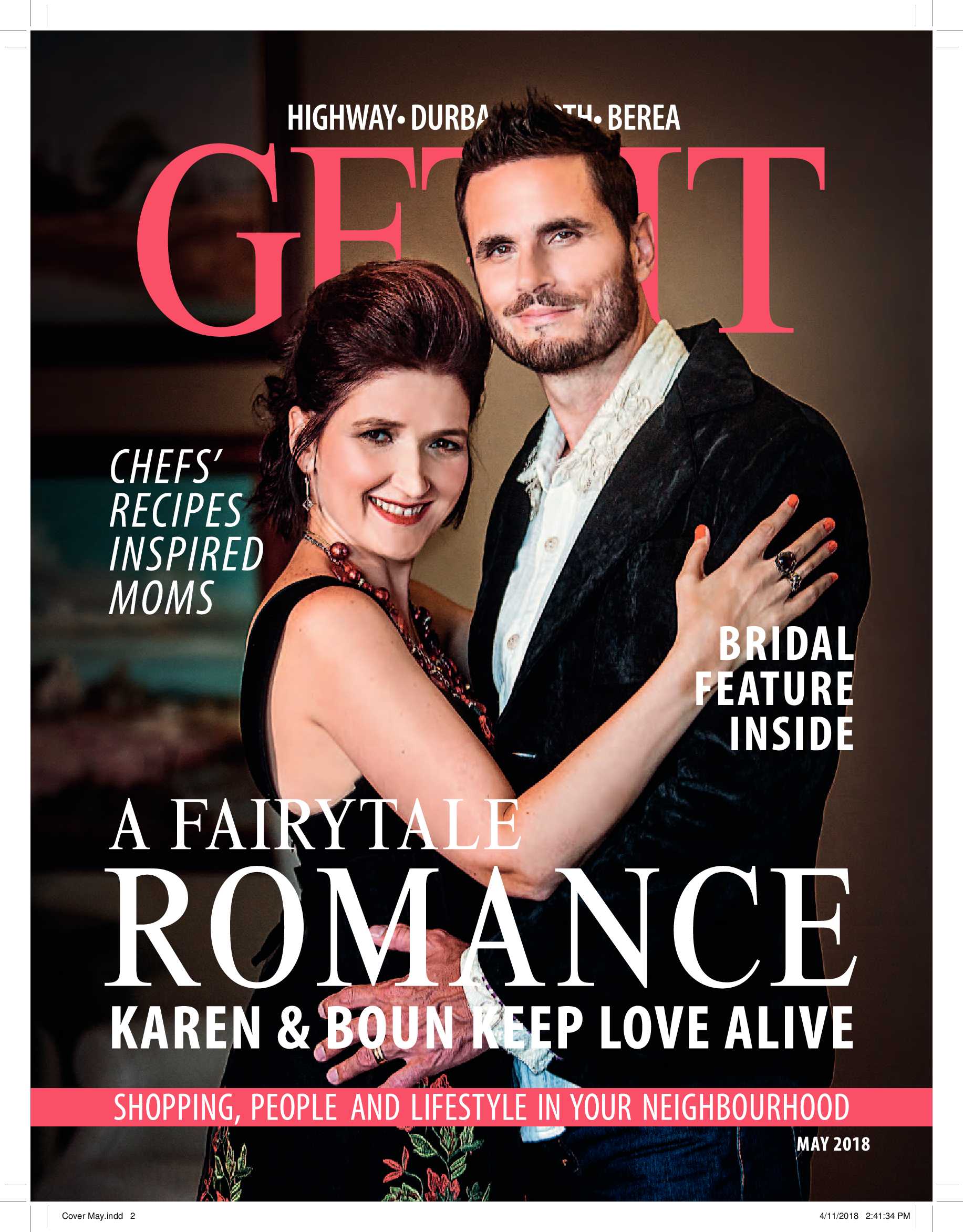 Get It Durban Magazine May 2018
A Fairytale Romance: Karen & Boun Keep Love Alive
View magazine

Win with Budweiser, official sponsors of the 2018 FIFA World Cup
Budweiser, one of the world's most iconic beers, is now being brewed right here in SA, just in time for the 2018 FIFA World Cup™. As the official and exclusive beer sponsor of the tournament, Budweiser is literally lighting up eight of SA's 2010 stadiums so that South Africans can feel part of the euphoric energy leading up the most watched sporting event in the world.
"Win A Dream Wedding Challenge" with Pavilion Shopping Center
With the Pavilion Shopping center Bridal fare fast approaching, entering this competition is a must for all future brides.
Canon's SNAPSHOT of the neighbourhood!
We're all about neighbourhoods. The streets. The restaurants. The parks. But most importantly … the people. This is your opportunity to capture what's best about the people and places where you live. Your chance to show off your neighbours and the hood … and to win not only fabulous Canon cameras, but also to have your work published in your local Get It magazine. What are you waiting for? Get out your camera, get snapping and show off your skills and your neighbourhood.
Something Borrowed, Something Blue, Something Old
…but definitely … something NEW at The Pavilion Bridal Fair.
Fitch & Leedes Gin & Tonic Festival
Love yourself a little Gin? The Fitch & Leedes Gin & Tonic Festival is back in Durban on Saturday, 2 June at the picturesque Chris Saunders Park, Umhlanga from 11am till 8pm, and you can win yourself some tickets.
May spoil
We were delighted to learn that Truman & Orange has added the world's leading Italian Sparkling Wine, Mionetto Prosecco, to their growing portfolio of beautifully-crafted, imported liquids.
Utterly gorgeous
Alien has reinvented itself … and it's really rather beautiful.
is a national brand of premium free magazines available in centres across the country.
to see other Get It magazines in the network.