Kitchen Crushes
Ask most seasoned chefs about their childhood and they're bound to share fond memories of how the maternal figures in their lives have influenced and inspired their culinary dreams and successes. To celebrate Mother's Day, we asked some of our favourite chefs to share dishes they love because of their mums.
Graham Neilson, 9th Avenue Bistro
Owner of Morningside's warm and unpretentious 9th Avenue Bistro, Graham strives for perfection with every plate of fresh, locally sourced seasonal cuisine he creates thanks to his mum. This recipe for Braised Oxtail was a staple of hers that he has continued to cook and adapt in many different ways including dishes like oxtail stuffed tomato, as a canapé, as a main protein ingredient in croquettes and as a main course of oxtail stuffed chicken.
Braised Oxtail
Ingredients
3kg oxtail
Seasoned flour for dredging
Canola/duck oil for browning
2 onions – peeled and diced
2 carrots – peeled and diced
2 stalks celery – diced
2 tablespoons chopped garlic
2 bay leaves
3 sprigs fresh thyme
1 tablespoon black peppercorns
3 tablespoons tomato paste
1 cup red wine
750ml of oxtail packet soup
Method
Heat a large sauté pan with enough oil to generously cover the bottom. Dredge the oxtails in the seasoned flour and shake off excess flour. Cook the oxtails until brown on both sides and place into a large four-inch pan for braising. Pour off some of the excess oil and add the celery, carrot and onion and cook gently over medium heat. Once the vegetables start to brown, add the chopped garlic and cook for a few minutes more. Deglaze with the red wine, add the tomato paste and pour everything over the browned meat. Place the bay leaves, peppercorns and thyme sprigs over the meat. Cover with the packet soup and close the container with tin foil. Braise in a 180°C oven for about three hours or until the meat is very tender. Remove the meat from the pan using a slotted spoon and allow to cool on a sheet pan in the refrigerator. Strain the juice through a fine mesh sieve into a pot and return to the stove to reduce down until thick enough to use as a sauce. Cool sauce in fridge and skim off all excess fat. While waiting for the sauce to cool, pick off all the meat from the oxtail bones and reserve covered in the fridge. Pour the skimmed-cooled sauce over the picked meat.
Jane and Amy Weare, We Are Food
Together with their mum Didee, Jane and Amy from We Are Food prepare wholesome, tasty and affordable frozen dishes that can be enjoyed anywhere out of a state-of-the-art factory based in Durban. This means using ingredients they use in their own kitchens, and methods that have been tried and tested for many years. Hard work combined with talent and passion is their recipe for something tasty. This delicious Caramel Pecan Cheesecake is based on a recipe that Didee often makes whenever the family need a decadent dessert.
"Staying true to her flamboyant style of cooking, the original recipe had very few measurements for the ingredients, just a whole lot of guess work and good feeling! But one thing is for sure, whenever mum makes it there is never a crumb left behind!"
Caramel Pecan cheesecake
Ingredients
Crust
200g Nutricrust Biscuits
100g Butter
50g Pecan Nuts (can omit but use if feeling extravagant)
Filling
750g Smooth Cottage Cheese
30ml Vanilla
1 ½ cups Brown Sugar
3 Eggs
30ml Plain Flour
250ml finely chopped Pecan Nuts
Topping
250ml Brown Sugar
125ml Fresh Cream
*Keep some extra nuts, whole or coarsely chopped to decorate if you like.
Method
Preheat your oven to 180°C, with the oven rack in the middle of the oven.
Crust
Melt the butter for 1 minute in the microwave, add more time if required. Blitz the biscuit and nuts in your Magi-mix on a pulse mode, adding the butter slowly.  Don't over blitz, you want a medium crumb. Press the crumb into the base of a well-greased, large spring form pan, and set to the side
Filling
Using an electric hand-mixer, beat together the cottage cheese, eggs, vanilla and sugar. Add the flour through a sieve to avoid lumps.  Also add the finely chopped pecan nuts. Fold all the ingredients in by hand until mixed through. Pour the filling over the crumb mixture in the spring form pan. Bake at 180°C for 40-50 minutes, until the filling only has a slight jiggle. This will set with cooling. If the top begins to brown too much during cooking, cover with some foil.
Topping
Place the sugar in a medium to large saucepan on a medium heat.  Do not mix, but rather shake the pot gently as the sugar begins to melt and brown more. In a separate pot bring the cream up to a hot temperature while not allowing it to bubble over. When the sugar is in a liquid form, add the hot cream carefully, while whisking quickly.
Finally, once the cheesecake has cooled, remove from the spring form pan (a sharp knife dipped in hot water can help with any sticky edges).  Plate it on a serving dish, and drizzle with the room temperature caramel topping.  Decorate with additional pecan nuts should you wish to.
Jackie Cameron, Jackie Cameron's School of Food and Wine
Living her dream after having opened her own School of Food and Wine, Jackie has so much to share when it comes to food and the many lessons she has learnt over the years. She made her first biscuits under the watchful eyes of her grandmothers, and it was in their kitchens that she came to understand the special relationship between food and family. Jackie shares this famous Chocolate Sponge Cake that she and her sister, Sheldeen, used to make at least once a week when they were growing up.
"We never really had a house filled with sweets and caokes, for instance, we would make, cook or bake what we craved. Often at 8pm we would go downstairs and whip up a cake. Such special childhood memories."
Cameron's Chocolate Sponge Cake
Makes 1 layer cake
Ingredients
125 g salted butter
315 g castor sugar
3 whole eggs
5 ml vanilla extract
200 g cake flour
30 ml cocoa powder
15 ml baking powder
185 ml full-cream milk, at room temperature
Creamy cocoa and milk icing
15 g salted butter, softened
400 g icing sugar
60 ml cocoa powder
90 ml full-cream milk, at room temperature
Method
Cream the butter and sugar together until light in colour. Add the eggs, one at a time, whisking each one in completely, then add the vanilla extract. Sift the dry ingredients together and add alternately with the milk to the creamed mixture. Once all the ingredients have been incorporated, use an electric mixer to whisk on high speed for 5 minutes. Divide the mixture between two lined and greased 22 cm cake pans. Bake in a preheated oven at 180°C for about 20 minutes, or until cooked. Remove the cakes from the pans and place on a wire rack to cool down.
Creamy cocoa and milk icing
Whisk the butter until smooth. Slowly start adding the icing sugar and cocoa powder, making sure all the butter is worked in. Continue adding the icing sugar and cocoa powder alternately with the milk until everything is integrated and the icing is smooth and glossy. When the cakes are cool, sandwich together with the icing and top with a thick layer of icing.
Penny Fitchet, ERA Ice Cream
Director of ERA Ice Cream, former MasterChef SA contestant and History teacher at Durban High School, Penny loves decadent  delights, but she's also a fan of the age-old traditional stuff – the kind of meals that remind her of home, like this old family Bobotie recipe that has been passed down through her mom's side over several generations.
"My mom has been making it for us since I can remember. It is a meal that is comforting, packed with flavour, has exactly the right texture and I love it most of all because it feels like home.
Mom's Bobotie
Ingredients
2 onions (diced)
sunflower/ canola oil (for frying)
2 tbsp. brown vinegar
5 tbsp. chutney
2 tbsp. apricot jam
2 tsp turmeric powder
2 to 4 tsp curry powder
salt
500g minced beef (For a veggie version, replace minced beef with black lentils)
½ cup raisins
3 slices white bread
1½ cups milk
3 eggs
4 bay leaves
Method
Fry the diced onion in a large pan with the oil and vinegar until translucent (about 15 minutes). Add the chutney and apricot jam and allow to simmer for about 5 minutes before adding the turmeric, curry powder and some salt. Cook the spices off for about 5 minutes, then stir in the minced beef. Allow the beef to cook on a medium heat for about 20 minutes, or until browned. Whilst the beef is cooking, soak the bread in the milk. Once the beef is ready, add the raisins as well as the bread, which needs to be broken up into the pan. Turn off the heat.
Beat the eggs into the remaining milk. Spoon the mince into a baking dish and pour the egg mix over the top. Place the bay leaves into the mince so that half of each leaf is poking into the mix, whilst the other half is not. Bake at 180 degrees Celsius for about 30 minutes or until golden.
Serve with turmeric steamed rice, toasted almond flakes and chutney.
Warren Frantz, The Cargo Hold, uShaka Marine World
Executive Chef at The Cargo Hold and uShaka Marine World, Warren is inspired by food, its origins, its history and how to bring out its true flavour.
"Mother's Day is a very important occasion for me, as it's a day to honour my mom. I found it so hard in the beginning and to be honest I still do, as it is such a huge reminder that my mom just isn't physically around anymore. However, if my mom taught me anything, it's about celebrating, and her favourite thing to do was to host her family at home and serve delicious home-cooked food.  On Mother's Day, I'll be cooking one of my mom's all-time favourites – The Cape Malay Koe'sister, a spicy dumpling with a cake-like texture, finished off with a sprinkling of coconut. This should not to be confused with the Afrikaner Koeksisters though. These traditional sticky spicy treats are so yummy, and this recipe was one that my mother used to make when I was a little boy. It's taken me awhile to perfect it but it's so comforting on weekends when you wake up to that fresh smell of Koe'sisters.
Cape Malay Koe'sister 
40 Koe'sisters
Ingredients
4 cups cake flour
2 cups self-raising flour
⅓ cup sugar
2.5ml salt
10g (1 packet) instant yeast
10 ml fine cardamom
10ml fine ginger
10ml fine cinnamon
10ml aniseed
1 large egg
15ml oil
30ml butter
375ml hot water
375ml milk
Oil for deep frying
Desiccated coconut for sprinkling
Syrup
1 cup sugar
1 cup water
1 cinnamon stick
2 cardamom pods
1 tablespoon salt
150g cold butter, cubed
375ml milk
Method
Mix flour with spices, sugar, yeast and salt. Melt butter in hot water and mix milk. Add egg, oil and milk-water mixture to the dry ingredients. Mix thoroughly to form soft smooth dough. Leave to rise in a warm place, 1 to 2 hours. Once risen, moisten hands with oil and roll dough similar to a sausage shape and cut into 2cm slices. Set aside to rise again. Lightly stretch slices to form an oval shape and deep fry in medium hot oil until golden brown. Remove with a slotted spoon and drain on a paper towel.
Syrup
Place all the ingredients in a large saucepan and bring to a slow boil, stirring to ensure sugar does not burn. Stir until the sugar syrup becomes slightly sticky. Boil the Koe'sisters in it for1- 2 minutes, remove with a slotted spoon. Sprinkle with a little of the desiccated coconut and serve hot.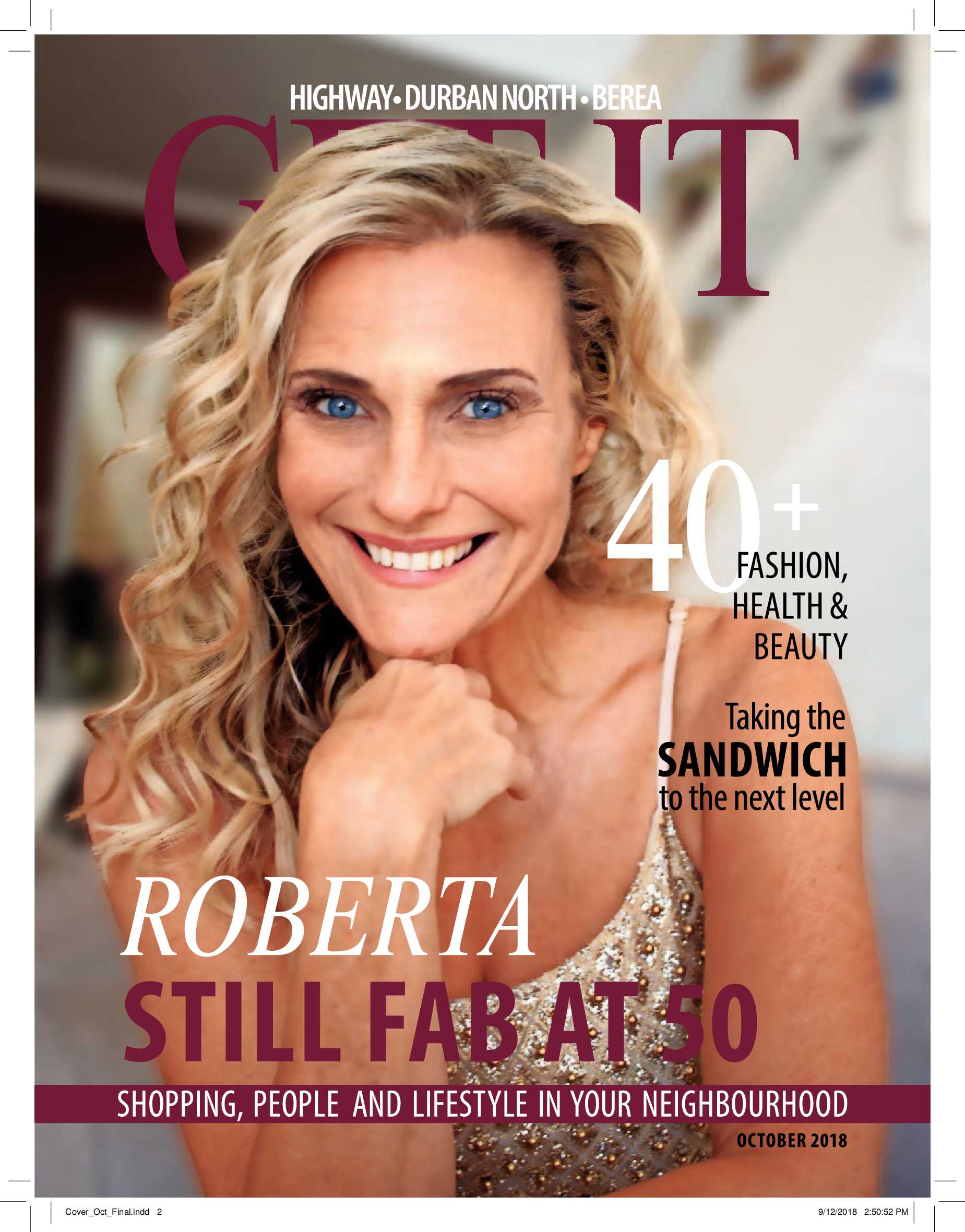 Get It Magazine Durban October 2018
Roberta still fab at 50
View magazine

Summer Spoil
Summer's looking more and more colourful. With shades of sunset pink, marine blue, grenadine and more, these Chameleon ICE watches go from the beach to the cocktail bar … beautifully!
It's wine o' clock
Whether you're partial to a crisp dry white, a fruity zesty rosé, or a ripe and full-bodied red with oodles of citrus or spice or rich mineral finishes, these are some really great bottles that should be in everyone's summer wine rack.
The Santa Run is Back!
It's the most wonderful time of the year; and what better way to enjoy it than with family and friends at this year's Santa Run powered by The Hub. KZN's very own Christmas themed 5km family run is a fun-filled experience that takes participants in, through, up, down, out and around the beloved Jonsson Kings Park precinct. And we have some tickets to giveaway!
Durban gets the nod for highly anticipated Calum Scott 'Only Human' South Africa Tour
Platinum selling singer/songwriter and Britain's Got Talent finalist, Calum Scott last month announced the South African dates for his 'Only Human' Tour in November with performances in Cape Town and Johannesburg. Following an overwhelming response from Durban fans via social media, Calum Scott has felt the love from KZN and has added 9 November at the Durban Botanic Gardens to the SA tour. And… we are giving away tickets!
Something new on your burger bun
Most of us love the idea of a burger, no matter what our food preference is, and burgers are certainly not for meat eaters alone. For those who are health conscious or don't eat meat, why not add this Pouyoukas recipe of spicy lentil burgers to your burger night as an extra option.
Summer scents
October Spoil
An afternoon of decadence.
21 reasons to open a bottle of FAT Bastard
Life, like FAT bastard, should be filled to the brim and enjoyed in large, delicious gulps. And this year, this well-loved, delicious, full-bodied range of wines, is celebrating 21 years of living large. So named because when first created by
Pinkies up, it's time for tea!
There's nothing quite like tantalising your taste buds in spring with a tall glass of iced tea, which is why we are over the moon that one of our favourite fruit juice brands, Sir Fruit, has introduced a bold, low sugar Ice Tea to its range.
It's fun, there is food, it's the Bierfest at Suncoast
Bierfest is back at Durban premier entertainment destination, SUNCOAST, with an offering of good food, music and beer at this year's TOPS at SPAR Bierfest!
is a national brand of premium free magazines available in centres across the country.
to see other Get It magazines in the network.