I do, take two
In 1997 on the snow-covered slopes of Austrian ski resort, Neustift, fiercely creative, multi-award-winning fashion designer Karen Monk-Klijnstra, said yes to the love of her life, Boudewijn, well sort of…
Dangling in mid-air and disbelief she let him slip the ring on her finger while she contemplated what she thought was a hypothetical question. More than two decades and four mini Klijnstra's later, this fairy-tale couple is about to embark on a boldly colourful celebration of their love – their 20th wedding anniversary, and a year for looking back and looking forward. As the featured couple ahead of our Bridal Supplement, they bare their souls about their first encounter, their big day, the importance of faith and friendship and everything else in between.
"So nice I get to marry him twice!"
Love story….
Bizarrely, we actually met the first time through mutual friends in our matric year. Boun (as he is affectionately known) was painfully shy and appeared not interested, I was fresh out of a long distance relationship, but went home and told my mom that I had met the most devastatingly handsome chap. It was only in our first year studying in 1990, that Boun said he became fascinated with this young fashion student (me) he dubbed 'the orient express', forgetting completely that had met me already. A mutual friend re-introduced us in the corridors of the engineering department amidst the chants of his fellow classmates. It was intoxicating and exciting and very soon we were inseparable. The rest, as they say in the classics, is history!
The Proposal
After seven years dating and very close family ties, we accompanied Boun's parents to Neustift in Austria in 1997, to celebrate their combined 60th birthdays. As the youngest in our respective families we were also the only ones not yet hitched. I had an inkling that Boun was planning something, as he began discussing rings and in desperation asked me to come up with something I would love. After a week of me learning to ski on the baby slopes, and him mastering the blue slopes and snowboarding, I was on the edge of my seat. Thankfully, the next morning was earmarked for sightseeing and up the mountain in the ski lift we went to explore and take in the breath-taking surrounds. On our way down as the bar fell on our laps and all he said was "Would you marry me?" At the time I thought it was a hypothetical question, and we laugh about it today, but before we reached the bottom, the ring was on my finger and my glove back on.
The Wedding
We were married at St Thomas Anglican Church on Musgrave Road at 3:30pm on 2 May 1998 and had a glorious and fabulously festive reception at The German Club in Westville. At the time an offbeat choice, yet meaningful in so many ways, as it formed part of Boun's youth and the man who put it all together for us was a close family friend.
Wedding style. Much has been said about our wedding and its extraordinary style, but in truth if I were to do it again I wouldn't change a thing. It was everything I had ever dreamt of and more. It was filled with so much colour and detail and loads of love and sentiment. If one had to define it, I would say Victorian cross 18th century, with a dash of Gothic and certainly tons of Fairy-tale. From the journey in the Bentley from Westville to Musgrave with my dad, and people hooting and cheering, to being trumpeted in to "Trumpet Voluntary" as the wedding march to meet my love, the packed to capacity church and the bells ringing on our exit, it was a joyous day indeed.
The Details. We had a large entourage. Three flower girls, two page boys, three maids of honour, a groomsman and a best man, all carried out by family members. My eldest brother was the MC. My father always dreamt of wearing the kilt of his regiment, and I did not need any encouragement. He looked smashing in his Gordon Tartan Kilt, jabot, especially tailored jacket and all the paraphernalia and sporran, undertaken by my mom. When I think of how happy that made him, and how proud he was to walk his only daughter down the aisle, I have absolutely no regrets. We chose beautiful old hymns known by all, as I could not bear the thought of a dirge during the worship, my mom performed "Panis Angelicus" and my best friend's dad "I will walk with God". Even The Lord's Prayer was sung, rare and incredibly beautiful. The reception was magnificent, with a Victorian Harvest-time theme with swags and candelabra, Rum and Cointreau chocolates for the men, potpourri bags for the ladies and inspirational messages of love (each unique) on the wedding favours.
DIY Elements. I have always been high maintenance, LOL, so achieving what I had in mind was no easy feat. As a result, much of what we had at our wedding was undertaken by ourselves and our families. I collected nuts, dried berries, everlastings and the like for months. My parents' house was the storage space, and my poor father put up with all the resulting sinus attacks! My mom carried out all the harvest decor with the help of her close friends, and we had the great privilege of hand turned candelabra by a family friend. To these, instead of flowers, I added grapes and vine, cinnamon sticks and lavender so that when the candles burned, the room smelt positively delicious. My aunts baked the decadent three-tier chocolate cake they decked in sugared grapes and vine, and of course, the wedding attire was designed and created by my mom and I.
The Dress. Where does one start? It was epic. I decided when I met Boun that HE was the ONE, and I knew exactly what I would wear too. I never changed my mind. I wanted a winter wedding, as I could wear more and make it spectacular, so I chose an Ivory Dupion Silk in a pin-tucked long sleeved plunging blouse with hand-made lace created by my mom from a book her mother brought from Holland, circa 18th century; we created a sweeping skirt with a cathedral train, giant box pleats and an old gold pin tucked centre panel flanked with French knotted ruffles. My bodice in a black/red shot crushed velvet, featured a tapestry down the front designed by my mother, on a black base and technicoloured garland of floors, nuts and berries painstakingly made by my aunt over six months. When it was done, my mom embroidered a piece by John Donne which read, "I wonder by my troth, what you and I did till we Lov'd".  It had hand-dyed violet velvet bows tying the tapestry on. I had a bronze brocade high collared Victorian jacket to top it off and wore Spanish boots. My hair was braided and I wore amethyst and citrine around my neck and in my ears, gifted for my birthday by Boun.
The Bridesmaids. The Maids of Honour were my three sisters in law, each dressed in a velvet and raw silk ensemble, and the flower girls were my cousin's brood – each in a different colour shade from the tapestry. The Page Boys in Little Lord Fauntleroy inspired suits in the black/red shot velvet were our nephews.
The Flowers. I wanted exuberant swags in colour, made up of nuts, berries, everlastings, stattice, lavender and woody bits. These decked the tables, and each of the champagne bottles had a circlet made up of the same pieces. My bouquet – which I still have, dried, was a magnificent Victorian posy made up of blood red roses, red and white tipped carnations, cocks combs, purple stattice, lavender nuts and berries. My Maids of Honour carried Pomanders, the flower girls Victorian baskets with all the same harvest feel – all made by my mom. We also had a Victorian arch into the church, madly bedecked with the harvest feel and rose and lavender posies on the pews. The buttonholes were made up of red roses and lavender with long pearl pins.
Memorable Moments. There were so many! Amongst the funny ones, my father forgetting that in an Anglican ceremony the brides hand goes via the priest to her groom, representing the significance of God in marriage. The result was a side splitting exchange of hands backwards and forwards and eventually resulting in my dad trying to shake the priest's hand. All recorded, so to this day it is reason for much mirth when we watch it. My mother singing in the ceremony meant we were barely able to contain our emotion. Taking photographs in the graveyard – my brainwave much to my new husband's horror. He insisted on garden pictures before he relented, so by the time we reached the graveyard it was getting dark. Nevertheless a "Wuthering Heights" type shot in an amazing Double Exposure by Rodney Prynne who took our pics was the result. Making a speech as the Bride. Our first dance was the Waltz, which we had completely forgotten by the big day. We were accompanied by a friend who played 'The Loveliest Night of the Year' on the piano accordion, and our guests ended up counting the steps for us. By the fourth verse we had it under control amidst cheering and clapping. Puddings served on mirrored tables under the night sky, while fireworks were set off. An early goodnight to my father-in-law, who bravely celebrated with us despite having undergone recent surgery. It is caught on the footage, and a moment I have come to treasure.
Looking back…
We were always on this journey, in fact adventure, together. We always strove for greater heights, faced everything as a united front with fortitude and gusto. We have held each other up, fought for each other, stood together in times of trial and there have been many tough times. But, there have also been so many beautiful, awe-inspiring ones. We knew this was for keeps and yet always we took the path less travelled. Family is paramount, our bambinos Anouk (14), Maia (12), Lola (10) and Rudy (8) are our pride, and we are best friends and we'd like to think, soul mates.
Challenges…Our greatest challenge would have to be the loss of our fathers. Unthinkable at the time of marriage and yet both gut-wrenchingly difficult for us both on both occasions. We were extremely fortunate to have had parents and in laws who we loved as our own, and it took a great toll on our hearts. We both had to be strong for the other when we were equally grief stricken.
As a large family going anywhere quietly or efficiently is a challenge. We have become used to the looks of disbelief as we arrive anywhere in our bus, and the challenge is to arrive on time. Four different personalities all pulling in different directions, and currently three different schools, with matches, extra murals, debates, trials, galas all happening simultaneously. I am proud to say that parenting is a shared responsibility. In the past I used to joke that the only difference between us was that I breastfed our babies.
Finding time to appreciate the smaller pleasures as a married couple. This with our own businesses, four busy children and two Great Dane Cross Ridgebacks is a challenge. Let's just say date night is rare!
Juggling it all. Never say never. I am so thankful for this life and I try to reflect on that daily as I contemplate this miraculous adventure, for it could have been so different. I have learnt to compartmentalize things and achieve those things without looking at the bigger picture. This helps in maintaining my sanity and reducing panic. I am fortunate to do what I love. Each day is different and I am largely successful in juggling this all as I have faith that I can and, an equal partner who is always up for the challenge. I have had 28 years with the love of my life, 20 married and almost 15 of those with bambinos! Boun and I have found an enormous mutual joy in raising our children. We both have our own style of parenting, but I believe we complement each other despite these differences. It never ceases to amaze us both that each of our children is so entirely different, spirited and uniquely gifted. We have little disposable time and what they achieve is largely through their own effort and hard work. We are so grateful for this and know it is not of human making.
The 20-year celebration
Our actual anniversary falls during the week two our children will be away on excursions, so we have decided to celebrate on Saturday, 5 May. It will be a boldly colourful celebration of our love, our lives and we will be giving thanks for the gifts of marriage, family, friends and also remembering those no longer on our earthly journey. We both love Latin, Spanish and Mexican traditions so it will take on a cross pollination of these in the decor, food and feel. Kind of Spanish Hacienda meets Mexican Fiesta, borrowing traditions from the Dia de los Muertos (Day of the Dead).
We kick off at our beloved St Agnes Anglican Church in Kloof, where we will receive a blessing as a family and give thanks for our blessed life. We will move on to our home in Kloof, which will be done up in a myriad of colour and pattern with an alfresco lounge, freeing up the living space for the dance floor. Family friends, Peter Houston, will officiate at the church and Greg Wallis, will act as MC. I am a lover of dance and in exchange for growing my hair, my husband has agreed to learn the Paso Doble – the dance of the bullfighter and his cape. It is quite symbolic of our journey, one of symbiotic strength and power. Our talented friend Mark Wilson is training us and we've spent hours in his studio doubled over in laughter and fun. He will also be present at our celebrations. Our attire will be edgy and decorative, and each family member dressed in their own unique interpretation of the theme. As is the tradition with such celebrations, the catering will be a mix of Latin, Spanish and Mexican, with a huge dollop of South African and lots of shared dishes. We've put out a special request to all invited to bring a photograph of a loved one who is no longer with us for an altar of remembrance and gratitude for their role in our respective lives. Our children will also put on a presentation which is a surprise, and of course Boun and I will speak. We are delighted that some of those at our wedding will be present too, and that all present have contributed to our journey and still do. Amazingly, for this special story and the photoshoot that went with it, Aldytha Da Silva who did my wedding make up 20 years ago was on board again to do all of our faces. No mean feat and so very special. My long-time friend and partner in crime for many a fashion adventure, Fay Abdulla, created our hairstyles, and our exceptionally gifted friend Chris Laurenz, was responsible for all the gorgeous images. All three will be present at our celebrations.
Keeping the love alive
Love is definitely the dynamic, and certainly physical attraction is hugely important, but ultimately, we are a team, we are in this together. We always have been and always will be. We have also never grown up, we have a childlike passion for life and each other and enjoy new challenges. We often cook together and enjoy this time talking over a glass of vino. We also have really good arguments. Apparently Aries and Sagittarius is a fiery and great mix. Ahem, the make-up is always good. Our children keep us grounded. They are a constant reminder of our love and commitment to each other. Nothing beats clandestine meetings or subtle innuendo's where not much speaking is required yet the communication channels are very clear. LOL! I know Boun is very proud of how I express myself and communicate with people. I guess from my perspective, Boun's quiet strength, amazing foresight and intelligence have always drawn me to him and the incredible dad that he is, along with his provision and support of all I undertake. Seeing the heads turn when my man walks into any room and knowing he is mine is also a great plus. He has always been and is still very easy on the eye. That, the romance and attraction aside, is how our lives and roots are intertwined. We live for the companionship that exists between us, and a life without each other is unthinkable.
A life partner
I am most grateful for the gift of a life partner. The priest who married us told us that this relationship would transcend that with our parents and future children. I believe very deeply that our paths are pre-destined, that our faith and upbringing had a very large role to play in us finding each other and keeping our love story alive. Many have said we are so lucky, and while I prefer to think of this as 'blessed', I have no doubt of the hand of God in our lives and those of our children. Marriage is a relationship that is built and requires ongoing commitment and growth. We never dreamt of the life we have, and the most incredible gift of a large family. There are days we still pinch ourselves to this startling reality, and while we were married for five years before we started our family and perfectly ready, it is still a miraculous blessing.
Navigating relationships
If we were to offer any advice to those navigating relationships and marriage, and certainly the advice we have for our children, it is that there is a season for everything in life. And for each person and certainly every couple, this is different. Each stage of life both single and in a relationship can only benefit from experiencing these stages and not rushing things. Friendship is paramount and mutual respect for each other's opinions and differences, crucial. Creating spaces in relationships for time alone and together are also as important.
Looking forward…
Maintaining bonds and creating new ones is so important, and we continue to dream and challenge each other daily. We have gone from being two youngsters in love to passing 45 with four bambinos. We're a loud, loving, fiercely passionate and proud family of six. No mean feat in this day and age and one to feel extremely thankful for. This is the kind of wealth that cannot be measured in material terms. As a family, we have found that there is nothing as wonderful as making our own traditions, celebrating our own madnesses and sticking up for each other. Some may believe this to be excessive, but each and every birthday, every Easter, every Christmas and every success is to be celebrated, and simply because we can. Our fervent wish is that this is something our children will take into the future, cherish and nurture.
CREDITS: Get It Magazine would like to thank the following for their kind service for such a fabulous photoshoot:

Hair by: Fay Abdulla of Hoi Polloi Extraordinary Hair Design, 031 202 0946, fay.hoipolloi@gmail.com
Venue: Audacia Manor
Make-up: Aldytha da Silva, Make-Up Your Mind, www. makeupyourmind.co.za
Photography: Christopher Laurénz Photography, www.laurenz.co.za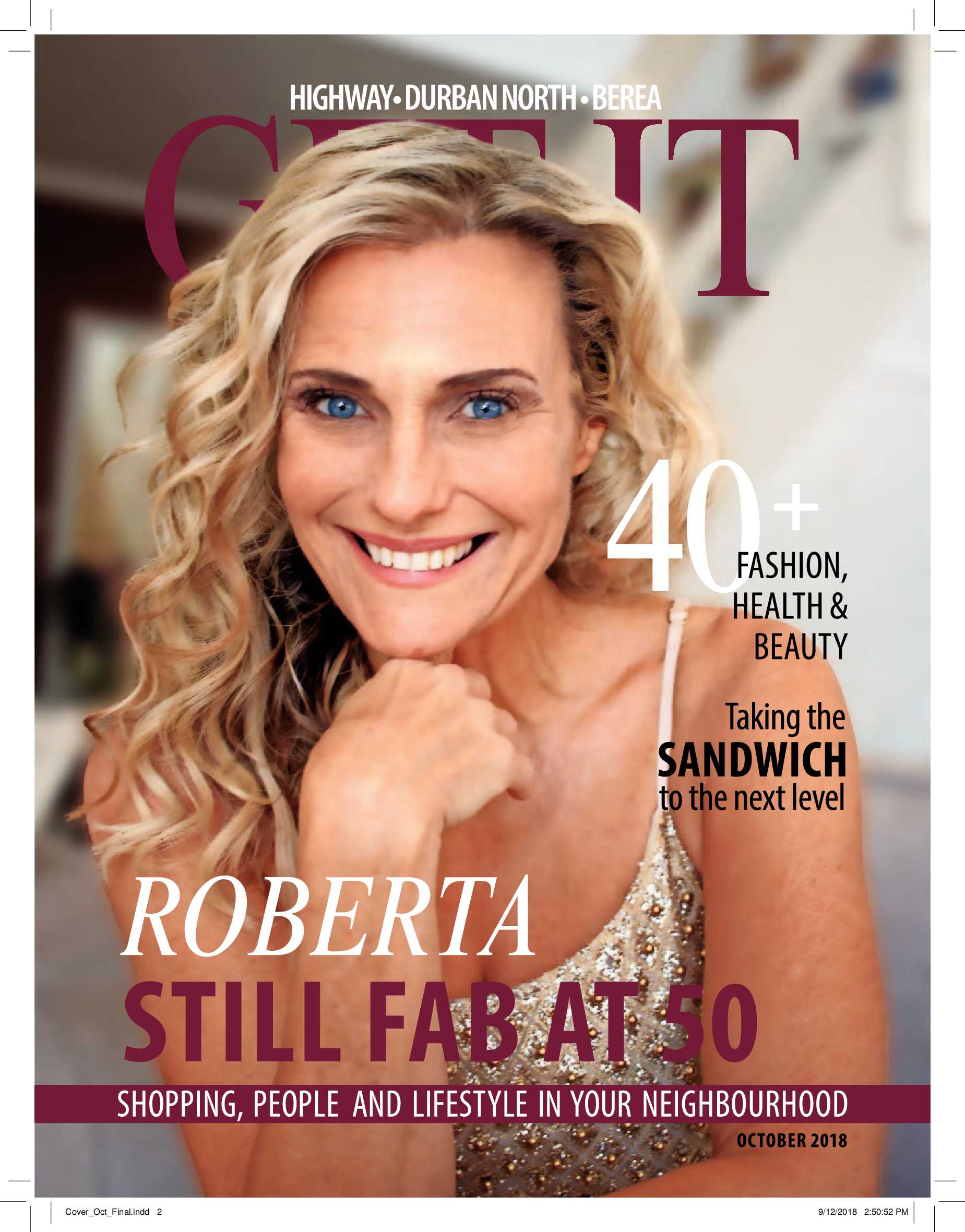 Get It Magazine Durban October 2018
Roberta still fab at 50
View magazine

Summer Spoil
Summer's looking more and more colourful. With shades of sunset pink, marine blue, grenadine and more, these Chameleon ICE watches go from the beach to the cocktail bar … beautifully!
It's wine o' clock
Whether you're partial to a crisp dry white, a fruity zesty rosé, or a ripe and full-bodied red with oodles of citrus or spice or rich mineral finishes, these are some really great bottles that should be in everyone's summer wine rack.
The Santa Run is Back!
It's the most wonderful time of the year; and what better way to enjoy it than with family and friends at this year's Santa Run powered by The Hub. KZN's very own Christmas themed 5km family run is a fun-filled experience that takes participants in, through, up, down, out and around the beloved Jonsson Kings Park precinct. And we have some tickets to giveaway!
Durban gets the nod for highly anticipated Calum Scott 'Only Human' South Africa Tour
Platinum selling singer/songwriter and Britain's Got Talent finalist, Calum Scott last month announced the South African dates for his 'Only Human' Tour in November with performances in Cape Town and Johannesburg. Following an overwhelming response from Durban fans via social media, Calum Scott has felt the love from KZN and has added 9 November at the Durban Botanic Gardens to the SA tour. And… we are giving away tickets!
Something new on your burger bun
Most of us love the idea of a burger, no matter what our food preference is, and burgers are certainly not for meat eaters alone. For those who are health conscious or don't eat meat, why not add this Pouyoukas recipe of spicy lentil burgers to your burger night as an extra option.
Summer scents
October Spoil
An afternoon of decadence.
21 reasons to open a bottle of FAT Bastard
Life, like FAT bastard, should be filled to the brim and enjoyed in large, delicious gulps. And this year, this well-loved, delicious, full-bodied range of wines, is celebrating 21 years of living large. So named because when first created by
Pinkies up, it's time for tea!
There's nothing quite like tantalising your taste buds in spring with a tall glass of iced tea, which is why we are over the moon that one of our favourite fruit juice brands, Sir Fruit, has introduced a bold, low sugar Ice Tea to its range.
It's fun, there is food, it's the Bierfest at Suncoast
Bierfest is back at Durban premier entertainment destination, SUNCOAST, with an offering of good food, music and beer at this year's TOPS at SPAR Bierfest!
is a national brand of premium free magazines available in centres across the country.
to see other Get It magazines in the network.