New Peppa Pig toys sure to please Fans!
Inspired by the TV show, the new playsets, characters and themes are iconic and instantly recognisable by children and their parents. The toys are great for role play and encourage children to use their imaginations by making up lots of Peppa Pig stories, pushing Peppa and George on the see-saw, teaching them in the classroom and even using the figures on the Air Peppa Jet.
For those who aren't familiar with Peppa, she is a loveable, cute piggy who lives with her little brother George, Mummy Pig and Daddy Pig. Peppa's favourite things include playing games, dressing up, days out and jumping in muddy puddles. Her adventures always have a happy ending.
This year the Peppa Pig range of toys is bigger and better with lots of fun playsets and characters for pre-schoolers to play with. Kids can take Peppa and her family and friends on an adventure with Miss Rabbits Train and Carriage, go exploring in Peppa's car or enjoy a fun day in Peppa's house.
The range also includes a microphone and camera. For children who love to sing and dance, the microphone is prefect! It features 5 wonderful songs and children can also sing along with Peppa, creating lots of fun and music.
The camera has a photo button, flash button, sound effects and a revolving lens, just like mom or dad's real camera! There is also a Piggy Bank, which is a great way of introducing children to money and encouraging them to save.
There are also games and puzzles, which are perfect for enjoying family time together especially if cold weather keeps you indoors. Games include Peppa Pig Dominoes and Puzzles.
"Peppa Pig personifies childhood adventure and joy. She loves to play with her brother and with her friends, and she always provides a positive underlying message such as co-operation, playing together and the importance of family and friendship," says Chiquita Patrizi, spokesperson for Prima Toys.
Since it launched, the Peppa Pig range of toys has become extremely popular amongst children, both boys and girls, in pre-school because they are fun to play with, they spark the imagination and children become engrossed in the process of play!
Below are some of the new products:
Air Peppa Jet
Take off in Peppa's Jet for some holiday sunshine. Open up the baggage compartment and load in Peppa's suitcases. Open up the door and Peppa can board her flight. Includes articulated Peppa figure and 2 suitcases. Jet has free-wheeling wheels too! For ages 3+ RSP:
Miss Rabbits Train and Carriage
Take Miss Rabbit and Peppa articulated figures on this free-wheeling train. The carriage attaches to the train and you can open up the doors to put the passengers inside. The cute and chunky design is perfect for little hands. Includes 2 articulated figures. For ages 3+ RSP: R599.99
Peppa Pig Kid's Camera
The Peppa Pig Camera is a wonderful way to introduce children to the world of photography. It has a photo button, flash button, a revolving lens and features sound effects. For ages 3+ RSP: R299.99
Peppa Pig Coin Bank- Peppa
The Peppa Pig Coin Bank is a cute piggy bank that provides a great way of introducing children to money and saving. For ages 3+ RSP: R149.99
Peppa Pig Puzzle in Lunch Tin
The Peppa Pig Lunch Tin Box includes a 24-piece puzzle inside. The puzzle features Daddy Pig, Mummy Pig, George Pig and Peppa Pig. For ages 3+  RSP: R149.99
Peppa Pig figurines, playsets and toys are ideal for ages three years and older. Available at toy stores and retailers. For more information go to www.PrimaToys.co.za or www.Facebook.com/PrimaToys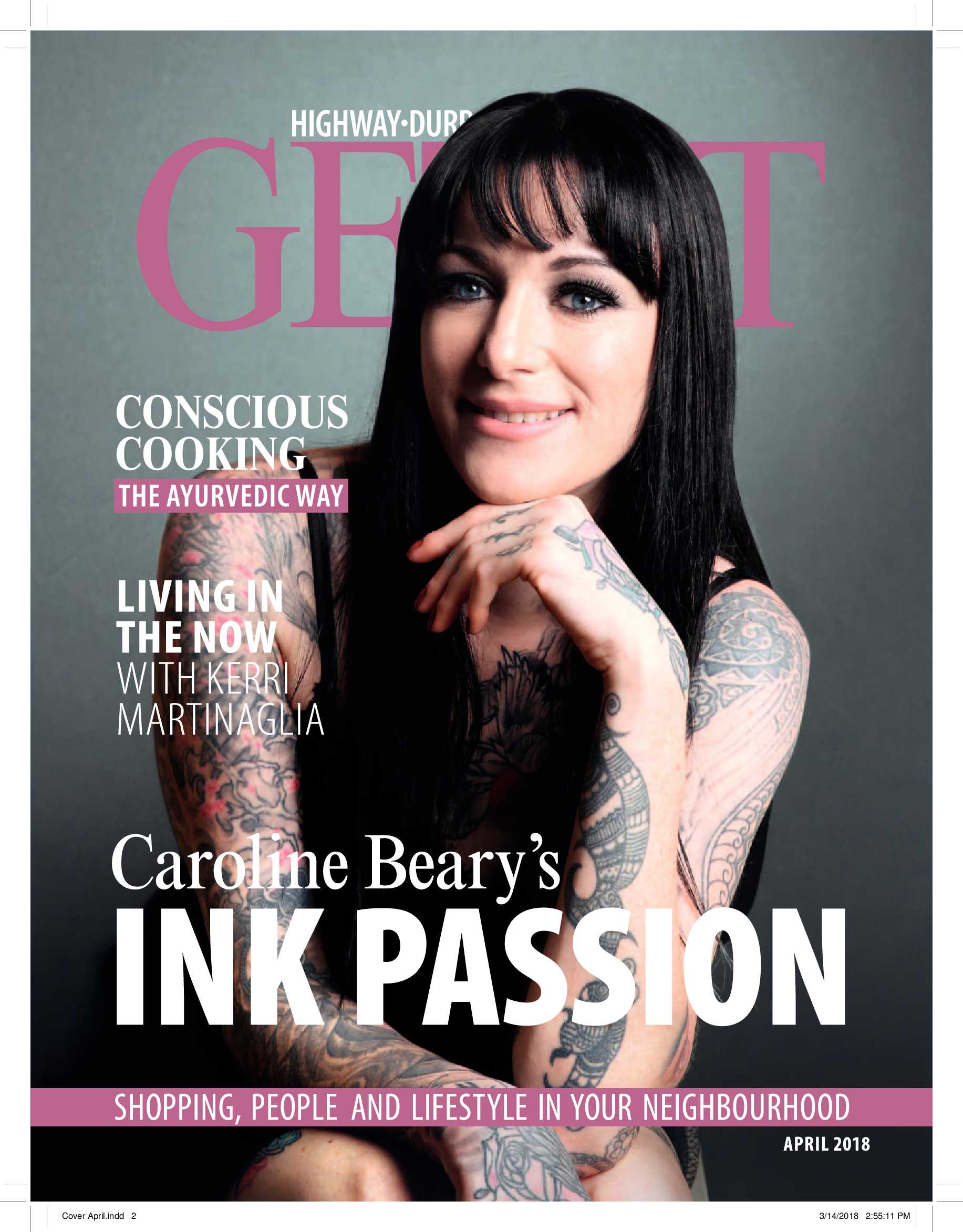 Durban Get It Magazine April 2018
Caroline Beary's Ink Passion
View magazine

May the sounds be with you at Music at Makaranga
If music, food and fun with friends and family is how you love to spend your Sundays, then grab your tickets now to Music at Makaranga this 6 May !
April Spoil
An obvious winner in terms of style and space!
is a national brand of premium free magazines available in centres across the country.
to see other Get It magazines in the network.