Let's get hygge
If you'd like to understand the art form of hygge a little more, or try to bring it into your home, here are some 'how-to' tips…
Candles
Whether scented or unscented, good mix of candles can transform your interior into a warm and flickering escape. If you are using scented candle, try and limit this to one fragrance per room.
Get cosy and comfy with accessories
Textured accessories are a huge trend, when it comes to creating a style look in any room. Especially on colder days or nights, chunky knitted cushions and blankets, faux fur throw or fluffy rugs are some of the best hygge-inspired upgrades you can make to your home.  Add to that a roaring fire or some candlelight and you've got the perfect hygge setting.
Keep it simple
Small changes to your home can bring about a feeling of hygge. Treat yourself to a new brand of coffee, luxurious bubble bath, change the photos on your wall  – these are all instant mood lifters you can enjoy.
Go out into nature or bring it into your home
No matter what the weather, you should always make time for the outdoors. To be one with nature, get some fresh air into your lungs. If it's cold out, bundle up before a walk or get a friend to take along and prepare a hot chocolate for the road. Any home needs a little touch of nature – wood, earth tones and plants – so where you can, try to incorporate this look and feel into your home and life.
Food and drink
Weather dependent again, getting into the spirit of hygge means indulging in warm, luxurious beverages and warm, easy-to-make food. Don't rush your meals. Spend time on them, enjoying the aromas and then eating them on your own or at a dinner table with family or friends.
Get comfortable
A big part of being comfortable is the clothing you wear. At home, there is no need for extravagance. Loose tops and slack pants made from practical cotton or the softest cashmere is an essential component of hygge. And don't forget a pair of decent slippers. Your feet will thank you!
Enjoy hygge with friends
On a social level, hygge is best enjoyed with friends, so invite your nearest and dearest over and get stuck in the kitchen together and then eat to your heart's content, or sit outside around a braai or the fireside drinking mulled wine, catching up and eating wholesome food.
Turn off the TV
Taking up new hobbies will allow you to switch off and refocus your mind. Turn off the TV and indulge in something you used to love to do but don't have time for anymore, or pick up a new hobby that will encourage you to relax, be calm and refresh your mind and body.
Slow down
We are always rushing, always thinking, always multi-tasking. Stop! Don't overdo things. Take the time to really enjoy the coffee you made, or the bath you've run or the people whose company you might be in. Life is short, so allow yourself the chance to let those daily stresses melted away.
Enjoy what is around you
A key to hygge is enjoying your own environment, be it at work or at home. Obviously it's a lot easier to find peace at home, but wherever you are, whatever you are doing, you should always take the time to appreciate what is around you, take in the tiny moments that uplift your soul or appreciate those things make you smile.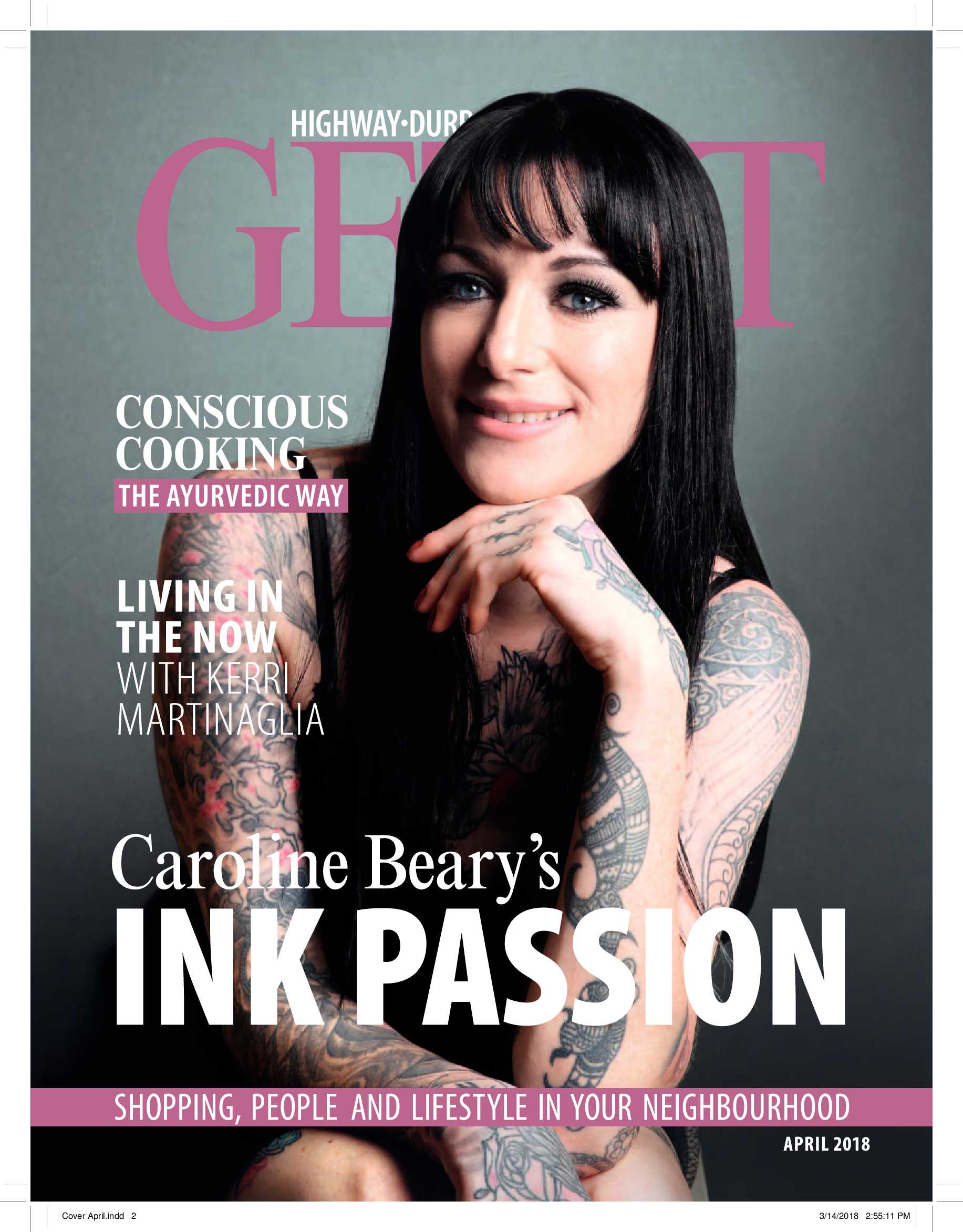 Durban Get It Magazine April 2018
Caroline Beary's Ink Passion
View magazine

May the sounds be with you at Music at Makaranga
If music, food and fun with friends and family is how you love to spend your Sundays, then grab your tickets now to Music at Makaranga this 6 May !
April Spoil
An obvious winner in terms of style and space!
is a national brand of premium free magazines available in centres across the country.
to see other Get It magazines in the network.