Conscious cooking, the Ayurvedic way
"Aromatic, appetizing, appealing and most importantly, healing – that's what food should be, and real nourishment happens when we cook and eat with awareness and love. It all leads to greater health and wholeness with every bite."
The Ayurveda Philosophy
Working from her home kitchen in Durban North, Justine explains that the Ayurveda lifestyle teaches us to lose the label. It teaches ways to improve our lives by practicing lifestyle and food habits that improve our physical and mental wellbeing. This includes the awareness of Agni (our digestion); our state of mind during cooking and eating; the basic principles of food combinations and the medicinal properties of the ingredients in our kitchens and on our plates.
"It really is all about balance, and food is a good place to play around with this. The most important thing though, is to cook with the best ingredients you have – things that are organic, seasonal and local, and we have no shortage of that in Durban."
Your dosha
"There are no rules carved in stone when it comes to conscious cooking, because the Ayurveda way depends your Dosha (your emotional and physical constitution). We are all unique and have different needs for nutrients at different stages in life – for example when we are sick, pregnant, play sports, aging or stressed – in order to maintain a mind-body-spirit balance."
It's more chemical explains Justine. When you combine ingredients, they interact in your stomach. It can take a while to learn all the good and bad combinations, but the important thing is to pay attention to how you feel afterwards. Your body will tell you what works and what doesn't. If you're predominately a pitta (Fire energy), cooling foods and spices help balance your nature. For cooler vatas (Wind/Air energy), warming foods are better, and for kaphas (Water energy), foods that are light, warm, and dry work best. One rule you can follow though is employing the six tastes associated with conscious cooking to balance your doshas. These include sweet, salty, sour, bitter, stringent, and pungent.
"Listen to your body, if it calls for a cup of tea on a hot day, there's a reason for it. We should all partake in a little exercise, go out into nature and get some fresh air. Discover what works for you and be consistent about it. Truth be told, I'm a regular mom with a husband and children who like regular food. I grew up with a vegetarian mother and as I've aged, I've realised the necessity of looking after myself properly. I became fascinated with conscious cooking not only because of the health benefits, but because it revealed just how much there is to enjoy through an experience that offers something for all of our senses. By applying Ayurveda principles to my cooking methods, my kitchen has become a playground of fun. Cooking, for me, has evolved into a kind of meditation experience that allows me to sow goodness into what I prepare for myself as well as those I cater for."
The Staples
Ayurveda cooking does not impose on being vegan, vegetarian or non-vegetarian. It looks at the body and the situation and guides you to eat what is good for you. What it does do, is embrace all types of foods, vegetables, fruits, grains, legumes, seeds, fats, meat and spices and teaches you how to use them to your benefit.
There are a few staples you'll find in most Ayurveda kitchens and cultured ghee is at the top of that list as a cooking oil, because it is easier for the body to digest. Olive all, often used as finishing oil, can be used year round, and coconut oil is best suited to warm seasons. White basmati rice is the easiest grain to digest and of herbs and spices (turmeric, ginger, and cardamom) are all popular thanks to their powerful anti-inflammatory effects.
"I can't stress any more the importance of fresh produce and getting to know your own merchants, because if you know where your food comes from, you can ensure that you put the best into your conscious cooking. I try to grow my own sweet potatoes, eggplant, microgreens and edible flowers, but when I need to, I source from First Light Farms. I have a trusted vegetable supplier, but I have no problem buying from Food Lovers Market. One of my favourite past-times is to watch people buying fresh produce. If I see someone picking up a food item I don't recognise or don't know how to use, then I ask. That's the best way to learn."
Justine believes in using everything on the plant and experimenting with local ingredients and flavours. She does this to create unique taste adventures. From pink noodles and apricot and coconut bliss balls, to butternut and cauliflower salad with zataar, coriander and lime dressing, crispy fried tofu, a healing dish called kitchari, miso mayo kale and loads of pickles, Justine creates plated culinary sensations that come naturally with their own benefits.
Benefits
"When you eat something someone has made for you, eating becomes an adventurous experience, which is why I cook for a living. I love that my kitchen becomes a classroom where innovation and intuition create a gateway for delicious sights, sounds, smells and tastes that nourish my senses. It's where I find the inspiration to make food that is satisfying to the palate and medicinal when combined correctly and eaten in moderate quantities. You have to feel it, smell it, taste it, hate it, love it, and then improve it. That's just how it is!"
During this process, Justine says it's also important to prepare the foods in a way that doesn't destroy its prana (life). So overcooking, deep-frying or burning not only kills its spirit, but also the taste. In addition to making flavourful meals, Ayurveda cooking also offers natural remedy recipes for ailments like indigestion and poor circulation, menstrual cramps, immune system boosting, burns and cuts and the flu.
"There so much to explore and learn about Ayurveda cooking, but I think what I appreciate most about it is how much it promotes the use of YOU (hands especially) as a tool or utensil for things we so often use electrical or modern technology for. This means that cooking, if done in the right consciousness, becomes a body and soul experience. For me, it's an opportunity to consciously cook with energy and love."
Apricot and Coconut Bliss Balls
These are really good for when you want something sweet and adding ginger really makes them even more delicious. Dried ginger is a warming spice. It helps pacify Vata (Wind/Air energy) and Kapha (Water energy) and increases Pitta (Fire energy).
Ingredients
1 cup dried apricots
3/4 cup desiccated coconut
1/4 cup desiccated coconut for rolling
2/3 Tbsp. coconut oil
1cup almond Flour
1/2 tsp ground ginger (optional)
Method 
Place the apricots in a food processor and blitz till finely chopped. Add 3/4 cup desiccated coconut, almond flour and 2 Tbsp. coconut oil and mix till mixture starts coming together. Add more coconut oil if need be, the mixture needs to hold together to form a ball. Roll into small balls and coat in coconut. Refrigerate till serving. Note: depending on the apricots used, you might need to add more almond flour.
Golden Milk (turmeric milk)
Good for soothing all ailments especially colds and flu, turmeric has antibacterial and anti-inflammatory properties. Its uses extend to more than just using it internally, and adding it to face masks and making a paste from Turmeric powder to use for skin conditions such as eczema and inflammatory skin conditions is a natural way to treat these ailments. Turmeric is something you should try to add to your daily diet, be it in powder form or fresh turmeric root.
Ingredients
2 cups of milk (you can use almond or coconut milk if you are vegan)
1 tsp turmeric power
1/2 tsp cinnamon powder
2 slices of fresh ginger root
pinch of fresh black pepper (optional)
sweetener of your choice honey or stevia works well.
Method
Place all the ingredients, except the sweetener, in a pot and heat slowly but do not boil. Serve immediately once heated with sweetener of your choice.
Rose Petal and Cardamom Milk
This is a lovey drink for hot days, and the light perfume of the rose water is calming and restorative. I use beetroot to give it a lovely pink colour and some extra rose petals placed around the vessel when serving make it an absolute treat.
Ingredients
2 cups milk (you can use almond or coconut if you are vegan)
1 tbsp. rose water
small handful of fresh pesticide free rose petals
half a small raw beetroot (this is just for colour and won't affect the flavour)
3 green cardamom pods
sweetener of your choice
Method
Place the milk, cardamom, rose water and rose petals in a pot and slowly bring to a boil and simmer for three minutes. Once hot, remove from the stove and add the beetroot, give it a good stir and let it sit for a minute till it turns a lovely pink. Serve immediately.
Kitchari
This is a very important dish in Ayurveda cooking. It is used to detox, cleanse and for its restorative properties. It is also Tri-doshic, meaning it's balancing for all constitution types. You can add cooked veg or herbs to this dish to suit your needs. I like to use this recipe as a base and then alternate with other herbs spices and veg. This recipe is from the Ayurvedic Institute and it's simple and delicious.
Ingredients
1/2 cup Basmati Rice
1 cup mung dal (split yellow)
6 cups (approx.) water
1/2 to 1 inch ginger root, chopped or grated
a bit of mineral salt (1/4 tsp. or so)
2 tsp. ghee
1/2 tsp. coriander powder
1/2 tsp. cumin powder
1/2 tsp. whole cumin seeds
1/2 tsp. mustard seeds
1/2 tsp. turmeric powder
1 pinch asafetida (hing)
handful of fresh cilantro leaves
1 and a 1/2 cups assorted vegetables (optional)
Method
Carefully pick over rice and dal to remove any stones. Wash each separately in at least two changes of water. Add the 6 cups of water to the rice and dal and cook covered until it becomes soft, about 20 minutes. While that is cooking, prepare any vegetables that suit your constitution. Cut them into smallish pieces. Add the vegetables to the cooked rice and dal mixture and cook for 10 minutes longer.
In a separate saucepan, sauté the seeds in the ghee until they pop. Then add the other spices. Stir together to release the flavours. Stir the sautéed spices into the cooked dal, rice, and vegetable mixture. Add the mineral salt and chopped fresh cilantro and serve.
Buddha Bowls /Soul Bowls
These are not specifically Ayurveda, but I apply the six tastes of Ayurveda to all my bowls and it provides a balanced meal in terms of flavour and diet.
Buddha Bowls or Soul Bowls are a great way to feed a large group with varying dietary requirements and differing constitutions. They're healthy, trendy and beautiful, but beyond that, you may not know what, exactly, is in them.
Cooking a feast for friends, you can make up one or two items of each of the Ayurveda flavours and let everyone can make up their own bowl according to what they need to feel healthy and satisfied.
Generally though, Buddha Bowls are made up of healthy grains (think quinoa or brown rice), raw or cooked veggies (the more nutritional the better), a healthy fat (avocado), a protein (eggs or chickpeas) and a whole bunch of greens.
I've made using red cabbage, brinjals, spinach, butternut, cauliflower, prunes, beetroot with a Tahini sauce, or you could top brown rice with roasted sweet potatoes, garlic-ginger chicken, baby spinach and avocado, and for the sauce you could make a peanut dressing with peanut butter, lime, sesame oil and soy sauce. There are loads of recipe ideas available, just see what works for you. The end result is always going to be Instagram-worthy, and delish.
Follow Justine on Instagram: beetroot_and_bear
Facebook: https://www.facebook.com/BeetrootandBear/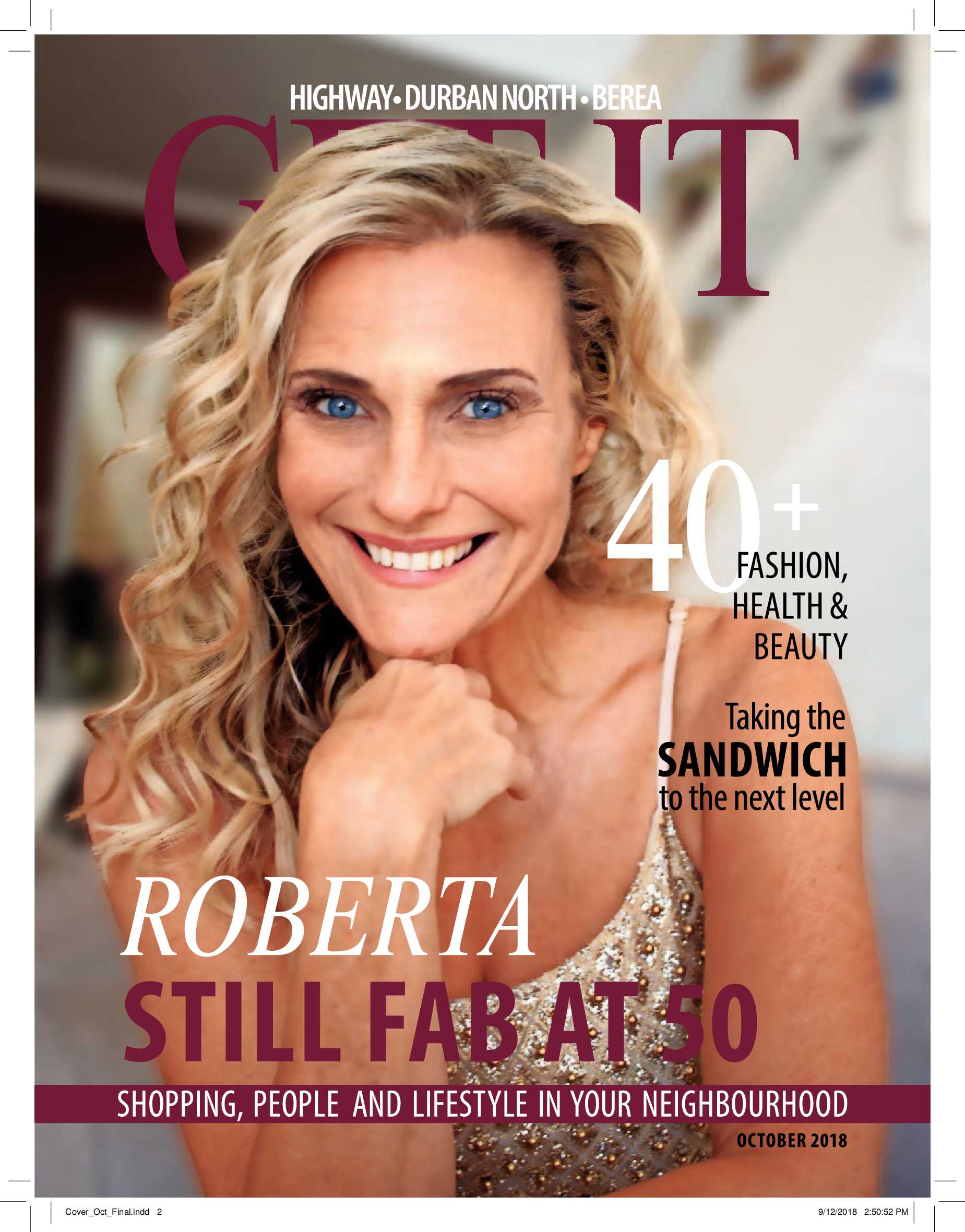 Get It Magazine Durban October 2018
Roberta still fab at 50
View magazine

The Santa Run is Back!
It's the most wonderful time of the year; and what better way to enjoy it than with family and friends at this year's Santa Run powered by The Hub. KZN's very own Christmas themed 5km family run is a fun-filled experience that takes participants in, through, up, down, out and around the beloved Jonsson Kings Park precinct. And we have some tickets to giveaway!
Durban gets the nod for highly anticipated Calum Scott 'Only Human' South Africa Tour
Platinum selling singer/songwriter and Britain's Got Talent finalist, Calum Scott last month announced the South African dates for his 'Only Human' Tour in November with performances in Cape Town and Johannesburg. Following an overwhelming response from Durban fans via social media, Calum Scott has felt the love from KZN and has added 9 November at the Durban Botanic Gardens to the SA tour. And… we are giving away tickets!
Something new on your burger bun
Most of us love the idea of a burger, no matter what our food preference is, and burgers are certainly not for meat eaters alone. For those who are health conscious or don't eat meat, why not add this Pouyoukas recipe of spicy lentil burgers to your burger night as an extra option.
Summer scents
October Spoil
An afternoon of decadence.
21 reasons to open a bottle of FAT Bastard
Life, like FAT bastard, should be filled to the brim and enjoyed in large, delicious gulps. And this year, this well-loved, delicious, full-bodied range of wines, is celebrating 21 years of living large. So named because when first created by
Pinkies up, it's time for tea!
There's nothing quite like tantalising your taste buds in spring with a tall glass of iced tea, which is why we are over the moon that one of our favourite fruit juice brands, Sir Fruit, has introduced a bold, low sugar Ice Tea to its range.
It's fun, there is food, it's the Bierfest at Suncoast
Bierfest is back at Durban premier entertainment destination, SUNCOAST, with an offering of good food, music and beer at this year's TOPS at SPAR Bierfest!
August Spoil
Chocolate biscuits …and a luxury breakaway!
Its time to READ competition
A wise man once quipped: Creativity is contagious. Pass it on. Albert Einstein certainly knew what he was speaking about, and when it comes to encouraging creativity and imagination in our youth, just think of the untold treasure, waiting to be discovered!
is a national brand of premium free magazines available in centres across the country.
to see other Get It magazines in the network.