At home with Esme Nathanson
"There's a side of my job that exposes me to a dark world most of us only see on the Crime Channel. But I think what keeps me sane and motivated is the fact that we are making a difference in so many people's lives. It is a mind thing. I'm a big believer in the power of words, so speak positive things into your life. I'm a day dreamer, a deep thinker. I often find myself drifting off with my thoughts, but it's the nature of who I am. I find myself amusing at times. In this line of work especially, I think one has to have the ability to reach deep to find humour and laugh at oneself. If not for laughter, what would life be?"
Esme has an astonishing connection with animals. Her six cats (rescued over the six years she and Brad have been together) lie curled up comfortably around the living area. Around the room are items that not only reflect the couple's travels and favourite things, but also the people they love most. Outside in the garden the dogs romp in excitement amongst a menagerie of piglets, goats and ducks while the horses look on from the stables. Esme talks passionately about Brad and the couple's deep Christian faith, the adrenalin of their get-up-and-go lifestyle, the freedom she finds in horse-riding, her passion for cooking thanks to a Greek heritage and the simple pleasures in life she enjoys like red wine and biltong. She lights up when she shares her dream to run a wildlife sanctuary off the ocean, because Brad loves the sea and she loves the wild bush. It is not hard to see that this is a woman who thrives on the work she does and loves helping people even more.
"People often ask me if I can relate to the phrase 'don't mess with me' and it makes me laugh. I'm confident, I can stand up for myself, and I know how to defend myself. I can be fiery, but I am not mean or arrogant. I like to see people happy and I try my best to make people feel that way."
Those same, unassuming qualities are what drew Brad to Esme when they first met in Uganda while Esme, a freelance chef from Limpopo, was running a boutique hotel on Lake Albert. "We met in a doctor's surgery. I thought I had malaria and Brad was there on an investigation. I remember being in awe because I'd never met a real PI before. At some point, he forgot his phone behind and I went after him. There was this amazing chemistry between us, we exchanged numbers and chatted over the six months that followed until he convinced me to return to SA. It had been a hectic year for him and he needed someone to help with admin while he recovered from surgery to his arm."
Clearly Esme's plans to return to the hospitality industry were left in the shallows of Africa's seventh-largest lake, and in 2014, she said 'I do' to the man she'd fallen in love with who lives to protect, provide and fight for justice. Her life changed that day.
"I had no idea where this job would take me or the experiences I would encounter, nor did I understand the enormity that my role as partner and PA to a hot shot PI would play."
Not only does Esme control all the admin at their home office, but she is also a 'tech guru,' putting her formidable skills to good use in tracking, tracing, searching, and gathering information. As Brad's PA, she controls his phone while he drives, sets up appointments and oversees social media and marketing. The phones never really stop ringing. Some days they spend the whole day together. On others, they don't see each other until the evening, but whatever the case, they always work as a team, on the same project or fighting for the same cause.
"We are on call 24/7 and often get woken at odd hours of the night and morning by frantic people whose lives are at stake or by calls to find missing or kidnapped people. There's no time to rest then, it's pure adrenalin that fuels me on those sleep-deprived occasions."
There's no doubt being married and running a business together can be intense. If things are tough, they're tough for both parties, but Esme and Brad handle it well, which she puts down to respect, communication and the one thing they have in common – they always know what the other is going through professionally.
"With the right equipment, we can take our work anywhere we go, so when Brad says 'let's go', I grab my 'go-bag' (that carries handcuffs, tracking units, hand sanitizer – because I don't ever leave home without it, a taser, pepper spray and an orange CRKT emergency knife) and we are off. It's run first, explain later. I'm usually the one with the camera in hand ready to snap a picture while Brad and his guys do the ground work. I have intentionally never been put into harm's way. There are those times when working together just isn't ideal. In our case, it's usually because it is far too dangerous for me to go out with Brad. This job sometimes opens doors to places no woman should ever go, and that's when I sit back and let him do his thing. It is unnerving every time Brad goes out fully kitted. I don't sleep. When I see him tacking up and putting on his bulletproof vest as though he's going to war, I start feeling uneasy. But this is his passion and his calling, so I stand by him."
There are those rough days when Esme fantasizes about a normal working hour shift but this is just not possible given the nature of the work they do. She's got to be ready to jump out of bed, no matter what time of night, or how much wine or sushi might have been consumed on a quiet date night or a lively karaoke evening at home in the company of good friends.
"I love my job because I chose to take on the unknown and make it my own and I do it from my heart, so whatever comes my way, I accept it gracefully. It's routine for me to remove my make-up at night because it's better to fly out the door in an emergency with a bun in your hair and no make-up than a face full of smudged eyeliner and mascara. On special occasions or movie nights, because Brad loves the big screen, I love to dress up and have my hair and nails done, but on hot weekends you will find me in shorts and slops or a summer dress lounging by the pool or at the dam on the bottom of our property while Brad fishes."
When she does have some decent time off, Esme immerses herself in the local community, enjoys horseback riding or throws on her leathers and gets behind Brad on the latest addition to their Harley collection. She was never really into biking until she met Brad and much prefers riding pillion so she can take in all the scenery.
"I've been riding horses since I was 12. I used to compete in dressage. These days I'm just a happy hacker though, and most of our time spent with our horses is on weekends. Being on the back of such a magnificent creature with so much power and confidence feeds your own insecurities. Horses have an unbelievable way of making me feel invincible and I feed off their strength. We also love going on long road trips."
After a blissful honeymoon on an MSC Cruise to Madagascar, Esme and Brad went on a Mission to Zimpeto, Mozambique. The mission is dedicated to revival wherever the love and power of God are needed and appreciated, especially among the poor and the youth. This was a life-changing experience for them. About three years ago, they started a soup kitchen, and although they've had to sacrifice a great deal of their physical involvement at the kitchen due to their current workload, it is still going strong and serves as a positive emotional influence on Esme's life.
"Brad and I have no children together. He has four beautiful children from a previous marriage and I play a huge rule in the lives of my two nephews. I have always felt fulfilled in my work, being with my husband and in nature, having animals around me and being involved with community outreach. When you see the look on a child's face as you hand over a cup of soup, which is often their first meal for the day, you will know what it feels like to truly be living and this is enough for me."
"There are so many things in life that can bring us joy. It is up to us to find them and make them our priority. We all have the power to achieve the impossible, but we must be strict with boundaries and deadlines and make that a habit. Whatever religion you are, love your God above all else and you will most definitely find peace and balance. I know I have. Looking back, I am proud of how I have grown. I always joke with Brad when I say I have no idea how he managed to run his business for 30 years without me."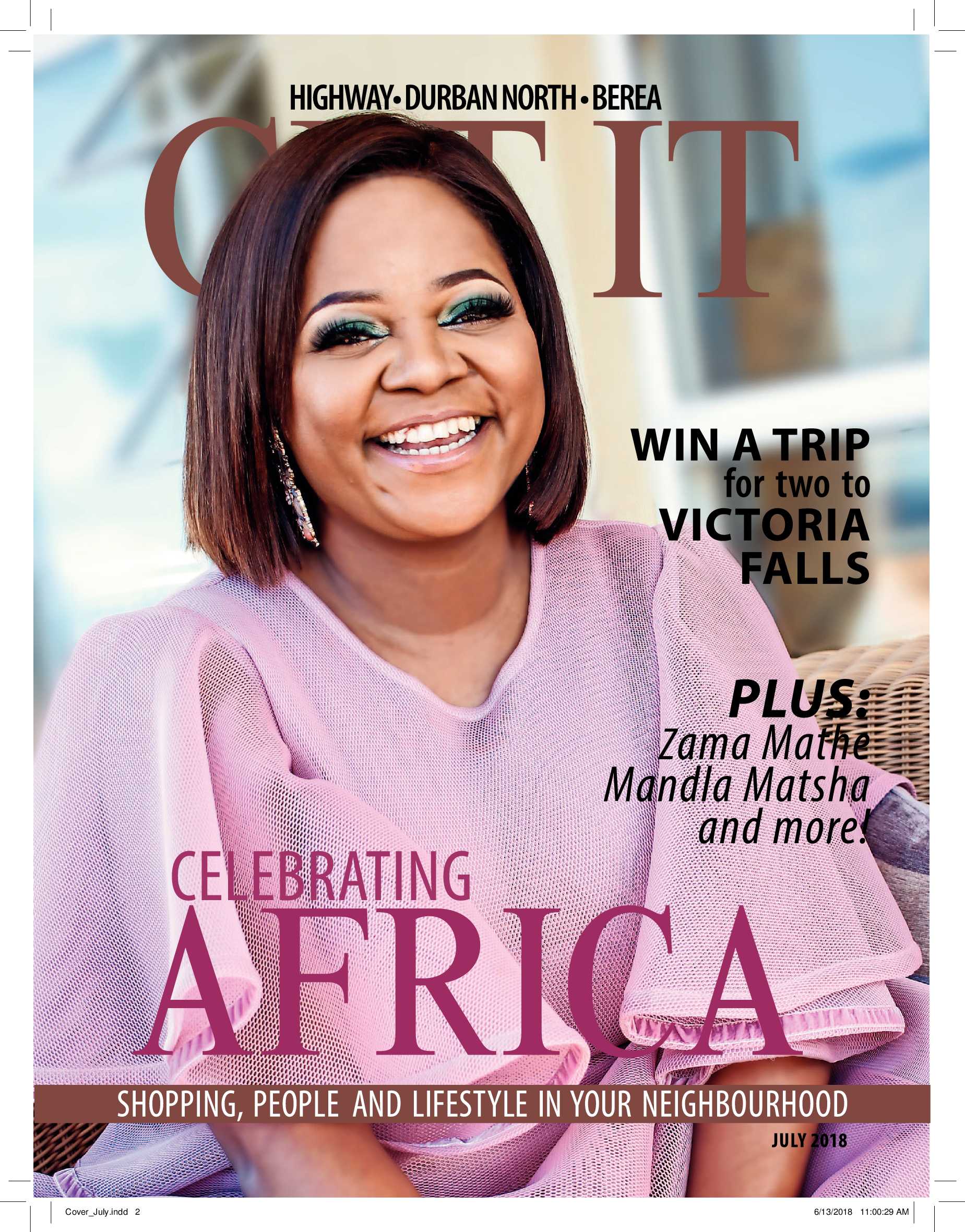 Get It Magazine Durban July 2018
Celebrating Africa
View magazine

Win a Keeping up with the Kandasamys DVD
We were thrilled to hear that the sequel to the highly successful Keeping up with the Kandasamys is on the cards and will be released in 2019.
Its time to READ competition
A wise man once quipped: Creativity is contagious. Pass it on. Albert Einstein certainly knew what he was speaking about, and when it comes to encouraging creativity and imagination in our youth, just think of the untold treasure, waiting to be discovered!
Glad to go camping
The kids are on their mid-year hols and a camping weekend's on the cards. Woo hoo.
How are you enjoying your Cadbury Breakaway?
Chocolate wrapped and filled wafer. On a chilly winter night, there's really not much more we want than this, a mug of coffee and a good book.
July spoil
Adventure awaits…
Buon appetito!
With nothing but a suitcase full of dreams and her faithful friend 'the cello', Cecilia Di Cecco left Italy to work as a musician with the KZNPO in Durban. Here she learnt to cultivate her music and at the same time began a love affair with food that eventually led to the recent launch of her first cookbook, Cucina in South Africa.
A fairy tale for modern times
Being massive fans of everything royal (especially the recent wedding between Meghan Markle and Prince Harry) we absolutely cannot wait for the release of this 124 page royal bookazine, The Royal Wedding: A People Magazine Exclusive Collector's Souvenir (R100).
is a national brand of premium free magazines available in centres across the country.
to see other Get It magazines in the network.