5 Acts of Kindness That Changed the World
You may think that your life is insignificant in the greater scheme of things, but the truth is that even the smallest acts of kindness have the power to change the world. Here are five examples throughout history where seemingly small acts of goodness had a lasting and far-reaching impact:
Christmas Truce during World War One
In 1914, during the first year of World War One, soldiers from France, Germany and Britain agreed to an unofficial ceasefire on Christmas Day. This temporary halt in conflict allowed troops to collect dead and wounded comrades from across enemy lines, trade prisoners, swap food and cigarettes, play football and even sing carols together. While the break in conflict only lasted a day in a war that spanned years, it's still seen today as a symbolic moment of peace and compassion during one of the most violent periods of human history.
Elderly Fukushima Volunteers
In 2011, after a nuclear explosion at the Fukushima power plant in Japan, hundreds of elderly Japanese men – most of them retired engineers and professionals – volunteered to help clean up the plant where they would be exposed to radiation. Since resulting cancer could take several decades to develop, they felt they wouldn't live long enough to get the disease, as opposed to younger people who still had their whole lives ahead of them. In wanting to protect the lives of the next generation, these men left a lasting legacy of kindness through their shining example of self-sacrifice.
Officer Harold Lowe and the Titanic
Officer Harold Lowe was aboard the Titanic on its ill-fated maiden voyage in 1912, and helped in passenger rescue efforts. After organising a lifeboat of survivors to be taken to the nearby RMS Carpathia, he was one of the only people who insisted on returning the lifeboat to where the Titanic was sinking, in order to save survivors still stranded in the freezing Atlantic sea. Historical accounts say he saved between four and six people, which although a small number compared to the amount of people who died, still would have had a dramatic impact on the lives of their families and communities.
Oskar Schindler
Oskar Schindler was a German factory owner who saved the lives of over 1200 Jews during World War 2. He initially hired Jewish workers because they were cheap labour, but later had a change of heart and employed them to help protect them from Nazi atrocities. Schindler was no saint: he used bribery, veiled threats and black-market gifts to convince SS officers that his workers were essential to the war effort, thereby saving them from being moved to Jewish labour camps. In 1944, he convinced German authorities to let him move his factory to Switzerland and take his workers with him, ultimately saving them from being taken to concentration camps at Auschwitz and elsewhere.
Ivan Fernandez Anaya and Kenyan Runner Abel Mutai
During an international cross-country race in Spain in 2012, Kenyan runner Abel Mutai had a huge lead and was certain to win the race. Just 10 metres from the finish line, he mistakenly thought he had crossed the finish line and won, so he slowed down – giving Ivan Fernandez Anaya, the runner in second place, a clear chance to win. Recognising Mutai's mistake, Fernandez caught up to him and guided him to the finish line instead of overtaking him. This small gesture embodied the kindness that is inherent in good sportsmanship.
While history is full of grand gestures of bravery, these examples show that even the smallest acts of giving and compassion can have a huge impact. One good deed has the power to transform someone else's outlook, leading them to add a bit of goodness to someone else – and so it spreads, ultimately building a kinder world overall.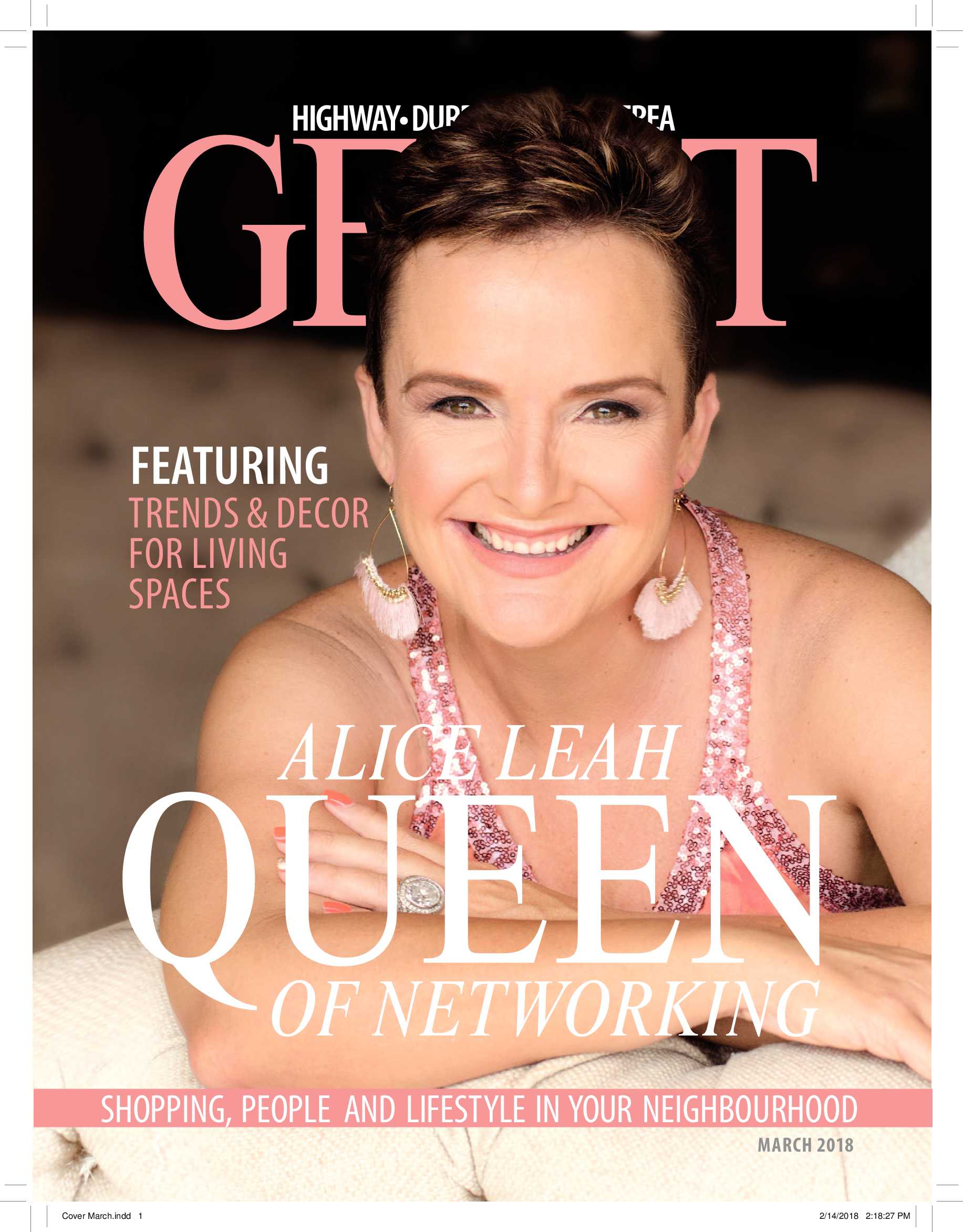 Get It Magazine Durban March 2018
Alice Leah: Queen of Networking
View magazine

The world-class Beatles Tribute returns to rock Durban!
The Easter bunny won't be the only one hopping into Durban this Easter as Beatlemania On Tour will be bouncing around stage when they kick off their week-long tour run in Sibaya Casino over the Easter break from 29 March to 8 April 2018.
Win tickets to Decorex Durban
Leaders in the décor, design and lifestyle trade, Decorex Durban, will inspire visitors to find their unique #rhythmoflife with a range of stylish services and products featuring at the Durban Exhibition Centre from 21 to 25 March.
Sweetie Pie Easter Egg
Sweetie Pie is a South African favourite, and with Easter around the corner this mouthful of goodness from Beyers is now available in a limited edition Sweetie Pie Easter Egg that will delight all loyal fans.
Carrol Boyes Wines Collection
Lovers of renowned gifting and homeware label Carrol Boyes will know that over the years the brand has come to encompass far more than the distinctive tableware for which it first became so highly revered.
March Spoil
Let's get together!
Chocolate for everyone
Who doesn't love Peter Rabbit? Who doesn't love Cadbury Dairy Milk?
World class London Dry Gin
Stretton's Gin has come to the rescue of all gin-lovers with a collaboration that's bound to be the talk of the town.
Chocolate Mozart
Renowned for their mouth-watering, decadent and convenient desserts, Chateau Gateaux has become Durban's most-loved Patisserie – an obsession to say the least.
Bespoke baby gear, designed with the supermom in mind!
When it comes to baby brands, there are so many great companies out there producing some incredible stuff. On an international level, we are of course envious of some of the adventurous, fun and fabulous products on the market (not all of which we can always get our hands on), so we simply cannot contain ourselves when every now and again we stumble across some equally great brands produced on our very own doorstep…
50 Shades of Pink
When it comes to wine, especially rosé, there are loads of guys who won't touch it. Maybe it's because they prefer a beer or a more refined spirit; maybe it's because it comes in a stemmed glass, who knows?. What we can say though, based on the confessions of our local wine fundi, Jan-Nico Coetzee, is that even the tough guys have a palate for rose, and thanks to the bottled beauties listed below, we now know just why.
is a national brand of premium free magazines available in centres across the country.
to see other Get It magazines in the network.