Wishlist for March
Scatter it with hemp
Bring a little piece of Africa's majestic natural surroundings into your living space with a stylish Veldt Cushion Cover made using an eco-friendly hemp and organic cotton fabric blend. That means they're as sustainable as they are stylish! What we love even more is that these scatters are also printed by hand using non-toxic inks, so you and your family can make safe and Earth-friendly choices for your home. Details: Priced from R299 to R340 from www.faithful-to-nature.co.za
Hassle free herb garden
Whether you live in a small urban or suburban space, you can still have fun growing herbs or flowers on your balcony, patio or even indoors in the kitchen. You can imagine then, why we are so obsessed with this gorgeous little Hydroponic Herb Garden system that takes up minimal space and looks good too. Each unit comes complete with a built in LED grow light with timer, a basin body with two planting pots, two planting covers, an add water indicator, a power indicator, a plant growing medium, and fertiliser. It is hassle free, allows growth all year round, and is great for anybody who enjoys healthy cooking and fresh produce, just like us! It plays nicely with any Grow-your-own products conducive to indoor growing, so get started and grow your own mini garden! Details: R1199 from www.yuppiechef.com
Everyday core bottle
The perfect balance of health, style, and durability these double-wall, suspended glass core bottles by Zoku are great for carrying around during your busy day. You can fill them with your favourite hot or cold beverage and enjoy the flavours in their crispest form – fresh from this pure borosilicate glass bottle. And thanks to a thread-free mouthpiece, it will not hold flavours, which means you are free to switch between beverages any time you choose to. The strong, triangular tessellation found on the silicone pads also protect the bottle from bumps and drops and there is no worry of spilling because the bottle's 1/4-turn locking cap system is leak-proof. Yes please! Details: R359 for a 475ml bottle from www.takealot.com
A merge of nature and technology
Spice up your home (or maybe bedroom) with a Lucky Love Pendant from Willowlamp, an award-winning brand whose cutting-edge designs bring life and light to large and small spaces all over the world. We are just fascinated by this roseate lamp that takes its shape from the rare, yet familiar, four-leaf clover. They are priced from R8 280 (metallic) to R11 120 (colour) and while it might take winning the Lotto for us to buy one of these incredible pieces, they are without a doubt, worthy investments to have. To find out more about Willowlamp's 2018 collection visit www.willowlamp.com or e-mail info@willowlamp.com
Succulent treasures
Always live in the world of possibility, plants, and creativity! With this in mind, we can all do with some serious cacti love, whether it's at the office or in the comfort of your own home. Proper care for these small indoor plants allows them to absorb water, grow healthy, look beautiful, and bloom, gradually shifting the energy direction which brings positive changes and wealth into your life. If you are looking for something suitably small, Woolworths has these Succulent Treasures for R209.99.
Inspirational art
We are huge fans of Rialheim's 2017/2018 Brave Collection of ceramics crafted from African clay. The collection is a testament to this very scary emotional action required from our species, not only for survival, but for an evolution we can influence, and it is with this creative spirit that Rialheim has shaped the Brave collection featuring aspects of African farm life, from decorative pigs to Nguni cattle motifs, while My Africa highlights geometric-inspired tableware in blues, pastel pinks and textured neutrals, as well as life-like ceramic renditions of animals found on the continent. The Cape Agulhas range is the southernmost tip of Africa rendered in ceramic form, featuring carefully created ceramic fish, whale and sea-life pieces in calming hues of blue and white. Details: See the full collection and shop online at www.rialheim.co.za.Image credits: Styling by Janita Doms & photography by Jomeri Mouton for Rialheim
Massage yourself
We can barely go a week without declaring our love for a nourishing body massage, but it all adds up in the end of the day, week, month – Rand-wise we mean, so we decided it was time to try the benefits of Abhyanga – a form of Ayurvedic self-massage that involves large amounts of warm herb-infused oil. Benefits include increasing circulation, movement of stagnant lymph, softer skin, soothing the nervous system, balancing the digestive system and the promotion of a healthier immune system. So, which oil should you use? In cool weather, use sesame oil, almond oil or an herb-infused oil. In hot weather, use cooling coconut oil. Keep your oil in a bottle or jar in your bathroom. You can apply it at room temperature or warm it by soaking the bottle in warm water in the sink. Practice abhyanga in the morning or the evening (preferably on an empty stomach) for as few as five minutes or as long as an hour. We've done it, and we've got a DIY Massage Coconut Massage Oil recipe to share with you. You'll need: a glass jar of unrefined, organic virgin coconut oil; essential oil(s) of your choice; a clean glass jar to transfer your blended oils into and a wooden spoon. Directions: Warm a pot of water on the stove. Place coconut oil in the warm water until it melts. Add essentials oils and stir with a wooden spoon. How much essential oil you add is up to you. Start with a teaspoon, which makes for a strong but not over-powering fragrance. Once you've mixed your oils, pour into glass jar (s) and seal. Happy self-massaging!
Chocolate for grownups
Chocolate. Yes please. Whiskey Mash. Of course. Chocolate Moonshine. Oh swoon! This month we're loving the all-new, all American-style Southern Moonshine – a range that's handmade in small batches in South Africa, with each bottle numbered and signed off by the Master Distiller.  Flavoured whiskey is fast becoming the new big thing (move over craft gins), and no wonder. This Southern Moonshine range is smooth and delicious… the Chocolate Moonshine spirit aperitif is a combination of dark chocolate and black coffee. Enjoy it straight up as a shooter, over crushed ice, or with your favourite mixer. It comes in a bespoke moonshine jug with a nifty finger hole that emulates the easy-going spirit of the American South. You'll find it a good bottle stores for around R260. #GetYourShineOn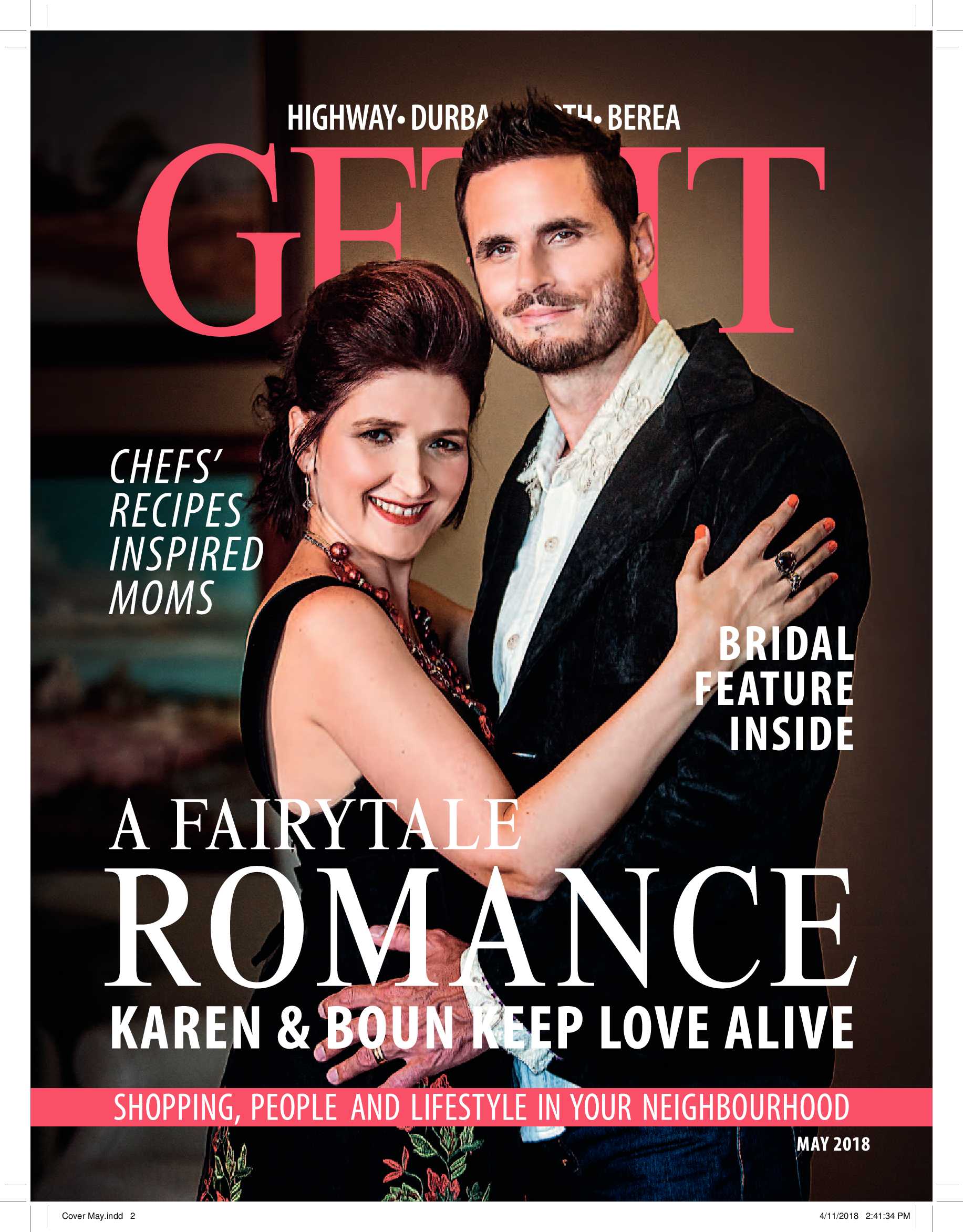 Get It Durban Magazine May 2018
A Fairytale Romance: Karen & Boun Keep Love Alive
View magazine

Beaucience for men
The range is designed to be simple, unique, and specialised skin care that treats the needs of a man's skin.
Ultimate luxury shaving products
Say goodbye to tough stubble.
June Spoil
In need of a really special treat? You won't do any better than spending some time soaking up the sun in Mauritius. And there's no better place to stay than the newly relaunched LUX* Grand Gaube Resort.
Mint Julep – The Iconic Bourbon Cocktail
Adventure-ready duffel bags
We just love these rugged, weather-resistant Chasm Collection duffel bags from Thule – the ideal companion on any travel adventure – big or small.
Fat Bastard. No. Not dad. Obviously. The wine.
The New Fat Bastard Golden Reserve 2017 is a lovely Bordeaux-style red blend… and the perfect gift to give your dad this month.
Win with Budweiser, official sponsors of the 2018 FIFA World Cup
Budweiser, one of the world's most iconic beers, is now being brewed right here in SA, just in time for the 2018 FIFA World Cup™. As the official and exclusive beer sponsor of the tournament, Budweiser is literally lighting up eight of SA's 2010 stadiums so that South Africans can feel part of the euphoric energy leading up the most watched sporting event in the world.
"Win A Dream Wedding Challenge" with Pavilion Shopping Center
With the Pavilion Shopping center Bridal fare fast approaching, entering this competition is a must for all future brides.
Canon's SNAPSHOT of the neighbourhood!
We're all about neighbourhoods. The streets. The restaurants. The parks. But most importantly … the people. This is your opportunity to capture what's best about the people and places where you live. Your chance to show off your neighbours and the hood … and to win not only fabulous Canon cameras, but also to have your work published in your local Get It magazine. What are you waiting for? Get out your camera, get snapping and show off your skills and your neighbourhood.
Something Borrowed, Something Blue, Something Old
…but definitely … something NEW at The Pavilion Bridal Fair.
is a national brand of premium free magazines available in centres across the country.
to see other Get It magazines in the network.