Meet Kloof's Maskandi warrior
Popularly known in the music industry as 'Qadasi' – an old, uncommon word that refers to a 'white person', David is on an incredible quest to revive the powerful sounds of traditional Maskandi music. As a Kloof local, he's a regular at our Shongweni Farmer's Market, and an act not to be missed at this year's Splashy Fen Music Festival.
If you had to close your eyes and listen to David – typically dressed in jeans and a t-shirt – strumming his guitar and churning out the clicks of isiZulu, it would probably flaw you. The 26-year-old is so fluent in language that it effortlessly rolls off of his tongue. He attributes his passion and respect for the Zulu culture and its music to his upbringing in Empangeni, right in the heart of Zululand.
"That's where it all started. I was about eight. My dad was a journalist and often took me along on his trips around the town. I started picking up the words, listening to traditional Zulu music and even collecting skins and shields and other Zulu gear. As a kid, all my friends were into cowboys, soldiers and astronauts, hip-hop, rap and Eminem. Not me! I fell in love with the Shaka Zulu series on TV, I was inspired by a man I'm proud to now call my friend, Johnny Clegg, and I was engrossed in Maskandi. I wanted to be a warrior, from a culture that wasn't my own, but meant something special to me."
"When I was 12, my parents got me my first guitar. They thought it was just a phase I was going through. LOL! I don't think they anticipated me spending the next decade or more of my life kitted out in Umblaselo (patch pants) and traditional skins and dedicated to pursuing a career as a professional Maskandi artist."
Clearly a man who owns the word 'perseverance', David picked up his first concertina eight years ago simply because he felt the urge. He wanted to learn to play it because of its unique connection to the sound of Maskandi music.
"Concertinas might come from Europe, but they are taken by the Zulu concertina tuners who change the reeds and make them 'talk' in the Zulu language. That's how I met my mentor, co-musician and long-standing friend Maqhinga Radebe. One of the most highly respected maskandi guitarists in the country, he took what I already taught myself and helped me to polish up my skills. We've been jamming together ever since."
Sharing the same vision, the duo brings to life a fusion of traditional Zulu and western folk music that represents the heart and soul of South African roots music. With a host of noteworthy performances, and achievements including a SAMA (South African Music Awards) and SATMA (South African Traditional Music Achievement) nominations, they are making waves locally and across the globe.
"We've travelled a lot together – to Asia, Italy, Ireland, the UK and you'd be surprise by how well our music is received. There's nothing like the African Beat, the people genuinely love it! Our travels also play a huge part in our constant flow of musical inspiration – it's about life, love, our environment and beautiful things."
It's also no surprise that there's a healthy demand for Qadasi and Maqhinga in KZN and Cape Town – festivals, markets and live music venues, wherever they are wanted, they go.
"Intimate shows are what we love the most because we connect so well with our audiences and our music, as a result, takes the shape of storytelling. We're often at the Shongweni Farmers Market – it's a classic farmers market on an epic scale. We love the people, the vibe and we can sell up to 70 CDs during the morning. Nowhere else in South Africa can you stand in the rolling hills, setting the atmosphere for crowds with tunes so catchy that people want to take our music home with them. This is such a humbling feeling for us!"
As for Splashy Fen, David's not shy to admit that aside from performing, he goes there annually for that stuffed feeling of artisan street food, amazing acoustic performers and headline artists, and of course the great atmosphere.
"It's such a family festival. It's warm and welcoming. The setting plays a huge role… getting wet in the river on a hot day, the rows of trees lining the border. It's so awesome to play there, and I'm always joined by family and we usually camp by the river. I love nothing more than sitting on the riverbank with my guitar jamming with the guy who taught me my first three chords – my uncle. He's had an integral part to play in the musician I am today."
Plans in the pipeline for David include a European Tour in May this year for him and Maqhinga, and perhaps even a little sailing.
"Family is number one, so spending time with my mom, girlfriend and family is always part of my weekly routine. In my spare time, I do a lot of admin – no joke! I was big into sailing growing up, and I would love to get back into it. Technology is also a big interest of mine, so I often get involved in the production side of our music making. And who can say no to more travel? My dream is to be seen as a prominent Maskandi artist and continue to tour locally and abroad promoting unity and diversity, but I will always be based in KZN. We live in such a beautiful country and I've got no desire to move."
Catch Qadasi and Maqhinga at Shongweni Farmer's Market on Saturday, 10 March.
David will be performing a solo acoustic set at Splashy Fen on Saturday, 31 March.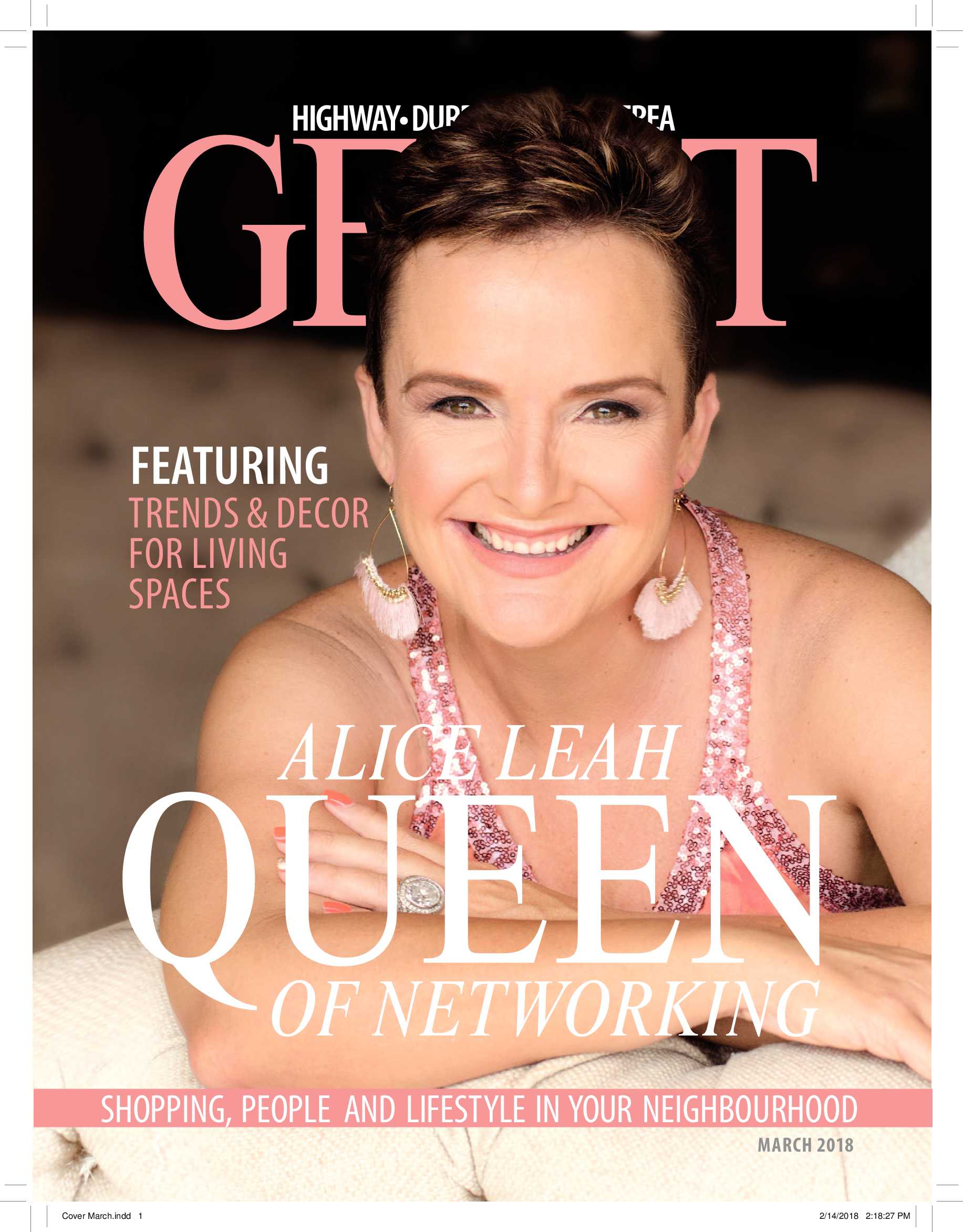 Get It Magazine Durban March 2018
Alice Leah: Queen of Networking
View magazine

The world-class Beatles Tribute returns to rock Durban!
The Easter bunny won't be the only one hopping into Durban this Easter as Beatlemania On Tour will be bouncing around stage when they kick off their week-long tour run in Sibaya Casino over the Easter break from 29 March to 8 April 2018.
Win tickets to Decorex Durban
Leaders in the décor, design and lifestyle trade, Decorex Durban, will inspire visitors to find their unique #rhythmoflife with a range of stylish services and products featuring at the Durban Exhibition Centre from 21 to 25 March.
Sweetie Pie Easter Egg
Sweetie Pie is a South African favourite, and with Easter around the corner this mouthful of goodness from Beyers is now available in a limited edition Sweetie Pie Easter Egg that will delight all loyal fans.
Carrol Boyes Wines Collection
Lovers of renowned gifting and homeware label Carrol Boyes will know that over the years the brand has come to encompass far more than the distinctive tableware for which it first became so highly revered.
March Spoil
Let's get together!
Chocolate for everyone
Who doesn't love Peter Rabbit? Who doesn't love Cadbury Dairy Milk?
World class London Dry Gin
Stretton's Gin has come to the rescue of all gin-lovers with a collaboration that's bound to be the talk of the town.
Chocolate Mozart
Renowned for their mouth-watering, decadent and convenient desserts, Chateau Gateaux has become Durban's most-loved Patisserie – an obsession to say the least.
Bespoke baby gear, designed with the supermom in mind!
When it comes to baby brands, there are so many great companies out there producing some incredible stuff. On an international level, we are of course envious of some of the adventurous, fun and fabulous products on the market (not all of which we can always get our hands on), so we simply cannot contain ourselves when every now and again we stumble across some equally great brands produced on our very own doorstep…
50 Shades of Pink
When it comes to wine, especially rosé, there are loads of guys who won't touch it. Maybe it's because they prefer a beer or a more refined spirit; maybe it's because it comes in a stemmed glass, who knows?. What we can say though, based on the confessions of our local wine fundi, Jan-Nico Coetzee, is that even the tough guys have a palate for rose, and thanks to the bottled beauties listed below, we now know just why.
is a national brand of premium free magazines available in centres across the country.
to see other Get It magazines in the network.