Relax, it's just a souffle!
Banana Soufflé
You'll need:
For the base: 1kg bananas, 400g light brown sugar, 50g cornflour, juice of 1/2 lemon
For the compote: 3 bananas, 50g butter, and 50g light brown sugar
For the actual assembly: 300g soufflé base,  3 eggs – 150g egg whites, 70g castor sugar
Set aside some extra butter and sugar for greasing the dishes
What to do:
First make the soufflé base. Add together all the ingredients; sugar, bananas, cornflour and lemon juice into a food processor and whisk together until it is smooth. Place in a pan and bring to the boil stirring continuously until thick and the corn flour is cooked out. Remove from pan and leave to cool.
For the compote: heat a frying pan. Dice the bananas into 2cm pieces, melt the butter and sugar in the pan. When the sugar starts to caramelize, add the banana and mix together. Transfer to the fridge to cool.
To cook the soufflé: Grease the soufflé dishes with butter using a pastry brush, upwards and well measured strokes to ensure an even rise. Dust with castor sugar. Whisk the egg whites until a soft peak is reached and add in sugar. Whisk again until firm. Gently fold the egg whites into the soufflé base until all is incorporated and smooth. Fill the dish halfway with the mix, and add a spoonful of the compote. Then fill the rest of the ramekin with soufflé base. Flatten the top with a palate knife and run your finger around the rim to help the rise. This can be done up to three hours in advance, if stored in a fridge. To cook, place in a preheated oven at 200°C for 10 min. When well risen serve immediately with a toffee sauce or a scoop of ice cream.
Homemade Caramel Ice Cream
You'll need: 250 g sugar, 60 ml water, 250 ml cream, 500 ml milk, 6 egg yolks
What to do: Combine the sugar and water in a saucepan and bring to a boil to dissolve the sugar. Cook the syrup to the caramel stage. As you boil the sugar, wash down the sides of the saucepan with a brush dipped in water. Do not let the brush touch the syrup, but let water from the brush run down the sides of the pan. This removes any crystals that may form. Towards the end of the cooking time turn the heat down to very low to avoid burning the sugar or letting it get too dark, it should be a golden colour. Remove from the heat and cool for 5 minutes. Bring the cream to a boil and slowly add the cream to the caramel whisking continuously until all the caramel is dissolved. Beat the eggs in a bowl using a whisk until slightly thickened. Bring the milk to a boil and gradually beat it into the egg mixture. Heat over a water bath, stirring constantly until the mixture coats the back of a spoon. Immediately remove from the heat and whisk in the caramel cream. Chill the mixture thoroughly. Freeze in an ice cream maker.
Back to basics: Eggs 101
Forget cooking Masterchef worthy food when you still can't master the simple egg, be it boiled, poached, scrambled or soufflé.  With a few helpful tips on 'how-to', a couple of microwave-related hacks and some knock-out recipes from those in the know,  you'll have everything you need to become a certified eggs-pert.
EGG HACKS
Three ways in the microwave
The microwave is known for its versatility and ubiquity. Eggs happen to share this reputation  and it turns out the two are perfect for each other, so, if you are pressed for time, here's how to cook scrambled, sunny-side up and poached eggs in the micro!
Two-minute scrambled eggs
Crack two eggs in a mug, add a splash of milk, beat and microwave on high for two minutes.
Poached eggs
Crack one egg in a mug and add 1/3 cup of water. Cover it with a dish, and microwave on high for 50 seconds. If it's not done yet, give it another 10 seconds.
Top of Form
Two-and-a-half-minute omelette
Crack three eggs in a bowl, beat to combine, and then spread the uncooked eggs evenly on a greased flat dish. Cover the dish and microwave for 90 seconds. Remove the plate and stir, then give it another 60 seconds in the microwave uncovered. Once your eggs are cooked, add a little grated cheese if you like, then fold and eat!
GETTING IT RIGHT

The perfect hard-boiled egg
The trick to great hard-cooked eggs is not over-cooking them.
You'll Need: A pot with a lid, eggs, water
What to do: Place your eggs in a single layer on the bottom of your pot and cover with cold water. The water should be about 3cm higher than the eggs. Cover the pot with a lid. Over high heat, bring your eggs to a rolling boil. Remove from heat and let stand in water for 12 minutes for large eggs. Reduce the time slightly for smaller eggs and increase the standing time for extra-large eggs. Drain water and immediately run cold water over eggs until cooled and ready to peel.
How to poach an egg like a pro
While poached eggs have a reputation for being a bit of a challenge, the truth is, with the right technique and a little practice, poaching an egg is like riding a bicycle – you'll love it once you've mastered it. The biggest key to success with poached eggs is also using fresh eggs.
You'll Need: A pot, water, a slotted spoon, vinegar, 2 eggs
What to do: Boil the water, adding a tablespoon of vinegar. Meanwhile, crack your eggs into a small cup. When the water reaches a boil, reduce it to a gentle simmer. Dip the bowl with the egg into the water, and let the water cook the egg for a moment before you let it drop into the water. This will help prevent the wispy whites. Drop in the second egg in the same way, and try to keep track of the order they went in. The first egg in should be the first egg out. Gently keep the water moving with a spoon while the eggs cook. Take the eggs out after three minutes for soft poached, or let them cook to five minutes for a more solid yolk. Remove with a slotted spoon to drain. Place the cooked egg on a paper towel and season.
Cooking the perfect omelette
Easy and inexpensive omelettes work beautifully for breakfast, lunch or dinner. The best way is slightly browned on the outside, creamy on the inside and filled with anything from simple herbs to meat or vegetables.
You'll Need: 2-3 eggs, a good non-stick pan, 1 tsp water or milk, a spatula, butter, desired fillings (e.g. cheese, mushrooms, ham, tomato, and peppers)
What to do: Decide on and properly prepare your filling. Make sure your ingredients won't give off a lot of water when warmed. Whisk the eggs with a teaspoon of milk, season with salt and pepper. Coat a pan with butter and heat over medium-high heat. Once the pan is hot, pour in the mixture and use your spatula to gently move cooked egg in from the edge of the pan to the centre, creating "curds." Tilt and rotate pan to make sure that any uncooked egg fills in any empty spaces. When the surface of the egg does not jiggle when the pan is shaken, add your filling sparingly. Fold the omelette in half with a spatula and let the bottom brown slightly, before flipping onto a plate. If you have any left over filling, pour it on top of the omelette.
SAUCE IT UP
Since very little fat is involved in boiling or baking eggs, a great way to add some flavour is with a delicious sauce. You could easily knock up a salsa Verde, avocado hollandaise, pepper puree, piri piri sauce, sautéed mushrooms, pesto or kimchi. Two of our favourites however are a tomato-based sauce called Shakshuka and Jalapeño Aioli.
Shakshuka: spicy, hearty and cheap
(Serves 4, with bread)
This classic, simple, one-pot Middle Eastern dish packs a flavour punch and is just the thing for a weekend brunch.
You'll Need: 4 tbsp. olive oil, 1 onion, finely sliced, 1 red pepper, diced, 1 green pepper, diced, 6 garlic cloves, crushed, 2 tsp sweet paprika, ½ tsp cumin seeds, ½-1 tsp cayenne pepper, 800g tinned tomatoes (or ripe tomatoes in season), 2 tsp sugar, 1 tbsp. lemon juice, 4-8 eggs, depending on hunger, fresh coriander, roughly chopped
What to do: Heat oil in a large lidded frying pan over a medium heat and add onion. Cook until golden, and then add peppers. Fry until both are soft, then stir in the garlic and spices and cook for another couple of minutes. Pour in the tomatoes and roughly mash. Stir in the sugar and bring to a boil, then turn down the heat and simmer for 30 minutes. Taste and season, adding more cayenne if you prefer it spicier. Make 4 to 8 divots in the sauce and break in the eggs. Season them lightly, turn the heat right down, cover and cook for about 10 minutes until eggs just set. Sprinkle with coriander and serve.
Jalapeño Aioli
Another knock-out recipe from 9th Avenue Bistro,is  this awesome aioli is flavour-filled, adds a nice kick and is super versatile, because personally we think everything is better with mayonnaise.
You'll Need: 2 egg yolks, 1 clove garlic, 2 tsp roast red pepper (skinned, seeded and chopped), 1 tsp Jalapeño pepper (skinned, seeded and chopped), 1 tbsp. lemon juice, 1 pinch salt, 1 ½ cups sunflower oil
What to do: In a food processor, blend all the ingredients except for the oil until smooth. With the motor running slowly drizzle the oil in until it is all emulsified and the thick mayonnaise like texture is left. Check the seasoning and add more salt if necessary. Serve as a condiment or as a dipping sauce.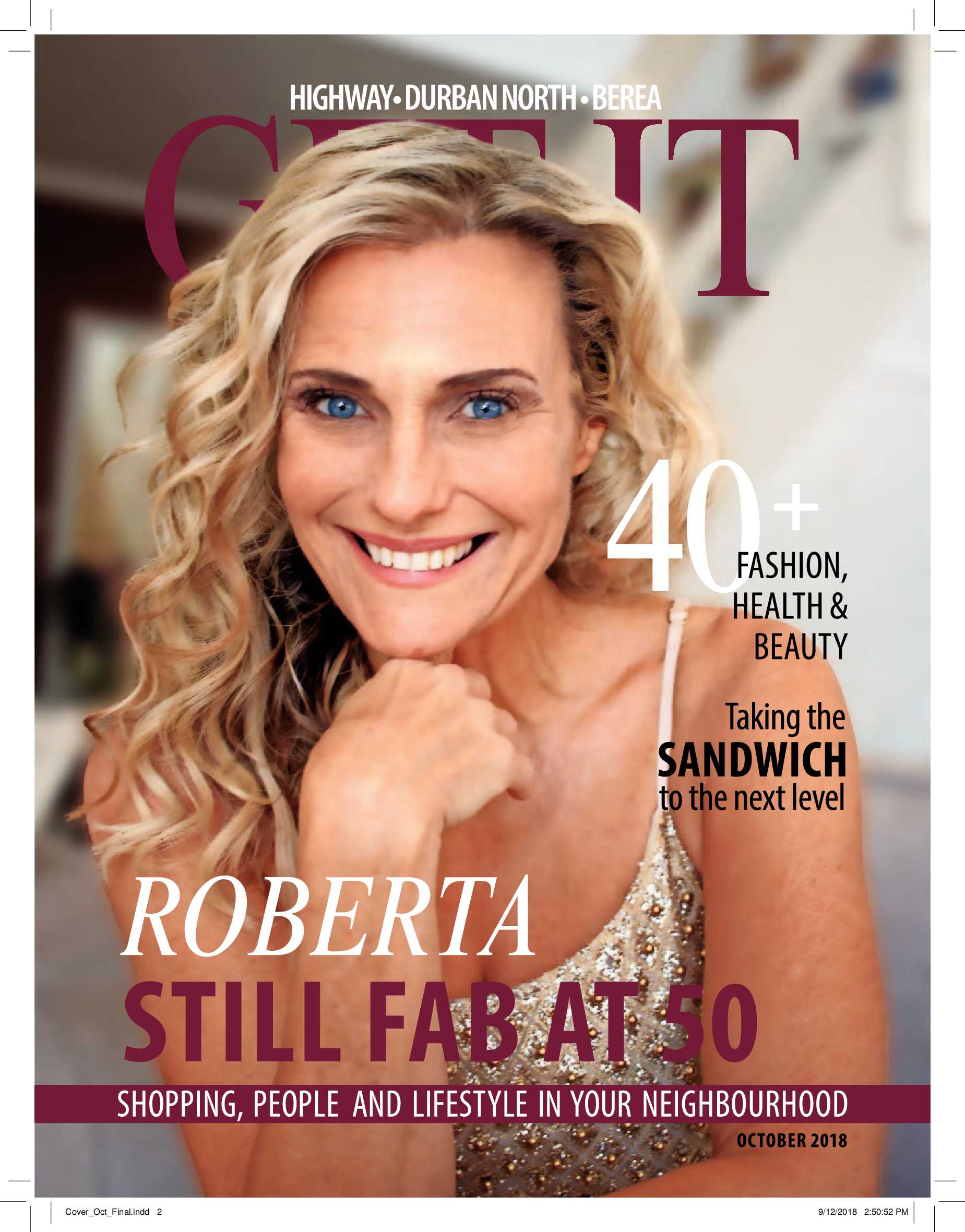 Get It Magazine Durban October 2018
Roberta still fab at 50
View magazine

The Santa Run is Back!
It's the most wonderful time of the year; and what better way to enjoy it than with family and friends at this year's Santa Run powered by The Hub. KZN's very own Christmas themed 5km family run is a fun-filled experience that takes participants in, through, up, down, out and around the beloved Jonsson Kings Park precinct. And we have some tickets to giveaway!
Durban gets the nod for highly anticipated Calum Scott 'Only Human' South Africa Tour
Platinum selling singer/songwriter and Britain's Got Talent finalist, Calum Scott last month announced the South African dates for his 'Only Human' Tour in November with performances in Cape Town and Johannesburg. Following an overwhelming response from Durban fans via social media, Calum Scott has felt the love from KZN and has added 9 November at the Durban Botanic Gardens to the SA tour. And… we are giving away tickets!
Something new on your burger bun
Most of us love the idea of a burger, no matter what our food preference is, and burgers are certainly not for meat eaters alone. For those who are health conscious or don't eat meat, why not add this Pouyoukas recipe of spicy lentil burgers to your burger night as an extra option.
Summer scents
October Spoil
An afternoon of decadence.
21 reasons to open a bottle of FAT Bastard
Life, like FAT bastard, should be filled to the brim and enjoyed in large, delicious gulps. And this year, this well-loved, delicious, full-bodied range of wines, is celebrating 21 years of living large. So named because when first created by
Pinkies up, it's time for tea!
There's nothing quite like tantalising your taste buds in spring with a tall glass of iced tea, which is why we are over the moon that one of our favourite fruit juice brands, Sir Fruit, has introduced a bold, low sugar Ice Tea to its range.
It's fun, there is food, it's the Bierfest at Suncoast
Bierfest is back at Durban premier entertainment destination, SUNCOAST, with an offering of good food, music and beer at this year's TOPS at SPAR Bierfest!
August Spoil
Chocolate biscuits …and a luxury breakaway!
Its time to READ competition
A wise man once quipped: Creativity is contagious. Pass it on. Albert Einstein certainly knew what he was speaking about, and when it comes to encouraging creativity and imagination in our youth, just think of the untold treasure, waiting to be discovered!
is a national brand of premium free magazines available in centres across the country.
to see other Get It magazines in the network.