Laugh your way to a better you
Laughter Therapy has a profound impact on the body and mind. Not only does it help to prevent the onset of sickness by strengthening the immune system, but it also has a healing effect.  A daily dose of laughter therapy has the power to unwind stress and promote joy.  It slows down a racing heart and strengthens the mind, raises the spirit and fends off pessimism…and all this in an instant.  Sounds crazy right, but it works wonders!
So what is Laughter Therapy actually?
Laughter Therapy is a unique concept where anyone can laugh for no reason, without relying on humour, jokes or comedy.
Laugher is initiated as an exercise in a group, but with eye contact and childlike playfulness, it soon turns into real and contagious laughter.
It is called Laughter Therapy because it combines laughter exercises with deep breathing exercises. This brings more oxygen to the body and the brain which makes one feel more energetic and healthy.
The concept of Laughter Therapy is based on a scientific fact that the body cannot differentiate between fake and real laughter if done with willingness. One gets the same physiological and psychological benefits.
In addition to social laughter clubs, Laughter Therapy is also practised in Companies and Corporations, Fitness centres, Yoga studios, Centres for seniors, Schools, Colleges, Universities, Physically and mentally challenged and self-help Cancer groups.
But I laugh naturally so why do I need Laughter therapy?
In order to get the proven health benefits of  laughter, we need to laugh continuously for at least 10 to 15 minutes. Since in Laughter Therapy we do laughter as an exercise, we can prolong our laughter as long as we want; it brings measurable physiological changes like oxygen levels in the blood, muscle relaxation, blood circulation and releases certain positive hormones in the body.
– To reap the health benefits of laughter, laughter has to be loud and deep, coming from the diaphragm. It must be a belly laugh.  Laughter Therapy therefore provides a safe environment where one can let loose, laugh loudly and heartily without any social implications.
– Natural laughter that occurs through our life depends upon many conditions, but there are not many reasons which make us laugh. That means we leave laughter to chance,  it may happen it may not. In contrast, in Laughter Therapy, laughter is not left to chance, but done with commitment.  This guarantees getting the maximum health benefits from laughing..
People are surprised by the powerful changes that Laughter Therapy can make in their lives.  It is the perfect way of putting the ego aside and ensuring a loving, caring and giving state of mind.  It can be one aspect of bringing Mindfulness into your life.
Laughter Therapy will cultivate a positive mental attitude and an understanding based on unconditional love, forgiveness, generosity and compassion and will allow patience and tolerance to emerge in your life
Bottom line is thatLaughter Therapy makes us feel good, it is unconditional laughter in its purist form.
Heinrich Visser is a South African expert on laughter and knows how to unlock its many benefits to promote wellness and well-being in everyday life, at home and at work. Heinrich studied with Dr. Madan Kataria (Laughter Yoga International University, Bangalore, India) where it all started and obtained his Laughter Yoga Teacher's Qualification. He has since travelled throughout Southern Africa over the past decade offering a variety of  laughter and empowerment programs to thousands of people. He is one of a few Certified Laughter Professors in South Africa and loves bringing laughter coaching to the Corporate world, Schools, Universities, NGO's and NPO's.  He also offers  two-day certified Laughter Therapy coach training Seminars. You can contact Heinrich Visser at 0625495481 or email him at hvisserclyt@gmail.com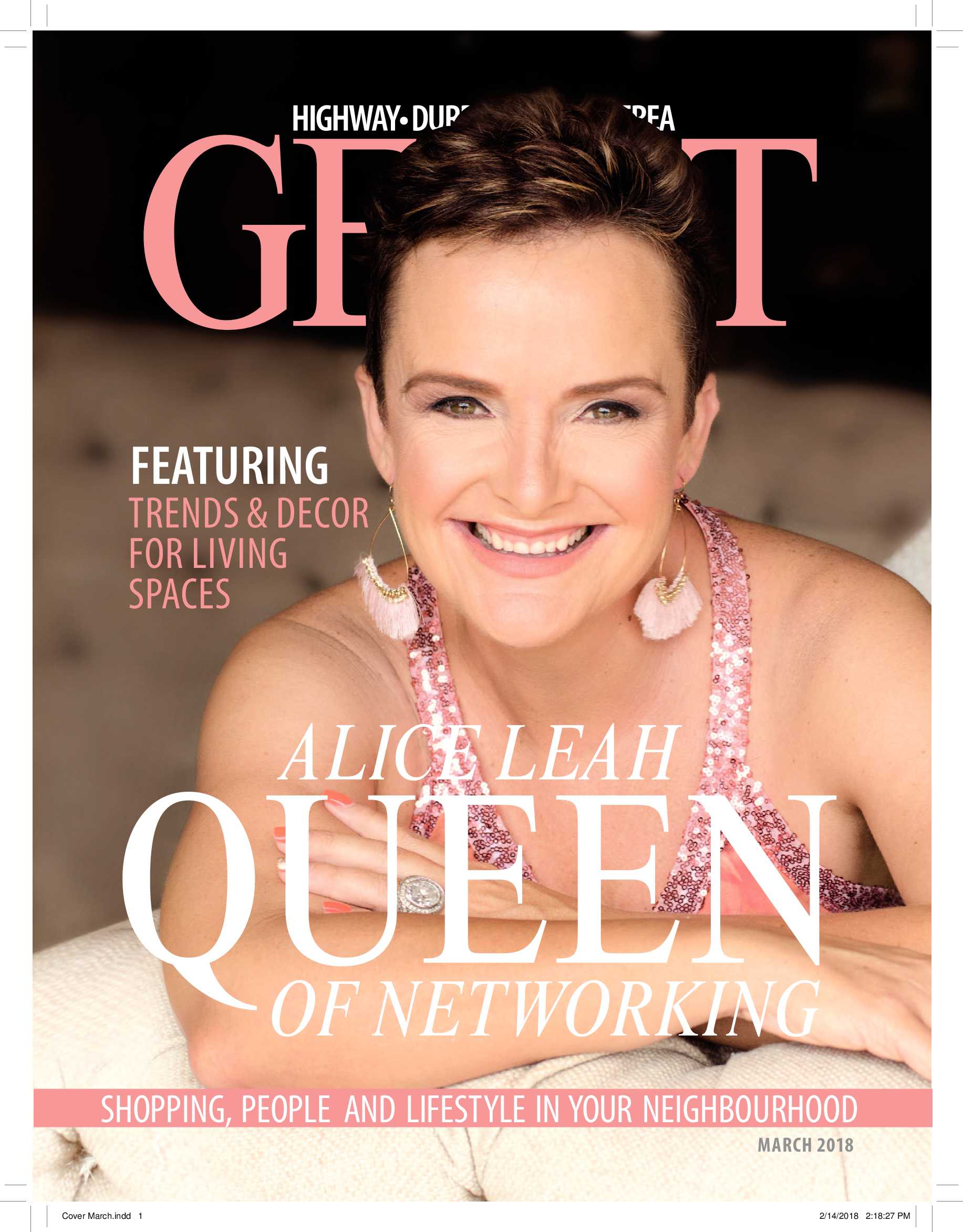 Get It Magazine Durban March 2018
Alice Leah: Queen of Networking
View magazine

The world-class Beatles Tribute returns to rock Durban!
The Easter bunny won't be the only one hopping into Durban this Easter as Beatlemania On Tour will be bouncing around stage when they kick off their week-long tour run in Sibaya Casino over the Easter break from 29 March to 8 April 2018.
Win tickets to Decorex Durban
Leaders in the décor, design and lifestyle trade, Decorex Durban, will inspire visitors to find their unique #rhythmoflife with a range of stylish services and products featuring at the Durban Exhibition Centre from 21 to 25 March.
Sweetie Pie Easter Egg
Sweetie Pie is a South African favourite, and with Easter around the corner this mouthful of goodness from Beyers is now available in a limited edition Sweetie Pie Easter Egg that will delight all loyal fans.
Carrol Boyes Wines Collection
Lovers of renowned gifting and homeware label Carrol Boyes will know that over the years the brand has come to encompass far more than the distinctive tableware for which it first became so highly revered.
March Spoil
Let's get together!
Chocolate for everyone
Who doesn't love Peter Rabbit? Who doesn't love Cadbury Dairy Milk?
World class London Dry Gin
Stretton's Gin has come to the rescue of all gin-lovers with a collaboration that's bound to be the talk of the town.
Chocolate Mozart
Renowned for their mouth-watering, decadent and convenient desserts, Chateau Gateaux has become Durban's most-loved Patisserie – an obsession to say the least.
Bespoke baby gear, designed with the supermom in mind!
When it comes to baby brands, there are so many great companies out there producing some incredible stuff. On an international level, we are of course envious of some of the adventurous, fun and fabulous products on the market (not all of which we can always get our hands on), so we simply cannot contain ourselves when every now and again we stumble across some equally great brands produced on our very own doorstep…
50 Shades of Pink
When it comes to wine, especially rosé, there are loads of guys who won't touch it. Maybe it's because they prefer a beer or a more refined spirit; maybe it's because it comes in a stemmed glass, who knows?. What we can say though, based on the confessions of our local wine fundi, Jan-Nico Coetzee, is that even the tough guys have a palate for rose, and thanks to the bottled beauties listed below, we now know just why.
is a national brand of premium free magazines available in centres across the country.
to see other Get It magazines in the network.