The art and heart of Gelato
He is a rare breed, Edward. Unlike most of the country's gelato producers, he only uses the finest and freshest natural ingredients. That means no artificial flavours, no preservatives, no fillers, just pure, natural, intense, one-of-a-kind stuff,  handcrafted the traditional Italian way using his trusty Cattabriga ice-cream maker that slow-churns his decadently creamy mix so that there are no air bubbles – just gelato… Momenti Artisan Gelato.
"I've always loved ice cream, but my first experience with proper Italian Gelato was overseas. I think that was the first step which led me to this point, to specialise in small batch gelato and sorbetto."
Low in sugar and fats, Edward's gelato isn't cheap, but it certainly is well worth every cent. To say that it is nice would be an understatement. It is heavenly, even to a palate that generally doesn't care for sweet treats of this kind. In fact, it's insanely addictive… the kind of addiction that'll give you withdrawal symptoms when it's been too long since your last 'fix'. Think pure cream or chocolate gelato (not low in fat obviously) made from 70 per cent Belgium chocolate, Madagascan vanilla gelato, pistachio gelato (with a chocolate chip option) and Mandorla gelato, made from roasted, caramelised almond paste, and a crème brûlée gelato  – made using Edward's secret custard recipe – topped with caramelised sugar in a hand rolled waffle cup.
"Everyone has their favourite, but overall I'd say our Doce De Leite Gelato (Brazilian Style Caramel) and Mascarpone Blueberry Cheesecake Gelato are some of the most popular with my customers. My personal favourite though is a combination of pistachio and fresh coconut gelato – hands down a winning combo! Our pistachio gelato is made from raw pistachio kernels, roasted and blitzed into a luxurious butter, which is then folded into our sweet milk base."
As for his coconut gelato well, nothing beats fresh coconut flesh cut straight from the nut. The Speculoos Gelato is also another interesting taste sensation – an infusion of five different spices baked into a biscuit and variegated throughout the gelato – similar to cookie dough.
For those who prefer  something that's a little less rich, Edward's sorbets are incredible.
"I can never make enough of our Lemon, Basil & Mint Sorbet and the Strawberry Sorbet. Our Plum and Ginger Sorbetto is intriguingly delectable. Some say they can taste the fresh ginger first, others say they taste it last. It's always worth a laugh to hear the results among a group of friends. The weirdest flavour I've been asked to make? That's easy, bacon gelato, enough said! Having said that, I am constantly experimenting with new flavours, there is no limit."
Edward studied gelato-making at a gelato university in Bologna – Carpigiani Gelato University, the world's first university dedicated to ice cream. There they teach students how to make traditional gelato, but the students then have to create their own recipes, something that Edward thrived on.
"I've always enjoyed working with food and I have a deep appreciation for the old school ways of creating by hand. Gelato is a dessert steeped in history. A luxury palate pleasure made only for the wealthy because it was so time consuming to make. I wanted to learn about this artisan trade and the fundamentals of how to combine raw ingredients to create something truly special. In many ways the art of Gelato is like that of patisserie. In pastry one must carefully balance the recipe. In the same way, the creation of gelato and sorbetto flavours requires an understanding of how to use a variety of ingredients while maintaining a smooth, creamy texture that melts effortlessly on the palate."
Edward quickly learnt to master the basics, but the journey didn't end there. During the course of 2016, he worked in a Gelateria for a while, and when he was confident enough, he came home to Durban, armed with the skills to hone in on his craft.
According to Edward, there are two ways to make gelato. The first is a quick process using premixes and other readymade ingredients. This method doesn't require a great deal of preparation or knowledge on how to create a recipe from scratch, and often makes use of colourants, flavourings and artificial emulsifiers, resulting in a much cheaper product with weaker flavours and unnatural colours.
The second way to make gelato is by using natural and fresh ingredients. This method requires the preparation of fresh fruits, roasting of whole nuts, pasteurisation of sweet milk bases, chocolate sauces and purees, to name just a few.
"I've chosen to embrace the old style of making traditional Italian gelato and sorbetto. Each flavour is unique, created entirely from scratch. For instance, our 70 per cent Belgian Dark Chocolate Gelato is created by first cooking 100 per cent Cocoa Powder. Then we fold in premium quality 70 per cent Belgian Chocolate. Finally, we combine the thick chocolate mousse with our secret sweet milk base. The result is a very intense flavour of bitter cocoa and creamy dark chocolate. Our Crème Brûlée Gelato tastes of custard and caramelised sugar because we slowly cook fresh egg yolk and fold in lemon zest, Madagascan vanilla seeds and caramelised sugar."
The most beautiful thing about Edward's vegan sorbets is the explosion of flavour in each one, due to the use of fresh seasonal fruits – strawberries, peaches and pineapples or mango, litchi, watermelon and more.
"My creative process makes use of not only fresh and natural ingredients, but also the old style Italian way of slow churning our flavours and hand extracting them with a two-handled spatula. Once the flavour has been blended, I pour it into the slow churner, which simultaneously cools and folds the flavour over itself in a natural way that imparts minimal air. The result is a dense, creamy and intensely flavoursome gelato or sorbet."
There is no shortcut to creating these flavours, and it is this philosophy of focusing on the quality of the flavours that makes Momenti Artisan Gelato unique to the South African market. So how lucky are we that it is available right here on our doorstep?
"No doubt we have better technology today to help to create more efficiently, but the method of creating Gelato by hand has mostly remained unchanged. I think both the combination of working with fresh natural Ingredients and creating handmade small batches of gelato is what inspired me to offer something different, authentic and of a high quality. I have immense pride in my work and that's what drives me to constantly create new flavours and improve all the time. The work is difficult, expensive and time consuming; this is why no one in South Africa makes gelato the traditional way. But I love every moment of it, and seeing the customers light up when they taste the flavours makes everything worth it. Interpreting heaven in ice cream, this is it for me."
Where to find Edward?
Find him at The Warehouse Durban, 6 Station Drive, Unit 3, open from 11.30am to 5.30pm weekdays. Contact 072 949 7263.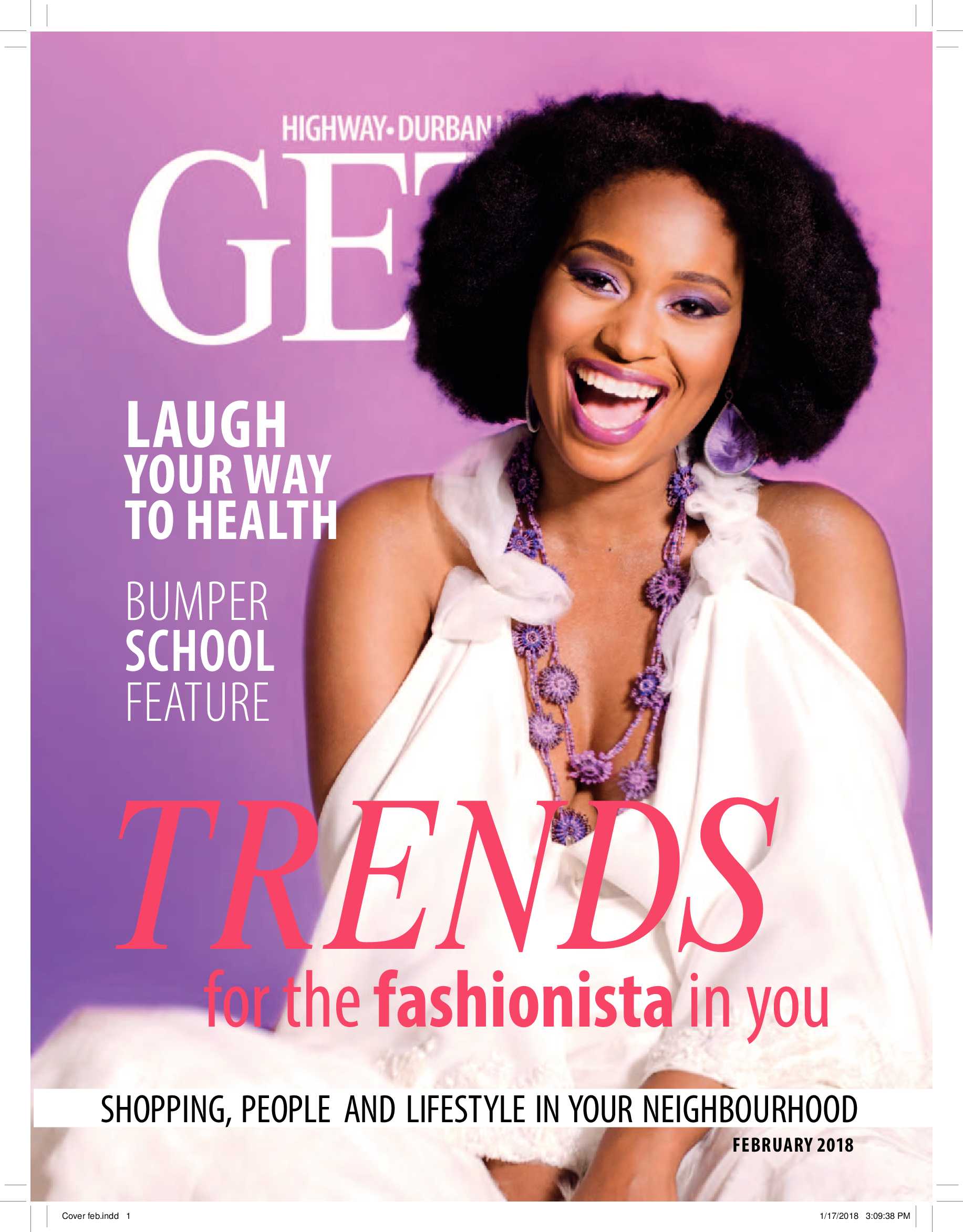 Get It Magazine Durban January 2018
Trends for the fashionista in you
View magazine

Chocolate Mozart
Renowned for their mouth-watering, decadent and convenient desserts, Chateau Gateaux has become Durban's most-loved Patisserie – an obsession to say the least.
As good as eating out
Let's face it. Budgets are tight. And eating out has become somewhat of a treat. But we've found the perfect solution … restaurant food at home.
Bespoke baby gear, designed with the supermom in mind!
When it comes to baby brands, there are so many great companies out there producing some incredible stuff. On an international level, we are of course envious of some of the adventurous, fun and fabulous products on the market (not all of which we can always get our hands on), so we simply cannot contain ourselves when every now and again we stumble across some equally great brands produced on our very own doorstep…
A Crazi kind of giveaway
There are only a few weeks left of the Crazi Erazi phenomenon that has swept the country since December, and this is your chance to win one of five complete sets of Crazi Erazi erasers that we are giving away.
STRETTON'S & Barker & Quin collaborate to reinvent G&T
Stretton's Gin have come to the rescue of all gin-lovers with a collaboration that's bound to be the talk of the town. The award-winning Gin brand partnered with tonic experts Barker and Quin to perfect a timeless classic – Gin and Tonic.
50 Shades of Pink
When it comes to wine, especially rosé, there are loads of guys who won't touch it. Maybe it's because they prefer a beer or a more refined spirit; maybe it's because it comes in a stemmed glass, who knows?. What we can say though, based on the confessions of our local wine fundi, Jan-Nico Coetzee, is that even the tough guys have a palate for rose, and thanks to the bottled beauties listed below, we now know just why.
February Spoil
Let your presence linger…
is a national brand of premium free magazines available in centres across the country.
to see other Get It magazines in the network.