World's first pair of concrete sunglasses!
South African architect Handre de la Rey was named the 2017 PPC Imaginarium Awards Industrial Design Category Winner for his pair of concrete sunglasses, titled CS Project. Since then, he has launched the design, along with his studio 20 EIGHT, for commercial retail, making it the world's first pair of concrete sunglasses available to the public for purchase. Although other examples of concrete sunglasses exist, from studios such as XYZ Integrated Architecture and artists such as the UK's Daniel Sinsel, this is the first pair that has successfully been brought to the market. CS Project is the latest concept by De La Rey, who set out to explore the possibility of creating a pair of ultra-thin sunglasses that push the perceived boundaries of cement.
CS Project has gained recognition due to being showcased at a number of prestigious galleries and events throughout the year as part of PPC Imaginarium's travelling nationwide exhibition. The competition strives to assist emerging artists and designers in launching their careers through mentorships, cash prizes to the value of R500 000 and public exposure. It is South Africa's most supportive art and design competition and challenges emerging creatives to express their talents by incorporating Portland cement-based concrete as the primary medium in their respective industries.
The inspiration for CS Project came from the work of Japanese architect Tadao Ando, whose use of bold geometry, clean proportions and concrete informed the design process. Developed over a five-year period and starting with numerous conceptual sketches, CS Project was digitally realised through the use of 3D modelling and desktop prototyping. The modelled prototype was then optimised for 3D printing and moulding.
Production of the current sunglasses design is limited to 1 000 units, with each pair being meticulously handcrafted and individually numbered. To produce the sunglasses, conventional clay and resin moulding techniques are used, after which a 1mm-long silicon skin is added around the master rim to prevent breakages. Once the cement is properly cured, the components are sanded and sealed. To assemble the frame, two concrete rims are connected to a 3D-printed bridge and interchangeable temples. Crafted out of cement, stainless steel and 3D printed metal, the sunglasses weigh only 100 grams, making them lightweight and functional. 
"Developing CS Project has been a challenge, albeit one that we have thoroughly enjoyed. We're extremely happy with the finished product and are currently shipping our first batch of sunglasses to Canada. We're also in the process of developing a Nylon version. Being announced as the Industrial Design Category Winner in the 2017 PPC Imaginarium Awards has given our design studio incredible exposure. CS Project has been on display at numerous esteemed galleries and has been featured widely in the media – we're now receiving an influx of inquiries regarding our work. The awards pushed us to work hard on a design that is unique and out of our comfort zone", says De La Rey.
The concrete sunglasses are available in stone grey and black. They recently went on sale at the GUILD, a design destination that is located at the new mixed-use Silo District at the V&A Waterfront in Cape Town, South Africa. The sunglasses can also be purchased on the 20 EIGHT website. To learn more about CS Project, visit www.20eight.co.za.
ABOUT THE PPC IMAGINARIUM AWARDS:
In 2014, PPC extended its existing sculpture, fine art and industrial design competition (The Young Concrete Sculptor Awards) to include the creative disciplines of jewellery design, fashion design, architecture and film to form the PPC Imaginarium Awards. This ambitious art and design competition aims to provide emerging artists and designers with the opportunity to showcase their talents through the medium of concrete.
For more information on the PPC Imaginarium Awards see:
Web = www.ppcimaginarium.co.za
Twitter = @PPCImaginarium
Facebook = www.facebook.com/PPCImaginarium/
Instagram = @ppcimaginarium
YouTube = @PPCImaginarium
ABOUT 20 EIGHT:
20 EIGHT focuses on an illicit relationship of fundamental thoughts driven by a collaborative force of functionalism, idealism and passion. Its core prerogative is to manipulate the norm into the impossible, exposing the boundaries of design as the essence of catalysing creativity. The international success of 20 EIGHT's introductory product range accelerated its prime vision, leading to its status as a multifaceted design studio cultivated in fields of architecture, industrial design and product design. The expanding desire of integrated design morphed 20 EIGHT into its new chapter, allowing its creatives to pursue finer contests and leave their mark; enticing their vision; and, above all, promoting the power of design.
For more information on 20 EIGHT see:
Web = www.20eight.co.za
Twitter = @20eightdesign
Facebook = https://www.facebook.com/20eight/
Instagram = @20eightdesign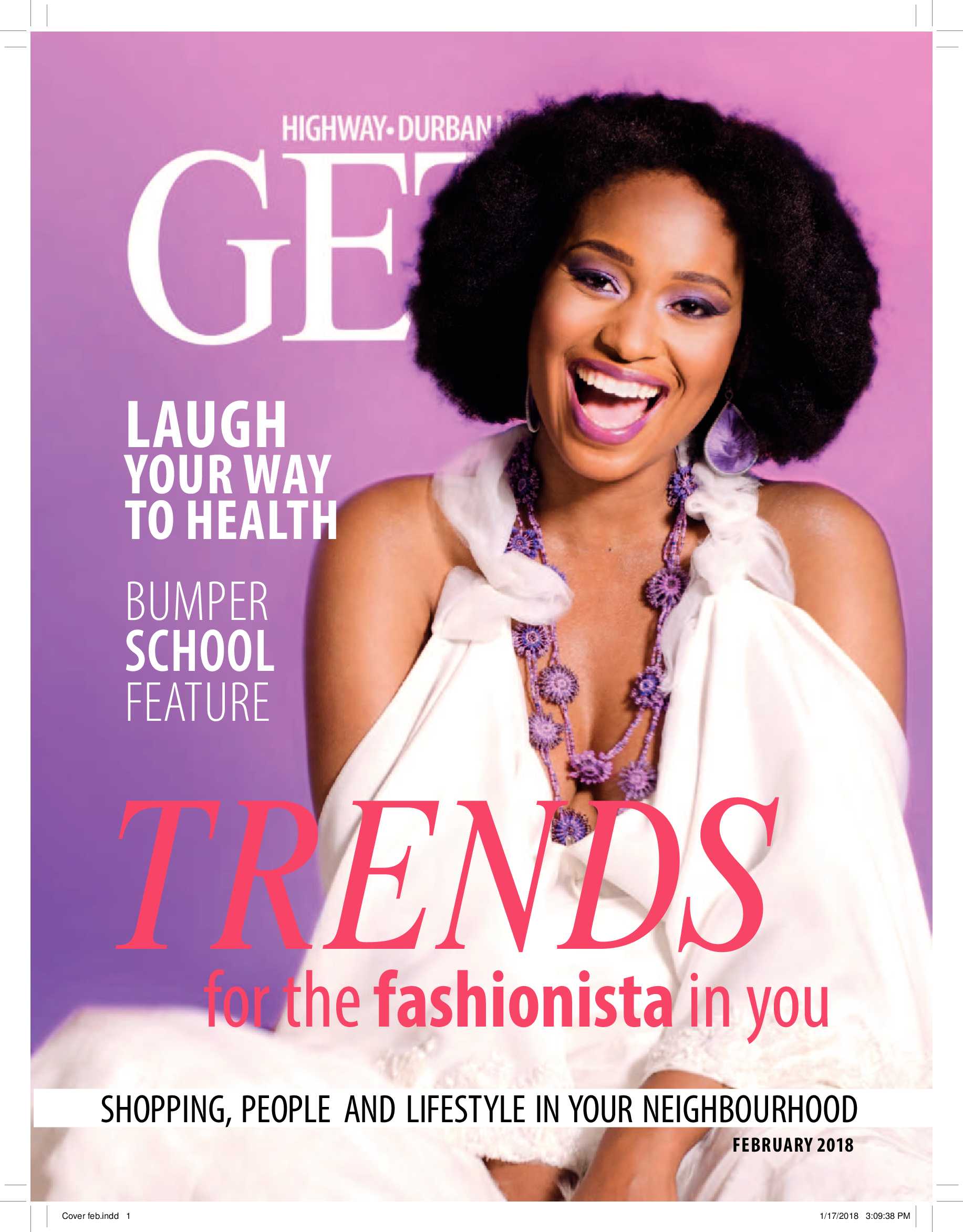 Get It Magazine Durban January 2018
Trends for the fashionista in you
View magazine

Chocolate Mozart
Renowned for their mouth-watering, decadent and convenient desserts, Chateau Gateaux has become Durban's most-loved Patisserie – an obsession to say the least.
As good as eating out
Let's face it. Budgets are tight. And eating out has become somewhat of a treat. But we've found the perfect solution … restaurant food at home.
Bespoke baby gear, designed with the supermom in mind!
When it comes to baby brands, there are so many great companies out there producing some incredible stuff. On an international level, we are of course envious of some of the adventurous, fun and fabulous products on the market (not all of which we can always get our hands on), so we simply cannot contain ourselves when every now and again we stumble across some equally great brands produced on our very own doorstep…
A Crazi kind of giveaway
There are only a few weeks left of the Crazi Erazi phenomenon that has swept the country since December, and this is your chance to win one of five complete sets of Crazi Erazi erasers that we are giving away.
STRETTON'S & Barker & Quin collaborate to reinvent G&T
Stretton's Gin have come to the rescue of all gin-lovers with a collaboration that's bound to be the talk of the town. The award-winning Gin brand partnered with tonic experts Barker and Quin to perfect a timeless classic – Gin and Tonic.
50 Shades of Pink
When it comes to wine, especially rosé, there are loads of guys who won't touch it. Maybe it's because they prefer a beer or a more refined spirit; maybe it's because it comes in a stemmed glass, who knows?. What we can say though, based on the confessions of our local wine fundi, Jan-Nico Coetzee, is that even the tough guys have a palate for rose, and thanks to the bottled beauties listed below, we now know just why.
February Spoil
Let your presence linger…
is a national brand of premium free magazines available in centres across the country.
to see other Get It magazines in the network.