Create a Floral Masterpiece: An Orchid In A Glass Vase
You will need a glass vase, stones/ pebbles or polished rocks, sphagnum moss, orchid bark chips, an orchid plant and water.
Step 1 – Prepare your glass vase or container by washing with mild soap and water and allowing to air dry – wiping with a cloth leaves residue on the glass and you want it to be crystal clear (just so everyone can really admire your work of art!)
Step 2 – Place the stones, pebbles or polished rocks at the bottom of the vase. You will need enough to fill half of the vase. I used a combination of store bought polished rocks together with a collection of small, flat and rounded pebbles that I picked off the beach. (Tip – you can find a host of various sizes of pebbles on the beach at low tide – take a bucket along and then rinse off with water when you get home and allow to dry.)
Step 3 – Add your orchid bark on top of your layer of pebbles. Add enough so that the vase is now ¾ full.

Step  4– Gently remove your orchid from its plastic pot. I've used a purple phalaenopsis orchid. Remove the stakes and keep aside as you can re-use these to stake them when they are in the glass vase. Be careful to not disturb the roots when removing the plant from its pot. Gently shake off the medium it was potted in.
Step 5 – Using your sphagnum moss, wrap the base of your orchid and its roots with this. You can choose to wet your sphagnum moss before use if it makes it easier for you to complete this step.
Step 6 – Place your orchid plant in the centre of the glass vase. Using one hand, hold the plant in place while you add more bark around it to secure into an upright position. Fill it to the rim of your vase. Stake your orchid spikes in place to secure them as well as create a lovely cascade of its blooms.
Step 7 – Add more sphagnum moss around the orchid plant and over the top layer of bark. Lastly, pour in water until it fills the bottom of the vase and covers the pebbles. Be careful not to add too much water as your orchid roots should never sit in water – the sphagnum moss will absorb water as needed for the plant. You can water your orchid again when you notice the water level decrease – this will usually take about 5 weeks. Remember to place it in a well lit area but away from direct sunlight.
Enjoy your delightful orchid masterpiece and happy blooming!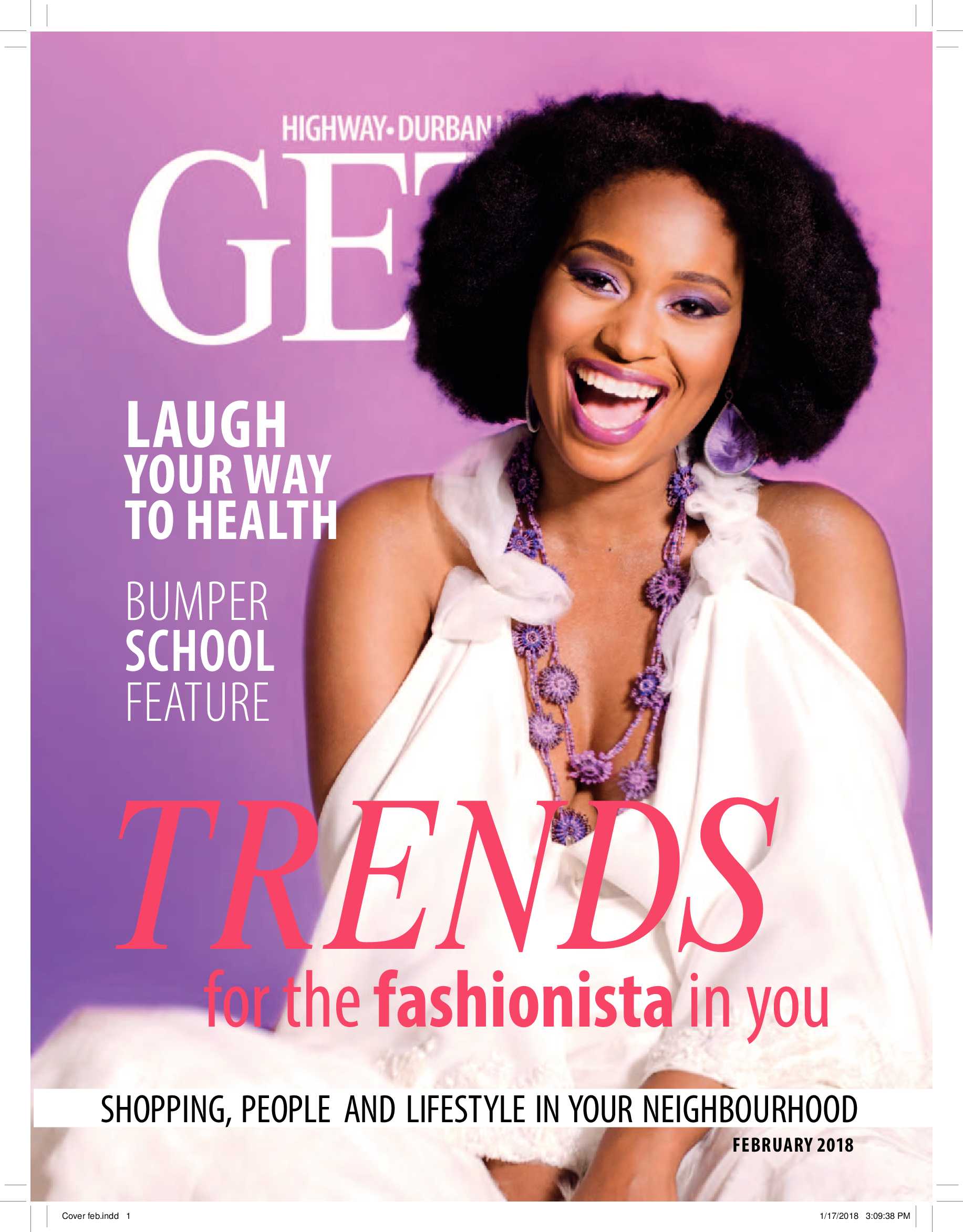 Get It Magazine Durban January 2018
Trends for the fashionista in you
View magazine

Chocolate Mozart
Renowned for their mouth-watering, decadent and convenient desserts, Chateau Gateaux has become Durban's most-loved Patisserie – an obsession to say the least.
As good as eating out
Let's face it. Budgets are tight. And eating out has become somewhat of a treat. But we've found the perfect solution … restaurant food at home.
Bespoke baby gear, designed with the supermom in mind!
When it comes to baby brands, there are so many great companies out there producing some incredible stuff. On an international level, we are of course envious of some of the adventurous, fun and fabulous products on the market (not all of which we can always get our hands on), so we simply cannot contain ourselves when every now and again we stumble across some equally great brands produced on our very own doorstep…
A Crazi kind of giveaway
There are only a few weeks left of the Crazi Erazi phenomenon that has swept the country since December, and this is your chance to win one of five complete sets of Crazi Erazi erasers that we are giving away.
STRETTON'S & Barker & Quin collaborate to reinvent G&T
Stretton's Gin have come to the rescue of all gin-lovers with a collaboration that's bound to be the talk of the town. The award-winning Gin brand partnered with tonic experts Barker and Quin to perfect a timeless classic – Gin and Tonic.
50 Shades of Pink
When it comes to wine, especially rosé, there are loads of guys who won't touch it. Maybe it's because they prefer a beer or a more refined spirit; maybe it's because it comes in a stemmed glass, who knows?. What we can say though, based on the confessions of our local wine fundi, Jan-Nico Coetzee, is that even the tough guys have a palate for rose, and thanks to the bottled beauties listed below, we now know just why.
February Spoil
Let your presence linger…
is a national brand of premium free magazines available in centres across the country.
to see other Get It magazines in the network.