Create a Floral Masterpiece: An Orchid In A Glass Vase
You will need a glass vase, stones/ pebbles or polished rocks, sphagnum moss, orchid bark chips, an orchid plant and water.
Step 1 – Prepare your glass vase or container by washing with mild soap and water and allowing to air dry – wiping with a cloth leaves residue on the glass and you want it to be crystal clear (just so everyone can really admire your work of art!)
Step 2 – Place the stones, pebbles or polished rocks at the bottom of the vase. You will need enough to fill half of the vase. I used a combination of store bought polished rocks together with a collection of small, flat and rounded pebbles that I picked off the beach. (Tip – you can find a host of various sizes of pebbles on the beach at low tide – take a bucket along and then rinse off with water when you get home and allow to dry.)
Step 3 – Add your orchid bark on top of your layer of pebbles. Add enough so that the vase is now ¾ full.

Step  4– Gently remove your orchid from its plastic pot. I've used a purple phalaenopsis orchid. Remove the stakes and keep aside as you can re-use these to stake them when they are in the glass vase. Be careful to not disturb the roots when removing the plant from its pot. Gently shake off the medium it was potted in.
Step 5 – Using your sphagnum moss, wrap the base of your orchid and its roots with this. You can choose to wet your sphagnum moss before use if it makes it easier for you to complete this step.
Step 6 – Place your orchid plant in the centre of the glass vase. Using one hand, hold the plant in place while you add more bark around it to secure into an upright position. Fill it to the rim of your vase. Stake your orchid spikes in place to secure them as well as create a lovely cascade of its blooms.
Step 7 – Add more sphagnum moss around the orchid plant and over the top layer of bark. Lastly, pour in water until it fills the bottom of the vase and covers the pebbles. Be careful not to add too much water as your orchid roots should never sit in water – the sphagnum moss will absorb water as needed for the plant. You can water your orchid again when you notice the water level decrease – this will usually take about 5 weeks. Remember to place it in a well lit area but away from direct sunlight.
Enjoy your delightful orchid masterpiece and happy blooming!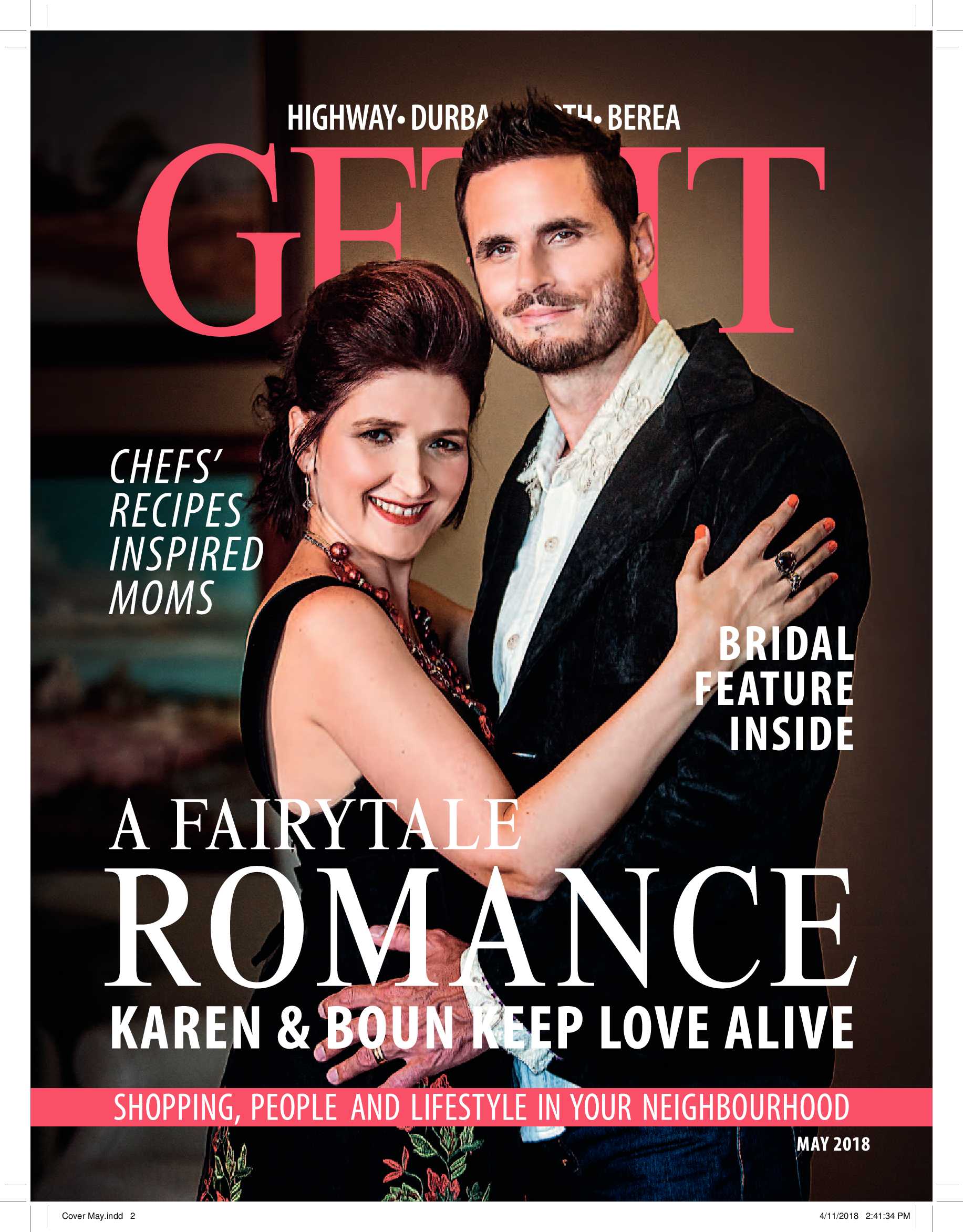 Get It Durban Magazine May 2018
A Fairytale Romance: Karen & Boun Keep Love Alive
View magazine

Win with Budweiser, official sponsors of the 2018 FIFA World Cup
Budweiser, one of the world's most iconic beers, is now being brewed right here in SA, just in time for the 2018 FIFA World Cup™. As the official and exclusive beer sponsor of the tournament, Budweiser is literally lighting up eight of SA's 2010 stadiums so that South Africans can feel part of the euphoric energy leading up the most watched sporting event in the world.
"Win A Dream Wedding Challenge" with Pavilion Shopping Center
With the Pavilion Shopping center Bridal fare fast approaching, entering this competition is a must for all future brides.
Canon's SNAPSHOT of the neighbourhood!
We're all about neighbourhoods. The streets. The restaurants. The parks. But most importantly … the people. This is your opportunity to capture what's best about the people and places where you live. Your chance to show off your neighbours and the hood … and to win not only fabulous Canon cameras, but also to have your work published in your local Get It magazine. What are you waiting for? Get out your camera, get snapping and show off your skills and your neighbourhood.
Something Borrowed, Something Blue, Something Old
…but definitely … something NEW at The Pavilion Bridal Fair.
Fitch & Leedes Gin & Tonic Festival
Love yourself a little Gin? The Fitch & Leedes Gin & Tonic Festival is back in Durban on Saturday, 2 June at the picturesque Chris Saunders Park, Umhlanga from 11am till 8pm, and you can win yourself some tickets.
May spoil
We were delighted to learn that Truman & Orange has added the world's leading Italian Sparkling Wine, Mionetto Prosecco, to their growing portfolio of beautifully-crafted, imported liquids.
Utterly gorgeous
Alien has reinvented itself … and it's really rather beautiful.
is a national brand of premium free magazines available in centres across the country.
to see other Get It magazines in the network.