'Tis the season!
Margaret 'MAGS' Westerhof
"We love the buzz in KZN, so normally we stay home over the holidays and beach it with daily seafood braai's and lamb on the spit – enough said! This year we're mixing up our summer holidays with a trip to the Karoo. Being beach island fanatics my ideal holiday destination is anywhere tropical and with family – Mauritius and Thailand have been our go-tos in the past, but there are loads of other places I'd love to explore. I'm a sucker for home decor magazines, so that's a must on the holiday list as well as finishing my book, Into the Water by Paula Hawkins. We are huge into Christmas for religious reasons and of course for all the kids. We love the Lindt advent calendar and we ALWAYS remember the real reason for Christmas. We go to church, put up decorations, cook, share presents and have a well-lit tree. Santa is never left out – he gets his mince pies and beer. We write him a letter each year and pop the letter into the big red post box in Umhlali and hope he thinks we've been nice. If there are friends that don't have family for the day then they are at the table celebrating with us! One Christmas we had Lebanese, Jewish and Afrikaans cuisine all served on the day, so that paints a pretty good picture of what Christmas Day looks like in my house.  We always do New Years at home with family and friends, and mostly I don't make the countdown these days and there are never any resolutions because my goals and dreams are set at 365 days a year."
Sarah Whitaker
"It's all about family! My daughters Hannah, Emily and Kaylee are very close friends with a whole tribe of neighbourhood kids – all girls – so our home is usually filled with the sounds of swimming, music, dancing and laughing. As a kid, Christmas Eve was always spent at my gran's house, and so the tradition continues as we celebrate the night before with my parents, my sister and her fiancé. My dad makes the most delicious roast ever and dresses up as Santa (he does this mostly to amuse my mom), and my mom goes crazy OTT with everything festive. When my sister (Kate) was born, my gran gave us both the pop-up book of The Night before Christmas and my mom would read it to us every night before bed from 1 to 24 December, every single year without fail. Needless to say, it's like a sacred book in our family and to date every year on Christmas Eve, after we've eaten and opened prezzies, we sit in the lounge and the girls gather around my mom and she reads it to all of us. We spend Christmas day and Boxing Day with Brad's very large family, so it's usually very merry. I have such huge dreams, and am working almost 24/7 to make them a reality but my biggest goal for 2017 is to try and create more of a balance between working, spending time with my girls and making time for myself."
Tina Beckbessinger
"While I would love to visit a coastal town where I can read, soak up the sun, get a massage and dance the night away – Greece, Croatia, and the Maldives – I'm happy to say that I will be enjoying my home to its full extent over the festive season. I love being with my partner and our animals and pottering in my garden. Christmas Day will be spent surrounded by my nearest and dearest, eating, laughing and swimming if the sun is shining and I plan on catching up with my cousins and good friends and maybe reading a book or two. I'm a big fan of Tony Park and Phillipa Gregory. I'm sure there will be no shortage of cooking on the Weber over Christmas. My mouth is just watering at the thought of a delicious roast. New Year's Eve will be spent with close friends who love a good party, because there is a lot to celebrate in general. I'm hoping to grow my Blog, and other than that, I plan on doing what I do every year, and that's to do what I can to promote Organ Donation and help those waiting for their second chance at life by talking to them and offering counselling."
Lesley Pearse
"I won't be doing much this year over Christmas, as I am doing up a new house and trying to get a book finished, but I've got six friends coming for lunch on Christmas Day, and Boxing Day I may drive to London to see my youngest daughter and my grandchildren. One would think that because my children have homes of their own, I would spend a little less over Christmas, but I still spend as much money! Something I never fail to make over the holidays is a chocolate Bombe – it looks like Christmas pudding, but appeals to all those who can't stomach a heavy pudding. Over New Year's Eve, I should be comfortably seated in a small Thai restaurant alongside some friends. It's not grand, just a cosy, family run place that only seats about 24 people. When the celebrations are over, it's back to business and working on trying to finish my new book, The House across the Street, by March 2018. I also can't wait to move into my new home when the building work is finished."
Lynne McMaster
"I'll be going to Turkey in July 2018 for a special friend's birthday, so really want to chill at home this festive season and recover blissfully at home from the year just gone! Everything about Christmas is traditional and I absolutely love it! It's my favourite time of the year. Christmas Day will be traditional as always, with family and extended family and there will no doubt be loads of fun. A tradition adopted from a very dear friend of mine who lives in Cape Town, is on 16 December to have sherry and mince pies. To this day her 'Sherry & Mince Pie' parties are sought after. I love to read during the holidays, fashion, décor and Tilly Bagshawe will be it, so comfort food is definitely on my shopping list during this time. For New Year's Eve, this is still to be advised, but whatever it is will be coupled with some fabulous red wine. I'm up for a super chilled evening. The year ahead is going to be a busy one and I'll be working hard towards the realisation of 'Shopping & the City' International and Turkey is the first destination!"
Kevin Fraser
"In my world, there's never really a set holiday time, considering how much I have travelled this year already. Having said that though, there is always room for one more special cocktail, and that should take place within Noosa (on the Sunshine Coast of Queensland) when my mom (eventually) gets here to visit! After that, I'll be heading down for more late sunsets and Christmas with family in Tasmania, where the summers are just gorgeous!  For Christmas, I used to always get an annual stocking from my mom, but this eventually stopped after the gifts became a bit too practical – you know, those sorts of things that you get as a gift because your family is bursting for you to have it. Items such as deodorant for example. Because I like to cook and not just entertain, I will be making my Mzansi Salad over the festive season. It's so healthy, easy and perfect for summer. I'm so proud of it, I've even put the recipe on my website. I'll also be reading a few things over the relaxation period, some of which will include The Terms & Conditions of my cellphone contract, because current data bill is as big as Zuma's fire pool. Being laid back like I am, I haven't actually decided where I'll be spending New Year's Eve yet, but it could very well be in Melbourne or Hobart, Tasmania.  When it comes to New Year's resolutions, I try not to wait until a new year to pursue my dreams and goals. I think it is more about continuously improving and growing with each year that passes by. However, I do use that time to reflect and express gratitude for the year that has been, how I have grown, the things I have seen and the places I've been to
Dawn Du Preez
"Between spending time with family and friends, travelling around KZN playing gigs, and the odd art exhibition here and there, my year-end holidays look to be very full and festive. If I could go anywhere my heart desires I would go to Zimbabwe to visit my family. It's been a Christmas Eve tradition for me to spend it with my childhood friend Erin and my 'Other Mother' (Erin's mom). Christmas day will be spent down by the river on the family farm with family and an array of friends. Oh, and Mince Pies! It wouldn't be Christmas without them. I get really crafty over the festive season and make everyone's gifts. Over the years, I've made everything from jewellery to lamps. I am on the lookout for a new Charles De Lint book for my holiday reading, he's an amazing fantasy author, and would really add some more magic to my festive season. My New Year's plans are still an open book, but that suits my adventurous personality. I am working towards creating a new local Acoustic Festival for early next year, so my goals range from building stages to creating art and of course… music."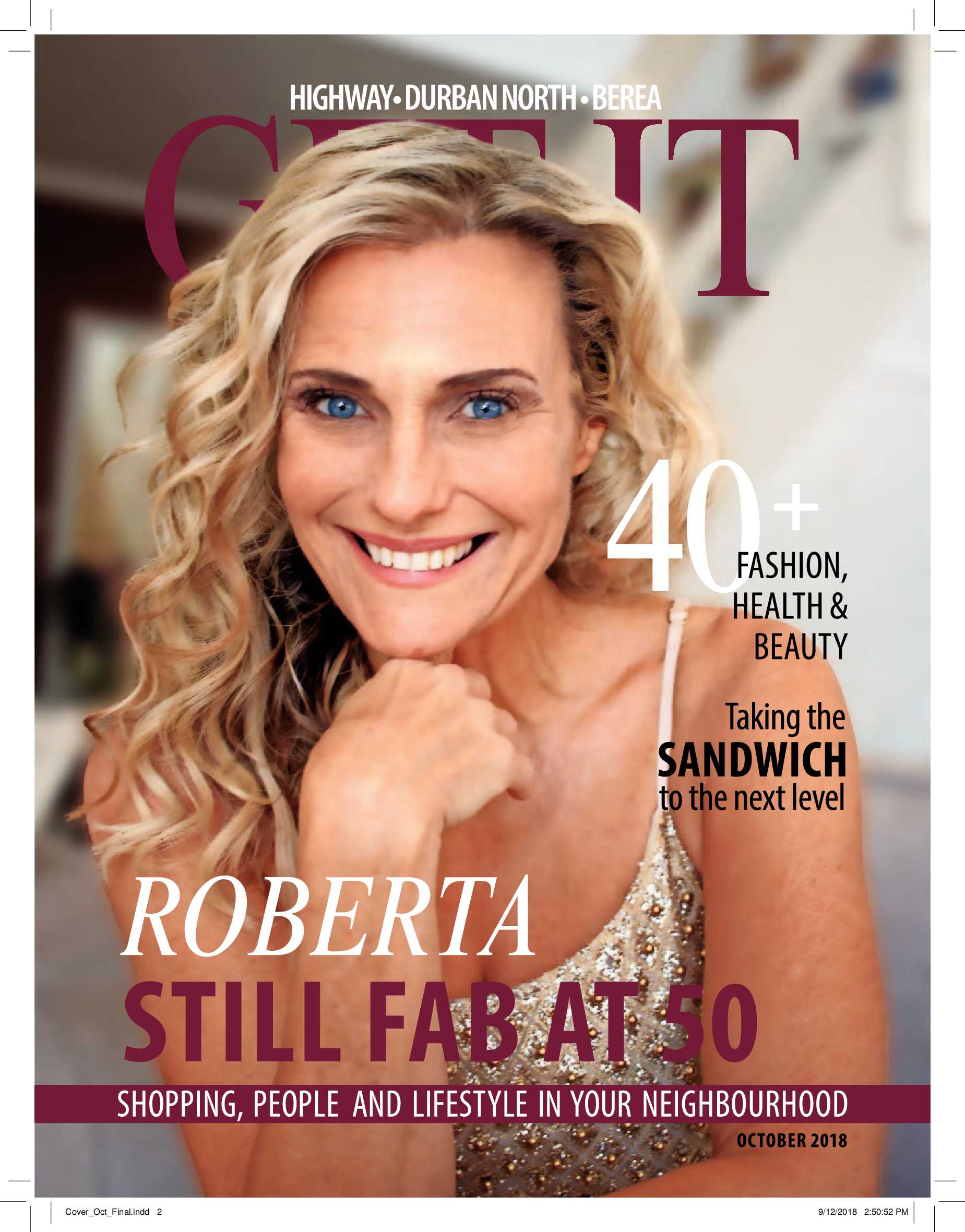 Get It Magazine Durban October 2018
Roberta still fab at 50
View magazine

The Santa Run is Back!
It's the most wonderful time of the year; and what better way to enjoy it than with family and friends at this year's Santa Run powered by The Hub. KZN's very own Christmas themed 5km family run is a fun-filled experience that takes participants in, through, up, down, out and around the beloved Jonsson Kings Park precinct. And we have some tickets to giveaway!
Durban gets the nod for highly anticipated Calum Scott 'Only Human' South Africa Tour
Platinum selling singer/songwriter and Britain's Got Talent finalist, Calum Scott last month announced the South African dates for his 'Only Human' Tour in November with performances in Cape Town and Johannesburg. Following an overwhelming response from Durban fans via social media, Calum Scott has felt the love from KZN and has added 9 November at the Durban Botanic Gardens to the SA tour. And… we are giving away tickets!
Something new on your burger bun
Most of us love the idea of a burger, no matter what our food preference is, and burgers are certainly not for meat eaters alone. For those who are health conscious or don't eat meat, why not add this Pouyoukas recipe of spicy lentil burgers to your burger night as an extra option.
Summer scents
October Spoil
An afternoon of decadence.
21 reasons to open a bottle of FAT Bastard
Life, like FAT bastard, should be filled to the brim and enjoyed in large, delicious gulps. And this year, this well-loved, delicious, full-bodied range of wines, is celebrating 21 years of living large. So named because when first created by
Pinkies up, it's time for tea!
There's nothing quite like tantalising your taste buds in spring with a tall glass of iced tea, which is why we are over the moon that one of our favourite fruit juice brands, Sir Fruit, has introduced a bold, low sugar Ice Tea to its range.
It's fun, there is food, it's the Bierfest at Suncoast
Bierfest is back at Durban premier entertainment destination, SUNCOAST, with an offering of good food, music and beer at this year's TOPS at SPAR Bierfest!
August Spoil
Chocolate biscuits …and a luxury breakaway!
Its time to READ competition
A wise man once quipped: Creativity is contagious. Pass it on. Albert Einstein certainly knew what he was speaking about, and when it comes to encouraging creativity and imagination in our youth, just think of the untold treasure, waiting to be discovered!
is a national brand of premium free magazines available in centres across the country.
to see other Get It magazines in the network.