Chloe is embracing life and living her dreams
It's been a whirlwind year for the brunette bombshell who's just released a new acoustic album and is boldly breaking into the international market after  a successful tour to Mauritius. She nurtures a serious love of the holidays and has no plans to put down the mic and take a break… or at least just yet. Instead, she's busy hauling out all her 'best of' Christmas albums, wading through her wardrobe for some of her favourite party dresses and preparing to sing her way through date-ball and mince pie bake-offs and celebrate the New Year with friends, family and some of her biggest fans.
"Who doesn't love this time of year?  It's all about the cheerful spirit, the laidback fun and the music that can spark memories and bring people together. That is ultimately why I think Christmas jingles become so magical this time of year, and being able to share them with people is what makes me happy."
A country girl at heart, Chloe is a dynamic presence in Durban's entertainment industry. The singer, pianist and songwriter garnered national attention in 2014 when she made it to the Top 30 of Idols SA and has since has upped her game by completing her honours in vocal technique and jazz vocal performance, and more recently wowing viewers of The Voice. She's collaborated with some of Durban's finest in the music industry, and performed on stage with everyone from SA's award winning, singer-songwriter Arno Carstens to international heartthrob Ronan Keating. Her charming persona and new moods and ideas make this fresh faced and sophisticated songbird a force to be reckoned with.
With roots in Northern KZN, Chloe's musical journey started from the moment she could string a sentence together. She joined her first band at the age of 11 and was instantly hooked on music and a passion for entertaining people.
"We were called One Way – so cliché I know. I'm pretty sure there must be a whole heap of youngsters who called themselves that back in the day but hey, we were from Mooi River so what can I say. We had fun, we entertained the locals and ourselves. It's a time of my life I will never forget."
Desperate to pursue a career as a musician, she moved from her little farm town to Durban and studied music full-time. She's never looked back and over the last few years has been fortunate enough to rub shoulders with some music greats and share her soulful sounds across the globe.
"I think we all have that one pivotal moment that changes the course of our lives or at least instils in us the belief that we are on the right path and for me that was when I sang backing vocals for Ronan Keating at the Star Light Pop Orchestra in 2015. It was such a festive event, it was all the songs I grew up with, it was somebody I idolised and there was something magical about that for me."
Inspired by the likes of Diana Krall, Kimbra, Regina Spektor, London Grammar, Billie Holiday and Katy Perry; by jazz and mainstream music; by emotions and both the natural and unnatural challenges in life, Chloe makes music that echoes these things and reaches the very heart of the people who are listening.
"The relationship between lyrics and poetry is a beautiful one, because people are moved by both. I've always believed that what we listen to inspires who we are and how we adapt to things. I'm compelled to write based on real experiences that people can relate to, as well as to entertain with everything I have in me. It's important never to be boxed in. I am me, I thrive on being happy and I love being fun!"
When she's not performing solo or with her band, Put a Swing on It, Chloe's bound to be found outdoors in the sunshine. She's got a real hankering for good coffee, is part of a breakfast club who meet once a week at sparrows in a bakery or on the promenade, and loves a night out at the Chairman or at a local gig in support of her musically talented friends.
"I love the outdoor mentality we have in Durbs. The people, the fresh air, and the countless things you can do. If it's a nice day you cannot simply stay inside. Over the holidays I certainly plan on indulging in the outdoors and the things I love most because I'll be off to Mauritius in the new year to visit my somebody special, and spend a few months as a nomad, taking raw footage for new music videos, getting my YouTube game back on and living beautifully."
"As musicians we tend to work a fair amount during the Christmas season, so I will be singing all of Michael Bublé and Boney M's favourites until everyone has their forced leave, and the whole of Joburg descends on KZN. I'll then go through to my gorgeous farm town, Weenen, and spend some time with my wonderful parents. Christmas Day always involves three of my most favourite things – food, family and festivities! It never fails to serve as a reminder to appreciate the people who are in our lives. There's always a stocking at the bottom of my bed (usually containing an apple, toothbrush, toothpaste and a few of my favourite snacks and treats, and when the extended family arrive, this is when the water fights, Christmas games and fun all begin. A successful Christmas Day is always wrapped up in a solid afternoon snooze!"
"For new year's I am trying to get to Sri Lanka. A very good friend has just opened up a new hotel along the coast, and I'm sure there is room for one more musician to strike up a party! At the beginning of the year I dubbed 2017 as 'a year of adventure' and it has gone above and beyond my wildest dreams! For 2018 I would love to continue the adventure and have more incredible platforms across the globe to share my music with. It's all about embracing life."
Credits:
Luv n Lace Hillcrest (dresses)
JM Makeup
Elsie B Photography
Butlers Hillcrest (venue)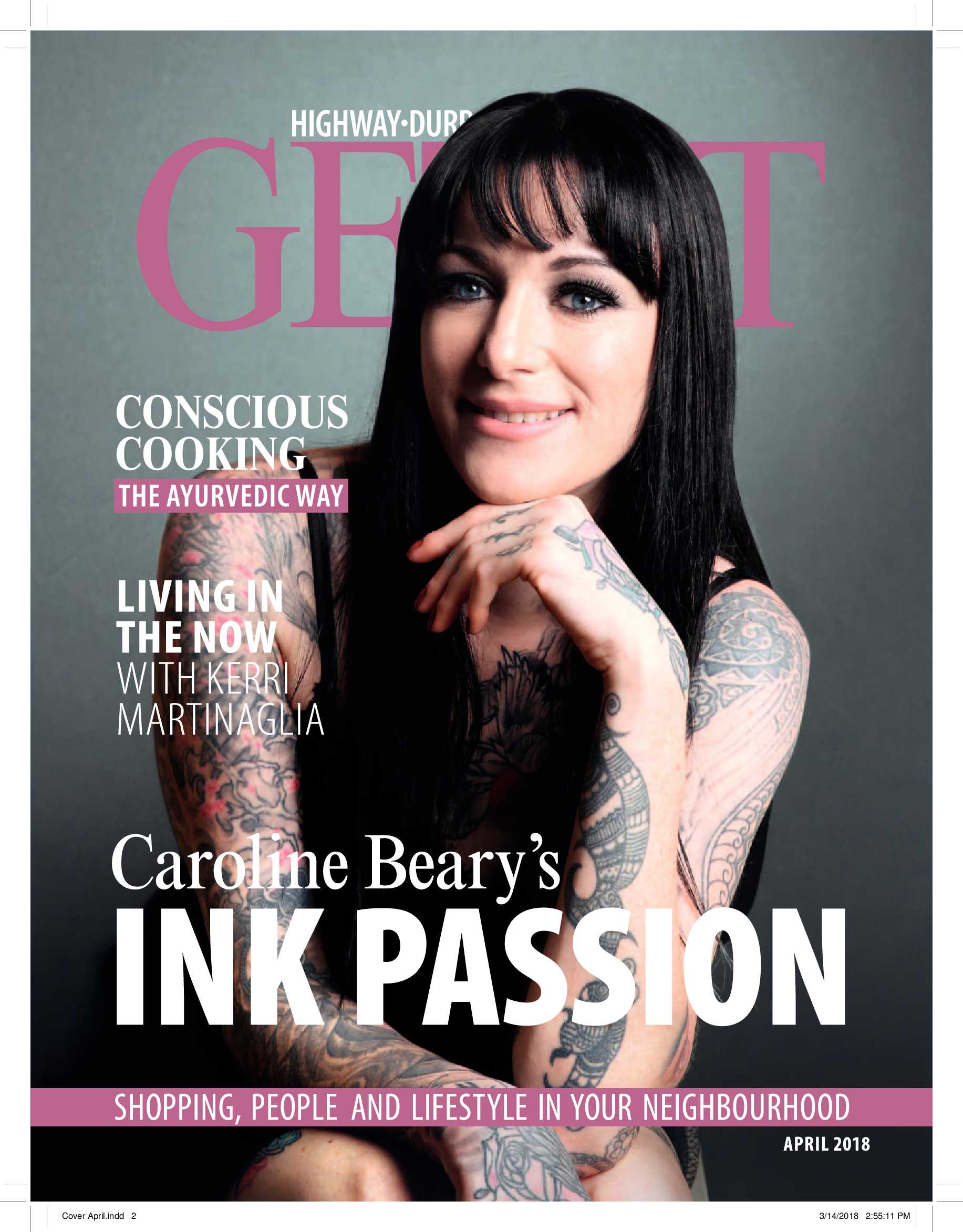 Durban Get It Magazine April 2018
Caroline Beary's Ink Passion
View magazine

May spoil
We were delighted to learn that Truman & Orange has added the world's leading Italian Sparkling Wine, Mionetto Prosecco, to their growing portfolio of beautifully-crafted, imported liquids.
Utterly gorgeous
Alien has reinvented itself … and it's really rather beautiful.
May the sounds be with you at Music at Makaranga
If music, food and fun with friends and family is how you love to spend your Sundays, then grab your tickets now to Music at Makaranga this 6 May !
April Spoil
An obvious winner in terms of style and space!
is a national brand of premium free magazines available in centres across the country.
to see other Get It magazines in the network.