Tempting Canapes
Renowned for creating visually stunning, luxurious and flavour-filled canapés, Carissa Kotzee, from Bleu Berri Concept Catering, has teased the taste buds of international celebs like Beyoncé, Jay-Z and just recently, John Legend, with her sophisticated little show-stoppers. And while she's the first to admit there's a lot of blood, sweat and tears that go into high profile entertaining, she says that creating a whimsical dining experience at home need not be the same.
"Entertaining at home should never be an overwhelming experience. It should be fun for everyone, even the host. If you choose to do your own catering, don't put yourself under unnecessary pressure. There are loads of things you can make that don't involve essay recipes and a ton of ingredients, so that you can spend less time in the kitchen and more time making memories with your favourite people! These are just a handful of the easiest and tastiest treats I love to make."
Springrolls in Mason Jars with Granadilla Sweet Chilli Glaze
Makes 12
Ingredients
12 cocktail size spring rolls – gentle shallow fried
pulp and seeds of 2 granadilla (or 1 small tin)
250ml sweet chilli sauce
little shot glasses or mini mason jars
Method
Using readily available sweet chilli sauce, add the granadilla pulp and stir. Place a teaspoon of the sauce into your glass. Gently place the prepared spring roll into the sauce. Garnish with a chive.
Smoked Salmon Roses on Cucumber Cups with Lemon Crème Fraiche
Makes 12
Ingredients
100g smoked salmon trout
1 cucumber sliced into 1cm thick wheels
half a tub crème fraiche
zest of a lemon
chives
black pepper
Method
Slice the smoked salmon into 12 equal portions, and gently roll around the tip of your left index finger, this will create a rose. Place half a teaspoon of crème fraiche on a cucumber wheel, topping with your smoked salmon rose. Garnish with finely chopped chives, lemon zest and a grinding of black pepper.
Red Velvet Layer Cakelets
Makes 12
Ingredients for the cake
250g plain flour – sifted
1 tsp baking powder
2 tbsp. cocoa powder
110g room temp butter
300g white sugar
2 large eggs
1 tsp vanilla
1 cup buttermilk
2 tbsp. red food colouring
1 tsp vinegar
Ingredients for the frosting
250g cream cheese
250g mascarpone
1 tsp vanilla essence
1 cup sifted icing sugar
250ml double thick cream
Method
Sift the flour, salt and cocoa powder together. Put to one side. Cream the butter and sugar together until light and fluffy, then gently beat in the 2 eggs. To the butter and sugar mixture, add the vanilla essence, buttermilk and food colouring. Gently incorporate your flour mixture into the wet mix. In a cup, add the baking powder to the vinegar, and then add this to the batter. Pour into two well-greased and lined Swiss roll pans and bake at 180 degrees for about 25 minutes or until the cake springs back to the touch. Allow to cool, using a champagne flute or small wine glass, gently press out the cake disks.
For the frosting, using a mixer, mix the cream cheese, mascarpone, vanilla essence together, gently adding the icing sugar. Gently add the cream until the frosting is at a soft peak stage. Layer the cake with the frosting and decorate with cake crumbs and shavings of dark chocolate.
Vanilla Panna Cotta with Berry Coulis
Makes 10 (150ml servings)
Gelatine
½ cup cold water
5 teaspoons gelatine
Method
Allow gelatine to soften in water – about 15 min – in a bowl. Boil some water in a pot – place bowl of gelatine in water to dissolve – about 3 to 4 minutes. Remove from heat.
Berry Coulis
400g x frozen berries
½ cup of sugar
Method
Place in a pot over medium heat. Allow fruit to soften and make a syrup with the sugar.
Cream mix
1.5l cream
1 ½ cups of sugar
3 teaspoons liquid vanilla essence or 2 flat teaspoons of vanilla powder
Method
Dissolve sugar in cream in a pot over medium heat. Once the sugar has dissolved, remove from heat and add gelatine and vanilla. Pour into bowls/ cups and chill until set, about 4 to 6 hours. Once set, top with Berry Coulis and serve.
Mini Yorkies stuffed with Mustard Cream Cheese, Fillet Steak and Onion Jam
Ingredients
140g plain flour
4 eggs
200ml milk
Sunflower oil, for cooking
Method
Heat oven to 230 degrees. Drizzle a little sunflower oil evenly into mini muffin pans and place in the oven to heat through. To make the batter, tip 140g plain flour into a bowl and beat in four eggs until smooth. Gradually add 200ml milk and carry on beating until the mix is completely lump-free. Season with salt and pepper. Pour the batter into a jug, then remove the hot tins from the oven. Carefully and evenly pour the batter into the holes. Place the tins back in the oven and leave undisturbed for 10-15 mins until the puddings have puffed up and browned.  You can now cool them and freeze for up to 1 month.
Mustard Cream Cheese
Half a tub of plain cream cheese mixed with 1 tbsp. of grainy farm style mustard.
Rare Fillet Steak
500g fillet rubbed with oil and seasoned. Grill to your desired doneness and slice thinly.
Method
Once the mini Yorkies have cooled done, fill them with a teaspoon of mustard cream cheese and top with wafer thin slices of the fillet. Finish off with sticky onion marmalade (from Woolworths or your favourite grocer) and micro herbs.
Mediterranean Tartlets
Makes 24
Ingredients
400g roll of puff pastry
12 cherry tomatoes, halved, tossed in oil, salt and pepper and roasted until just soft
24 cubes of feta
onion jam (from Woolworths or your favourite grocer)
basil pesto
Method
Roll out the puff pastry and cut 24 disks. Place into oiled mini muffin pans and bake until crisp and done. As soon as they come out of the oven, using a damp clean dish clothe, gently press the pastries down. Fill the little cups with half a teaspoon onion jam, 1 half of roasted cherry tomato. Top with a cube of feta and a ¼ teaspoon basil pesto.
Layered Lemon Curd Meringues
Ingredients for meringue
1/4 cup white sugar
1/4 cup light corn syrup
3 tablespoons water
1/8 teaspoon cream of tartar
1 pinch salt
2 egg whites
Method
In a small saucepan, combine sugar, corn syrup, water, cream of tartar, and salt. Cook over medium heat, stirring constantly, until mixture comes to a boil and sugar has dissolved. Remove from heat. In a medium mixing bowl, beat egg whites until foamy. With mixer on medium speed, slowly pour the hot syrup mixture over the egg whites. Turn mixer to high speed and beat until stiff peaks form. Spread over top of pie, covering filling completely. You can brown the meringue in your oven if you desire.
Ingredients for lemon curd (optional as you can always use store bought)
4 lemons, zest and juice
200g caster sugar
100g butter, cut into cubes
3 whole eggs, plus 1 egg yolk
Method
Put the lemon zest and juice, the sugar and the butter into a heatproof bowl. Sit the bowl over a pan of gently simmering water, making sure the water is not touching the bottom of the bowl. Stir the mixture every now and again until all of the butter has melted. Lightly whisk the eggs and egg yolk and stir them into the lemon mixture. Whisk until all of the ingredients are well combined, then leave to cook for 10-13 minutes, stirring every now and again, until the mixture is creamy and thick enough to coat the back of a spoon. Remove the lemon curd from the heat and set aside to cool, stirring occasionally as it cools. Once cooled, spoon the lemon curd into sterilised jars and seal. Keep in the fridge until ready to use.
Ingredients for biscuit crumble
1 x packet of crushed coconut flavoured biscuits
100g x melted butter
Mix together loosely.
To assemble
Using double shot glasses, martini glasses, champagne flutes, whatever you have on hand, start with a layer of biscuit crumble, then a dollop of curd, meringue, continue until the glass is full. Decorate with freshly zested lemon.
Lamb Kofta with Cucumber Raita
Ingredients for lamb
1kg lamb mince
1 small onion, fine chopped
2 crushed garlic cloves,
1/2 teaspoon dried chilli flakes
1 tablespoon chopped fresh mint leaves
1 tablespoon chopped fresh flat-leaf parsley leaves
2 teaspoons paprika
1/2 teaspoon ground ginger
2 teaspoons jeera powder
1 teaspoon coriander powder
2 whole egg
Method
Place all the ingredients into a large mixing bowl and combine well. Shape small handfuls of the mince into 16 to 18 "sausages" and thread onto soaked sosatie sticks. Braai or pan fry until done, or sear in a pan and finish in the oven.
Ingredients for cucumber raita
1 large cucumber, remove the seeds and grate coarsely
500ml double thick yoghurt – plain
2 garlic cloves, crushed
about half a bunch of finely chopped mint
1 teaspoon jeera powder
1 teaspoon coriander powder
a pinch of cayenne
salt and pepper
Method
Squeeze all the excess liquid from the cucumber. Mix all the ingredients together and, if possible, leave to infuse for an hour or more.
To assemble
You can serve the lamb kofta on microwaved poppadums, and garnish with spoonfuls of the cucumber raita.
Ciabatta Toasties with Mascarpone, Preserved Figs, Strawberries and Balsamic Glaze
Makes 20
Ingredients
20 slices thinly sliced ciabatta (Baguette or even ready prepared Melba toast is quite fine)
1 tub mascarpone
5 strawberries
5 preserved figs in syrup
balsamic glaze
Method
Gently brush ciabatta slices with a little olive oil and bake in a preheat 180 degree oven, until crisp and lightly browned – about 10 minutes. Once cooled, using the back of a teaspoon, swipe a dollop of mascarpone onto the toast, top with a slice of strawberry and a slice of preserved fig. Drizzle with balsamic glaze and garnish with micro basil.
Grilled Chicken Sosaties with Butter Curry Sauce
Ingredients for chicken sosaties
1kg chicken breast cut into strips
15 pre-soaked sosatie sticks
Method
Thread chicken strips onto the skewers, season with salt, pepper, paprika. Grill on the braai or pan fry
Ingredients for butter curry cream sauce
half cup plain yoghurt
1 teaspoon crushed garlic
1 teaspoon crushed ginger
half an onion, finely chopped
4 teaspoons medium curry powder
2 table spoons oil
2 table spoons butter
250ml cream
100ml yoghurt
3 – 4 tablespoon tomato puree
100ml chicken stock
salt and pepper
Method
Heat oil and butter in saucepan over medium-high heat. Add onion, garlic, ginger and spices. Cook until softened. Add tomato puree and chicken stock. Reduce heat to low. Simmer, stirring occasionally, for 10 minutes. Stir in cream and yoghurt. Simmer for a further 5 minutes or until heated through. Drizzle over the chicken sosaties, garnish with roasted peanuts and fresh coriander.
Contact
Bleu Berri Concept Catering is based at Royal Durban Golf Club, where they manage and cater all onsite eventing and functions – from Golf Days to Corporate Functions to Beautiful Weddings. Visit http://bleuberri-catering.durban/ or contact Carissa on 084 8000 111 or e-mail carissa@bleuberri.co.za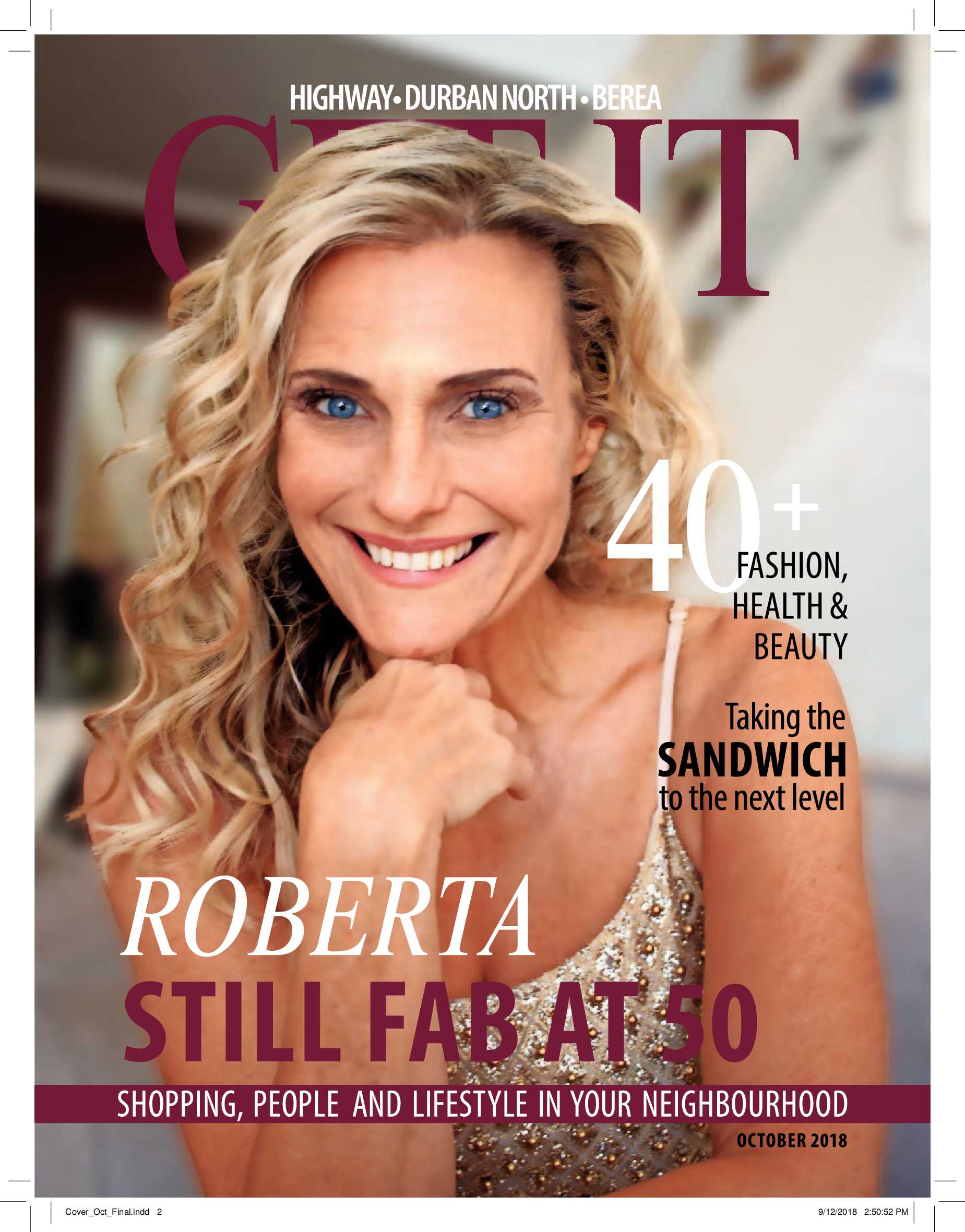 Get It Magazine Durban October 2018
Roberta still fab at 50
View magazine

Summer Spoil
Summer's looking more and more colourful. With shades of sunset pink, marine blue, grenadine and more, these Chameleon ICE watches go from the beach to the cocktail bar … beautifully!
It's wine o' clock
Whether you're partial to a crisp dry white, a fruity zesty rosé, or a ripe and full-bodied red with oodles of citrus or spice or rich mineral finishes, these are some really great bottles that should be in everyone's summer wine rack.
The Santa Run is Back!
It's the most wonderful time of the year; and what better way to enjoy it than with family and friends at this year's Santa Run powered by The Hub. KZN's very own Christmas themed 5km family run is a fun-filled experience that takes participants in, through, up, down, out and around the beloved Jonsson Kings Park precinct. And we have some tickets to giveaway!
Durban gets the nod for highly anticipated Calum Scott 'Only Human' South Africa Tour
Platinum selling singer/songwriter and Britain's Got Talent finalist, Calum Scott last month announced the South African dates for his 'Only Human' Tour in November with performances in Cape Town and Johannesburg. Following an overwhelming response from Durban fans via social media, Calum Scott has felt the love from KZN and has added 9 November at the Durban Botanic Gardens to the SA tour. And… we are giving away tickets!
Something new on your burger bun
Most of us love the idea of a burger, no matter what our food preference is, and burgers are certainly not for meat eaters alone. For those who are health conscious or don't eat meat, why not add this Pouyoukas recipe of spicy lentil burgers to your burger night as an extra option.
Summer scents
October Spoil
An afternoon of decadence.
21 reasons to open a bottle of FAT Bastard
Life, like FAT bastard, should be filled to the brim and enjoyed in large, delicious gulps. And this year, this well-loved, delicious, full-bodied range of wines, is celebrating 21 years of living large. So named because when first created by
Pinkies up, it's time for tea!
There's nothing quite like tantalising your taste buds in spring with a tall glass of iced tea, which is why we are over the moon that one of our favourite fruit juice brands, Sir Fruit, has introduced a bold, low sugar Ice Tea to its range.
It's fun, there is food, it's the Bierfest at Suncoast
Bierfest is back at Durban premier entertainment destination, SUNCOAST, with an offering of good food, music and beer at this year's TOPS at SPAR Bierfest!
is a national brand of premium free magazines available in centres across the country.
to see other Get It magazines in the network.