HHS Eco Trip
Ten learners (from Grades 9-11) were selected by staff members to attend, and although a completely mixed bunch, one of the highlights was how the group gelled, as if drawn together in consideration of something bigger than themselves.
During the few days, along with soaking up the whole experience out in the reserve, observing the animals and extensive bird life, the learners were privileged to be presented to by several key persons in the KwaZulu-Natal conservation community, including..
Chris Galliers (who wears several hats, including Project Rhino co-ordinator and chairman of the Africa Committee of the Game Rangers Association), and who very kindly came through to give a talk about Project Rhino and the current situation of rhino poaching, as well as
Frances Hannah, from the Zululand Conservation Trust (ZCT – zululandconservationtrust.org), a Trust that works with Project Rhino on projects and has the same goals in mind, who came through to talk to the students on the work they do, and finally
Etienne Gerber, Project Rhino Zapwing pilot, spoke to our students regarding the aerial support in place for the rhino reserves.
Along with this, a Skype classroom session so that the students had an opportunity to share all they had learned, was organised by Technology Integrator, Mrs. Margaret Tracey, partnering with Eshowe High School.
Also in attendance with the school group, was local and internationally renowned photographer, Matthew Willman (www.matthewwillman.co.za), who very generously offered his photographic services and images free of charge to help the cause of conservation.  Subsequently, the Zululand Conservation Trust (ZCT) hosted their first gala dinner, where Matthew kindly allowed 3 of his limited edition Nelson Mandela images to be auctioned, in support of ZCT's conservation and community projects.
One of the students, on his return to school, told his teacher that he now knows what he wants to do when he finishes school next year. In holding back her tears the grade controller who nominated him for this amazing adventure said she realised that this trip had a much greater impact on the learners than she had ever imagined.
Hillcrest High School Headmaster, Mr. Craig Girvin added his thanks particularly, to the Johnny Lowe Memorial Trust and the Ken Collins Charity Trust, for the opportunity "I am grateful that in a short space of time we were able to ensure that the trip happened and that our students were able to make use of this wonderful opportunity." (Craig Girvin, Headmaster Hillcrest High School)
"Thank you so much for giving us the opportunity to talk to your students. They were such an attentive audience, I was very impressed!"  Frances Hannah.
 "My huge thanks and appreciation for including me in on a wonderful trip with HHS! Such a great time, kids were so into everything, never squabbled, loved what they were doing and never not once needed any baby sitting!  Thank you again, never to be forgotten!" Matthew Willman.
"It sounds like the entire trip was a great success and you were able to pack a lot of information and informative experiences into such a short time. Thank you for you and your teams energy and enthusiasm. Let's stay in touch as I look forward to hearing how the group will deliver on the challenge I left them with, that being "what are you going to do to make a difference?". As said, we will only have rhinos into the future if the youth of today embrace the values for which we need to conserve them. Thanks again" Chris Galliers.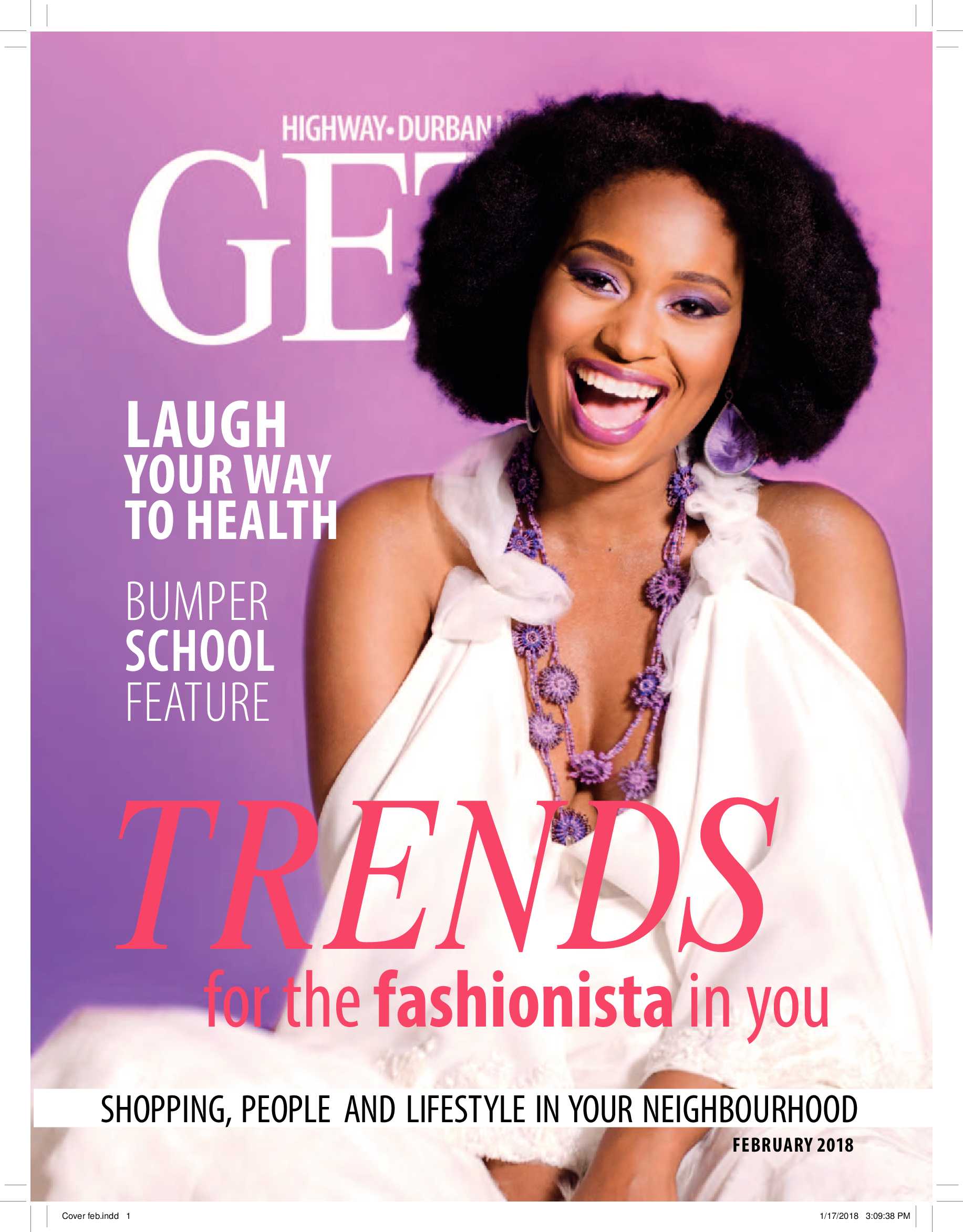 Get It Magazine Durban January 2018
Trends for the fashionista in you
View magazine

Chocolate Mozart
Renowned for their mouth-watering, decadent and convenient desserts, Chateau Gateaux has become Durban's most-loved Patisserie – an obsession to say the least.
As good as eating out
Let's face it. Budgets are tight. And eating out has become somewhat of a treat. But we've found the perfect solution … restaurant food at home.
Bespoke baby gear, designed with the supermom in mind!
When it comes to baby brands, there are so many great companies out there producing some incredible stuff. On an international level, we are of course envious of some of the adventurous, fun and fabulous products on the market (not all of which we can always get our hands on), so we simply cannot contain ourselves when every now and again we stumble across some equally great brands produced on our very own doorstep…
A Crazi kind of giveaway
There are only a few weeks left of the Crazi Erazi phenomenon that has swept the country since December, and this is your chance to win one of five complete sets of Crazi Erazi erasers that we are giving away.
STRETTON'S & Barker & Quin collaborate to reinvent G&T
Stretton's Gin have come to the rescue of all gin-lovers with a collaboration that's bound to be the talk of the town. The award-winning Gin brand partnered with tonic experts Barker and Quin to perfect a timeless classic – Gin and Tonic.
50 Shades of Pink
When it comes to wine, especially rosé, there are loads of guys who won't touch it. Maybe it's because they prefer a beer or a more refined spirit; maybe it's because it comes in a stemmed glass, who knows?. What we can say though, based on the confessions of our local wine fundi, Jan-Nico Coetzee, is that even the tough guys have a palate for rose, and thanks to the bottled beauties listed below, we now know just why.
February Spoil
Let your presence linger…
is a national brand of premium free magazines available in centres across the country.
to see other Get It magazines in the network.