8 Ways to Bounce Back After the Indulgent Season (and a great recipe too)
But fear not, here are a few easy steps to help you bounce back from caloric meals, a few too many drinks and smelly nibbles.
Don't cry over spilt milk
Repeat after me, "New dawn, new day". There is no point in beating yourself up over how many Quality Street chocolates you mowed down or that you finished the whole holiday's champagne allowance in one brunch. That was then. Start your year with a fresh start and a new vision of a more balanced daily routine for the New Year. Did you know that research proves that beating yourself up about the past is not effective?  According to psychologist Susan Albers, New York Times bestselling author of EatQ, starting your day with the simple mantra "today is a fresh start" can be helpful in resetting your perspective. There you go.
Start your morning with movement
According to Albers, exercise helps activate that lovely feel-good chemical, serotonin, which not only regulates your mood, but makes you feel happier and as a result, assists you in making healthier choices. Why not go for an early evening walk? Get some fresh air, get those lovely legs moving and let your body know that it needs to burn, burn, burn those extra calories!
Keep your regular routine
Now nobody is saying rise at the crack of dawn for no reason. However, experts agree that routines can be both calming and important in getting back on track after overindulgence. Dr. Joe Ojile, Medical Director and CEO of the Clayton Sleep Institute, says that "structure is key". If you snap back to your regular structure and routine, your body will take care of itself. If your normal routine involved a morning workout, then wake up and hit the gym again baby! A six pack isn't going to build itself (Your refreshed body and a positive state of mind will be thanks enough later).
Bring on a healthy breakfast
Kick start your day with a light, healthy breakfast – throw in some greens, freshly squeezed juice and some protein to equip your body with solid goodness to carry you through the day.
Let there be light
By getting bright light early in the morning, your body realizes that it is the end of a sleeping pattern and that it's time for the body to wake up. Open those curtains, sit outside and have your morning tea and soak up the good stuff. Bright light recentres the suprachiasmatic nucleus (SCN)—the part of your brain that controls your internal body clock. Dr Ojile suggests sitting outside to read the paper, going for a walk or light run, or even waking up with a bright reading light if it's cloudy outside.
Banish the B.O (body odour)
Not only does overindulgence bloat our bellies, plump our thighs and drain our energy, many of the most delicious food and drinks we've wolfed down over the holidays are laden with garlic and strong smelling ingredients. No doubt that there is nothing more delicious than bottomless wine and beer, garlic bread fresh out of the oven or warm cheesy, garlic and onion pizza! While delicious, these indulgences can leave you smelling a little past the sell-by date.
Who wants that? Did you know that you get bad breath from garlic and onions because when you eat them, the digestion process releases sulphur compounds which are not expelled by your intestines. They are absorbed through the intestinal wall into the bloodstream.  From here, these ominous odours whizz through your body, into the lungs and sweat glands – making you Prime Smell Suspect No. 1.
Great. That's why gum and mouth wash stand you up. Well, we're pleased to tell you that you can enjoy your garlic this festive season, with no smelly odors (garlic or alcohol induced) or embarrassment – thanks to new bad breath fighter, Garlict. After your munch, swallow 2 Garlict capsules with some liquid and say goodbye to bad breath in 20 minutes. You'll be kissing under the mistletoe, trust me.
Sip Up
When it comes to trying to get back into balance after festive binge eating and drinking, the best thing to do is hydrate, says Albers. Long days of sun, sangrias and turkey sandwiches can leave you bloated, depleted, and lethargic. Try to keep a nice big water bottle with you during the day – if it's in sight, trust me, you'll be sipping! Additionally, she recommends avoiding salty foods. Instead of snacking on pretzels or chips, rather reach for fruit, yoghurt or nuts. Easy peazy.
Get plenty of sleep on Sunday
Now don't cringe, but you need to start getting a good solid night's rest again so that you don't feel like a sloth during the week. Also, avoid alcohol after dinner as it is known to disturb your REM sleep, and no PVR marathons or Netflix just before bed – according to Dr Ojile, the blue light emitted by these devices "suppresses melatonin, causing you to stay awake longer." To ensure a good night's sleep, make sure you start "winding down" before you touch down on your pillow, switch off all electronics, have a nice warm drink and chill baby!
So here's to a New Year and a new you!
(Available at Pick 'n Pay Pharmacies nationwide and select independent pharmacies. 30 capsules R98,95 incl. VAT)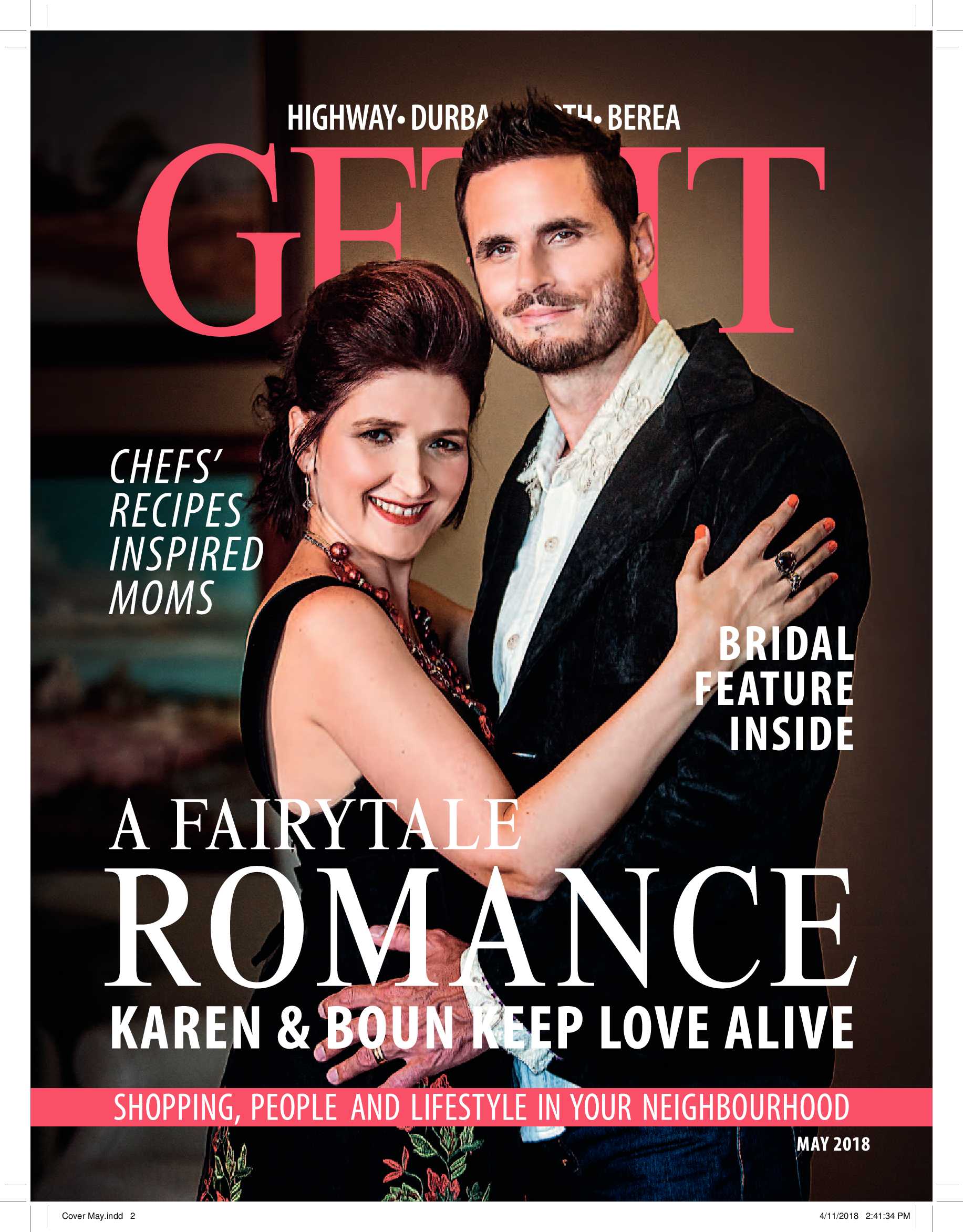 Get It Durban Magazine May 2018
A Fairytale Romance: Karen & Boun Keep Love Alive
View magazine

Beaucience for men
The range is designed to be simple, unique, and specialised skin care that treats the needs of a man's skin.
Ultimate luxury shaving products
Say goodbye to tough stubble.
June Spoil
In need of a really special treat? You won't do any better than spending some time soaking up the sun in Mauritius. And there's no better place to stay than the newly relaunched LUX* Grand Gaube Resort.
Mint Julep – The Iconic Bourbon Cocktail
Adventure-ready duffel bags
We just love these rugged, weather-resistant Chasm Collection duffel bags from Thule – the ideal companion on any travel adventure – big or small.
Fat Bastard. No. Not dad. Obviously. The wine.
The New Fat Bastard Golden Reserve 2017 is a lovely Bordeaux-style red blend… and the perfect gift to give your dad this month.
Win with Budweiser, official sponsors of the 2018 FIFA World Cup
Budweiser, one of the world's most iconic beers, is now being brewed right here in SA, just in time for the 2018 FIFA World Cup™. As the official and exclusive beer sponsor of the tournament, Budweiser is literally lighting up eight of SA's 2010 stadiums so that South Africans can feel part of the euphoric energy leading up the most watched sporting event in the world.
"Win A Dream Wedding Challenge" with Pavilion Shopping Center
With the Pavilion Shopping center Bridal fare fast approaching, entering this competition is a must for all future brides.
Canon's SNAPSHOT of the neighbourhood!
We're all about neighbourhoods. The streets. The restaurants. The parks. But most importantly … the people. This is your opportunity to capture what's best about the people and places where you live. Your chance to show off your neighbours and the hood … and to win not only fabulous Canon cameras, but also to have your work published in your local Get It magazine. What are you waiting for? Get out your camera, get snapping and show off your skills and your neighbourhood.
Something Borrowed, Something Blue, Something Old
…but definitely … something NEW at The Pavilion Bridal Fair.
is a national brand of premium free magazines available in centres across the country.
to see other Get It magazines in the network.