8 Ways to Bounce Back After the Indulgent Season (and a great recipe too)
But fear not, here are a few easy steps to help you bounce back from caloric meals, a few too many drinks and smelly nibbles.
Don't cry over spilt milk
Repeat after me, "New dawn, new day". There is no point in beating yourself up over how many Quality Street chocolates you mowed down or that you finished the whole holiday's champagne allowance in one brunch. That was then. Start your year with a fresh start and a new vision of a more balanced daily routine for the New Year. Did you know that research proves that beating yourself up about the past is not effective?  According to psychologist Susan Albers, New York Times bestselling author of EatQ, starting your day with the simple mantra "today is a fresh start" can be helpful in resetting your perspective. There you go.
Start your morning with movement
According to Albers, exercise helps activate that lovely feel-good chemical, serotonin, which not only regulates your mood, but makes you feel happier and as a result, assists you in making healthier choices. Why not go for an early evening walk? Get some fresh air, get those lovely legs moving and let your body know that it needs to burn, burn, burn those extra calories!
Keep your regular routine
Now nobody is saying rise at the crack of dawn for no reason. However, experts agree that routines can be both calming and important in getting back on track after overindulgence. Dr. Joe Ojile, Medical Director and CEO of the Clayton Sleep Institute, says that "structure is key". If you snap back to your regular structure and routine, your body will take care of itself. If your normal routine involved a morning workout, then wake up and hit the gym again baby! A six pack isn't going to build itself (Your refreshed body and a positive state of mind will be thanks enough later).
Bring on a healthy breakfast
Kick start your day with a light, healthy breakfast – throw in some greens, freshly squeezed juice and some protein to equip your body with solid goodness to carry you through the day.
Let there be light
By getting bright light early in the morning, your body realizes that it is the end of a sleeping pattern and that it's time for the body to wake up. Open those curtains, sit outside and have your morning tea and soak up the good stuff. Bright light recentres the suprachiasmatic nucleus (SCN)—the part of your brain that controls your internal body clock. Dr Ojile suggests sitting outside to read the paper, going for a walk or light run, or even waking up with a bright reading light if it's cloudy outside.
Banish the B.O (body odour)
Not only does overindulgence bloat our bellies, plump our thighs and drain our energy, many of the most delicious food and drinks we've wolfed down over the holidays are laden with garlic and strong smelling ingredients. No doubt that there is nothing more delicious than bottomless wine and beer, garlic bread fresh out of the oven or warm cheesy, garlic and onion pizza! While delicious, these indulgences can leave you smelling a little past the sell-by date.
Who wants that? Did you know that you get bad breath from garlic and onions because when you eat them, the digestion process releases sulphur compounds which are not expelled by your intestines. They are absorbed through the intestinal wall into the bloodstream.  From here, these ominous odours whizz through your body, into the lungs and sweat glands – making you Prime Smell Suspect No. 1.
Great. That's why gum and mouth wash stand you up. Well, we're pleased to tell you that you can enjoy your garlic this festive season, with no smelly odors (garlic or alcohol induced) or embarrassment – thanks to new bad breath fighter, Garlict. After your munch, swallow 2 Garlict capsules with some liquid and say goodbye to bad breath in 20 minutes. You'll be kissing under the mistletoe, trust me.
Sip Up
When it comes to trying to get back into balance after festive binge eating and drinking, the best thing to do is hydrate, says Albers. Long days of sun, sangrias and turkey sandwiches can leave you bloated, depleted, and lethargic. Try to keep a nice big water bottle with you during the day – if it's in sight, trust me, you'll be sipping! Additionally, she recommends avoiding salty foods. Instead of snacking on pretzels or chips, rather reach for fruit, yoghurt or nuts. Easy peazy.
Get plenty of sleep on Sunday
Now don't cringe, but you need to start getting a good solid night's rest again so that you don't feel like a sloth during the week. Also, avoid alcohol after dinner as it is known to disturb your REM sleep, and no PVR marathons or Netflix just before bed – according to Dr Ojile, the blue light emitted by these devices "suppresses melatonin, causing you to stay awake longer." To ensure a good night's sleep, make sure you start "winding down" before you touch down on your pillow, switch off all electronics, have a nice warm drink and chill baby!
So here's to a New Year and a new you!
(Available at Pick 'n Pay Pharmacies nationwide and select independent pharmacies. 30 capsules R98,95 incl. VAT)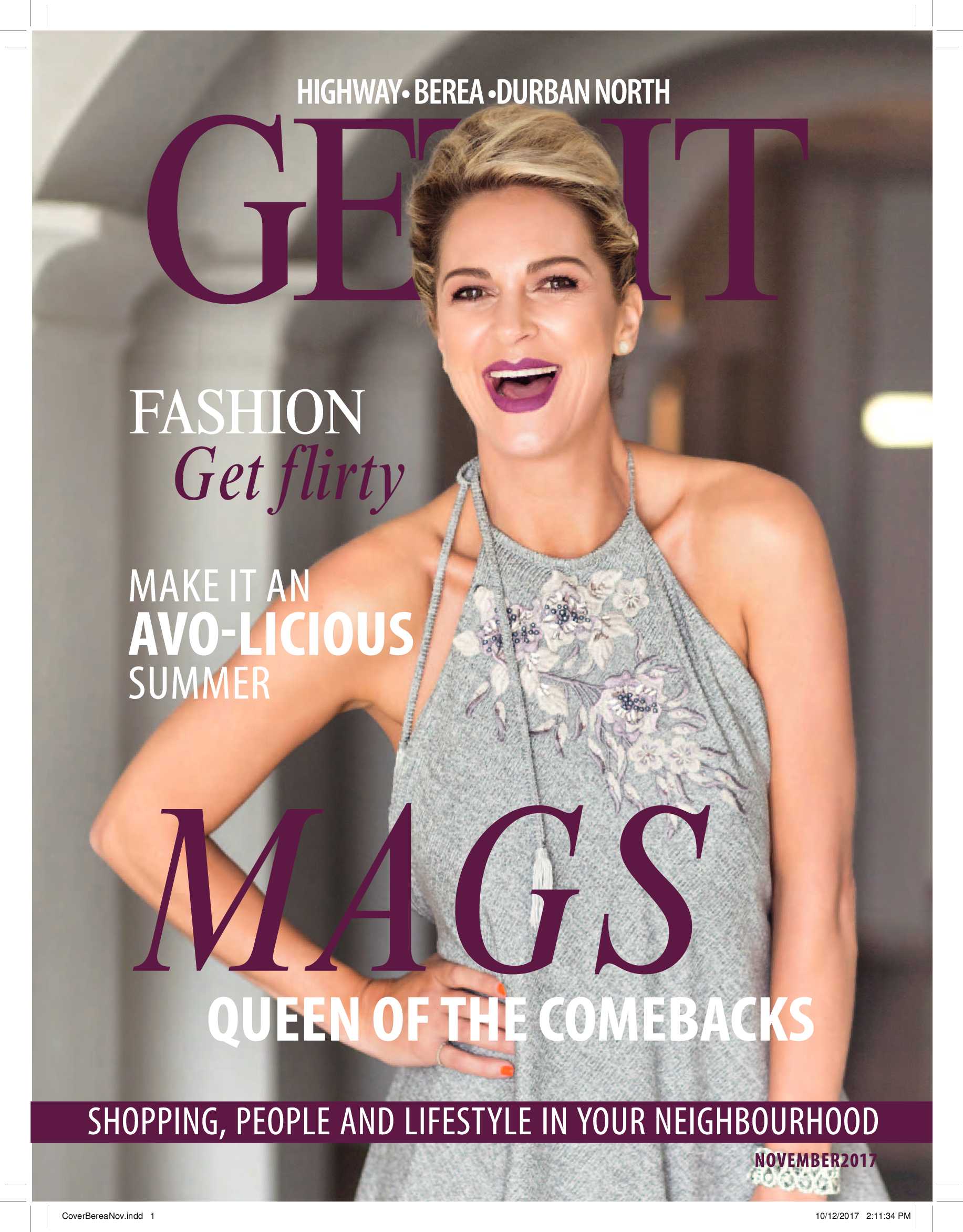 Get It Magazine Durban November 2017
Mags queen of the comebacks
View magazine

It's going to be a delicious festive season…
This year's holiday season will be jolly delicious as Cadbury plans to share the joy with three new treats, and we're hoping for at least one of each of these in our stockings!
Kahvé Road coffee capsules
Kahvé Road, premium coffee and patisserie specialist has extended its offering to its own premium coffee capsule range which is available at the popular eatery based in Cape Town, as well as online.
An easy going classic rocking horse
Make playtime active with the Hape Rock and Ride Rocking Horse from Toy Kingdom. This perfectly-balanced ride-on can take kids for a slow-and-steady trot or a rocking gallop.
Celebrate the special moments in life with Nomination
Nomination's new collection of Composable links is called Life, because each link reflects an important moment in your life.
An elegant and iridescent palate pleaser
Following Krone's tradition of hand-picking their grapes under the stars in the cool of the night to retain flavour and aroma, the Krone Borealis was named after the 'Corona Borealis' constellation of stars.
Discover Huggies Pants, designed for active babies
Is your baby becoming more active or wriggling at change time?
Enchanting eye colours
Discover eyes that shine with dazzling beauty. With a sweep of brilliance, these Enchanting Eye Colours from Mii create instant allure to give a sheer look layered with sophisticated shimmer.
The ultimate Robertson Winery Summer Hamper
Robertson Winery Lightly Sparkling Sauvignon Blanc is not a light wine and it is not a sparkling wine; it's a lightly sparkling wine – produced from top quality grapes, with intense fruit flavours of grapefruit, melon and passionfruit and an added dazzle of tiny bubbles for innervigorating summer pleasure.
December Spoil
Get that glow with a glam Caribbeantan!
Pssst… we have a (little) secret
Delicate and precious, with simple designs, we're loving the new Little Secrets bracelets from Thomas Sabo.
is a national brand of premium free magazines available in centres across the country.
to see other Get It magazines in the network.