From party girl to Comeback Queen, Mags sparkles under the spotlight
Bold, daring and resilient, Mags has always been the life-of-the-party kind of girl – a personality who screamed confidence and became renowned for a laugh so infectious it will probably never be forgotten. But, in spite of that big presence, she's walked a dark and lonely road and braved significant challenges that only a handful know about. Through prayer and meditation, clarity and practicality, she learnt that you cannot overcome fear without moving through it
"Giving up is not an option for me, no matter how hard it ever gets. I commit, I fight and I am unchangeable, through good and through bad. Growing up in a single-parent home wasn't easy for my brother and I, but my mom demonstrated what a fighter needs to do in order to provide and survive raising two kids alone. Fortunately, we have a very close and helpful family network, so it meant many years of holidays on the farm and big Christmases together. While there were many tough times, there were also many good times, and I learned so much from all the life lessons that I believe moulded me into the woman I am today."
From Big Brother to ECR with Damon and Mags, to Heart 104.9 afternoon drive in the Mother City then Jacaranda FM in Johannesburg, then back to Durban in 2010 to continue running her marketing agency TMB Brand Management, her days were (and still are) packed with the very things she's most passionate about, which is why it is almost unimaginable that she lost it all… and not once, but twice in her lifetime.
"After Big Brother I was fully booked and flying around, making loads of money but that all came crashing down as soon as the hype fizzled out. Sadly, what I hadn't learnt then was to plan ahead and so I landed up back home in the bedroom I grew up in, without sponsorship, work or money. It was back to square one."
While she was down and out, nobody knew the full extent of what Mags was actually going through. She maintained a façade in order to keep the demand alive; to keep media interested because she believed it was her key to finding work. With a positive outlook on life, she began plotting her next move… radio! It took a lot of convincing and of course a risk to an already existing and popular drive, but it paid off and she managed to work herself back into the game.
"I wanted my business to do well and to keep my profile alive, but through a series of events I ended up losing everything all over again, only this time I had a son to take care of. He was the sole reason I fought so hard to get back up. I had this drive in the pit of my stomach telling me that the next breakthrough was coming and that feeling would keep me alive."
Her story is a pretty long one, but today it is the very crux around which her corporate gigs are based. Being in the entertainment industry Mags learnt quickly that perception equals reality – what you put out in public, people will always think of you.
"I never ever allowed anyone to know I was down. I had a reputation and image to uphold and it was important to do so in order to maintain my brand, otherwise the industry doesn't want to work with you.  Only my family and very close friends knew the hell I went through, but when I went to work it was game face."
She prayed, she believed and she hoped for salvation. She meditated (and still does) every single day and practiced breathing rhythms when extremely stressed. She believes in balance. If you work hard, then exercise and play hard too.
"Ultimately, I had my son so I had to wind my neck in and I knew I had to pull it all together for him. The road was long, but the reward far outweighed it."
And then her breakthrough happened. In February this year Mags was called to go back on air and she beams about how going back to ECR was like going back home. It was a no brainer, and she was on a mission. She was the epitome of a survivor and the personification of a real comeback queen!
A typical day for Mags starts at 5am, and it's straight onto emails to clients and suppliers in the US, then breakfast, school bags, show and tell, school run, a run or gym session, and straight into meetings or consulting sessions in the marketing sector, with the second half of her day spent at the station, then wrapping up with dinner, story time and mostly Skype meetings.
"Sometimes I have to remind myself of how old I am and how much I have already achieved. I have to make an effort to pause and absorb it all. It was only this year when I reflected on my life so far that I realised how my love affair with the entertainment industry just keeps on going. I'm so extremely blessed, but in the same breath, the title of comeback queen is a big one and so are the shoes to fill, so I need to make it all fit."
"Success is hard work and perseverance made real, but having to work from the bottom up has made me appreciate life and savour my health, happiness and success even more. It has concreted my value and the very things I will and will not compromise on. It would be silly for me to say I no longer have any obstacles in my way, because when you keep setting new goals in your career, you will always face challenges, but this time I have learnt a bit more. I am an extreme perfectionist, with high expectations from peers and from myself, so my daily challenge is to be kind to myself and practice a little patience."
When she's not on air Mags is all about spending time with her son, so anything beachy, mountain biking, holidays, exploring and family braais.  Other things she is absolutely crazy about are horses, summiting mountains and hanging out with friends – this always means seafood, a good bottle of wine and a bag full of laughs.
"Endurance is my game; any outdoor physical challenge is right up my alley.  I have new expedition on the cards for 2018 but you will have to follow the movements on my social pages. While my story is unique to me, there are a world of people out there, young and old, facing their own challenges, so I wish them the same courage that I had. For those who are going through some stuff, just know that what you going through is not your final life destination. You will do great things, but going through the challenges is par for the course. Keep putting one foot in front of the other and take a deep breath, because the sun does shine again, I promise you that."
Catch Mags and Bongani on their high-octane, no-holds barred three hour joyride that shortens your drive home from Mondays to Fridays between 3pm and 6pm.
Follow Mags on:
Twitter and Instagram: @magssouthafrica
Facebook:  Mags van der Westhuizen
Booking email: hello@themagsbrand.co.za
Credits:
Photographer: Robyn Jessica Botha, www.jessiebird.co.za
Make-up artist: Jessica Claire Vickers, 074 601 4061
Hair: Nadine Lino of Hey Gorgeous in Salt Rock, 079 900 5301
Tiara: Bride & Co, Umhlanga
Dressed by: Kathryn Kidger
Venue: The Oyster Box, Umhlanga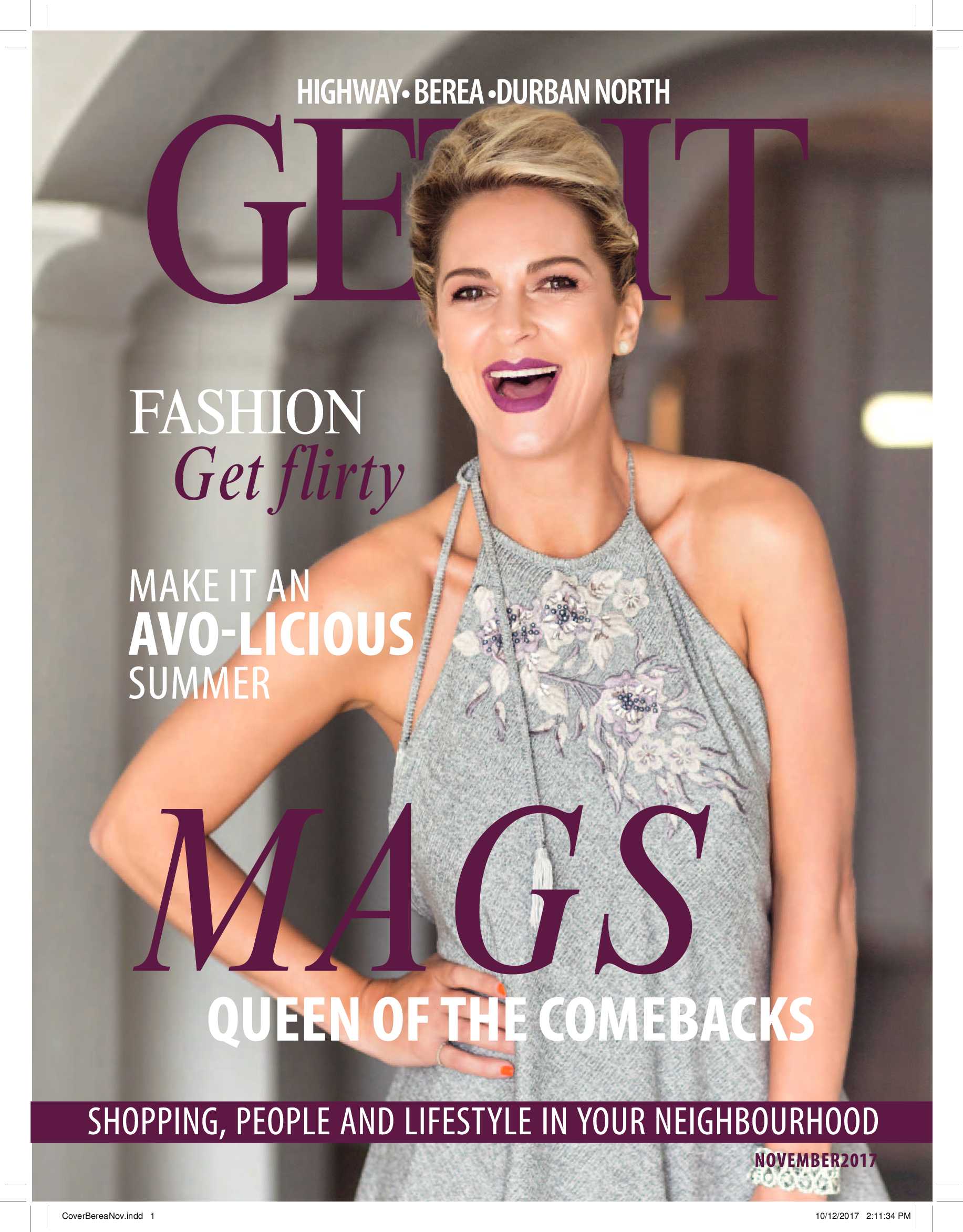 Get It Magazine Durban November 2017
Mags queen of the comebacks
View magazine

It's going to be a delicious festive season…
This year's holiday season will be jolly delicious as Cadbury plans to share the joy with three new treats, and we're hoping for at least one of each of these in our stockings!
Kahvé Road coffee capsules
Kahvé Road, premium coffee and patisserie specialist has extended its offering to its own premium coffee capsule range which is available at the popular eatery based in Cape Town, as well as online.
An easy going classic rocking horse
Make playtime active with the Hape Rock and Ride Rocking Horse from Toy Kingdom. This perfectly-balanced ride-on can take kids for a slow-and-steady trot or a rocking gallop.
Celebrate the special moments in life with Nomination
Nomination's new collection of Composable links is called Life, because each link reflects an important moment in your life.
An elegant and iridescent palate pleaser
Following Krone's tradition of hand-picking their grapes under the stars in the cool of the night to retain flavour and aroma, the Krone Borealis was named after the 'Corona Borealis' constellation of stars.
Discover Huggies Pants, designed for active babies
Is your baby becoming more active or wriggling at change time?
Enchanting eye colours
Discover eyes that shine with dazzling beauty. With a sweep of brilliance, these Enchanting Eye Colours from Mii create instant allure to give a sheer look layered with sophisticated shimmer.
The ultimate Robertson Winery Summer Hamper
Robertson Winery Lightly Sparkling Sauvignon Blanc is not a light wine and it is not a sparkling wine; it's a lightly sparkling wine – produced from top quality grapes, with intense fruit flavours of grapefruit, melon and passionfruit and an added dazzle of tiny bubbles for innervigorating summer pleasure.
December Spoil
Get that glow with a glam Caribbeantan!
Pssst… we have a (little) secret
Delicate and precious, with simple designs, we're loving the new Little Secrets bracelets from Thomas Sabo.
is a national brand of premium free magazines available in centres across the country.
to see other Get It magazines in the network.