Avo…licious
Make an appetizer
Caramelized Pineapple, Bacon and Goat Cheese Guacamole
Recipe and photo by Jessica Merchant, How Sweet Eats
Serves: 4 appropriately, 2 obnoxiously
Total Time: 30 minutes
Ingredients
4 slices thick-cut bacon, chopped
1 1/2 cups chopped pineapple
4 avocados, fruit scraped out
1 jalapeno pepper, seeded and diced
1/4 cup diced red onion
1/4 cup chopped fresh coriander
2 limes, juiced
1/4 teaspoon salt
1/4 teaspoon pepper
30g goat cheese, crumbled
Method
Heat a large skillet over medium-low heat and add the bacon. Cook until totally crispy and the fat is rendered, stirring occasionally. Remove bacon and place it on a paper towel to drain the grease. Increase the heat under the skillet to medium and add the pineapple cubes, tossing to coat. Cook until the pineapple becomes golden, about 8 to 10 minutes, flipping once or twice to caramelize all sides. Remove and let the pineapple cool. In a large bowl, mash avocado, jalapeno, onion, cilantro, lime juice, salt and pepper. Taste and season additionally if desired. Stir in almost all of the pineapple and bacon, then stir in the goat cheese. Scoop the guacamole into a bowl and top with remaining pineapple and bacon for garnish. Serve immediately as a party dip or with tacos or enchiladas.
Make avocado chips
Crunchy Avocado Fries
This one's a cinch. You don't even need a fryer. Just slice the avocado, dip the slices in egg, roll in breadcrumbs and bake. Here's how…
Ingredients
3/4 cup breadcrumbs
2 tablespoons ground flaxseed
1 teaspoon mild chili powder
1 egg
2 avocados
Coconut oil/ olive oil
Salt
Sweet chilli sauce to serve
Method
Heat oven to 200°C. In a bowl, combine 3/4 cup breadcrumbs, 2 tablespoons ground flaxseed and 1 teaspoon mild chili powder. In another bowl, whisk 1 egg. Cut 2 peeled avocados into 16 wedges, dip wedges in egg, press into breadcrumb mixture and transfer to a baking sheet. Coat with coconut or olive oil depending on your preference. Bake until outside is crispy, 10 to 12 minutes. Season with salt and drizzle with hot sauce.
Make chocolate mousse
How simple is this?
Combine 1 very ripe avocado, 170 semisweet grams of melted chocolate, 3 tablespoons of honey, and a pinch of salt in a food processor until smooth. Try it out on family and friends and see if anyone can tell that it's actually made with avo!
Fill it with an egg
In the '80s, this was known as a diet plate. These days it's just called lunch!
Ingredients
1 ripe avocado
2 eggs
Salt and pepper to taste
2 slices Brie or a similar cheese
Chopped chives (optional)
Method
Preheat oven to 220°C. Slice avocado in half and take out the pit. Scoop out enough flesh from the centre of the avocado so that the egg will just fit.
Place the avocado halves in a baking dish lined with foil and try to place them so they don't wobble too much. Crack an egg into each half of the avocado. Season with salt and pepper. Place a slice of brie on top, and put it in the oven.
Bake for 15 to 20 minutes (depending on the size of eggs/avocado). Remove the avocado eggs from the oven, garnish with chives if you like and enjoy!
Put them on your hot dogs.
Three words: Chilean Completo Italiano.
Hot dog sandwich with tomato, avocado and mayonnaise
Ingredients
8 viennas of your choice
8 strips thick-cut bacon
8 fresh-out-the-oven hot dog rolls
1 avocado, diced
1 small white onion, diced
1 large tomato, diced
3 to 4 pickled jalapeño peppers, diced (optional)
1 tablespoon lime juice
Salt and pepper to season
1 cup mayonnaise (a squeeze bottle will also do)
1 cup chopped fresh coriander leaves
peanut oil (a few spoons will do)
Method
Wrap each hot dog with bacon. In a frying pan, heat oil and lightly fry viennas until bacon is crisp. Transfer to a paper towel-lined plate to drain. Mash avocado, then and in a separate bowl combine onion, tomato, jalapeño (optional), and lime juice. Season to taste with salt and pepper. Top hot dogs with salsa mix, then avo and garnish with a little mayonnaise and coriander. Serve immediately.
Turn them into brownies
Because apparently you can swap butter with avocado and still get delicious, more importantly healthier brownies.
Avocado Brownies
Makes: 16 brownies
Ingredients
4 large eggs
1 cup sugar, sifted
1 cup brown sugar, sifted
1/2 cup flour
1 1/4 cups cocoa powder, sifted
2 teaspoon vanilla extract
1/2 teaspoon salt
230g mashed avocado (about 2 avocados)
Method
Preheat oven to 135˚C. Beat eggs at until light yellow and fluffy. Add sugars and beat on low speed until well-blended. Add remaining ingredients and beat together on low speed to combine. Pour brownie batter into a greased and floured 8-inch square pan. Bake for 50 to 55 minutes (or until a toothpick inserted in the centre comes out clean). Allow to cool before slicing and serving.
Blend into a soup
If you thought avocados were refreshing before, wait until you taste them blended, chilled and served as a cold soup.
Paleo Cream of Avocado Soup
Prep Time:  10 minutes
Cook Time:  20 minutes
Servings:  4 to 6
Ingredients  
2 ripe avocado, pitted and diced
2 tbsp. fresh lime juice
2 tbsp. olive oil
1 tbsp. minced garlic
1 ½ cups diced onion
1 cup diced celery
3 cups chicken stock, divided
1 cup coconut milk
Salt and pepper to taste
Paprika and extra avocado to garnish
Method
Toss the diced avocado with the lime juice in a small bowl. Set aside. Heat oil in a saucepan over medium heat. Add garlic and cook for 1 minute. Stir in onion and celery and cook for 5 minutes until onions are just translucent. Add 2 cups chicken broth and bring to a boil. Reduce heat and simmer for 10 minutes. Remove saucepan from heat and allow to cool. Blend avocado and lime juice in a blender until smooth. Add remaining chicken broth and blend smooth. Pour in the coconut milk and half the cooked soup then blend the mixture until smooth and creamy. Blend in the remaining soup. To enjoy on a hot day, chill for a few hours then season with salt and pepper to taste and garnish with a sprinkle of paprika and a teaspoon or so of diced avocado before serving.
The buzz word is burger bun
So, just when you thought you had it all figured out with homemade burgers for dinner, then comes the food trend – the avo burger bun. A concept created by Amsterdam food stylist Colette Dike who blends food with decoration, rather than the gluten-laden bun, she chooses to house both traditional and vegan burgers between avocados that have been halved and skinned. Try this super simple recipe from iloveavocadoSA.
Avocado Bun Sliders
Makes: 8
Ingredients  
500g ground beef, extra lean
1 egg
2 tablespoons pesto
1 large plum tomato, cut into 8 slices
6 slices cheddar cheese
8 ripe avocados
Method
Gently combine ground beef, pesto, egg, 1/4 teaspoon salt, and 1/4 teaspoon freshly ground black pepper in a bowl. Divide beef mixture into 8 equal portions, shaping each into a 1/4-inch-thick patty.
Heat a grill pan over medium-high heat. Coat pan with cooking spray. Add patties to pan; cook for 3 minutes on each side or until desired degree of doneness. Cut avocados in half, remove pip and peel. Top one half with 1 tomato slice, 1 cheese slice and 1 patty. Top with the other avocado half, season with salt & freshly ground pepper. Serve!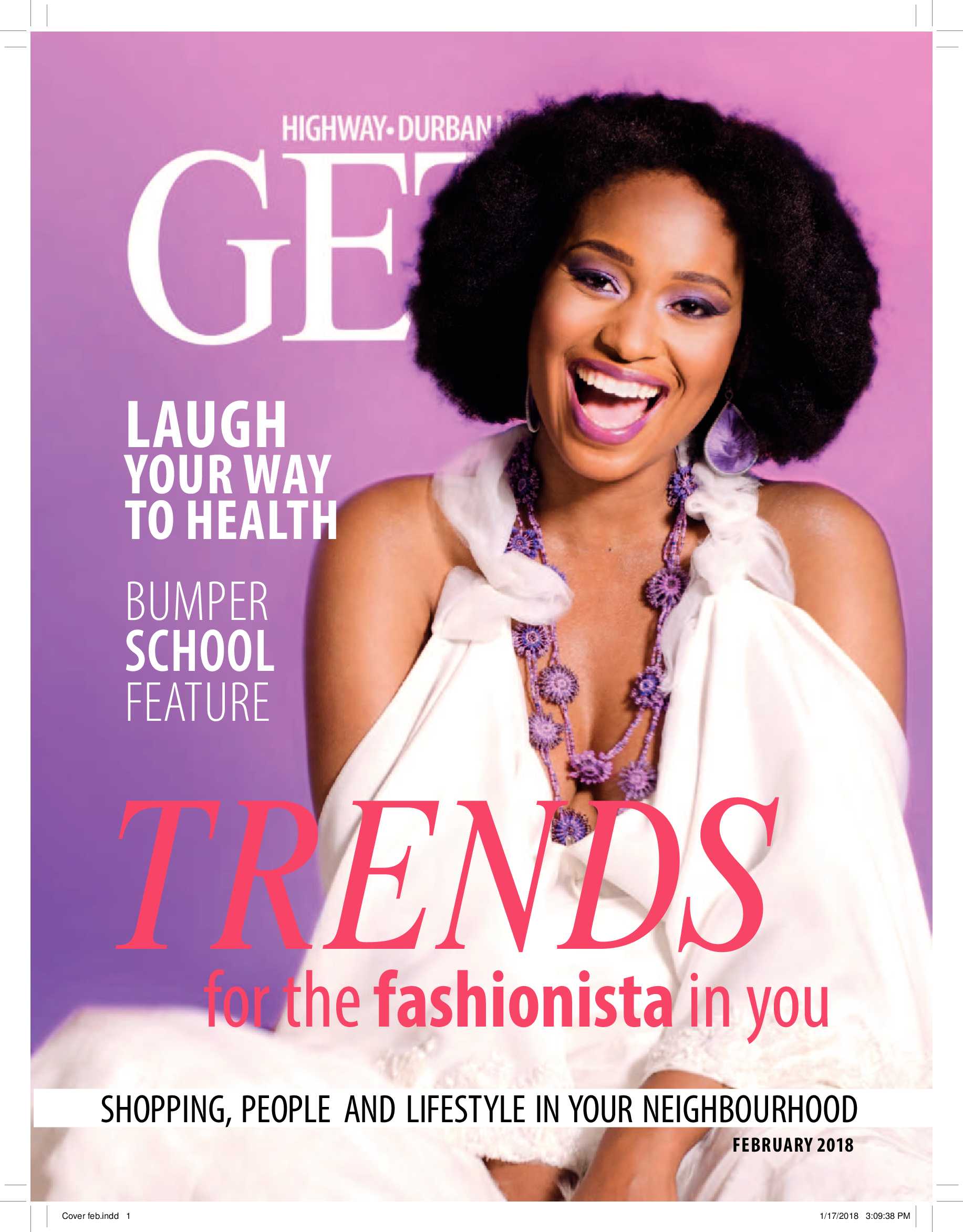 Get It Magazine Durban January 2018
Trends for the fashionista in you
View magazine

Win tickets to Decorex Durban
Leaders in the décor, design and lifestyle trade, Decorex Durban, will inspire visitors to find their unique #rhythmoflife with a range of stylish services and products featuring at the Durban Exhibition Centre from 21 to 25 March.
Sweetie Pie Easter Egg
Sweetie Pie is a South African favourite, and with Easter around the corner this mouthful of goodness from Beyers is now available in a limited edition Sweetie Pie Easter Egg that will delight all loyal fans.
Carrol Boyes Wines Collection
Lovers of renowned gifting and homeware label Carrol Boyes will know that over the years the brand has come to encompass far more than the distinctive tableware for which it first became so highly revered.
March Spoil
Let's get together!
Chocolate for everyone
Who doesn't love Peter Rabbit? Who doesn't love Cadbury?
World class London Dry Gin
Stretton's Gin has come to the rescue of all gin-lovers with a collaboration that's bound to be the talk of the town.
Chocolate Mozart
Renowned for their mouth-watering, decadent and convenient desserts, Chateau Gateaux has become Durban's most-loved Patisserie – an obsession to say the least.
As good as eating out
Let's face it. Budgets are tight. And eating out has become somewhat of a treat. But we've found the perfect solution … restaurant food at home.
Bespoke baby gear, designed with the supermom in mind!
When it comes to baby brands, there are so many great companies out there producing some incredible stuff. On an international level, we are of course envious of some of the adventurous, fun and fabulous products on the market (not all of which we can always get our hands on), so we simply cannot contain ourselves when every now and again we stumble across some equally great brands produced on our very own doorstep…
A Crazi kind of giveaway
There are only a few weeks left of the Crazi Erazi phenomenon that has swept the country since December, and this is your chance to win one of five complete sets of Crazi Erazi erasers that we are giving away.
is a national brand of premium free magazines available in centres across the country.
to see other Get It magazines in the network.