Goddess of waste
The ability to see beauty and potential in everything around us, including trash, is just one of the things that makes quirky interior designer, Michelle Markram such a force to be reckoned with. Bronwyn Forbes-Hardinge went along to find out more about her creative passions.
She's not exactly your average interior designer either. At 41, this eccentric, gorgeous mother of three, is also a fervent cook,  poet, nature lover and untamed artist who spends her days creating vertical and rooftop gardens, re-purposing trash into stunning artwork and educating communities in informal settlements about working with and not against the environment, and teaching them how to use trash to uplift their own lives.
"What is discarded or overlooked is gathered and nurtured with love and respect for the smallest thing as I believe this leads to great things. So just as saw dust can transform into majestic artworks or sticks into lights, so too can people with no skills become artists with great skill."
It is this passion for the natural world and sustainable living that resonates throughout her Umgeni Road Studio (MSQ Interior Design), where she works with her 'extended family.'  It is a forest of decor where everything is made from waste, where recreated trees are made with discarded tree trunks, where everything revolves around a five-word mantra: Out of nothing comes something.
Michelle's solution to life's problems is to always find solace in nature. She is an epileptic and believes it is this, coupled with a naturally artistic background that has enabled her to encompass the outdoors in a uniquely creative manner throughout her career. Whatever the environment, she seems to have a way of making it her own, finding beauty in the overlooked.
"People often ask me if I work out. The answer is no, but I climb trees with a panga. The greatest architect we will ever come across is the humble tree. It's where I'm happiest sitting. It's not easy to recreate a tree you know. I am passionate about examining their organic lines. Some bent, some small, some evergreen, some tall. We never judge the tree. We just accept it. How sad that when it comes to humans the same does not apply. So I like to turn people into trees and accept them just the way they are."
"I draw inspiration from anything. To me, everything is an art form awaiting transformation. Although I have only been creating sculptures from trees and waste for the last four years, it all stems from an experiential journey during my childhood where the trees, flora and fauna were my escape and my healing space. My father's construction site was my playground and in contrast, my mother – an accomplished floral designer – lovingly provided another exciting area for me to learn from. The greatest lesson she taught me was that space is the breath of art and wonder. For this, I am eternally grateful."
As a team, MSQ places nature at the forefront of the design process. They do not believe in waste.
"One morning, I was collecting my MSQ family from a township where the people were surrounded by a wealth of waste, but they were poor in spirit. I asked myself how I could come up with a creative solution to take that waste and give hope to those whom had lost it. Waste is not waste, it's an unlimited raw material base for art that can only be described as sublime. Undoubtedly my design trend is the African Green Revolution, which I'm so proud to say is supported by SAB Miller who have awarded R50 000 towards educating unskilled workers in the wealth in waste and using such to create a livelihood. The more we remove waste, the quicker we can inject health back into our environment and save the trees."
Renowned for her humanity towards others, Michelle dedicates any spare time to volunteer work as an HIV counsellor offering people in the townships an empowered understanding of the disease. "When you hold the hand of the dying, you realise that they want for nothing. I am a good teacher, this I know, and I educate in my own quirky way that knowledge becomes power. It's my way of showing love and connecting with the people I deeply resonate with."
"One thing I would not change for the world is my epilepsy. Whenever I've had a seizure, it takes me a few days to get the fragmented state back into a cohesive whole, but as I always say to my children and the people I teach about the world of art, there is always something to be glad about. I firmly believe that my sensitivity to scale balance and perfection hinges on the basic fundamental that if design is not peaceful, naturally organic and flowing with harmonious abundance it creates an instant frenetic irritation in my brain similar to what is experienced during a seizure. Epileptics generally feel hampered rather than empowered by this illness. I try to see the blessing in this so called curse. Something I've had on my bucket list for a while is to create a support forum here at the showroom for people who suffer from an epileptic condition, as well as the significant others who also suffer watching the ones they love during and post seizures."
In work mode, when it comes to the creative or commissioning processes she employs, Michelle says it comes down to understanding the ethos that underpins an individual or organisation.
"I wish to understand their spirit, what makes them tick. No home or corporate office is alike as no two people are alike. As soon as I understand this, my brain goes on a tangent and my creativity flows with joyful abandon. That's when the magic comes to life. I am pedantic about detail, but I fear nothing in art. I just sometimes fear relating to people."
Of all her creations Michelle's favourite is a piece called Unbroken – The Untamed Spirit.  This sculpture is symbolic of her life's journey. "The base on which Unbroken stands depicts breaking free from chains and societal norms that previously constrained her. Her mane is wild and free. Serenity and peace embrace her scar-ridden face now blessed with a new understanding that life is short, time waits for no man, enough with the scars and bruises. She chooses to gallop ahead, accepting her life's purpose and who she was born to be."
Going forward, she hopes to clean up the streets of South Africa and use waste to build beautiful homes for those who have none or have lost hope.  "I'd like to replace our waste-riddled landscape with flora and fauna and answer the call for a long term sustainable solution to our present socio economic challenges using the endless supply of waste as our raw material base. I hope to redecorate our landscape and bring a new vision. In general, my design process relates directly to the community work I do. If I can prove that a stick can become a work of art then I can also prove that those who are beggars on the street are awaiting transformation. That comes with love and healing, which in the end underpins us all."
"I live life knowing that I have a choice, and I choose to see beauty in everything. It's the same as taking something of absolutely no value and showing others what you can do with it, and watching their faces light up once they gain a new understanding," she said.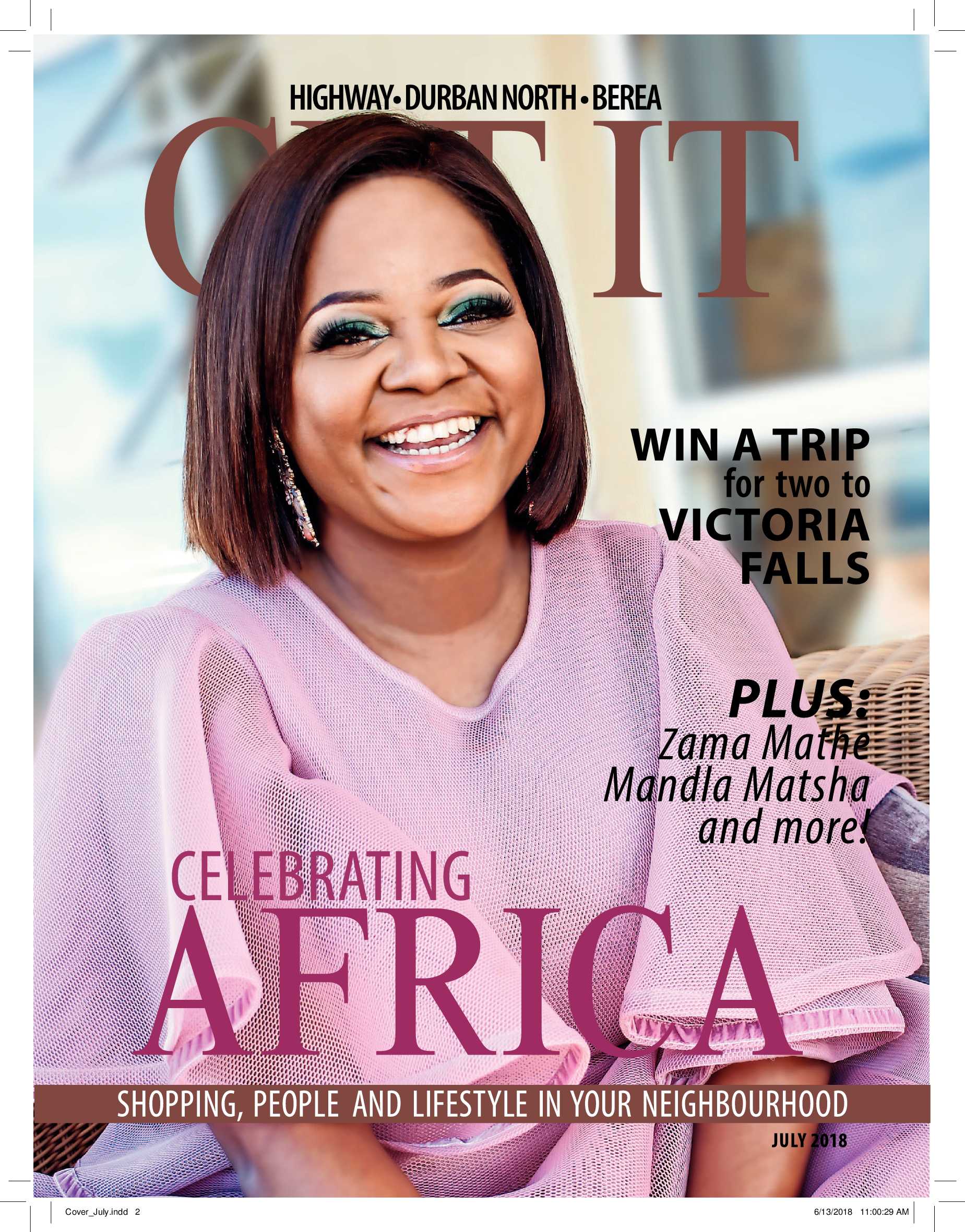 Get It Magazine Durban July 2018
Celebrating Africa
View magazine

Its time to READ competition
A wise man once quipped: Creativity is contagious. Pass it on. Albert Einstein certainly knew what he was speaking about, and when it comes to encouraging creativity and imagination in our youth, just think of the untold treasure, waiting to be discovered!
Glad to go camping
The kids are on their mid-year hols and a camping weekend's on the cards. Woo hoo.
How are you enjoying your Cadbury Breakaway?
Chocolate wrapped and filled wafer. On a chilly winter night, there's really not much more we want than this, a mug of coffee and a good book.
July spoil
Adventure awaits…
Buon appetito!
With nothing but a suitcase full of dreams and her faithful friend 'the cello', Cecilia Di Cecco left Italy to work as a musician with the KZNPO in Durban. Here she learnt to cultivate her music and at the same time began a love affair with food that eventually led to the recent launch of her first cookbook, Cucina in South Africa.
A fairy tale for modern times
Being massive fans of everything royal (especially the recent wedding between Meghan Markle and Prince Harry) we absolutely cannot wait for the release of this 124 page royal bookazine, The Royal Wedding: A People Magazine Exclusive Collector's Souvenir (R100).
is a national brand of premium free magazines available in centres across the country.
to see other Get It magazines in the network.