Make Heritage Day memorable with a Wonderbag recipe
Wonderbag Mutton Biryani (Serves 6 – 8)
Ingredients:
1.5kg mutton pieces with bone
2 cups whole lentils
2 cups rice
2 stick cinnamon
4 cardamom
5ml cumin
4 green chillies
250ml sour milk
30ml fresh grated tomato
2 sprigs mint
2,5ml saffron
2,5ml turmeric
5ml salt
5ml dhania powder
7,5ml crushed red chilli
6 small potatoes
375ml ghee / oil
2 medium onions
2 cloves garlic, crushed
5ml grated ginger
Directions:
Fry the sliced onions in half the ghee or oil until pale golden. Drain and cool
Leave aside 1 tablespoon of fried onions aside
Place the meat in a large bowl. Add the saffron, ginger and garlic, sour milk, tomatoes, spices, remaining fried onions, whole green chillies and mint and leave to marinate for 1 hour
In the meantime, boil the lentils in salted water until done. Drain off in a colander.
Boil the rice with 2 cardamom pods and 1 cinnamon stick until half cooked and drain.
Peel the potatoes and cut each potato in 6. Fry the potatoes until light yellow in the Ghee used for frying the onions. Set aside
In a large flat bottomed pot, add the ghee used for frying and the half that was kept aside and gently heat.
Sprinkle a handful of rice and lentils over the base of the pot.
Arrange the marinating meat and masalas carefully over the rice and lentils
Spread the remaining lentils over the meat
Arrange the potatoes on top of the lentils, then spread the rice on top
Decorate with the fried onions that were set aside, sprinkle with any remaining ghee and 125ml water
Close the pot and turn up the heat and simmer for 5 minutes.
Reduce the heat to low and simmer for 30 minutes
Place the sealed pot in the Wonderbag on a cloth or mat and seal.
Leave for 4 – 5 hours, then open and serve with fresh dhania, poppadum's and minted sour milk
Medium – difficult
Prep time:                                           30 minutes
Time on stove:                                  35 minutes
Time in the Wonderbag:               4 hours
Time save on stove:                        1 hour
Jackie Cameron's WONDERBAG Heritage Samp and Beans:
Serves: 4 – 6 portions
Red Wine Sauce:
Ingredients:
750ml                    Red Wine
150gr                     Tomato Paste
5L                            Beef Stock
Method:
In a large pot, bring the red wine to the boil.
Whisk in the tomato paste and allow to cook for about 5 minutes.
Add the stock, combine well and allow this mixture to reduce by about 3/4.
Strain through an oil filter, place back on the heat, keeping the sauce hot. Left-over sauce can be placed in the fridge.
Samp and Beans:
Ingredients:
250ml                    Samp
125ml                    White Butter beans
125ml                    Speckled Red Sugar beans
Method:
Place the samp, butter beans and the sugar beans into separate bowls, cover with water and leave to soak overnight.
Place into separate pots and boil the samp for 10 minutes, boil the butter beans for 40 minutes and boil the sugar beans for 20 minutes, remove from the heat, place the lids onto each pot and place into separate tightly closed WONDERBAGS.
Leave the samp and beans in their separate WONDERBAGS for up to 4 hours or overnight.
Any left-over samp and beans can be frozen for later use.
Ingredients:
30gr                       Salted Butter
30gr                       Sunflower Oil
500gr                     Onions, finely chopped
15gr                       Fresh Onions, grated
250gr                     Topside Beef Mince Meat
375ml                    Samp, cooked from the WONDERBAG
187.5ml                White Butter beans, cooked from the WONDERBAG
187.5ml                Speckled Sugar beans, cooked form the WONDERBAG
250ml                    Red Wine Sauce
3                              Egg – Yolks
Salt and Black Pepper
Method:
Heat a pot well, add the butter and oil.
Sauté the onions and garlic until well caramelised, this is very important.
Add the mincemeat and cook, be careful not to overcook.
Add the cooked samp and beans with the red wine sauce and allow to come to a simmer.
Add the egg yolks and season well with salt and black pepper. Allow the mixture to simmer for 2 minutes, then remove the pot from the heat, place the lid on the pot and place the pot into the WONDERBAG. Close the WONDERBAG tightly and leave the pot in the WONDERBAG overnight. This will continues cooking very slowly and the mixture will become really creamy.
Serving Suggestion:
Once the Samp and Bean mixture has been removed from the WONDERBAG, place the pot back on the stove to heat up.
Serve with Beef Tongue, Horseradish Potato Crème, deep-fried Capes, crispy Carrots and fresh green Cabbage.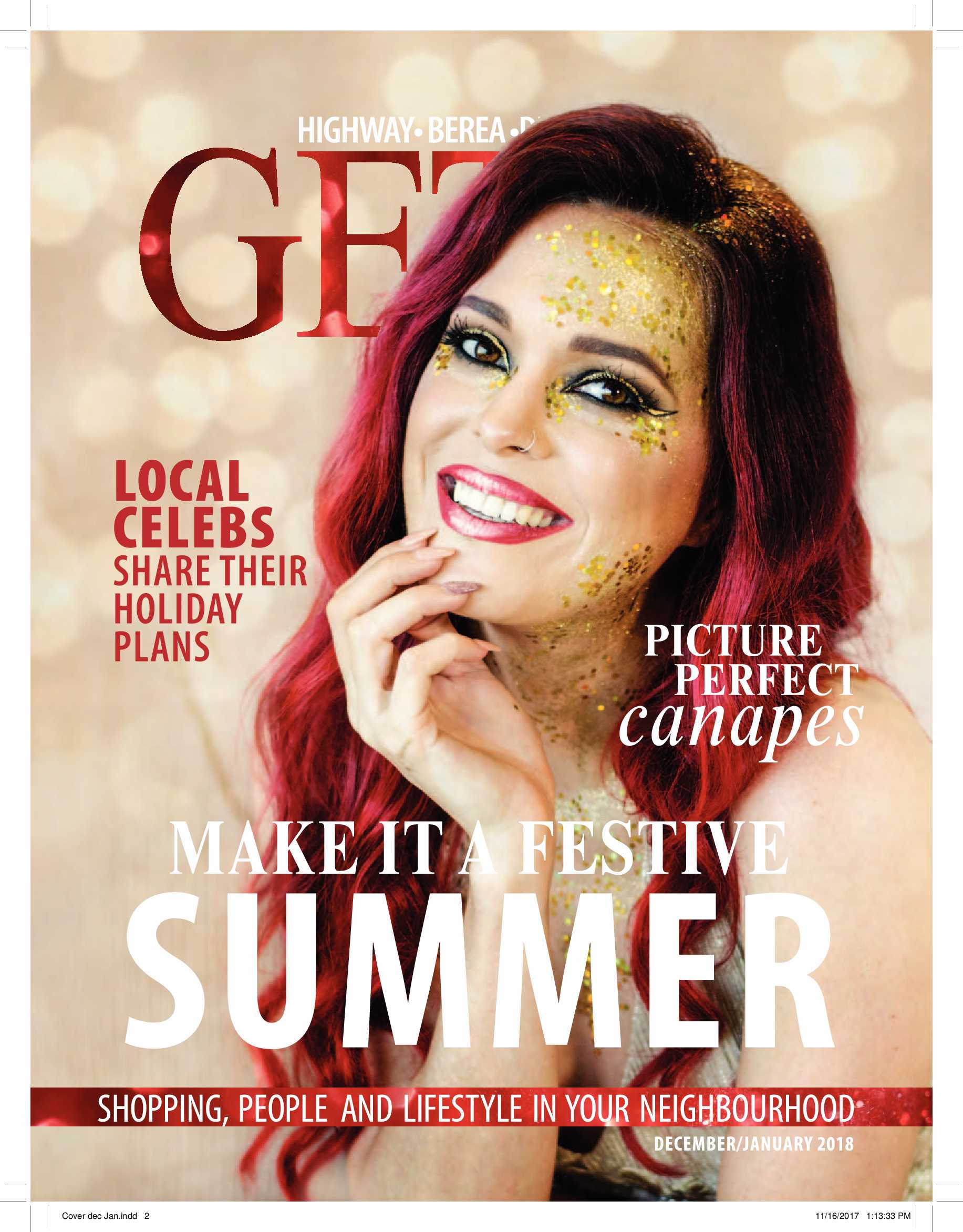 Get It Magazine Durban December 2017
Make it a festive summer
View magazine

Season's Greetings
Let the magic happen around the table this year. Gather your loved ones for the festive feast with all the trimmings and create some new memories.
Cancer: A love Story
Cancer: A love Story is Lauren Segal's achingly tender memoir, which starts one wintery morning in 2014 when she receives a call from her husband. The furthest thing from her mind is her biopsy results.
It's going to be a delicious festive season…
This year's holiday season will be jolly delicious as Cadbury plans to share the joy with three new treats, and we're hoping for at least one of each of these in our stockings!
Kahvé Road coffee capsules
Kahvé Road, premium coffee and patisserie specialist has extended its offering to its own premium coffee capsule range which is available at the popular eatery based in Cape Town, as well as online.
An easy going classic rocking horse
Make playtime active with the Hape Rock and Ride Rocking Horse from Toy Kingdom. This perfectly-balanced ride-on can take kids for a slow-and-steady trot or a rocking gallop.
Celebrate the special moments in life with Nomination
Nomination's new collection of Composable links is called Life, because each link reflects an important moment in your life.
An elegant and iridescent palate pleaser
Following Krone's tradition of hand-picking their grapes under the stars in the cool of the night to retain flavour and aroma, the Krone Borealis was named after the 'Corona Borealis' constellation of stars.
Discover Huggies Pants, designed for active babies
Is your baby becoming more active or wriggling at change time?
Enchanting eye colours
Discover eyes that shine with dazzling beauty. With a sweep of brilliance, these Enchanting Eye Colours from Mii create instant allure to give a sheer look layered with sophisticated shimmer.
The ultimate Robertson Winery Summer Hamper
Robertson Winery Lightly Sparkling Sauvignon Blanc is not a light wine and it is not a sparkling wine; it's a lightly sparkling wine – produced from top quality grapes, with intense fruit flavours of grapefruit, melon and passionfruit and an added dazzle of tiny bubbles for innervigorating summer pleasure.
is a national brand of premium free magazines available in centres across the country.
to see other Get It magazines in the network.