What's in the WORS
"A good braai takes time and life is way too short to eat average quality boerewors, which is why I love to make my own and why I enjoy sharing  it even more!"
Cobus tells how he grew up earning pocket money working in a meat processing factory.  "Hunting, meat processing and making our own biltong, was second nature to me. That's how the bug bit. When I left school I went straight into sales and product development for Exim and always spent my spare time experimenting with meat and spices. I was on a mission to create the perfect flavour combinations."
That hasn't changed. Over the last few years, Cobus has dedicated his creative time to making his much-loved biltong, pork sausages, hamburger patties, and of course his favourite challenge, the ultimate boerewors.
"I haven't bought boerewors for about five years because I just prefer to make my own. Within the family, we all experiment and often share these efforts at family gatherings. I braai at least once a week and the braai packs usually include pork rashers, pork neck steaks and of course boerewors, because boerewors makes a braai, en ek hou daarvan om lekker te eet!"
When it comes to the ingredients for a good boerewors, Cobus says you can't go wrong with topside or rump minced and mixed with pork belly, spice, water and the secret in his arsenal, his home made wors sauce – something no home boerie maker should ever be without.
"The key to a delicious boerewors is always having the right blend of spices. The wors sauce I make pretty much covers the spice and water content needed for this, and it takes your boerewors to the next level.
"You can cook boerewors on an electric fryer like I sometimes do, but the best way is to braai it over gentle coals. Regardless, it's important to keep turning the boerewors so that it doesn't burn on any particular side. You'll probably need to turn it three to five times to achieve perfection.
"Boerewors is best when it is still nice and juicy, so in my opinion, a decent cooked wors should be done medium. It must have a pink spot in the middle, then you know its natural juices are retained. Boerewors should never rest for too long before serving. About 2 or 3 minutes should do it. What you serve with it is up to you, but if you cook it right, the pleasure of enjoying it on its own is more than enough!"
Boerewors Spices
Cobus knows his spices, and just what needs to go into his boerewors. "Coriander seeds give boerewors flavour, and if roasted, add a hint of smokiness. Pair it with nutmeg, coriander and clove.  Most boerewors you find today is made with a ready-mixed spice from one of the factories specializing in this, but then there are a few people,  like me, who use their own secret mix of spices. For those who would like to make their own boerewors but are not keen on playing around with spices for fear of getting it wrong, we have some amazing spice packs available at Exim. My favourites include Namakwa Boerewors – predominant coriander seed and nutmeg flavours are supported by clove and black pepper to give a tasty, well-rounded boerewors and Plaaswors – that makes a tasty, traditional boerewors with clove, nutmeg, black pepper and a generous sprinkling of coriander seeds.
What's really in boerewors
Legal requirements for raw boerewors stipulate that it can only be made from pure meat and fat. It must have a 90 per cent total meat content and not more than 30 per cent fat content. The last 10 per cent of the mix for boerewors can be from the following: cereal products (sausage rusk, crumb) or starch (potato, maize and tapioca), vinegar, spices, herbs, salt or other harmless flavourants, permitted food additives and water.
How to make your own
Secret Boerewors Mix
Makes 10kg
Ingredients
5kg Topside/rump (80\20 – Meat\Fat)
4kg Pork belly (60\40 – Meat\Fat)
55g Coriander roasted
100g Coriander
15g Cloves
30g Black pepper                     –
15g Nutmeg
30g Mixed Bell peppers
6g Thyme
15g Garlic flakes
9g Mustard seeds
90g Salt
385g Wors Sauce (from Exim)
250g Water
Method
Mince the meat/ fat through a 6mm plate with your mincer (If you prefer a much coarser boerewors make use of an 8mm mincing plate). You can get your butcher to do this for you, but the old school way is with a hand mincer (which means you can control how your meat is minced). Be sure that the meat is as cold as possible but not frozen before mincing. For less coarse Boerewors, run the pre-minced meat through the mincer a second time. If you don't have one, and are looking at investing in a home kitchen mincer, you can buy one from places like Game or Exim.
Place the mince in a meat tray (bucket) for mixing. Add the spices, water and wors sauce to the minced meat and blend together.  Rinse the salt off the sausage casing (which you can get from Exim) by running cold water through it. This helps to dissolve all the salt used to preserve the sausage casing and to soften the casing for easy use. Once rinsed, leave the casings in a bowl of cold water for a few min before use.
Next, find the end of a casing and slip it over the end of your sausage filler's nozzle. Slide the casing over the nozzle and leave a little piece of the casing hanging over the edge because you'll need to tie a knot (this is optional). Put your mince in the top of your filler and switch on (or start cranking if you are using a manual machine).
When the mince emerges from the nozzle, ease the casing off the nozzle at the same speed as the boerewors mix comes out. Regulate the amount of boerewors mix going into the casing by pinching the casing with your thumb and forefinger gently. Don't hold the casing too tightly as you might over fill it causing it to pop.
When you are done, you can either twist off sausages into lengths, or, as in the case of traditional boerewors, leave it as one piece.
Leave your boerewors to stand overnight in the fridge as this helps the flavours to develop.
Contact
You can visit the Exim website at www.exim.co.za or contact Cobus on JacobusN@exim.co.za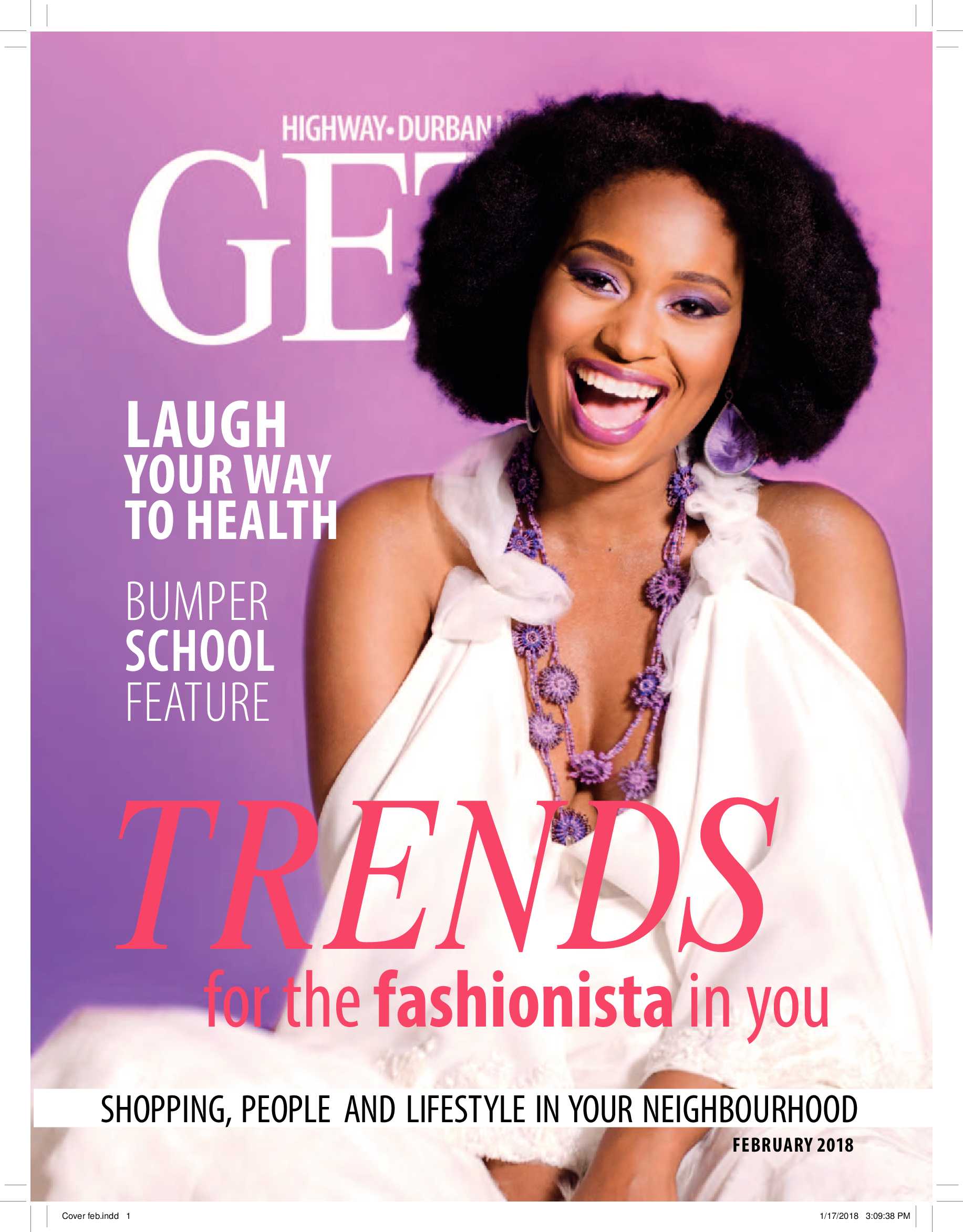 Get It Magazine Durban January 2018
Trends for the fashionista in you
View magazine

Win tickets to Decorex Durban
Leaders in the décor, design and lifestyle trade, Decorex Durban, will inspire visitors to find their unique #rhythmoflife with a range of stylish services and products featuring at the Durban Exhibition Centre from 21 to 25 March.
Sweetie Pie Easter Egg
Sweetie Pie is a South African favourite, and with Easter around the corner this mouthful of goodness from Beyers is now available in a limited edition Sweetie Pie Easter Egg that will delight all loyal fans.
Carrol Boyes Wines Collection
Lovers of renowned gifting and homeware label Carrol Boyes will know that over the years the brand has come to encompass far more than the distinctive tableware for which it first became so highly revered.
March Spoil
Let's get together!
Chocolate for everyone
Who doesn't love Peter Rabbit? Who doesn't love Cadbury?
World class London Dry Gin
Stretton's Gin has come to the rescue of all gin-lovers with a collaboration that's bound to be the talk of the town.
Chocolate Mozart
Renowned for their mouth-watering, decadent and convenient desserts, Chateau Gateaux has become Durban's most-loved Patisserie – an obsession to say the least.
As good as eating out
Let's face it. Budgets are tight. And eating out has become somewhat of a treat. But we've found the perfect solution … restaurant food at home.
Bespoke baby gear, designed with the supermom in mind!
When it comes to baby brands, there are so many great companies out there producing some incredible stuff. On an international level, we are of course envious of some of the adventurous, fun and fabulous products on the market (not all of which we can always get our hands on), so we simply cannot contain ourselves when every now and again we stumble across some equally great brands produced on our very own doorstep…
A Crazi kind of giveaway
There are only a few weeks left of the Crazi Erazi phenomenon that has swept the country since December, and this is your chance to win one of five complete sets of Crazi Erazi erasers that we are giving away.
is a national brand of premium free magazines available in centres across the country.
to see other Get It magazines in the network.