The dog whisperer
Lindelani was a young man with big dreams when he left his Pietermatrizburg home town in search of new adventures. In spite of his insecurities about dogs, he knew even then that his mission in life was to work with animals. He had no idea the success that his calling would ultimately bring. .
Affectionately referred to as Thobani, this humble gentleman with natural animal skills is the flavour of any given day at Superdogs where he works his magic. Walking past the kennels en route to his office, he is met with a chorus of howling and barking and tail wagging hellos. And this doesn't end. He might be hidden from view, but they know he's there and they don't let up until he finally gives in and opens the doors. A handful of his regulars bolt through in leaps and bounds, clambering into his arms for their morning embrace. It's clear he laps this up just as much as they do!
Thobani's sense of humour and goodwill, coupled with his incredible work ethic and love for animals has been instrumental in his career growth.  He has made such strides amongst animal lovers in the community that he is now fondly regarded in the community as the 'dog whisperer '.  The title is well-earned as he gently and effectively weaves his magic by training problem dogs in matters of obedience.
"Having a pet can be a stressful and exhausting experience. No matter how trying your pet is, you will always love them, but showing them how much and using the appropriate techniques in order to train, handle and reward their behaviour is pivotal in your relationship with them. These are all things I had to learn in order to do what I do today."
It really has been an adventure of learning for Thobani, who started his first job out of school working for an air-conditioning installation company. He also gained skills by working in Chinese gardens. His gardening skills eventually led to him crossing paths with Debbie Kuhn, founder and director of Superdogs KZN, who at that stage had just started the company.
Thobani initially assisted Debbie as a gardener, but it was not long before she noted his potential as an all-rounder. Her busy lifestyle meant that she would lean more and more on Thobani, who soon found himself doing data collection for Superdogs and at the same time working part-time at the kennels.
"When Debbie first asked if I was keen to train dogs, I was actually terrified of them in general, except for hers. I was accustomed to them.  Deep down, I knew I wanted to face my fears, so with a little trepidation, but an overall positive frame of mind, I agreed to give it a try. I was mentored by an amazing guy named Lennox, who taught me all the ins and outs about dog training and I progressed from strength to strength. Soon I was offered full-time employment and recently a partnership in the company. This is when I realised that what I was doing was no longer just a job for me; it was something I loved because each one of these animals somehow found their way into my heart."
Dogs are usually brought to Superdogs for in-board training when there owners feel they are difficult cases. Thobani spends time establishing a relationship with these dogs, and has successfully set more than 500 dogs and owners back on track in his 12 years as a dog trainer. He's taken on some difficult cases, but he's broken down walls and impressed the right people with his abilities, to the point where he has been asked to consult internationally.
His talent and methodical nature are indispensable and in fact, in a number of cases, if it had not been for his intervention, owners have admitted that their dogs were destined to be put down. One couple in particular, Jen and Dave Rigby, were so impressed  with the way Thobani trained their dogs that they offered to build kennels on a piece of their own land in order to provide a top notch training facility for Superdogs.
"I'm primarily involved in our in-board training program and occasionally assist with classes. Another responsibility I have is working one-on-one with in-board trained dog owners. This is where I help them work with their dogs to achieve the same responses I do with the training I do. We are a team of dedicated animal lovers, desperate to help fix the problems between animals and their owners. Nine times out of ten, problem pets have a history and most often their behaviour is a reflection of the way their owners handle them. It can be a real challenge getting through to people, but we make it our business to help them understand their pets, to get into their minds and learn some basic knowledge and respect. It takes a lot of discipline and dedication to care for animals the right way, and to make sure their lives are as fulfilled as they should be."
Depending on the scale of the problem, most dogs spend about 10 to 15 days with Thobani and Debbie. A few days are spent gaining trust with the dogs and thereafter training begins. Before the dogs are released to their owners, owners are required to undertake a five-day commitment to training to ensure that both parties are content in starting a new and happier relationship."
"Three key elements in training dogs are trust, respect, and loyalty. I am a husband and a father of two girls and believe in these values, not only with human beings but with the animal world. Just as one would discipline your children, similar principles apply to training your dog. Positive reinforcement, being firm and having a balance are so important, as are consistency, love, kindness, understanding and time – these all go a long way to fostering a beautiful relationship."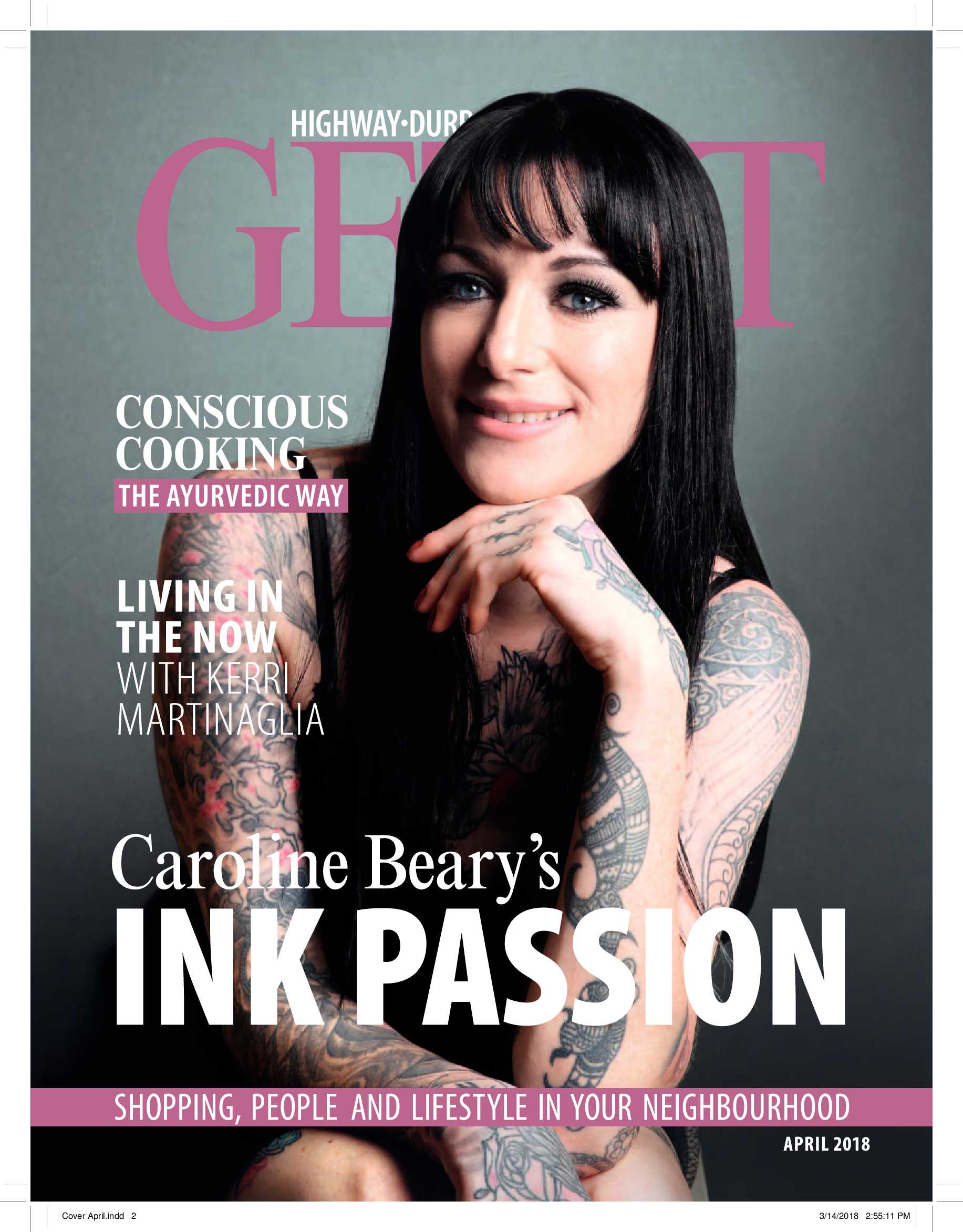 Durban Get It Magazine April 2018
Caroline Beary's Ink Passion
View magazine

May spoil
We were delighted to learn that Truman & Orange has added the world's leading Italian Sparkling Wine, Mionetto Prosecco, to their growing portfolio of beautifully-crafted, imported liquids.
Utterly gorgeous
Alien has reinvented itself … and it's really rather beautiful.
May the sounds be with you at Music at Makaranga
If music, food and fun with friends and family is how you love to spend your Sundays, then grab your tickets now to Music at Makaranga this 6 May !
April Spoil
An obvious winner in terms of style and space!
is a national brand of premium free magazines available in centres across the country.
to see other Get It magazines in the network.