On a mission to paint
At 23, Giffy Duminy is no regular spray painter. He's full time virtuoso, a nature lover who never stops learning.
"I am just a human being with a desire to do good. I paint walls for a living and aim to bring an appreciation of nature to the public. I hope that by doing this, it will inspire people to live more cohesively with the beauty that is around us. I love spending time with good friends and family. I love being immersed in trees and swallowed by the waves of the ocean. I find it really healing and balancing. I am quite a recluse, I enjoy being by myself, it gives me time to think about this crazy world. I have spent a lot of time learning philosophies which have helped me on personal and artistic levels, and I am obsessed with how the world works – biology, evolution, astronomy and sociology are what occupy my mind a lot of the time."
Giffy's first encounters with street art were during high school with friends in his grade. His first mural was done on a Friday after school on some tucked away wall that nobody could see.
"I think it was because we had a need to create. We were so keen to try out our styles with cans. We'd all done drawings of what we wanted to paint and finally gathered enough cans together. I think I wrote the word 'Estaz' or something like that. A blue fill-in black outline and red second outline. It looked quite bad, but it was a start."
Giffy learned quickly that there was a whole graffiti culture that eventually consumed him. He met dozens of other graffiti writers whose tags he had seen on the streets of Durban, and looked up to the style writers, the guys who wanted to out-do each other by making more impressive pieces than the next.
"I became so obsessed with drawing graffiti letters that it was almost entirely what I did during lessons at school, at home during the evening and late into the night. I made thousands of sketches and doodles. This was a vital time in my art career because I learned about shape, balance, flow and how to replicate form, all through letters. The other thing I was obsessed with was painting graffiti letters on big walls in public spaces. My painting friends and I would often look for permission walls that we could spend a long time painting to make the 'production' look amazing. We would collaborate, each painting our own alias, and having such fun in the process. It felt really good. I felt a sense of accomplishment, brotherhood and loved the challenge of 'burning' my elder graffiti mentors. We were always broke because spray paint isn't cheap, and we didn't slack off."
Inspired by KZN wildlife and natural forms, by how far a little human effort could go, and how a few hours of spreading colour could create something that lasts for years, bringing life to that space, Giffy spent every spare moment he had in the week painting something on a wall, somewhere. Some of his first paintings are still up and out there for the rest of time.
"The one thing that attracted me to making my mark on walls is that they have a life cycle. At designated graffiti walls, artworks get painted over all the time by other artists. Graffiti in the street gets painted over by the municipality. These cycles pushed me to find other ways of securing surfaces in the public space where I could make sure the artwork would last as long as possible."
"Painting takes me to another state of mind, where I am in the moment of constant creation. It is an escape from the human situation and it fulfils me. I am so blessed to be able to do what I love and make a living off of it."
"I work in legal spots and in unsanctioned ones, but I obviously wouldn't go and paint some random boundary wall. I have respect for the people these walls belong to and I would rather ask them first, and if possible, try to get it funded because I want to paint something that takes time and care."
Speaking about care, Giffy says some walls are broken eyesores with low quality scribbles and dirt. Usually, nobody cares about these walls, nobody knows who the owners are, so he believes that re-purposing these walls with art to be features of interest with some colour and inspiring content creates a sense of wonder and pride in their area.
"It creates this sense of care for the wall in the viewer's eyes. Through my work I have tried to capture the beauty and magnify our local elements of nature, which I'm hoping creates a sense of wonder and appreciation for what is around us, to care for and live with by decreasing our individual footprint on the earth."
Giffy aspires to find balance, create texture and flow, inject colour and bring harmony. He is comfortable working alone but appreciates the opportunity to collaborate with other artists as he finds endless learning in doing so.
"It is an invaluable blessing to learn from others. Usually I work alone and have been spending time studying forms of nature as part of my process of creation. I don't doubt I will have some fun collaborations in the future though. I have painted for some large corporates such as Mr Price, First Group, Nandos, Sheet Street and many others. I have also painted in the Ticketpro Dome as live art for the Home makers Expo. These sorts of jobs are what sustain and support my pro bono work that I love doing in my free time. I have also collaborated with my girlfriend, Heather MacGregor. She is an amazing typographer, lettering guru and has the steadiest hands in the East! I thought I was quite good at drawing letters until I got her a parallel pen and she just brought the heat."
Giffy recently completed his first municipal bridge wall on Village Road, Kloof. It's just over 60 metres long and four metres high and only a few hundred meters away from Kloof SPCA where he also painted some walls to bring colour to the lives of the amazing people who have dedicated their time to the wellbeing of animals.
"At the moment I want to paint as many walls as I can. I plan on exhibiting in the street soon. By the time you are reading this, I'll be painting in Amsterdam. It's a magical place. I never stop chasing my dreams and I never stop reflecting. I'll never forget one of my painting experiences where a troop of monkeys come over the roof in front of the wall and thought an eight foot tall portrait of a lion was actually a real giant lion. They started going nuts, females grabbed their babies and ran up trees, males were baring their teeth and screeching, and I was in the middle of it. It felt crazy, but at the same time, it was also the ultimate compliment."
Contact Giffy on giffyduminy@gmail.com
Photos supplied by Giffy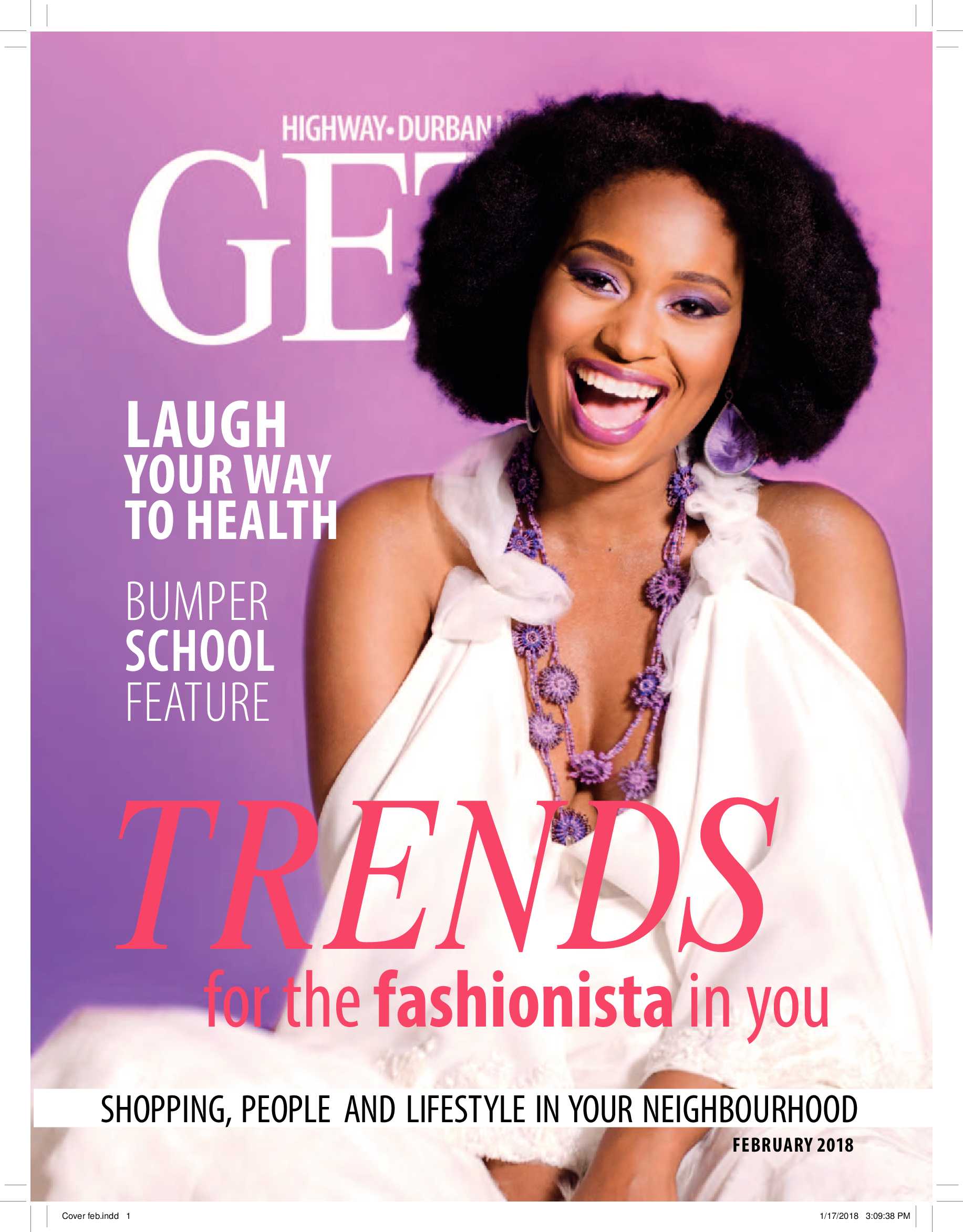 Get It Magazine Durban January 2018
Trends for the fashionista in you
View magazine

Win tickets to Decorex Durban
Leaders in the décor, design and lifestyle trade, Decorex Durban, will inspire visitors to find their unique #rhythmoflife with a range of stylish services and products featuring at the Durban Exhibition Centre from 21 to 25 March.
Sweetie Pie Easter Egg
Sweetie Pie is a South African favourite, and with Easter around the corner this mouthful of goodness from Beyers is now available in a limited edition Sweetie Pie Easter Egg that will delight all loyal fans.
Carrol Boyes Wines Collection
Lovers of renowned gifting and homeware label Carrol Boyes will know that over the years the brand has come to encompass far more than the distinctive tableware for which it first became so highly revered.
March Spoil
Let's get together!
Chocolate for everyone
Who doesn't love Peter Rabbit? Who doesn't love Cadbury?
World class London Dry Gin
Stretton's Gin has come to the rescue of all gin-lovers with a collaboration that's bound to be the talk of the town.
Chocolate Mozart
Renowned for their mouth-watering, decadent and convenient desserts, Chateau Gateaux has become Durban's most-loved Patisserie – an obsession to say the least.
As good as eating out
Let's face it. Budgets are tight. And eating out has become somewhat of a treat. But we've found the perfect solution … restaurant food at home.
Bespoke baby gear, designed with the supermom in mind!
When it comes to baby brands, there are so many great companies out there producing some incredible stuff. On an international level, we are of course envious of some of the adventurous, fun and fabulous products on the market (not all of which we can always get our hands on), so we simply cannot contain ourselves when every now and again we stumble across some equally great brands produced on our very own doorstep…
A Crazi kind of giveaway
There are only a few weeks left of the Crazi Erazi phenomenon that has swept the country since December, and this is your chance to win one of five complete sets of Crazi Erazi erasers that we are giving away.
is a national brand of premium free magazines available in centres across the country.
to see other Get It magazines in the network.