Man Fire Food
MAN FIRE FOOD – Q&A
You've been hosting Man Fire Food for several seasons. Do you still get surprised during the show? Are you continuing learning new things? Yes, just when I think I've seen every contraption or way to cook over fire, someone does a tweak to a time tested rig or builds something completely unexpected and unusual.  I'm always reminded of the ingenuity of humans and the lengths they will go to just to cook some food.
What's the most extraordinary method of cooking you've discovered during Man Fire Food? Honestly, there are just so many, but I'm still excited by the authentic jerk we cooked in Jamaica.  They made a grill out of green pimento wood and cooked the chicken directly on the wood "grill grate," the wood having so much natural flavour and with all its moisture from being freshly cut infused it with flavour as well as "steaming" and grilling the meat all at the same time.  Brilliance.
What has been your favourite moment filming season 5? Do you have a favourite location? Hanging out and cooking with Andy Ricker from Pok Pok in LA, his love of Thai food and culture is all encompassing and honest; and I love Thai food done well…this was done well.  Also, making salt and then smoking it with Ben Jacobson in Oregon was one of those moments where tradition, simplicity and modern ingenuity met at a perfect crossroads.
If you only had three ingredients to cook with, which would they be and what would you make?  Iberico Pork Cheeks, Garlic, and Fresh Thyme. I'm not going to count the salt and pepper (that's a given).   I would build a fire with a fruit or nut wood like guava wood, cherry wood or almond wood and grill it over medium direct heat and finish it off with some chopped garlic and fresh chopped thyme.  Simple and delicious.
Do you do the cooking at home? What do you love to prepare for your family?  Yes, when I'm home I do the cooking for the most part.  I've been known to spend days cooking multiple bits and pieces of meals that will last for a week in the fridge and freezer. I don't really cook the same thing twice, except maybe biscuits and pancakes.   I really love making bread, stews, curries, all kinds of different rice dishes, loads of vegetables, smoked ribs and chicken, and roasts…really this list can go on for some time.  Experimenting at home is where my future restaurant dishes come from.
Everyone wants to find ways to be healthier without sacrificing their favourite foods. How do you maintain the flavour of a dish while also lightening up the calories, fat, sodium content? It's about balance.  Sometimes you can't cheat and just go for all the stuff your doctor is going to tell you to stay away from, and you can't make this a daily habit.  Often, we offset those meals with lots of green leafy salads, gently sautéed veggies by the pound and lean proteins and whole grains.  But put a juicy, moist Chorizo, or a perfectly cooked fatty brisket, or a monster Ribeye steak in my face and it's going down.
What advice would you give to young, aspiring and ambitious chefs / barbecue masters or wannabe culinary experts?  Don't underestimate the value of learning the craft.  There aren't any shortcuts to being able to build a long lasting career like your favourite chefs have done.  Bruce Lee didn't become a film legend overnight, it took years of solitary practice and training with masters to be able to do that famous one inch punch that sends a grown man flying through the air.   Patience, passion and discipline cannot be overstated.
Catch Man Fire Food every Tuesday at 21:00 CAT on DStv channel 175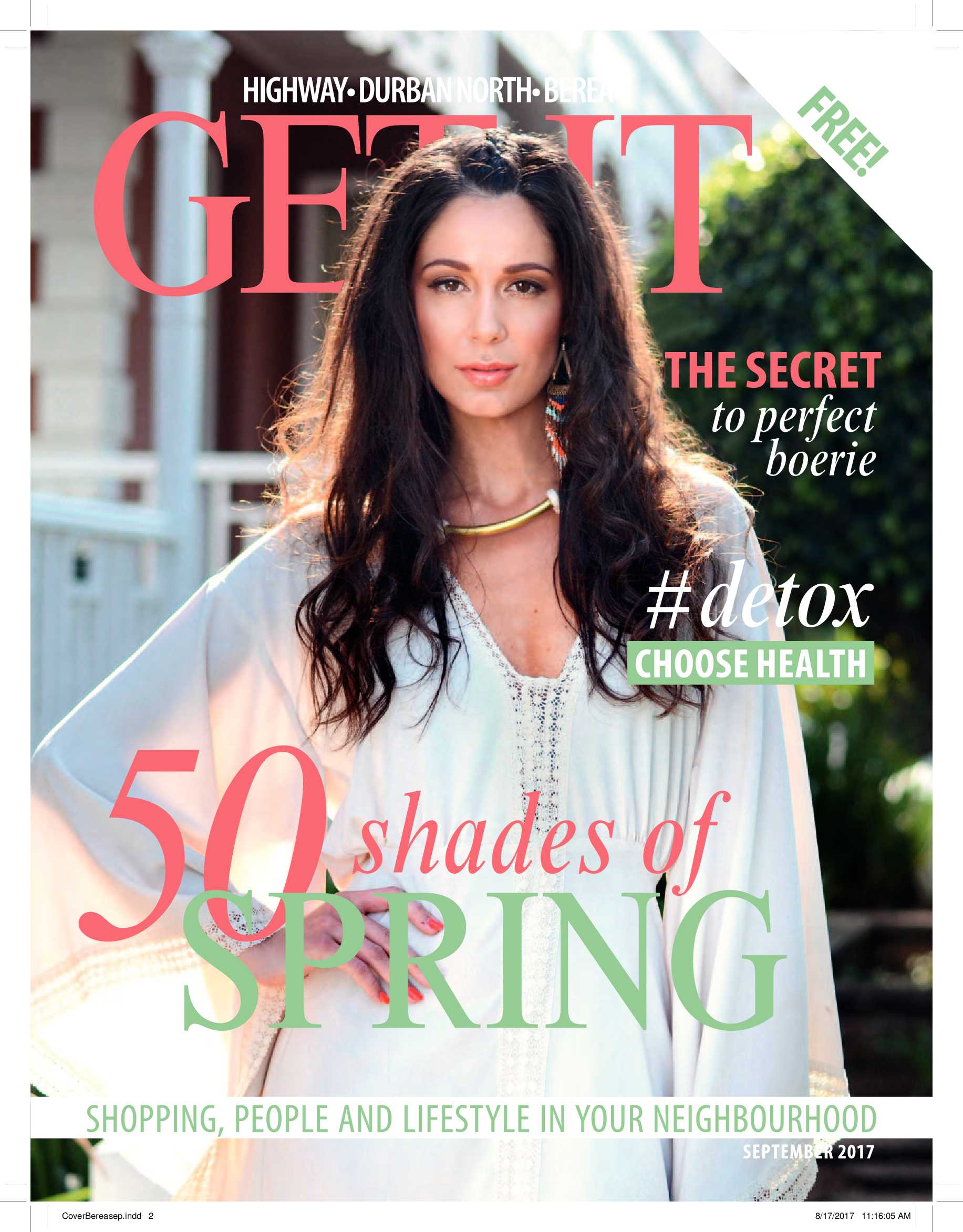 Get It Durban 25 September 2017
50 shades of Spring
View magazine

The Midlands Kitchen
Motorists driving the long slog of the N3 highway will soon have an exciting new stopping point that's promising to deliver a taste sensation.
Durbs: can you handle all the heroes?
The Color Run is back! In 2017, it's bringing The Superhero Tour to Durban's shores. Strap on your capes – it's gonna get colourful.
October Spoil
Time for a classic, and oh-so-beautiful, timepiece.
Sense by Hollandia
A sense of wonder for the bedroom.
Ashwin Singh's drama 'To House' returns to The Playhouse
The Singh Siblings in association with The Playhouse Company present a new production of award-winning playwright Ashwin Singh's To House. First staged at The Playhouse in 2006, it runs in the Drama Theatre from 5 to 7 October 2017. One of Durban's best known international theatre pieces, it remains as relevant now as it was a decade ago, with South Africa's continuing racial divisions and increasing class conflicts.
Top tips on how to prepare sirloin
Food Lovers Hillcrest owner, Gilbert Rocha together with butcher and chef, Gancho Petrov, have you covered for national Braai Day and Heritage Month with these expert tips on how to prepare their favourite cut of meat, aged sirloin.
Quarters Breakfast Giveaway
A full Breakfast for 4 people to the value of R700.00 to be enjoyed at the Quarters Café, Quarters Hotel Florida Road.
September Spoil
"I have too much stationery" – said no one ever.
is a national brand of premium free magazines available in centres across the country.
to see other Get It magazines in the network.