SA Rugby Legends Association tackles mental health issues amongst rugby players
Since February 2017, when the news broke of his death by suicide at the age of 37, it has emerged that depression had dogged Vickerman following his retirement from professional rugby.
Although people tend to see athletes as strong and healthy, the sad news about Vickerman has highlighted the need for the sporting world to focus on the mental health of players. Mental illness is a silent but devastating condition that affects an estimated 350 million people worldwide, according to the World Health Organization.
"We are starting to talk more openly about how depression and other mental illnesses can impact the well-being of athletes," said SARLA CEO Stefan Terblanche. "Former rugby players and other sports professionals can be drastically affected, particularly when they transition from the locker room to the boardroom, or any life after sport. The change in lifestyle can be extremely difficult and we need to address these issues before we hear of any more deaths like Dan's", said Terblanche.
In 2015, the SA Rugby Legend's Association, along with the SA Rugby Player's Association, SA Rugby, the Union des Jouers de Rugby Professionals and the Irish Rugby Union Players Association participated in groundbreaking scientific research on this topic, making them some of the first rugby bodies to do so. The study was conducted by UCT's Division of Exercise Science and Sports Medicine, along with the University of Amsterdam's Academic Centre for Evidence Based Sports Medicine, and focused on emotional health issues amongst retired professional rugby players from France, Ireland and South Africa.
The study questionnaire allowed 295 former players between the ages of 35 to 48 to give honest and insightful feedback to researchers. Preliminary results showed a wide variety of emotional symptoms that had adversely affected participants since retiring, from symptoms of distress and depression to sleep disturbances, adverse alcohol use behaviour, smoking and poor eating habits.
"The findings were clearly an indication that not much is being done to identify potential mental health issues at an early stage of a professional's career, or that much is being done at any level to address this", said Terblanche.
"As a retired professional player myself, I know what it is like to go from being much lauded and well-looked after in a team environment, to going out and managing your life on your own afterwards", he said.
"For some the transition is manageable but, for others who have literally stepped out of a school environment into the structures of a professional rugby club or team, it is not so easy," he added.  "This is where organisations such as SARLA and SARPA are able to offer some guidance and assistance".
Since it's inception in 2001, one of the main aims of SARLA has been to support the needs and interests of former first class rugby players. SARLA is concerned by the fact that even after the findings of the mental health study were released, nothing was implemented to help players who were struggling. Terblanche notes , "It is a time like this that we are reminded of the objectives of SARLA and how we as an organisation need to do more to tackle this problem head on".
As a first step in order to achieve this SARLA, along with SARPA, has launched a 24-hour mental health helpline for any current and former players in need of assistance. The number is 0860 995 149 and mental health professionals are on hand to talk to callers and provide advice on how to proceed.
SARLA is reaching out to their rugby brothers and sisters and encouraging them to seek the help that they need. Anyone who feels distressed or in need of support is welcome to contact the help line.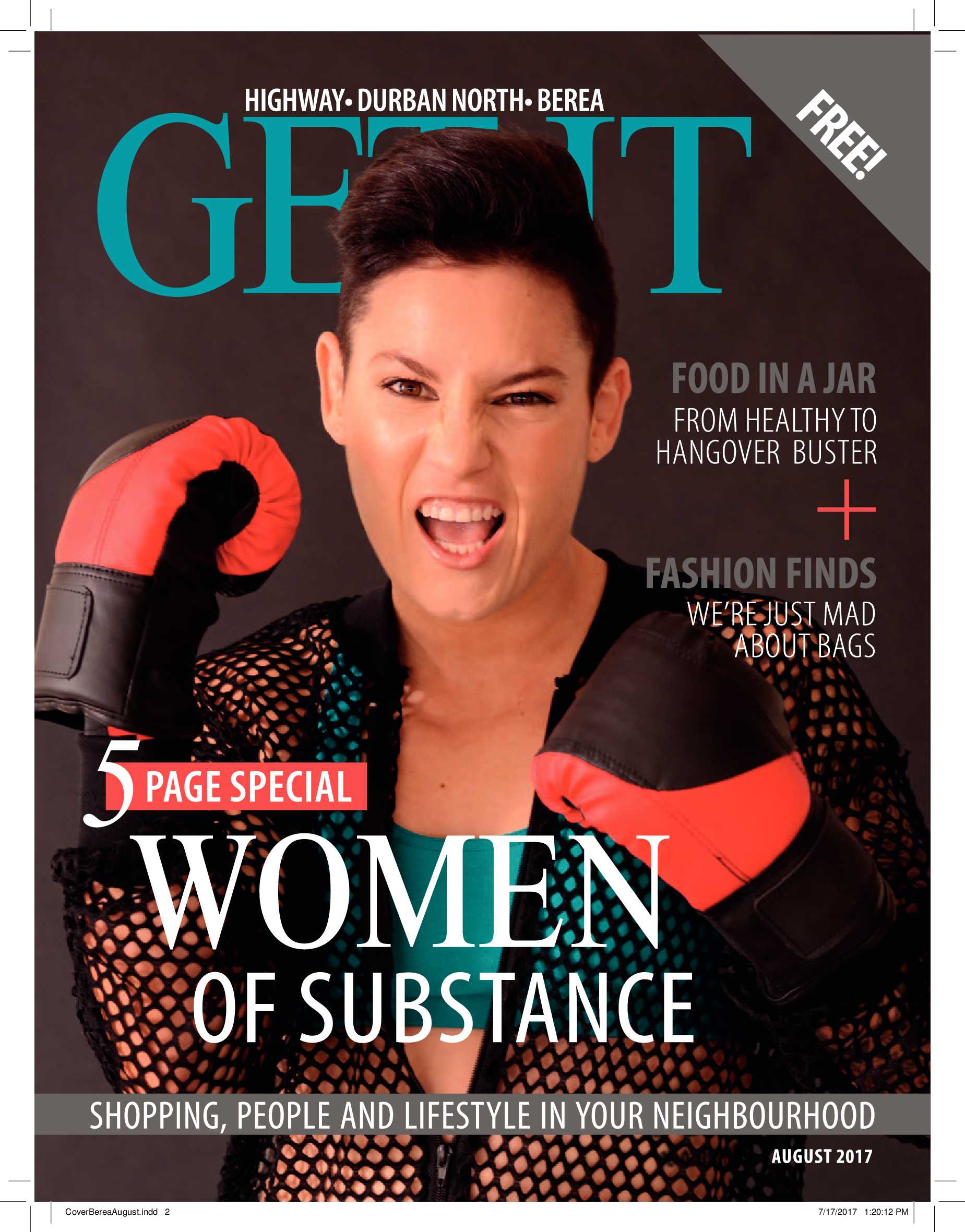 Durban Get It Magazine – August 2017
Women of substance
View magazine

Autostyle Motorshow 2017
The 14th edition of the Autostyle Motor show is back. Please save the date Sunday 17 September 2017.
Giveaway- a night of hilarious stand-up comedy entertainment at Butler's Restaurant in Hillcrest
Win 4 Tickets to a Stand-up Comedy Night! …proudly brought to you by On Fire Comedy, Savanna Cider and East Coast Radio! Date: Saturday 02 September 2017 Venue: Butler's Restaurant (24 Old Main Rd, Hillcrest) Start time: 8:30pm Closing Date: 30th August
8-TREK: The economical all-purpose ointment
8-Trek has grown in popularity and now it is available in two sizes, the small 25ml for bags and travel and a bigger 50ml tube which is for the home.
Luxurious, chocolaty secrets
Don't like dark chocolate because of its bitter taste? We've got just the right fix for you… Lindt's Excellence Mild 70%.
Paisleys & Posies
Yes, we know it's not officially Spring yet but let's face it, here in Durbs winter isn't really a thing. In anticipation of the up-coming new season, we've taken a sneak peek at the nine new fabrics that have joined Lou Harvey's troupe of beautiful, bright and functional lifestyle accessories, and we've already started shopping!
Win with Pediasure
Children naturally have high energy requirements to support their growth and development, in addition to what they need for activity, sport and play time. If they do not get enough energy from food, they may become tired, irritable, and have poor concentration, losing their interest in being active. PediaSure® Complete is a nutrient-rich, lactose-free drink that provides balanced nutrition for children from age three to ten, experiencing growth challenges. Long-term clinical studies using two glasses of Pediasure® Complete daily has been associated with improved appetite and physical activity and a reduction in the number of sick days.
Airtushi – The Inflatable Travel Highchair
The Airtushi is an inflatable booster seat for kids. You can use it on planes, and attach it to almost any seat as a high chair.
is a national brand of premium free magazines available in centres across the country.
to see other Get It magazines in the network.