The iDUC project
The iDUC project is a multileveled initiative that focuses on job creation, community upliftment and especially the provision of support to rape victims. It is a joint venture between Mrs. Santi Britz, the South African Council for Business Women (SACBW) and the Job Club.
With the iDUC project, unemployed women in less fortunate communities are identified according to their skill sets; the primary demand being skills in hand work and sewing. These ladies are then employed and paid to make little stuffed animals and hooded robes. The rationale behind the making of these items is that these robes will be given to incoming rape victims at rape crisis centres across South Africa, by the respective SACBW branches. Incoming child victims will be given a little stuffed toy (a duck) as well as a robe.
Funding will work as follows:
– sponsors from individuals, corporate groups and businesses
– selling of white ribbons (made by the same group of ladies) to raise awareness on sexual abuse against women and children. These ribbons, with a little pink stone on it to show support victims of breast cancer, can be worn during the week of awareness against sexual abuse in November.
Funds will be used to pay the ladies employed to make the ribbons, robes and little ducks, and to buy the necessary materials for the process.
What is the story behind the little duck and robe, you might wonder?
At the heart of the iDUC project is a story well worth telling; the story of Santi Britz: well-known, successful businesswoman, wife, mother of 6.
On January 21, 2009, at 7:20 in the morning, Santi was raped by man off the streets in her own home in the lovely student town of Potchefstroom. Of course, what followed was nothing short of absolute chaos and emotional turmoil for Santi and her family. In that time, a very close family friend came to Santi and, not knowing what to say or do, gave her a big, white, plastic duck with brightly coloured hearts all over it. I don't think that Santi or the young lady herself really knew what the purpose of the duck was, but what they did know was that this was a gesture of heartfelt sympathy and the love of someone who felt helpless and who has come a long way with Santi and her family. A year or two later, when Santi had gone through the process of dealing with and recovering from this traumatic event, she started counselling and supporting other rape victims, working with them one-to-one. She also started delivering motivational talks to women at churches, schools and functions across cities. One day, just as Santi was leaving to one of these functions, something told her to put the big harty duck in the car. Nothing happened with the duck that day, but Santi left it in the car and only a few days later she received a phone call saying that someone was in need of her help. A lady was raped in in of the rural areas of Potchefstroom, with her little daughter (about 5 years old at the time) was in the same room and had to watch the whole thing happen. Since then, the little girl had stopped talking.
Santi then knew why the hearty duck had to be in her car. She saw that little girl (Magdalene) that day and gave her the duck. She told her that it was ok not to want to talk to anyone and that she also didn't feel like speaking to people after the horrible thing happened to her.
"But this duck is your friend, and you can tell this duck anything that you are feeling, because she can never hurt you and all she can do is listen to you."
And at that moment, little Magdalene began to talk. And a few months later, she testified in camera in court with the duck in her arms and the perpetrator was sentenced on the grounds of Magdalene's testimony. What an absolute miracle! Magdalene and her duck have been inseparable ever since. It goes with her to school, to bed, to bath, and just about everywhere else. When asked if we could borrow the duck to take pictures, she took a black marker and wrote her name on it, just to make sure that she would get it back. Of course, it was returned to her immediately, and that dear mother had one very happy little girl!
When Santi was asked what the one thing was that she needed most just after the event took place, she said that her deepest desire was to have something to cover her entire body with. Something soft and comforting to wear to, in a sense, hide her entire body. This is where the idea of a hooded robe came from.
Upon hearing this story, the SACBW approached Santi and asked her to join their association. They, together with the Job Club, have joined hands and launched the iDUC project nationally. It is still a very young project and we are still finding our feet, but our hopes are high and our long term goal is for iDUC to move beyond the borders of this country and touch lives all over the world.
Harcourts Inspirational Women initiative and Santi Britz's iDuc programme. Inspirational Women events take place around the world where there are Harcourts offices.  It was started by Irene Green, the wife of Mike Green the MD of Harcourts International in Australia and each country has an ambassador, which I am honoured to be in South Africa.
Harcourts also supports anti-violence against women and children and our Harcourts Foundation recently raised R227 000 towards Santi's campaign in an event "Walk a Mile in their shoes" – men in Harcourts donned high heels and walked a mile in support of anti-violence against women and children. https://www.facebook.com/iducprojects/
Here is a link to the Harcourts International Inspirational Women website of which Harcourts South Africa is a member – this will be our third event. http://inspirationalwomen.net/Home/about-the-programme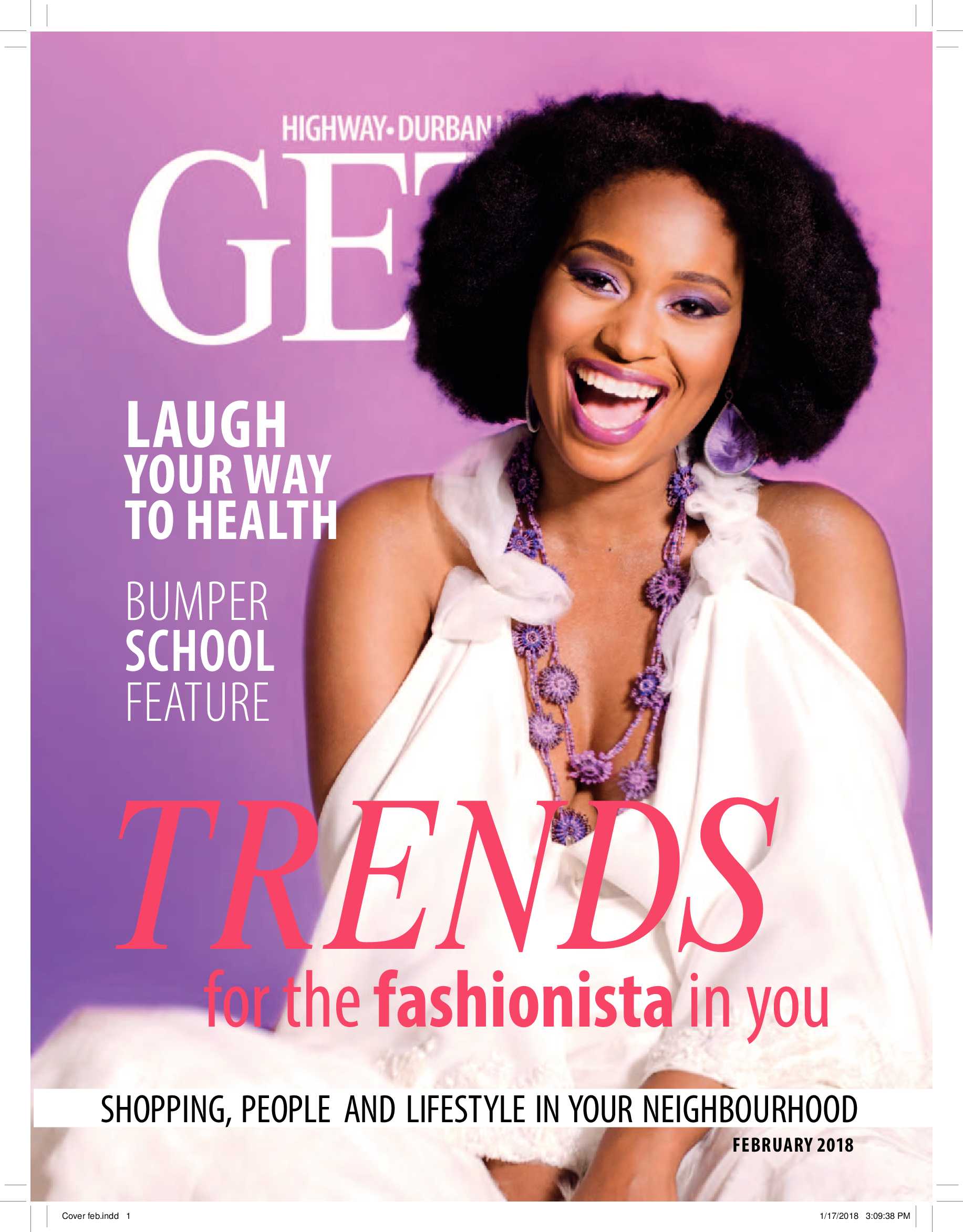 Get It Magazine Durban January 2018
Trends for the fashionista in you
View magazine

Win tickets to Decorex Durban
Leaders in the décor, design and lifestyle trade, Decorex Durban, will inspire visitors to find their unique #rhythmoflife with a range of stylish services and products featuring at the Durban Exhibition Centre from 21 to 25 March.
Sweetie Pie Easter Egg
Sweetie Pie is a South African favourite, and with Easter around the corner this mouthful of goodness from Beyers is now available in a limited edition Sweetie Pie Easter Egg that will delight all loyal fans.
Carrol Boyes Wines Collection
Lovers of renowned gifting and homeware label Carrol Boyes will know that over the years the brand has come to encompass far more than the distinctive tableware for which it first became so highly revered.
March Spoil
Let's get together!
Chocolate for everyone
Who doesn't love Peter Rabbit? Who doesn't love Cadbury?
World class London Dry Gin
Stretton's Gin has come to the rescue of all gin-lovers with a collaboration that's bound to be the talk of the town.
Chocolate Mozart
Renowned for their mouth-watering, decadent and convenient desserts, Chateau Gateaux has become Durban's most-loved Patisserie – an obsession to say the least.
As good as eating out
Let's face it. Budgets are tight. And eating out has become somewhat of a treat. But we've found the perfect solution … restaurant food at home.
Bespoke baby gear, designed with the supermom in mind!
When it comes to baby brands, there are so many great companies out there producing some incredible stuff. On an international level, we are of course envious of some of the adventurous, fun and fabulous products on the market (not all of which we can always get our hands on), so we simply cannot contain ourselves when every now and again we stumble across some equally great brands produced on our very own doorstep…
A Crazi kind of giveaway
There are only a few weeks left of the Crazi Erazi phenomenon that has swept the country since December, and this is your chance to win one of five complete sets of Crazi Erazi erasers that we are giving away.
is a national brand of premium free magazines available in centres across the country.
to see other Get It magazines in the network.