Bathabile Mpofu: How to Hustle Like a Scientist
There are so many variables that determine whether or not we get to live our dream lives. Everyone has a vision of what they'd like their lives to look like. We just approach it in different ways. Some of us have dream journals, visions boards or just simply spend our time thinking, but actually visualising, our ideal lives. In the meanwhile, life is unfolding around us and there are events that take place that shake things up.
We spoke to Bathabile Mpofu, who created Chemstart. It's essentially a portable laboratory designed to expose young people who don't have access to those kinds of facilities at schools to the wonder of science and experiments as early on as possible.
Bathabile's passion for science is something she has enjoyed from an early age and although she has achieved a variety of commendable milestones in her life, it's not exactly what she originally set out to do. Bathabile wanted to be a doctor – she applied and wasn't able to join the programme – on recommendation she pursued a Bachelor of Science for one year as many people do in order to make the cut for medicine.
Part of the reason why this was necessary is because she had not been exposed to laboratories or experiments while she was in high school – it put her on the back foot and made it exceedingly difficult to compete with her peers. This is true for many students in South Africa, where schools are under resourced.
Bathabile never went on to pursue medicine, but instead completed her undergrad and post-graduate studies. She holds a BSc (Hons) degree from the University of Kwa-Zulu Natal, as well as a PDBA and an MBA from the University of Cape Town.
She's not bleak about the way things have turned out – in fact; she's using her experience to help future scientists be more prepared for tertiary education. Many people think of science and immediately feel their heart racing – Bathabile wants that to happen for more people – but in a good way. She hopes to make science more easily accessible to young people who would ordinarily first encounter it properly once they get to university. She wants science to be a comfortable experience so that more time can be spent actually producing great work, rather than first needing to become acquainted with it.
Life has a way of keeping things interesting, sometimes compromising our ability to see the humour in it. The difference between materialising our ideals or not can come down to circumstances, but also how we choose to manage and deal with it. Bathabile's story is something truly inspiring – it's always great to hear about people who turn setbacks into alternative paths towards achieving a sense of fulfillment. It just goes to show that even when things don't turn out as you'd initially hoped, they can still be awesome – you've just got to hustle like a scientist.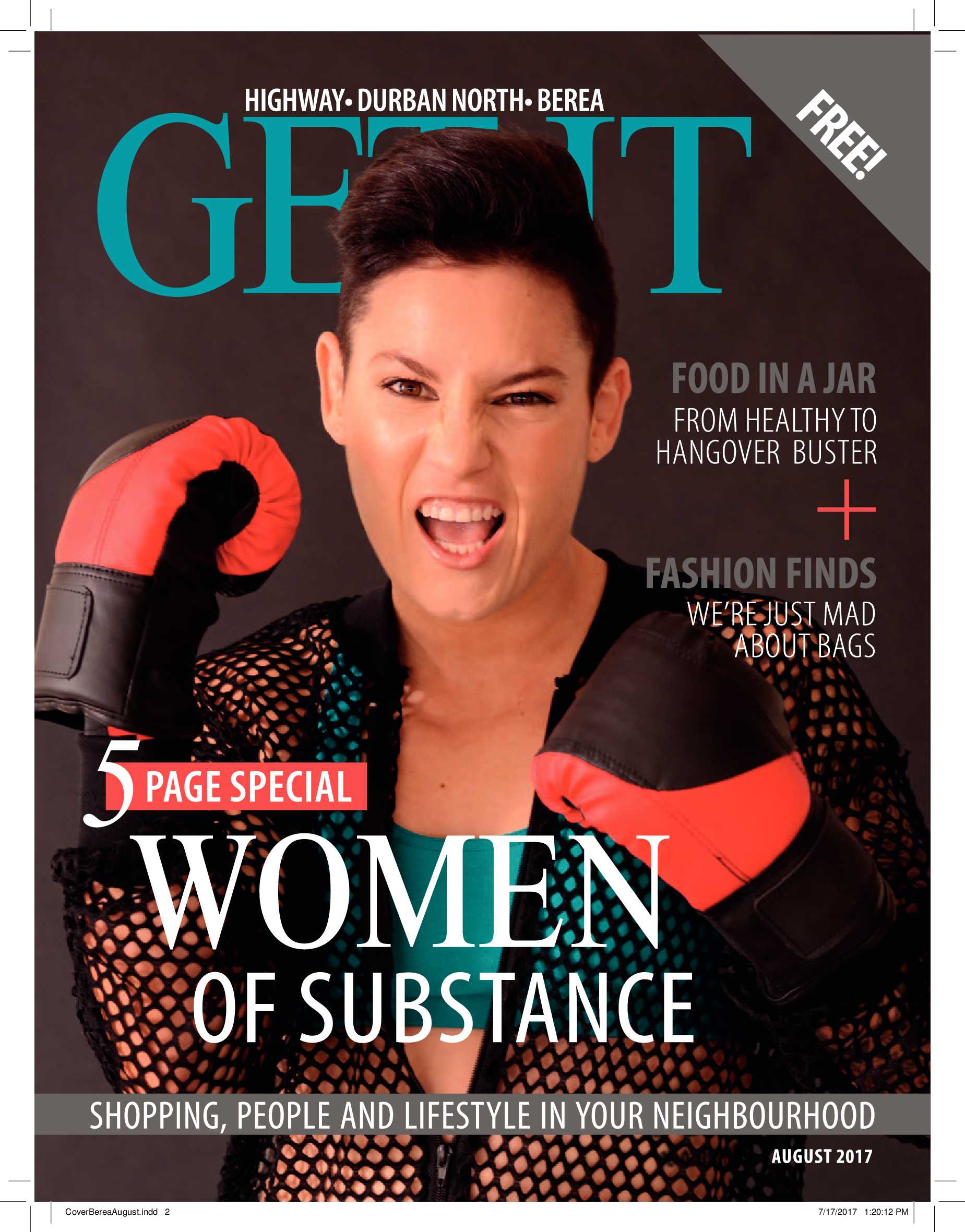 Durban Get It Magazine – August 2017
Women of substance
View magazine

Autostyle Motorshow 2017
The 14th edition of the Autostyle Motor show is back. Please save the date Sunday 17 September 2017.
Giveaway- a night of hilarious stand-up comedy entertainment at Butler's Restaurant in Hillcrest
Win 4 Tickets to a Stand-up Comedy Night! …proudly brought to you by On Fire Comedy, Savanna Cider and East Coast Radio! Date: Saturday 02 September 2017 Venue: Butler's Restaurant (24 Old Main Rd, Hillcrest) Start time: 8:30pm Closing Date: 30th August
8-TREK: The economical all-purpose ointment
8-Trek has grown in popularity and now it is available in two sizes, the small 25ml for bags and travel and a bigger 50ml tube which is for the home.
Luxurious, chocolaty secrets
Don't like dark chocolate because of its bitter taste? We've got just the right fix for you… Lindt's Excellence Mild 70%.
Paisleys & Posies
Yes, we know it's not officially Spring yet but let's face it, here in Durbs winter isn't really a thing. In anticipation of the up-coming new season, we've taken a sneak peek at the nine new fabrics that have joined Lou Harvey's troupe of beautiful, bright and functional lifestyle accessories, and we've already started shopping!
Win with Pediasure
Children naturally have high energy requirements to support their growth and development, in addition to what they need for activity, sport and play time. If they do not get enough energy from food, they may become tired, irritable, and have poor concentration, losing their interest in being active. PediaSure® Complete is a nutrient-rich, lactose-free drink that provides balanced nutrition for children from age three to ten, experiencing growth challenges. Long-term clinical studies using two glasses of Pediasure® Complete daily has been associated with improved appetite and physical activity and a reduction in the number of sick days.
Airtushi – The Inflatable Travel Highchair
The Airtushi is an inflatable booster seat for kids. You can use it on planes, and attach it to almost any seat as a high chair.
is a national brand of premium free magazines available in centres across the country.
to see other Get It magazines in the network.