4 quick ways to prepare your home for guests
Do you think your home has a welcoming effect? Remember, it's important to make your guests feel at home. It doesn't matter how ready you are, there's always extra preparation to be made when guests are coming to visit.
As a host, you're likely to get a feeling you need to have your house perfectly clean before guests arrive. Or as soon as you find out guests are coming over, you look around your house and think "Uh-oh". Well, take a deep breath, relax and follow these four tips to prepare your home for visitors.
Do you have a guest room? Get it ready
You're likely to know whether your guests are coming over for dinner or spend a few nights too. If they are planning on staying, it's always best to prepare the guest room. Bear in mind that the guest room refers not only to the room where guests will sleep. Instead, it's the area of your home where they will spend most of their time. So it's important that you spend time ensuring the room is ready. You can start by decluttering specific spaces. Make room in closets and enough space to store your visitors' belongings. Also, make sure that there are enough hangers in the closet. And whether or anyone has recently slept in the guest room bed, it's still best to put on new bedding sets. There's nothing more inviting than a lovely smelling and fresh made bed.
Take a look at your bathroom
It's important to make sure your bathroom is inviting and clean. It should offer a relaxing space to unwind and settle into your home. Just as you should have clean bedding, a spotless bathroom is also a must. If you don't have a separate guest bathroom, it might be best to remove your toiletries from the bathroom. If your guests are sleeping over, allow them to put their toiletries in the bathroom. Your bathroom is likely to be clean, but it won't do any harm to ensure that it's extra clean.
Is your living space comfortable and clutter-free?
Your home should be so comfortable that guests want to visit you regularly. Make it your job to offer them the ambience and comfortable living space that they won't always receive at a hotel. Take a walk around your home to evaluate and determine which areas need decluttering. Central areas usually include the kids' rooms, kitchen and the main eating area. Everyone has unnecessary things lying around the house. Some more than others. So make sure you remove any unnecessary things around your home. These things are likely to catch the attention of others. Another hotspot for clutter is the entertaining room. You're likely to move the party to the entertaining room after dinner, so decluttering is a must. Check out the Airoma Essence Range to instantly bring a fresh smell to your home. Also, make sure there's enough seating for everyone. Rather have more chairs than have people standing around. And in your dining area, it's best to plan where everyone will sit. That way you'll know whether you need extra chairs or tables.
Extra touches go a long way
Whether it's your first or tenth time hosting guests, having visitors over can be extra enjoyable with thoughtful gestures. If your visitors are from a different town, gather a few maps and guides about your town for them. Are there a few nice restaurants you know of? Get the brochures and add it to the guide. You can create a package and give it to them on their arrival. Or even better, put these items with the magazines or newspapers in their room. If you know the children will come along too, buy a few age appropriate toys for them. Sightseeing is always fun and many people love it. So why not plan a trip? Plan in advance to visit a few key places that your city offers. It might be best to tell your guests beforehand so they come prepared. It's these small gestures that will make your guests fall in love with your hospitality.
Getting your home ready for visitors doesn't have to be a complicated and daunting task. Who knows, your home may already be close to being ready. It all depends on how big your home is, where you plan to place them and what activities you've planned. And if you know your home has a lot of work to be done, prioritise your tasks and tackle them one by one. The sooner you get it done, the more relaxed you'll be when your visitors arrive.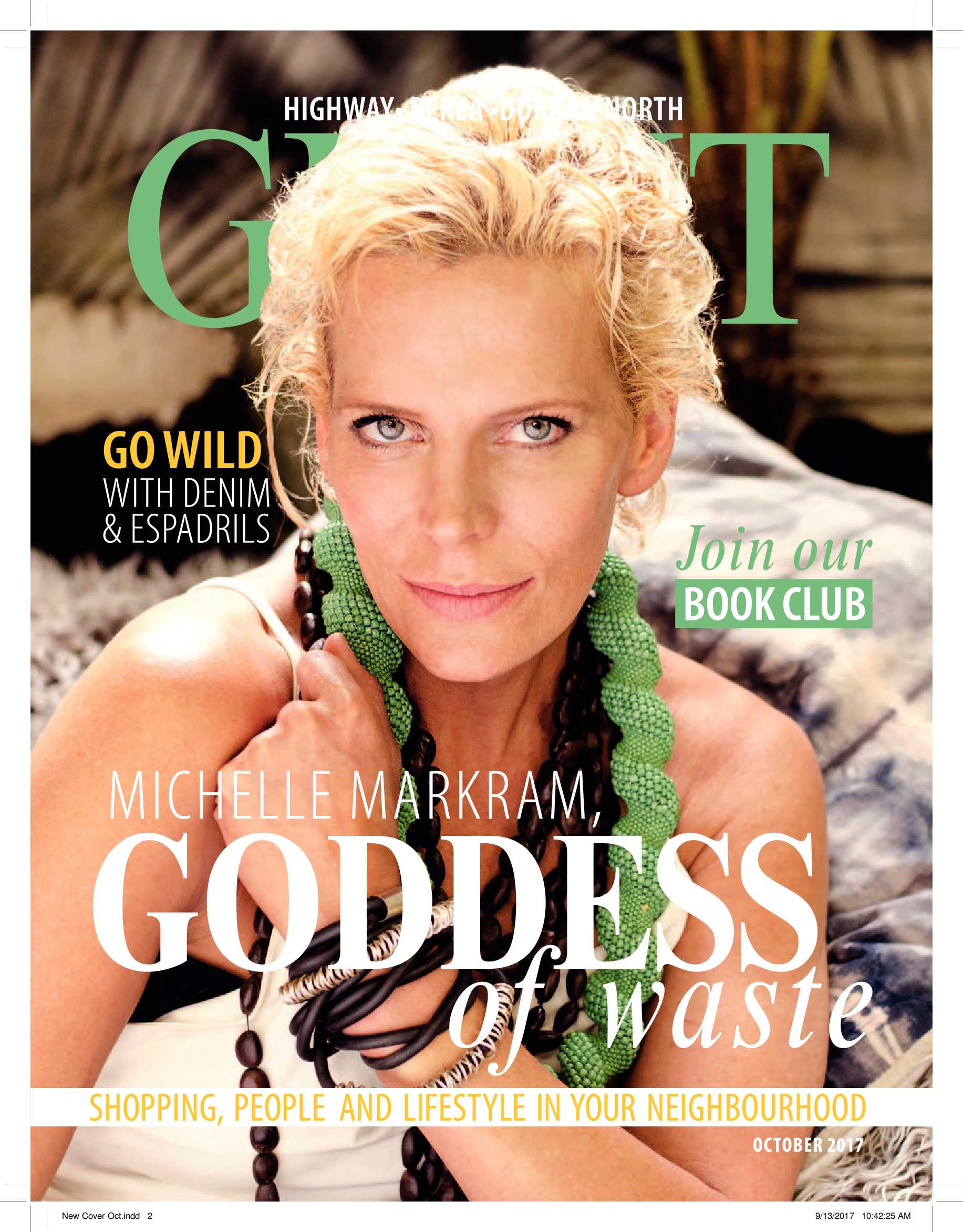 Get It Durban October 2017
Michelle Markham, Goddess of waste
View magazine

Wanna win a R500 Col'Cacchio voucher?
Hey pizza lovers! We are offering you the chance to win a R500 voucher from Col'Cacchio, the popular Italian inspired franchise known for its gourmet thin-base wood-fired pizzas, hearty pasta and crisp fresh salads.
Wealth Movement Event
Interested in Wealth Movement? We are giving away two tickets to the event below at Coastlands Hotel, Umhlanga on 31 October 2017.
Yusuf Cat Stevens ticket give-away
British singer-songwriting legend and Rock and Roll Hall of Fame inductee, Yusuf / Cat Stevens is touring South Africa for the first-time next month, and you could win a set of tickets to the Durban show.
The Midlands Kitchen
Motorists driving the long slog of the N3 highway will soon have an exciting new stopping point that's promising to deliver a taste sensation.
Durbs: can you handle all the heroes?
The Color Run is back! In 2017, it's bringing The Superhero Tour to Durban's shores. Strap on your capes – it's gonna get colourful.
October Spoil
Time for a classic, and oh-so-beautiful, timepiece.
Sense by Hollandia
A sense of wonder for the bedroom.
is a national brand of premium free magazines available in centres across the country.
to see other Get It magazines in the network.