Aim to thrive… not just survive
Tell us a little bit about yourself
I'm a Durban girl. But it took me 8 years living and working in Amsterdam to realize that. What an adventure that was. I always imagined that I'd be able to do great things. But I didn't  for a minute imagine that that meant working with brands like Heineken, Nutella or Tic-Tac on their marketing strategies and skills. They're some of the world's best loved brands. But I did. And I was very successful at it too.
What's been a highlight so far?
I remember standing in Rio seeing the Dulux Let's Color work changing the face of the favelas. The Whiskas WWF sponsorship has made a real difference to saving the tigers. And Nutella makes people smile everyday in small ways. I remember when those ideas happened & how we just knew that they were BIG.
What made you come back to SA?
I was cycling along a canal one day when it just hit me….what was I still doing there? I'm African. The world is looking to Africa for growth. And honestly I want to do my bit. Why was I paying taxes in Europe? So I moved with my family – A Dutch husband, a 2 year old girl & a baby on the way -to Kloof. We came home.
How did you get into the business?
I love marketing consulting, which is still a big part of my business. But one day a good friend and coach asked me to give SMME coaching here in South Africa a try. And I was hooked. SMME's are really on the pointy end of the stick. And we need them to succeed. So I started an SMME practice her in Kloof.
What set's you apart from other Business coaches out there
My Dutch husband & I have been the owners of 5 different businesses. In our younger days they were great "learning experiences". Thankfully we seem to have cracked the formula.
And we've been using what we know to grow SMMEs & sectors in the rest of Africa, South America and India. Our partners are governments & organizations like The World Bank so we get really amazing briefs. And with my marketing experience & creativity …well clients say that coaching with us gives them clarity & focus.  We make things happen. And it's fun.
What criteria would a person need to have to succeed in a business these days.
Definitely realizing that business isn't about them at all. It's about solving someone else's problems. And wanting to do that better than anyone else. It takes a great deal of humility and perseverance.
What characteristics do you think makes for a successful business person?
A "do-learn-do" attitude. Do something, learn from it and then do again. There's a lot of doing! But you also need to want to learn. The world's moving too quickly for anyone to stand still.
With South Africa being challenged economically, in your opinion is it a good time to start a business?
Honestly, it's never a good time to start a business. It's always a question of whether you've found a good opportunity or not. And whether you're ready to put in the sweat and tears to make it happen.
What Business tips could you share in these current economic times?
Make every minute & cent you spend work harder for you. Know who you're serving and then make sure that you have exactly what they want. And that your marketing material is working for them and for you. It should be an investment not an expense.
At the end of the day when you head home what gives you a sense of achievement or thrills you about your day?
Knowing that there are business owners out there who don't feel alone anymore. We've cracked a problem they've been battling with and the solution is creative & doable.
What can people expect from your workshops this August and who should attend?
Time's too precious to spend a morning chatting. So I've designed the morning to be practical & fun. My hope is that business owners & marketers will leave with a few concrete action points to strengthen their businesses. Yes we're in a recession. So we need to work even smarter. Aim to thrive. Not just to survive.
Don't miss the…
August SMME Power Breakfast
When        25 August 2017
Where       Protea Hotel Edward, 149 OR Tambo Parade, Durban
Master these RECESSION BUSING MOVES TP GET YOUR BUSINESS BOOMING.
International marketing expert and coach, Kerry Kyd, will walk you through three clever moves from savvy businesses around the world. They're not only riding out the storm, but using downturns to thrive.
At the end of this power breakfast you'll have practical action points that you can apply to your business so that it can thrive.
Book your Spot
For more info or to book your ticket call us on  074 998 0820
Email – events@thegrowthclub.co.za or visit www.thegrowthclub.co.za/events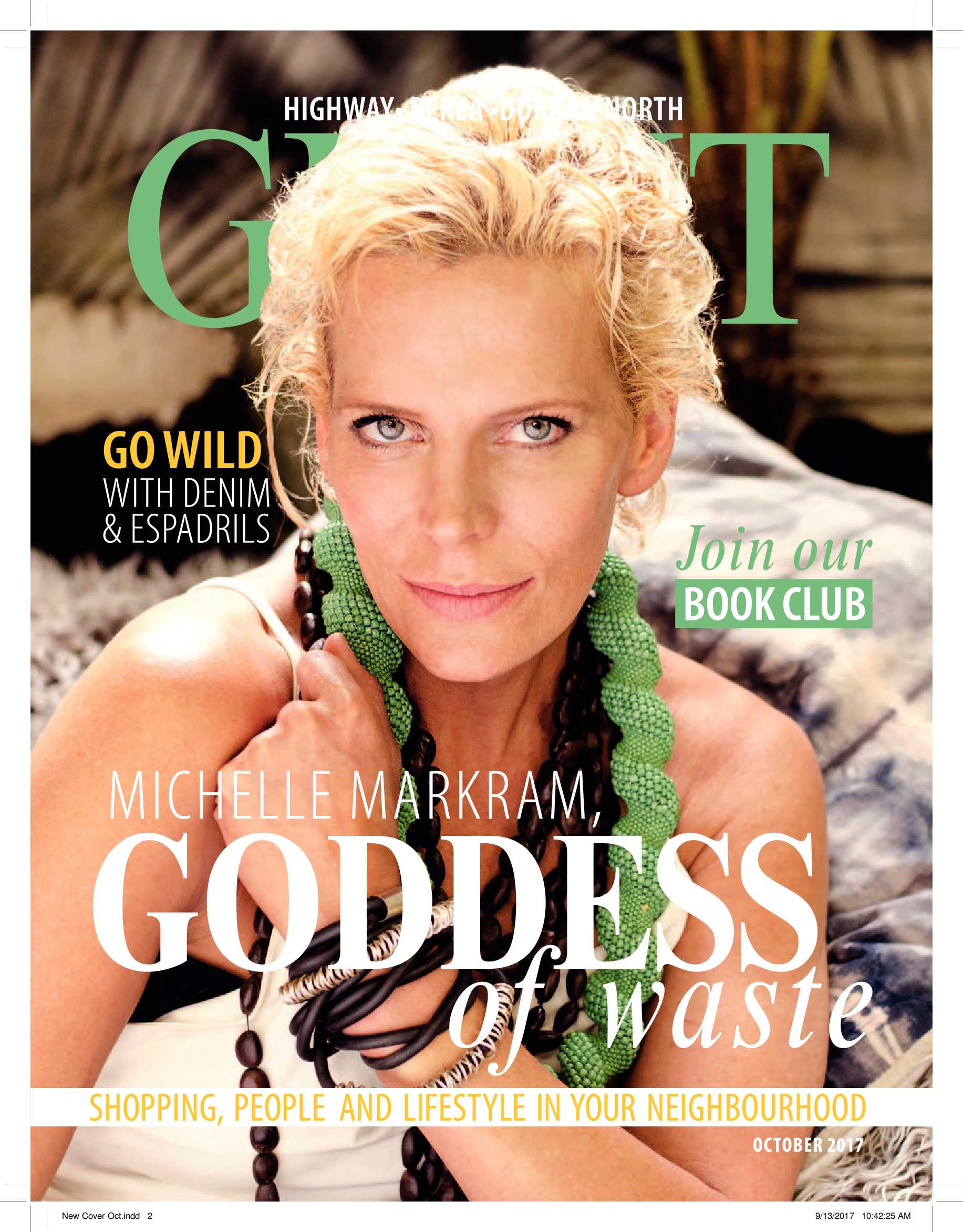 Get It Durban October 2017
Michelle Markham, Goddess of waste
View magazine

Wanna win a R500 Col'Cacchio voucher?
Hey pizza lovers! We are offering you the chance to win a R500 voucher from Col'Cacchio, the popular Italian inspired franchise known for its gourmet thin-base wood-fired pizzas, hearty pasta and crisp fresh salads.
Wealth Movement Event
Interested in Wealth Movement? We are giving away two tickets to the event below at Coastlands Hotel, Umhlanga on 31 October 2017.
Yusuf Cat Stevens ticket give-away
British singer-songwriting legend and Rock and Roll Hall of Fame inductee, Yusuf / Cat Stevens is touring South Africa for the first-time next month, and you could win a set of tickets to the Durban show.
The Midlands Kitchen
Motorists driving the long slog of the N3 highway will soon have an exciting new stopping point that's promising to deliver a taste sensation.
Durbs: can you handle all the heroes?
The Color Run is back! In 2017, it's bringing The Superhero Tour to Durban's shores. Strap on your capes – it's gonna get colourful.
October Spoil
Time for a classic, and oh-so-beautiful, timepiece.
Sense by Hollandia
A sense of wonder for the bedroom.
is a national brand of premium free magazines available in centres across the country.
to see other Get It magazines in the network.