South African Matriarch's and the Wines named after them
MADAME LILY BOLLINGER
Honouring madame lily Bollinger, one of the great ladies of champagne.
On 10 November 1923, Jacques Bollinger, the grandson of Joseph Jacob – better known as Jacques Bollinger, cofounder of the House a century earlier – married Elisabeth Law de Lauriston-Boubers, a descendent of John Law de Lauriston, the Scottish adventurer, banker and economist, who co-founded the Compagnie des Indes. She was 24, and he 29.
When she married Jacques, Elisabeth (Lily) embraced, with verve and passion, Champagne and the vineyard. In 1941, when her husband died without an heir, the young 42-year-old widow took up the reins without hesitation. Known as "Mrs Jacques" to the villagers of Aÿ and "Aunt Lily" to the family, Elisabeth Lauriston Bollinger was considered by all as one of the great ladies of Champagne. She saw the House through the war and German occupation bravely and firmly and then from the 1950s represented Bollinger wines across the world with her now famous elegance, determination and several noteworthy quotes.
When asked when to drink Champagne, Lily Bollinger famously replied: "I drink it when I'm happy and when I'm sad. Sometimes I drink it when I'm alone. When I have company I consider it obligatory. I trifle with it if I'm not hungry and drink it when I am. Otherwise, I never touch it—unless I'm thirsty."
For thirty years, she guided the House she had inherited between tradition and modernity, with intelligence and subtlety. It was she who took the decision to launch Bollinger R.D. in 1967, followed by Vieilles Vignes Françaises in 1969.
Madame Bollinger stood down as head of the company in 1971, and died on 22 February 1977, leaving the House with her stamp of an unquestionably great lady of Champagne.
BOLLINGER SPECIAL CUVÉE
There really is a lot that's special about Bollinger's Brut Special Cuvée, an icon among non-vintage Champagnes. That's why it has become the signature bottling of the Bollinger estate, one of the world's most revered Champagne houses. It is a blend of the three Champagne varieties, 60% Pinot Noir, 25% Chardonnay and 15% Pinot Meunier, from mainly Grand or Premier Cru vineyards, symbolic of exceptional quality. It also includes 'reserve' wines from previous vintages to add flavour and weight to this sophisticated blend.
SENSATIONS:
To the eye: a golden colour, distinctive of black grape varieties; very fine bubbles.
To the nose: a beautiful aromatic complexity; ripe fruit and spicy aromas; hints of roasted apples, apple compote and peaches.
To the palate: a subtle combination of structure, length and vivacity; bubbles like velvet; pear, brioche and spicy aromas, notes of fresh walnut.
This really is an absolutely fabulous Champagne that can be served for afternoon tea, at a picnic, as a pre-dinner drink and is an ideal accompaniment to sushi, prawns and crayfish, good cured ham or sliced, seared beef fillet.
Bollinger Special Cuvée, packaged in a new gift box, is available nationally for approximately R890.
RICKETY BRIDGE PAULINA'S RESERVE WINES
Honouring Paulina de Villiers, the original owner of Rickety Bridge Estate and one of the first women to own and farm land in the Cape.
On 7 May 1797, more than 200 years ago, the widow Paulina de Villiers was granted the land that straddles the river and rises up against the mountain at Franschhoek. This land that she affectionately named 'Paulina's Drift' later became Rickety Bridge, making her one of the first women to own and farm land in the Cape. Fable has it that her spirit still hearkens after the land which she tamed, nurtured and loved, and that her whisperings can often be heard rustling through the vineyards as she keeps vigil over the vines.
Paying homage to the pioneering spirit of Paulina de Villiers, Rickety Bridge's restaurant, Paulina's, and their flagship range of wines, Paulina's Reserve, proudly bear the name of the estate's original owner. The award-winning Paulina's Reserve range comprises a Cabernet Sauvignon, Chenin Blanc and Semillon.
PAULINA'S RESERVE CABERNET SAUVIGNON 2014
Viticulture: All grapes used to make this estate wine come from low-yielding (six tonnes/ha) well-manicured vines, situated against the north-westerly slopes of the Dassenberg Mountain and planted in deep decomposed granite Oakleaf soils.
Winemaking: Fermentation took place in an open fermentation tank at 28°C with five manual punch-downs daily. The wine was pressed gently up to 1.2 Bar pressure after 21 days skin contact. Malolactic fermentation took place in stainless steel tanks and the wine was then aged in small French Oak barrels for 24 months.
Tasting notes: The nose displays classic red and black berries layered with herbal notes, pencil shavings and oak spice. A full, rich lingering palate follows with powerful fruit expression, silky polished tannins, well-integrated oak and balanced natural acidity. This wine is a pleasure to drink from the first sip until the last.
Maturation potential: Peak potential from four years, aging well up to ten years from vintage.
Suggested food pairing: Rack of lamb, chargrilled sirloin or ribeye, roast beef and Yorkshire pudding, slow-cooked oxtail or braised venison.
Price: R250
GLENELLY LADY MAY
Honouring May de Lencquesaing, Grande Dame of Glenelly Estate in Stellenbosch.
The Lady May, Glenelly's flagship estate wine named in honour of Glenelly's Grande Dame, Madame May de Lencquesaing, is an exceptionally graceful and stylish Cabernet Sauvignon with a dash of other Bordeaux varieties. It is naturally fermented and matured in new French oak for 24 months. Elegant and complex, the wine develops flavours of cassis, blackcurrant, dark cherry, raspberries and delicate spicy plum. The wine displays an exquisite structure, seamless oak, velvety tannins and a silky savoury finish and has a very good aging capability of 12 to 18 years. A sculpture of Madame de Lencquesaing by Maxime Real del Sarte (1948), a wedding gift, is depicted on the Lady May wine label.
Accolades: This highly acclaimed Cabernet has received many prestigious awards, including a pinnacle 5-star rating for the 2009 vintage in Platter's wine guide. The 2011 Lady May received a 92 point rating in Wine Advocate, 93 points in Wine Enthusiast and 95 points in Tim Atkin's South African Report.
Retail price: The Lady May 2011 (current vintage) retails nationally at approximately R420.
Lady May 2012, with brand new packaging, will be released towards the end of 2017.
The name and concept of the estate's flagship Cabernet remain the same. However, the new packaging makes for a stronger identity, incorporating gold foiling on a dark brown background with the handwriting of May de Lencquesaing. The capsule is gold tin and embossed.
Madame May de Lencquesaing
Madame May de Lencquesaing is a member of one of Bordeaux's oldest wine families, the Miailhe, who owned the famous Chateau Pichon Longueville Comtesse de Lalande, Grand Cru Classé, Pauillac, Bordeaux. Her pursuit of excellence at Château Pichon Lalande over 30 years saw the wines being elevated to some of the best in the world and led to Madame being awarded Decanter Magazine's Woman of the Year in 1994, among several other prestigious accolades. She also established a Glass Museum at Château Pichon Lalande housing one of the biggest private collections of hand-blown glass.
May's wine journey continued in South Africa with the purchase of Glenelly Estate in 2003 at the age of 78, where she replanted the former fruit farm to pristine vineyards, built a state-of-the-art winery and tasting centre, and began producing a highly-acclaimed range of wines. In 2007 Madame sold Château Pichon to Roederer Champagne and has since devoted her time to the development of Glenelly.
Why after 30 years in the wine business in France, did Madame decide to plant vines in South Africa? "I bought Glenelly because I believe in South Africa's soil, microclimate and potential for quality wines, and I wanted to continue the French heritage of winemaking in South Africa that goes back more than three centuries. I have every confidence in this great country and its people, and wish to play a part in its economic development", says Madame.
Today, 14 years after she purchased Glenelly, alongside her two grandsons Nicolas Bureau and Arthur de Lencquesaing, the 8th generation of vintners and wine producers, they are reshaping what was already a great success. Glenelly is moving forward. After closing to the public for a year due to extensive renovations, the Stellenbosch estate re-opened as a world-class winelands destination including a hospitable bistro, a tasting room with spectacular views and a new presentation of Madame's unique glass collection. Launching a series of new vintages across the range, the team took the opportunity to refresh the brand, creating a clearer, more distinctive identity that better conveys the three key elements that define these award-winning wines: power, elegance and balance.
MURATIE ANSELA VAN DE CAAB
Honouring Muratie's Ansela van de Caab,  an icon of the struggle against slavery and wife of Muratie's first owner.
At Muratie, the passion for preserving the estate's rich heritage and the intriguing human stories woven into the very fabric of its centuries old history, are captured in every nook and cranny of this family farm, where the unique old-world ambience is almost tangible. Even the wines reflect a tangible sense of time suspended. The Melck family has honoured the estate's fascinating history by naming all Muratie's Iconic Wines after extraordinary characters from the farm's colourful past, each with its own enchanting story described on the back label. And there are a myriad stories reaching as far back as the 17th century, making Muratie one of the oldest wineries in the Cape Winelands.
The story
This cabernet sauvignon-led Bordeaux-style blend honours Ansela, whose remarkable story is written into South African folklore as an icon of the struggle against the horrors of slavery at the Cape in the late 17th century. Born in the slave quarters at the Castle, this little slave girl only had a Christian name, her surname being "van de Caab", Dutch for "of the Cape", as was the case with all slaves born at the Cape at the time. The first owner of Muratie, a passionate and determined young German soldier called Laurens Campher, fell in love with Ansela who was a slave-girl at the Castle in Cape Town. During their 14 year courtship, Laurens frequently walked the 64 kilometres to Cape Town and back, a three day trip, to see his beloved Ansela. When she was eventually emancipated, Ansela returned as Laurens' wife to Muratie. The oak tree Ansela planted to bless their marriage still stands on Muratie, as does a small white house, their first home, built for them by Laurens.
The Wine
The Muratie Ansela van de Caab is a classic Bordeaux-style blend of Cabernet Sauvignon, Merlot and  Cabernet Franc. The Cabernet Sauvignon gives the wine a structured backbone, which is enhanced by the Cabernet Franc, with the Merlot adding the upfront fruit flavours. Dark, intense and brooding, the nose promises much – cedar wood, cigar box, blackcurrants and a distinctive herbaceous and spicy edge courtesy of the Cabernet Franc – and the palate more than delivers on that promise with rich, savoury flavours of black olive tapenade, cassis, some perfumed sandalwood and a long finish which develops from fruit to savoury, and ends with an enticing combination of the two. This wine epitomises balance, with the elegant tannins, fresh acidity and masterly oak treatment all playing their part. This is a wine to savour with the very finest culinary offerings, or simply to be enjoyed with good friends.
Retail price: The Muratie Ansela van de Caab retails nationally for approximately R300.
The vines: The wine, Ansela van de Caab, is produced from the estate's best vines, which were originally carefully planted to make this specific wine.
In the cellar: The varietals for the Ansela were all hand-harvested, sorted, crushed, destalked and fermented in classic open fermenters.  Malolactic fermentation took place in French Oak barrels.  After 18 months of barrel maturation, the varietals were individually tasted and selected for the Ansela blend.  This blend was re-introduced into French Oak for a further 6 months to ensure that a good marriage took place between the varietals.
Ageing Potential: Can be enjoyed now, or up to ten years from now.
Rated 4½ stars by the Platter's Wine Guide.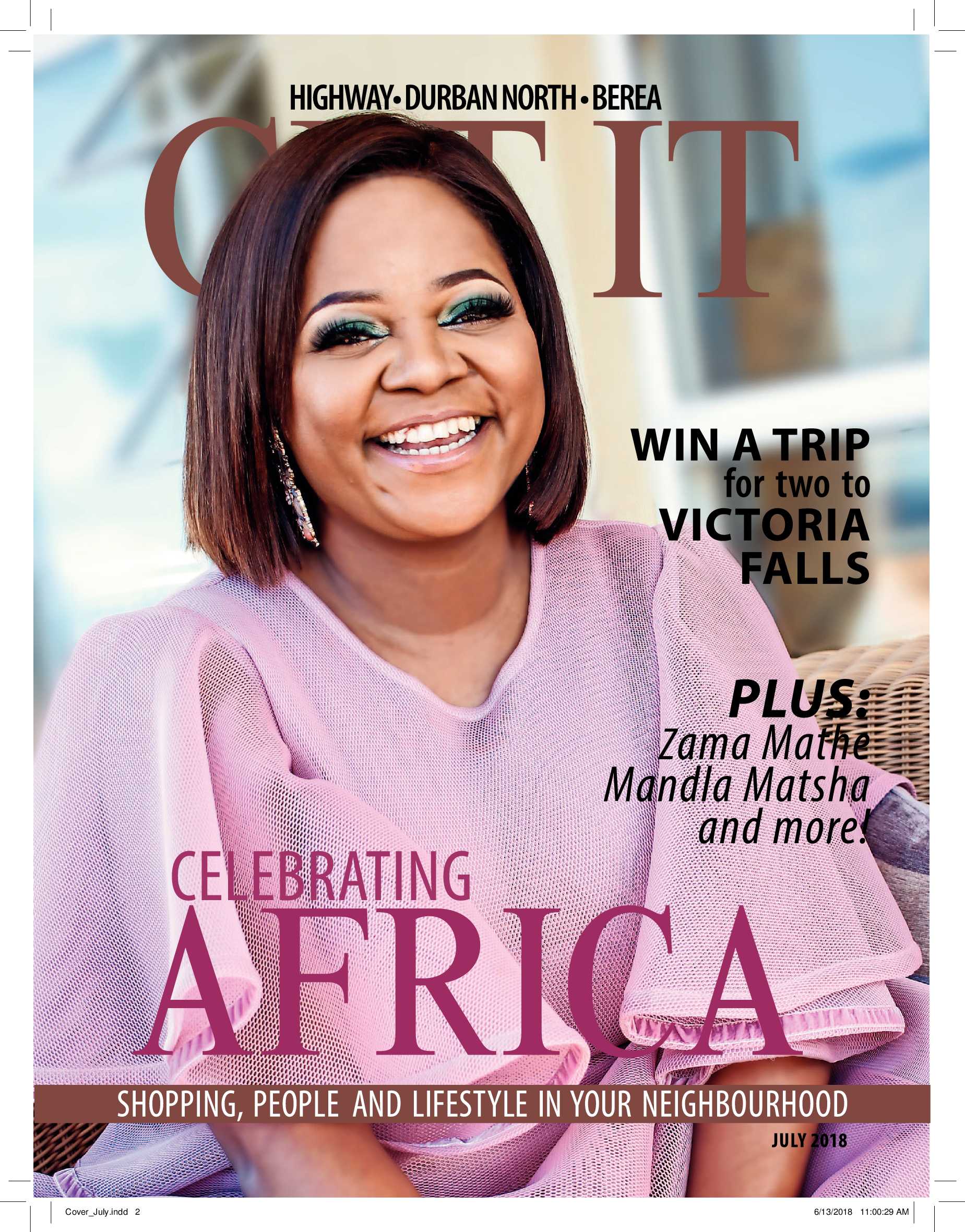 Get It Magazine Durban July 2018
Celebrating Africa
View magazine

Its time to READ competition
A wise man once quipped: Creativity is contagious. Pass it on. Albert Einstein certainly knew what he was speaking about, and when it comes to encouraging creativity and imagination in our youth, just think of the untold treasure, waiting to be discovered!
Glad to go camping
The kids are on their mid-year hols and a camping weekend's on the cards. Woo hoo.
How are you enjoying your Cadbury Breakaway?
Chocolate wrapped and filled wafer. On a chilly winter night, there's really not much more we want than this, a mug of coffee and a good book.
July spoil
Adventure awaits…
Buon appetito!
With nothing but a suitcase full of dreams and her faithful friend 'the cello', Cecilia Di Cecco left Italy to work as a musician with the KZNPO in Durban. Here she learnt to cultivate her music and at the same time began a love affair with food that eventually led to the recent launch of her first cookbook, Cucina in South Africa.
A fairy tale for modern times
Being massive fans of everything royal (especially the recent wedding between Meghan Markle and Prince Harry) we absolutely cannot wait for the release of this 124 page royal bookazine, The Royal Wedding: A People Magazine Exclusive Collector's Souvenir (R100).
is a national brand of premium free magazines available in centres across the country.
to see other Get It magazines in the network.