One Pot Lamb Biryani
ORIGINAL RECIPE SERVES 4
Preparation time 15 minutes | Cooking time 25 minutes
| | | | |
| --- | --- | --- | --- |
| Ingredient | Portion for 1 | Portion for 2 | Portion for 4 |
| Medium sized onion, finely chopped | 1 (baby) | 1 (baby) | 1 |
| Ground cumin | 1 ml | 1 ml | 2 ml |
| Ground turmeric | 1 ml | 1 ml | 2 ml |
| Garam masala / curry powder | 1 ml | 1 ml | 2 ml |
| Chilli flakes | 1 ml | 1 ml | 1 ml |
| Cardamom pod, bruised to release seeds | 1 whole | 2 whole | 3 whole |
| Cinnamon | 1 ml | 1 ml | 2 ml |
| Curry leaf | 1 whole | 1 whole | 2 whole |
| Vegetable stock | 1 grams | 2 grams | 4 grams |
| Ginger, grated | 5 grams | 7,5 grams | 10 grams |
| Garlic clove, chopped | 1 whole | 1 whole | 2 whole |
| Deboned lamb leg, cubed | 1 portion | 2 portion | 4 portion |
| Basmati rice | 45 g | 90 g | 180 g |
| Tomato, chopped | 1 whole | 1 whole | 2 whole |
| Mint / coriander | 1,25 grams | 2,5 grams | 5 grams |
| Cucumber | 1 whole | 1 whole | 1 whole |
| Lemon | ½ | ½ | 1 |
½ Tbsp cooking oil
½ Tbsp butter
½ tsp each of salt and freshly ground black pepper
1 tsp sugar, optional or your preferred healthy sweetener to taste
1 cup boiling water
WHAT TO DO
To a large pot on med-high heat, add the oil and butter and fry the onions until translucent, about 4 minutes. Add in all of the spices and the ginger and fry for 2 minutes. Add in the meat, and a little extra oil if needed, and fry for 3-4 minutes / 5-6 minutes / 7-8 minutes until lightly browned. Add in the garlic and cook for a further minute.
Add the rice, stir to coat and then the stock, water, tomatoes and potatoes. Place the lid on the pot, turn down to medium-low heat and leave to simmer with the lid on for 20 minutes / 25 minutes / 30 minutes or until the rice is cooked through and fluffy. Using a fork, stir through the lemon juice and zest, nuts and apricots.
Serve immediately on warmed plates with the fresh mint and coriander.
| | | | |
| --- | --- | --- | --- |
| Ingredient – Tomato Salad | Portion for 1 | Portion for 2 | Portion for 4 |
| 1 medium tomato per person, roughly chopped | 1 | 2 | 4 |
| ¼ cup roughly chopped cucumber per person | 1 (baby) | 1 (baby) | 1 cucumber |
| 1 level tsp grated fresh ginger | 5 grams | 7,5 grams | 15 grams |
| Squeeze of lemon juice | ½ | ½ | 1 |
| 1 Tbsp toughly chopped fresh coriander | 2,5 grams | 5 grams | 10 grams |
| 1 Tbsp roughly chopped fresh mint | 2,5 grams | 5 grams | 10 grams |
Olive oil
Salt and Pepper to taste
WHAT TO DO
Toss the tomato, cucumber and ginger in a bowl. Squeeze lemon juice and herbs over, as per preference.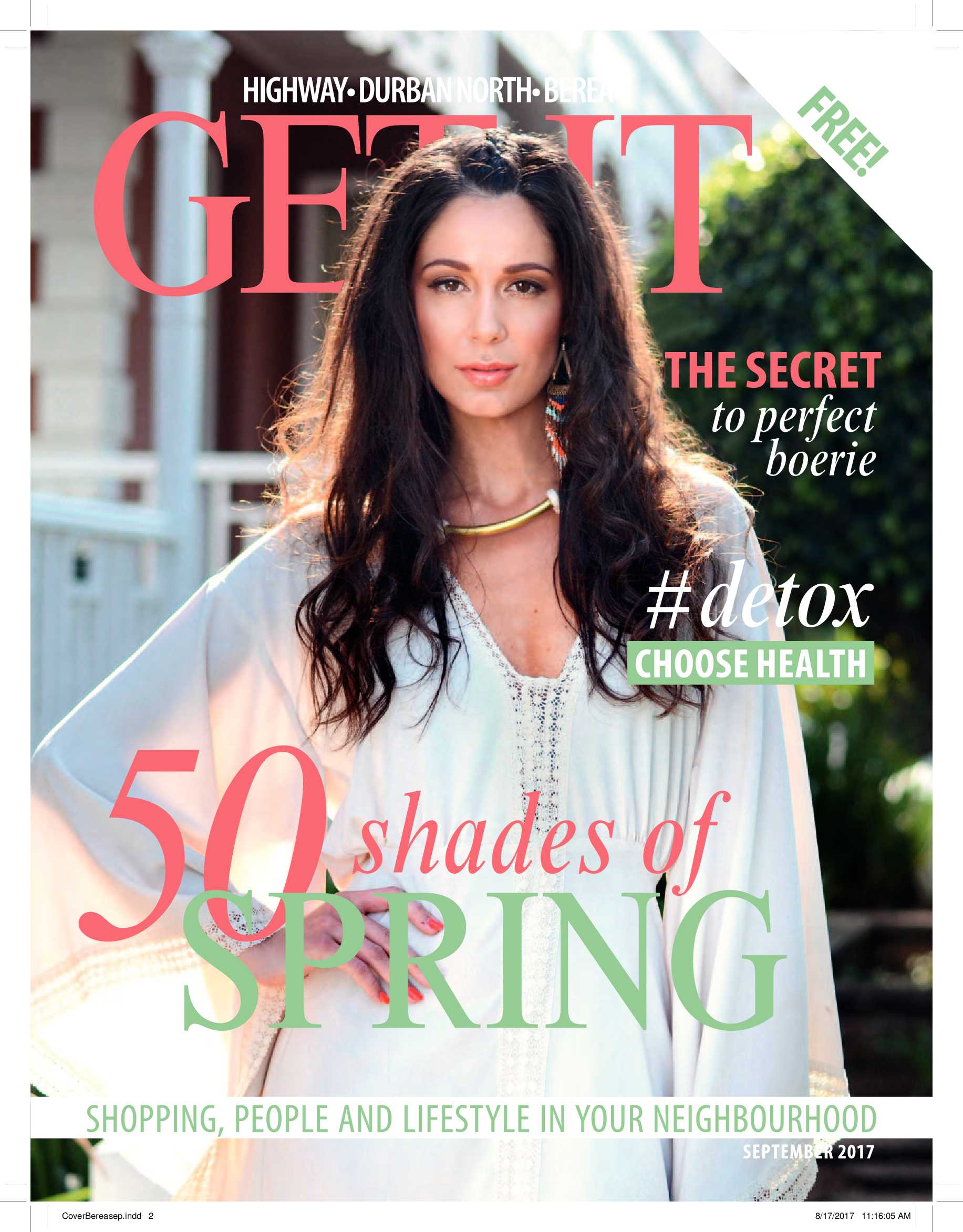 Get It Durban 25 September 2017
50 shades of Spring
View magazine

The Midlands Kitchen
Motorists driving the long slog of the N3 highway will soon have an exciting new stopping point that's promising to deliver a taste sensation.
Durbs: can you handle all the heroes?
The Color Run is back! In 2017, it's bringing The Superhero Tour to Durban's shores. Strap on your capes – it's gonna get colourful.
October Spoil
Time for a classic, and oh-so-beautiful, timepiece.
Sense by Hollandia
A sense of wonder for the bedroom.
Ashwin Singh's drama 'To House' returns to The Playhouse
The Singh Siblings in association with The Playhouse Company present a new production of award-winning playwright Ashwin Singh's To House. First staged at The Playhouse in 2006, it runs in the Drama Theatre from 5 to 7 October 2017. One of Durban's best known international theatre pieces, it remains as relevant now as it was a decade ago, with South Africa's continuing racial divisions and increasing class conflicts.
Top tips on how to prepare sirloin
Food Lovers Hillcrest owner, Gilbert Rocha together with butcher and chef, Gancho Petrov, have you covered for national Braai Day and Heritage Month with these expert tips on how to prepare their favourite cut of meat, aged sirloin.
Quarters Breakfast Giveaway
A full Breakfast for 4 people to the value of R700.00 to be enjoyed at the Quarters Café, Quarters Hotel Florida Road.
September Spoil
"I have too much stationery" – said no one ever.
is a national brand of premium free magazines available in centres across the country.
to see other Get It magazines in the network.