Sippin' Rum: A new hard tack trend? Lets 'rum' with it.
"Rum is sophisticated, it has heritage, origins and craftsmanship. Mount Gay Rum, for example, was first created in 1703 in Barbados. And as bartenders get more skilled and sophisticated, they are more into crafted cocktails and widening the spirit palette they use, paying attention to the story behind the spirit houses. As for the consumers, they are more concerned about how they spend their money. They prefer to pay more for premium quality. They are looking for crafted spirits, small batched. Spirits that they could trace the origin and superior quality," explains Miguel Smith, International Brand Ambassador of Mount Gay.
Kleinkaap Boutique Hotel recently hosted the first Rum Festival in Gauteng in collaboration with Andy Kiloh from Rum Bro. Apart from being the first Rum Festival in Gauteng, it also featured a tasting competition – all the rums on show were blind tasted by a panel of judges. Two winners where chosen, Mount Gay Black Barrel won best imported rum on show and Mhoba was named the best local rum. Mount Gay is the oldest and most storied rum in the world, and rightfully so. With its origins in the Caribbean, each of the ingredients have been sourced from the island of Barbados in their purest form and married together by the experience and magic from generations of masters in the trade. Although over three centuries old, Mount Gay is by no means old fashioned. There are many generations of master blenders, distillers and of course the evolving palates of rum shop patrons that are all fixed on producing a timeless and delicious rum. Black Barrel is the latest addition to the Mount Gay family. From Master Blender Allen Smith, Black Barrel is a small batch, handcrafted blend made of matured double pot distillates and aged column distillates. When brought to the nose, Mount Gay rum releases complex notes of spice, toasted wood, followed by dried fruits. When brought to the lips, you get bold spice balanced with oaky vanilla and sweet caramel. You are left with a medium body, warm feeling and bright finish, it really is something
to behold.
It's not only in South Africa that we are starting to see a rise in rum drinkers. Drinking habits around the world have shifted towards focusing on specific categories one at a time. This is where neat drinking has started to play its role, and you will most likely find that 'rum sippers' will be gaining numbers from the traditional whisky drinkers.
"There's a time and there's a place, the time for Rum is now and the place is here with Mount Gay. I can't get enough of it!", says Caitlin Hill, Niche Brands Ambassador, Remy Cointreau.
So, this trend of sippin' rum begs the question: are we fully converted, or just giving this a bash? Although rum is gaining real traction in South Africa, there will always be what we call occasional drinkers. People will always drink rum in cocktails as the sun sets, but now perhaps also neat as they enjoy a dinner. In South Africa, we have seen rum restaurants pop-up, which indicates that we have something to look forward to. Drinking spirits and the trends that are associated with them happen in waves. Just like when beer, vodka and whisky became the 'it' drink, rum is now about to get its own time to shine. The good thing about this rum wave, is that it allows the market an opportunity for new craft rum brands to emerge. As the wave rolls on, there will be many new brands that try their hand at this, and eventually the mediocre will fall away and we will be left with some really good quality new rum brands which is fantastic for the industry. Perhaps even something to rival Mount Gay, the original. But lets not get ahead of ourselves.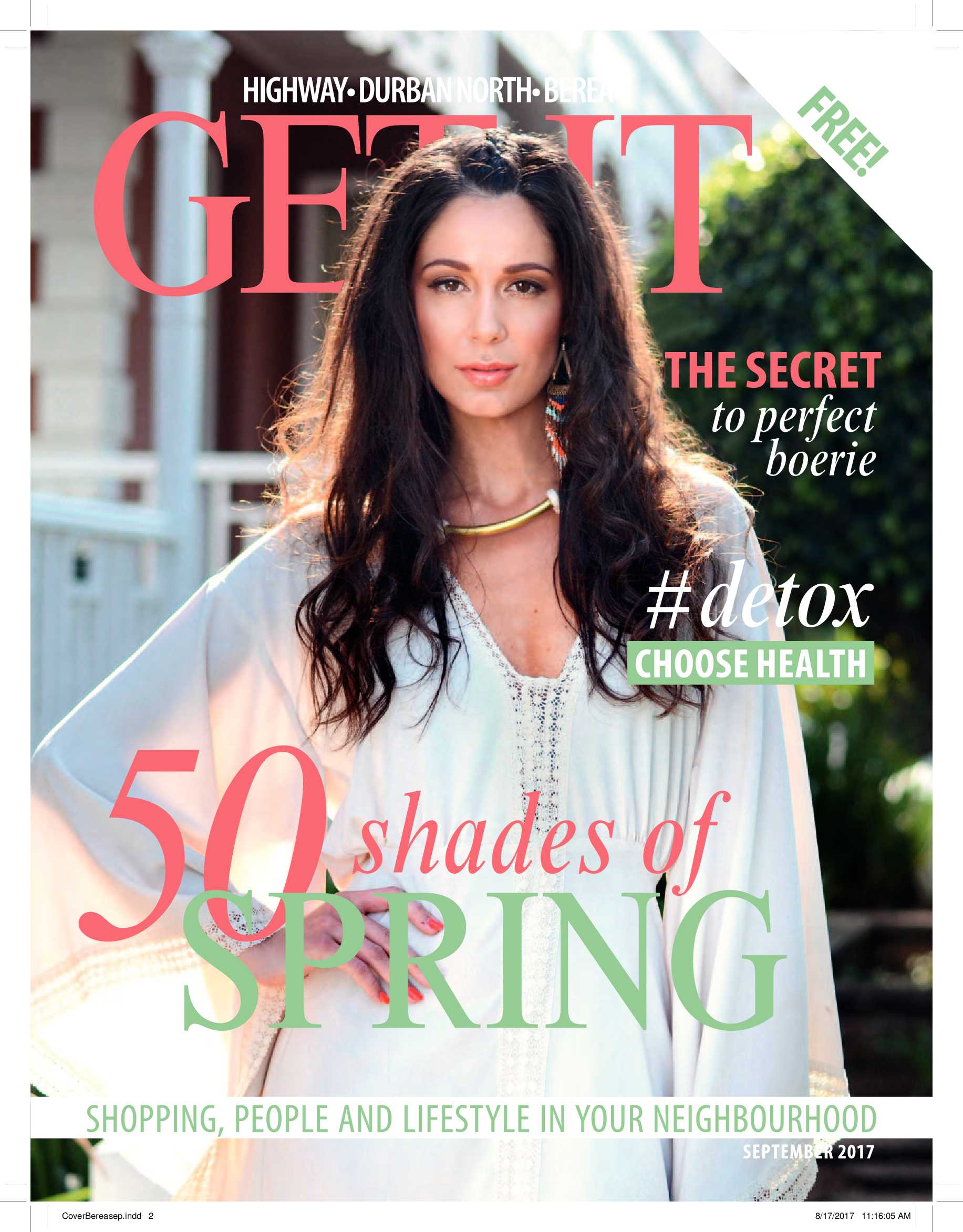 Get It Durban 25 September 2017
50 shades of Spring
View magazine

The Midlands Kitchen
Motorists driving the long slog of the N3 highway will soon have an exciting new stopping point that's promising to deliver a taste sensation.
Durbs: can you handle all the heroes?
The Color Run is back! In 2017, it's bringing The Superhero Tour to Durban's shores. Strap on your capes – it's gonna get colourful.
October Spoil
Time for a classic, and oh-so-beautiful, timepiece.
Sense by Hollandia
A sense of wonder for the bedroom.
Ashwin Singh's drama 'To House' returns to The Playhouse
The Singh Siblings in association with The Playhouse Company present a new production of award-winning playwright Ashwin Singh's To House. First staged at The Playhouse in 2006, it runs in the Drama Theatre from 5 to 7 October 2017. One of Durban's best known international theatre pieces, it remains as relevant now as it was a decade ago, with South Africa's continuing racial divisions and increasing class conflicts.
Top tips on how to prepare sirloin
Food Lovers Hillcrest owner, Gilbert Rocha together with butcher and chef, Gancho Petrov, have you covered for national Braai Day and Heritage Month with these expert tips on how to prepare their favourite cut of meat, aged sirloin.
Quarters Breakfast Giveaway
A full Breakfast for 4 people to the value of R700.00 to be enjoyed at the Quarters Café, Quarters Hotel Florida Road.
September Spoil
"I have too much stationery" – said no one ever.
is a national brand of premium free magazines available in centres across the country.
to see other Get It magazines in the network.