You should simplify your life, here's why
Human beings require control
This is part of human nature; you cannot control anything if you have too much on your plate. In fact, this is possibly the quickest way to end up with control issues which can lead to depression and anxiety. If you want to feel like you have a handle on your life and ultimately your happiness, you must whittle down what you believe to be the most valuable parts of your world. These are the parts you should then embrace and give attention to.
Forego the extras even though it feels difficult
Get rid of the extra noise. But this requires taking a hard line. Removing that (or those) which no longer serve your happiness can feel like a bad thing to do. Of course, you don't want to be nasty to anyone or renege on longstanding commitments, in turn letting down people who rely on you. But you have every right to choose what's best for you above what's best for anyone else.
Being a little selfish will be difficult in the beginning but it could result in you feeling better and healthier. Also, you're not as important as you think. The world won't end because you cancelled on a friend, said "no" to yet another social event, or decided to not buy those concert tickets and save money instead.
Simplifying your life doesn't mean only saying "no"
Simplifying your life means saying 'yes' to things that serve a great purpose to you. For instance, say yes to clearing up your debt which means simply downscaling on the added extras that cost you a fortune each month. A great expense in everyone's world is their car. If you're driving around in your so-called dream mobile, but it's ravaging your bank account, costs you a fortune to maintain and repair, and requires special care then it's a complicated part of your world. A simple search online for used cars in Gauteng or the Western Cape or wherever you are situated will showcase how easy it is to change this specific complication in your life. Choose a secondhand vehicle that'll cost you a fraction of your current repayments, that'll reduce your insurance, and fuel consumption costs.
Say yes to activities that don't cost a lot of money. Say yes to joining a hiking club, a day on the beach with friends, potluck dinner clubs, and coffees with friends. These activities can easily replace the drinks after work and the latest trendy cocktail bar or nights in fancy restaurants where you split the bill and it costs you double the going rate of your meal. Yes, you might miss these events but they'll become a once-in-a-while affair and your life will be filled with other (read: better) activities.
Make use of automation so you have less to think about
You know what's really difficult? Those quick sums, calculations, and checking of bank balances trying to figure out if you can afford what you suddenly want to do. Your bestie wants to hit the crazy sale at your favourite fashion hub but you haven't a clue whether you can enjoy a treat. This adds to stress and is a negative experience and it's complicated. If you automate all your payments and have a set amount of money to spend on necessities then you should be able to land on a figure that represents your expendable every month. This means you can say yes or no quicker and that's, well, simple.
Similarly, make use of a calendar with notifications indicating when you've committed to something. And if you have learnt to say no then you'll find your calendar very helpful. You're always be aware of what's coming next,  of yelling profanities every time you realise you've double-booked yourself. Also, your empty-ish calendar will help you see how well you're doing at saying no and at including activities that add value to your life. Your calendar can also include important dates such as when you need to renew your car license or when you have a doctor's appointment. By knowing when these important and costly events are due you can prepare financially and alert work if you need time off. And you know what this gives you? It gives you a sense of control.
Once you've done these big moves start focusing on the little things
Empty your closet and donate clothes, shoes, linen, appliances and everything else that you no longer have a need for. Then begin organising your home because now that you have less stuff you can maintain a tidy space more easily. You're likely to enjoy your home more, making you want to stay in more often and you'll appreciate your things a little more. You're also likely to begin thinking a little more about what you're buying each time you spend money. Do you really need what you're about to buy?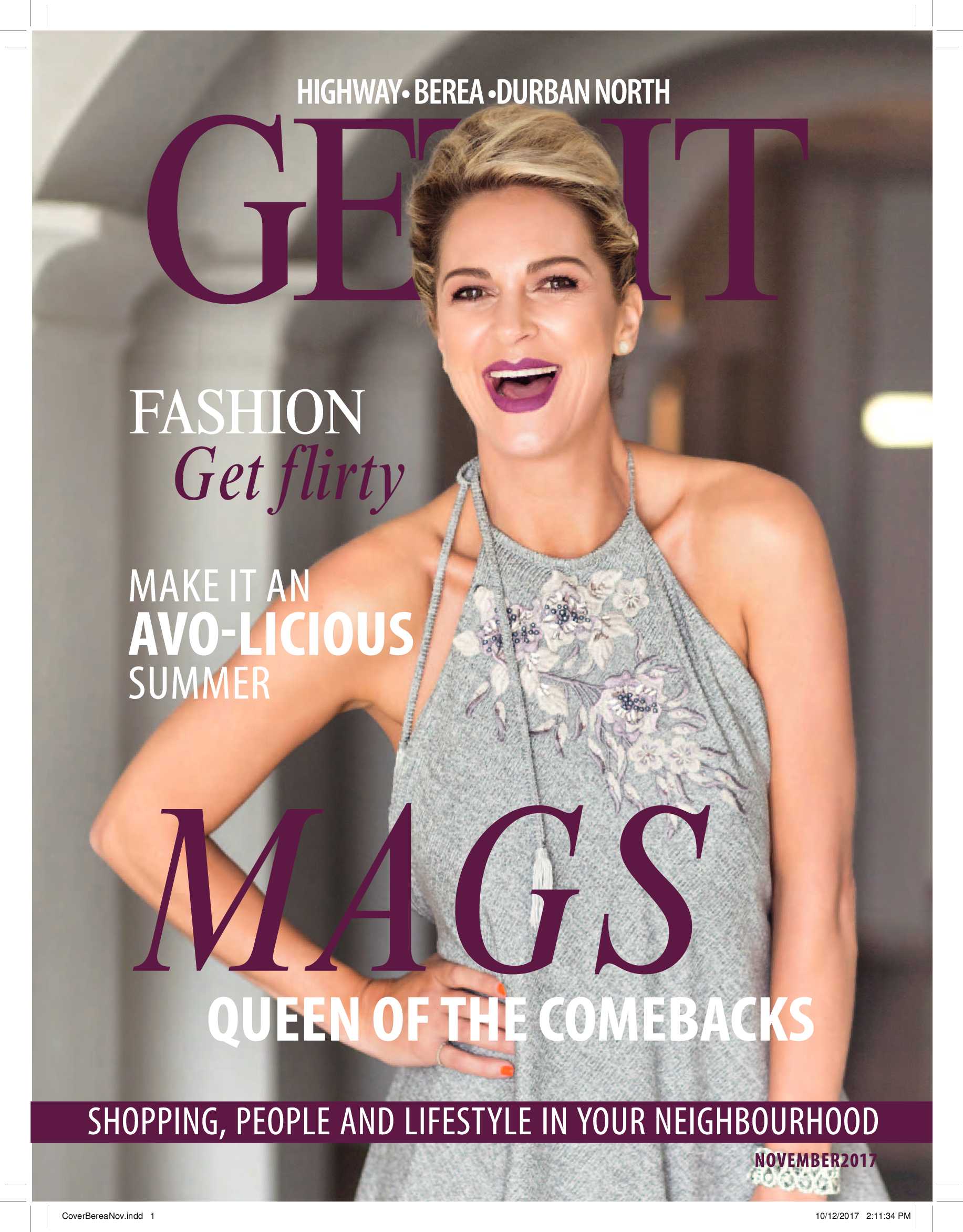 Get It Magazine Durban November 2017
Mags queen of the comebacks
View magazine

It's going to be a delicious festive season…
This year's holiday season will be jolly delicious as Cadbury plans to share the joy with three new treats, and we're hoping for at least one of each of these in our stockings!
Kahvé Road coffee capsules
Kahvé Road, premium coffee and patisserie specialist has extended its offering to its own premium coffee capsule range which is available at the popular eatery based in Cape Town, as well as online.
An easy going classic rocking horse
Make playtime active with the Hape Rock and Ride Rocking Horse from Toy Kingdom. This perfectly-balanced ride-on can take kids for a slow-and-steady trot or a rocking gallop.
Celebrate the special moments in life with Nomination
Nomination's new collection of Composable links is called Life, because each link reflects an important moment in your life.
An elegant and iridescent palate pleaser
Following Krone's tradition of hand-picking their grapes under the stars in the cool of the night to retain flavour and aroma, the Krone Borealis was named after the 'Corona Borealis' constellation of stars.
Discover Huggies Pants, designed for active babies
Is your baby becoming more active or wriggling at change time?
Enchanting eye colours
Discover eyes that shine with dazzling beauty. With a sweep of brilliance, these Enchanting Eye Colours from Mii create instant allure to give a sheer look layered with sophisticated shimmer.
The ultimate Robertson Winery Summer Hamper
Robertson Winery Lightly Sparkling Sauvignon Blanc is not a light wine and it is not a sparkling wine; it's a lightly sparkling wine – produced from top quality grapes, with intense fruit flavours of grapefruit, melon and passionfruit and an added dazzle of tiny bubbles for innervigorating summer pleasure.
December Spoil
Get that glow with a glam Caribbeantan!
Pssst… we have a (little) secret
Delicate and precious, with simple designs, we're loving the new Little Secrets bracelets from Thomas Sabo.
is a national brand of premium free magazines available in centres across the country.
to see other Get It magazines in the network.