3 life hacks to self-care on a budget
Many people have had to downsize their lives and spend their hard earned cash on the very basics that'll help them maintain a quality of life. But if you're smart and make an effort to be super organised you can change how you use your money. In this way, you might be able to afford a couple of luxury experiences that'll make you feel more fulfilled and hopefully even a little spoilt. After all, our mindsets shouldn't be that we work to live.
And everyone deserves a couple of "treat yo'self" moments. It's these experiences that help us get through the stress of daily life, that help us manage the daily grind. A spoil is the light at the end of the tunnel of hard graft. So you need to do things a little differently to afford yourself the treats you deserve; here's how.
You want to be healthy but you can't afford a pricey gym contract
This is a gripe of many people. Gym contracts have become very costly and unless your medical aid offers an affordable discount, it's a no-no. Also, CrossFit and High-Intensity Interval Training (HIIT) have become very trendy forms of exercise. They certainly deliver great results for those looking to lose weight or become strong. But these classes are similar to personal training and they make use of very specific equipment. This means they cost a fair amount to join. However, this type of exercise can be performed at home with a little creativity.
First, you'll need to clear some space, get into some comfortable clothes, take your shoes off. You can even do some light weight training with items around your home. For instance, two-kilogramme bags of rice, maize meal, or porridge can replace weights. You could group a bunch of cutlery together, tie them with elastic bands and create dumbbells. Use your two-seater ottoman or blanket box as a step up box for pistol squats, angled push-ups or to jump over.
You can find more of these home training ideas online and if you're looking for training sessions then browse through the workouts posted on Pinterest. Or follow your favourite fitness star on Instagram and copy their moves.
You want a fancy car
This one is tricky because a car is a depreciating asset, which means the minute you've bought it you lose money. You'll never recoup the money you've spent, but you can try to make sure you don't lose too much on it. How? Well, you buy a secondhand vehicle. So when you're chasing the car of your dreams don't look at brand new options, scour the secondhand dealerships too. And what's awesome is that dealerships list their vehicles online so you can shop for your car quickly and easily. You no longer have to drive from dealership to dealership looking for the cabbie of your dreams. A simple Google search of used cars Gauteng (or Cape Town, Durban, and so on) will deliver pages of secondhand cars for sale.
You want a fluffy friend
You can't deny that pets bring us so much joy. There's even research available on just how caring for a pet friend can positively impact your wellbeing. And there's something wonderful about coming home to a happy face and wagging tail. That type of companionship shouldn't be considered a treat, but it's costly to care for your animals. You need to feed them, care for their health and have money available if they need medical care. So if you grew up with pets and have an affinity for our furry friends but can't afford to commitment to caring for one then you need to go to a pet shelter.
You can offer your services as a volunteer and the organisation will teach you whatever tasks they need you to complete. You'll have direct contact with the animals and be a vital part of their wellbeing and survival. There's something called a "helper's high" and this will boost your overall mood each and every time. Plus you get in some quality time with animals who want to lap up your love affection and care.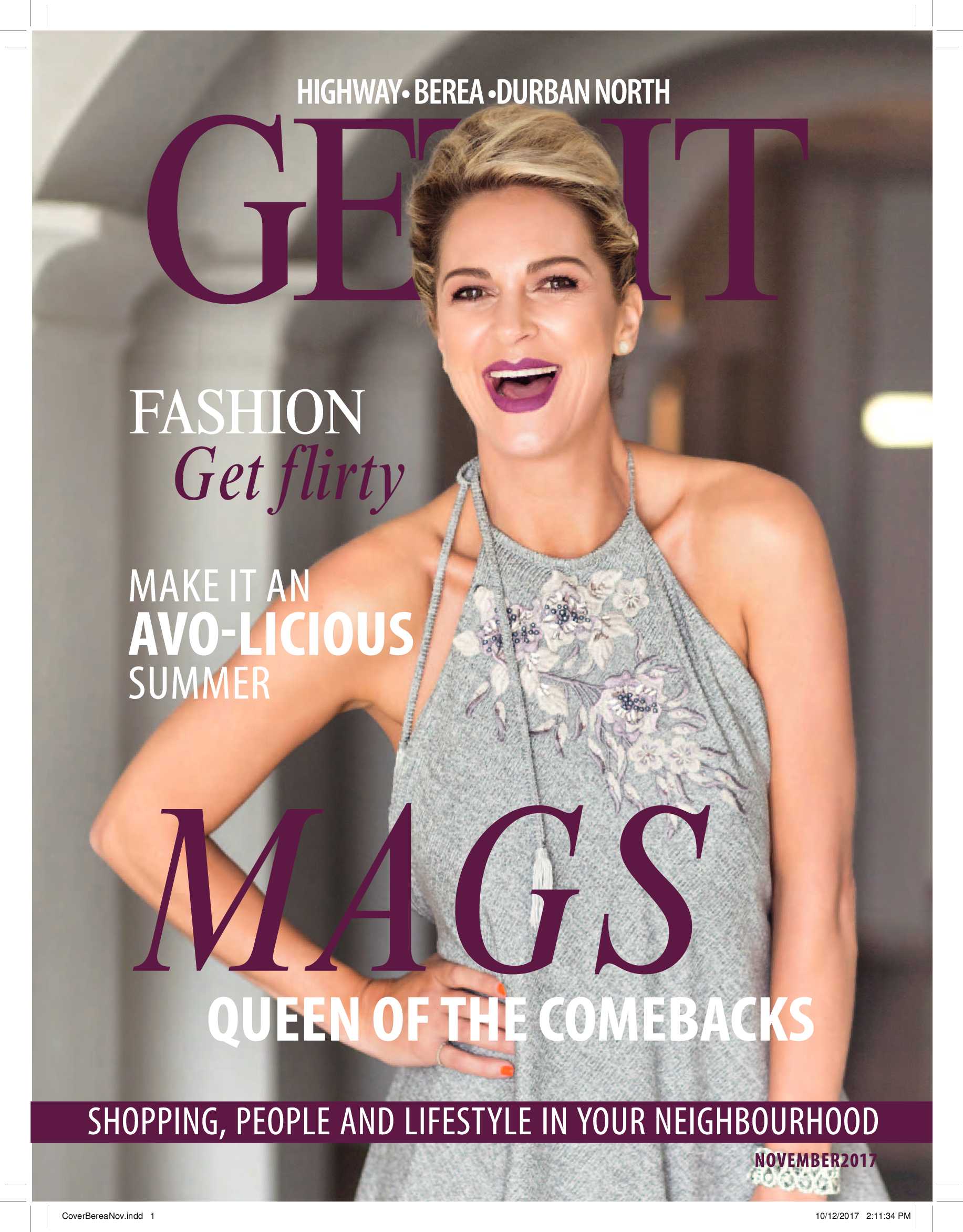 Get It Magazine Durban November 2017
Mags queen of the comebacks
View magazine

It's going to be a delicious festive season…
This year's holiday season will be jolly delicious as Cadbury plans to share the joy with three new treats, and we're hoping for at least one of each of these in our stockings!
Kahvé Road coffee capsules
Kahvé Road, premium coffee and patisserie specialist has extended its offering to its own premium coffee capsule range which is available at the popular eatery based in Cape Town, as well as online.
An easy going classic rocking horse
Make playtime active with the Hape Rock and Ride Rocking Horse from Toy Kingdom. This perfectly-balanced ride-on can take kids for a slow-and-steady trot or a rocking gallop.
Celebrate the special moments in life with Nomination
Nomination's new collection of Composable links is called Life, because each link reflects an important moment in your life.
An elegant and iridescent palate pleaser
Following Krone's tradition of hand-picking their grapes under the stars in the cool of the night to retain flavour and aroma, the Krone Borealis was named after the 'Corona Borealis' constellation of stars.
Discover Huggies Pants, designed for active babies
Is your baby becoming more active or wriggling at change time?
Enchanting eye colours
Discover eyes that shine with dazzling beauty. With a sweep of brilliance, these Enchanting Eye Colours from Mii create instant allure to give a sheer look layered with sophisticated shimmer.
The ultimate Robertson Winery Summer Hamper
Robertson Winery Lightly Sparkling Sauvignon Blanc is not a light wine and it is not a sparkling wine; it's a lightly sparkling wine – produced from top quality grapes, with intense fruit flavours of grapefruit, melon and passionfruit and an added dazzle of tiny bubbles for innervigorating summer pleasure.
December Spoil
Get that glow with a glam Caribbeantan!
Pssst… we have a (little) secret
Delicate and precious, with simple designs, we're loving the new Little Secrets bracelets from Thomas Sabo.
is a national brand of premium free magazines available in centres across the country.
to see other Get It magazines in the network.