Keep Road Safety Top of Mind these holidays
Tsogo Sun Amashova Race Director, Annie Batchelder says, "Road safety is a major issue on our roads and the number of fatal incidents involving cyclists, motorists and pedestrians is unacceptably high. We are deeply committed to educating people about road safety, which is why we have funded the building of bike safety parks at schools. We also actively promote road safety through our association with organisations such as Pedal Power and their 'Stay Wider of the Rider campaign' which was launched in 2014."
The 'Stay Wider of the Rider campaign' encourages motorists and cyclists to keep a safe 1,5m distance between each other while passing. To date, two Bike Parks have been funded by Amashova and built in disadvantaged schools in areas surrounding the Tsogo Sun Amashova route with the third Safety Bike Park being opened in October 2017. Here, children are taught to become safe cyclists and to understand general road rules.
In recent years, the Departments of Transport and Basic Education have partnered to bring to South African schools the Safer Schools and Safer Roads campaign which teaches children to abide by the rules of the road. The idea is to nurture future generations to act as ambassadors for road safety.
Appealing to local communities, Batchelder says, "Along with the local authorities, we are 100% on board with these initiatives but the broader communities must also get involved. Cycling is growing and we need to work together to instil mutual respect between all road users to help keep our cyclists safe while they train. And with Mandela Day and the school holidays upon us, we feel it's imperative to encourage everyone to spend their 67 minutes setting a good example and educating the youth about sticking to road safety rules and teaching them how to be safe on the roads as a pedestrian, cyclist or motorist."
Here are some tips taken from the Pedal Power website that can be used to educate those around you:
CYCLISTS:
Familiarise yourself with all the applicable traffic laws and cycling rules.
Do not run stop signs or red lights or cycle on the wrong side of the road.
Ensure that you have enough room to handle emergencies and that you do not cycle too close to the left.
Before reaching an intersection, choose a lane and merge with the traffic to make your presence known.
Always wear a helmet and make sure you are visible with bright lights and reflective clothing.
Be aware of your surroundings and look out for road hazards.
Know your hand signals and make sure your brakes are working properly.
Using an iPod, headset or radio while cycling is against the law.
Try and cycle in a consistent and predictable fashion and don't make hasty decisions.
Be polite to other road users.
MOTORISTS:
Remember that you share the roads with vulnerable commuters.
Check your rear view and side mirrors before opening your doors to avoid injuring an approaching cyclists or pedestrian.
Remember that bicycles are considered vehicles and have the same rights as motorists on the road.
Don't drink and drive – be responsible!
Check your mirrors and blind spots before turning or changing lanes.
Be patient.
Don't use your phone while driving.
For more information on the Tsogo Sun Amashova Classic go to www.shova.co.za. Entries are already open and the closing date for online entries is the 21st of September at 23:00. Should you need further assistance or additional information regarding the race, please email melissa@amashova.co.za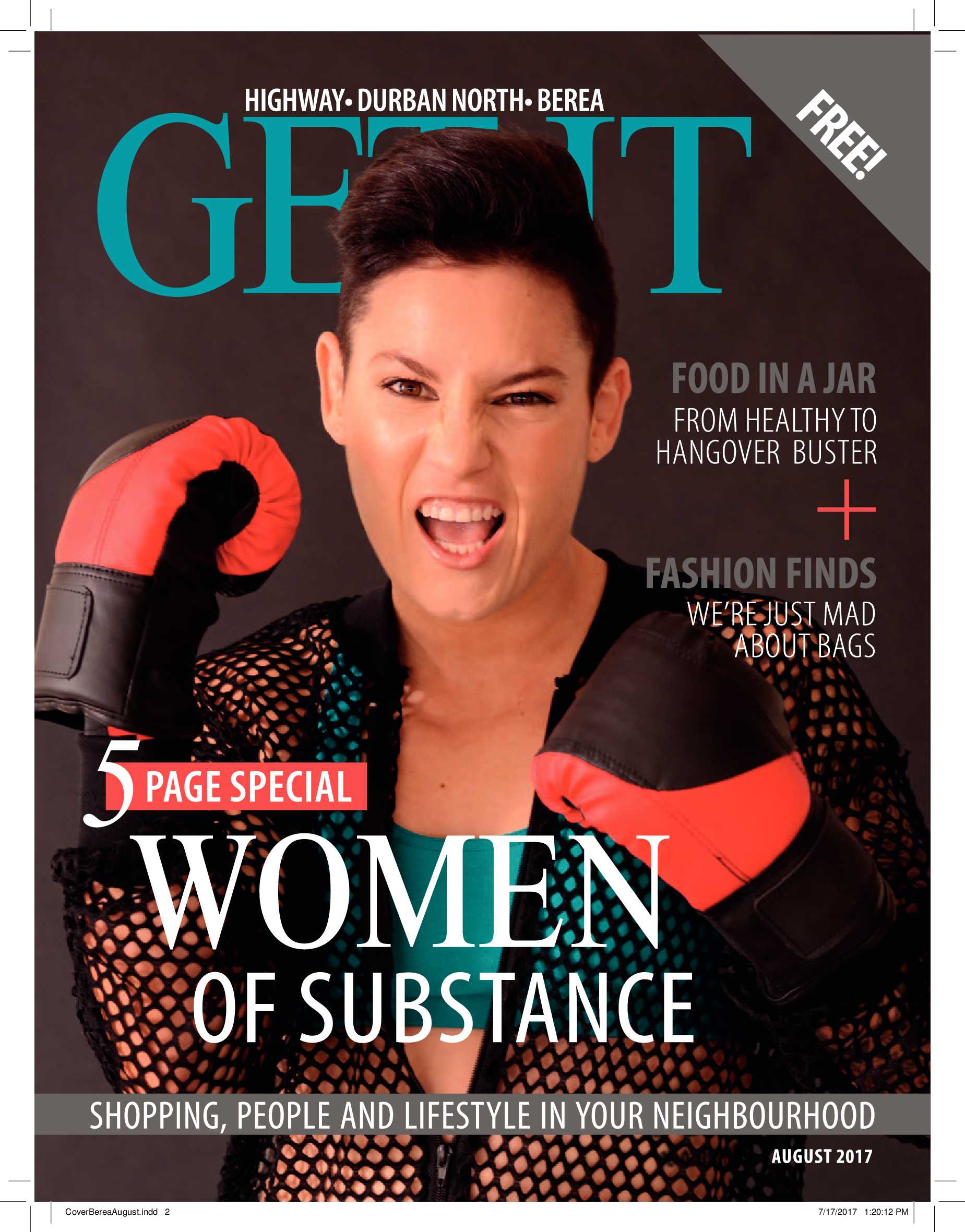 Durban Get It Magazine – August 2017
Women of substance
View magazine

Autostyle Motorshow 2017
The 14th edition of the Autostyle Motor show is back. Please save the date Sunday 17 September 2017.
Giveaway- a night of hilarious stand-up comedy entertainment at Butler's Restaurant in Hillcrest
Win 4 Tickets to a Stand-up Comedy Night! …proudly brought to you by On Fire Comedy, Savanna Cider and East Coast Radio! Date: Saturday 02 September 2017 Venue: Butler's Restaurant (24 Old Main Rd, Hillcrest) Start time: 8:30pm Closing Date: 30th August
8-TREK: The economical all-purpose ointment
8-Trek has grown in popularity and now it is available in two sizes, the small 25ml for bags and travel and a bigger 50ml tube which is for the home.
Luxurious, chocolaty secrets
Don't like dark chocolate because of its bitter taste? We've got just the right fix for you… Lindt's Excellence Mild 70%.
Paisleys & Posies
Yes, we know it's not officially Spring yet but let's face it, here in Durbs winter isn't really a thing. In anticipation of the up-coming new season, we've taken a sneak peek at the nine new fabrics that have joined Lou Harvey's troupe of beautiful, bright and functional lifestyle accessories, and we've already started shopping!
Win with Pediasure
Children naturally have high energy requirements to support their growth and development, in addition to what they need for activity, sport and play time. If they do not get enough energy from food, they may become tired, irritable, and have poor concentration, losing their interest in being active. PediaSure® Complete is a nutrient-rich, lactose-free drink that provides balanced nutrition for children from age three to ten, experiencing growth challenges. Long-term clinical studies using two glasses of Pediasure® Complete daily has been associated with improved appetite and physical activity and a reduction in the number of sick days.
Airtushi – The Inflatable Travel Highchair
The Airtushi is an inflatable booster seat for kids. You can use it on planes, and attach it to almost any seat as a high chair.
is a national brand of premium free magazines available in centres across the country.
to see other Get It magazines in the network.