Small place living decor tips for men
For the guys who are new to the whole interior design thing, or just want a few pointers on how to turn your house into a home worth bragging about, you might want to pay attention, because there is an art to small space living.  While it might seem a challenge to refreshingly innovate your tight corners and teeny rooms in a manner that lives up to your masculine standards, it's totally doable.
Inspired by the world around him, from gritty urbanism (which has a beauty of its own), to landscapes painted with a myriad of colours, amazing contemporary architecture and subtle beauty, Joao is a consummate designer. After a decade spent living in London, he developed an appreciation for the art of small space living. This is what inspires his multipurpose furniture designs.
"I love design in all its forms. I always have a camera with me wherever I go, as the world is an exciting place and I am the kind of person that never wants to miss an opportunity to capture whatever there is to see. I love great food, good music and captivating dance and I have a thing for cheap thrills when it comes to decorating. When I lived in London, I absolutely loved Ikea. It was my go to space for cheap stylish thrills, but now that I am back home and Ikea is not around, I fill that thrill by browsing through a site called ikeahacks."
So what's on trend in men's décor for 2017?
According to Joao, small space living is going to be embraced. As the millennials lean towards buying their own places, they'll have to think differently about what constitutes a home.
"I believe the world is going to start moving closer to nature. Texture will play a big part. In South Africa particularly, I think, we will start to see men become more adventurous with colour and pattern. This will filter into their home lives, where their individuality will start to shine. The ability to lock up and go will appeal to the millennial generation, who see the world as an adventure playground, so keeping things simple will start to become the norm."
Going forward
What's one thing that every room needs? Clever storage – whether it's a bed that folds out from the wall, or a coffee table that converts into a six-seater dining table.
"Even though we have the luxury of space in SA, realising that you can be clever with the space you occupy leaves you open to living in so many exciting spaces, from ex retail stores to shipping containers."
"Another thing, if you're going to spend when decorating, then splurge on quality lighting and one or two quality furniture pieces. Save on artwork. Either create your own or buy from local upcoming artists. We have a wealth of amazing fine artists, so finding a piece that suits your personality shouldn't cost you the earth, and you may also be investing in a future heirloom."

Things every guy should know about décor
Long term and building slowly –  A man's home should feel collected and not purposefully decorated, however a house is exactly like a wardrobe; it has to be flexible and constantly changing. As men and woman, we are constantly evolving – in our maturity and hopefully in our dating too – so why should your home grow slowly? It's a space that is an expression of who you are at that moment in your life, and therefore, it needs to evolve, whether that's rapidly or slowly depends on you and your tastes. A home is a work in progress, and is never finished; however it should be fun and spontaneous. Buy the kind of stuff that can be tossed to the kerb at the end of the season, as well as a few quality pieces that bring you joy every time you look at them, because that quality reflects your life and besides, I think the ladies like quality.
Match your personal style – Style, like beauty, is in the eye of the beholder, so as much as your house should match your personal style, be adventurous, and try new things. Design your house based on your instincts – how does that item make you feel? Your fashion style might be 50s, but your architectural design style might prefer clean minimalism, so when out hunting, look for décor pieces that reflect both ideals.
Accent pieces – Accent pieces are an absolute must, as these showcase your distinct style and personality. A male space should always have something classic, like a deep button cigar lounger, or a funky 70s style Globe chair. Your accent pieces should evoke a sense of homeliness, and make your space inviting to guests.
Kitchen style – I have discovered through my own experiences that a partner loves a man who can cook, so create a stylish and functional kitchen that suits your lifestyle. If you prefer to spend less time in the kitchen, you will want something compact but with all the essential ingredients. This way you can smash a smoothie on the run and then hit the clubs. But, if you are a chilled homebody, then make your kitchen the social hub of your home. Make use of an island unit, and if space is a premium, then use a mobile island unit.
Stylish storage – Every guy needs storage space, whether it's for mountain bike gear or your Hugo Boss suits, so be clever about how and where you store these items. Things like unwashed gym sneakers should definitely not be stored in a closet alongside your suits. If you have an airing cupboard, use it. Stairs are great storage options; turn the risers into drawer units for storing shoes or smaller items. In your bedroom, if possible have separate cupboards for your smalls and your hanging clothes.
4D –Everybody forgets that we live in a 4D environment, so it's not just about floor space, it's about volume. Walls and ceilings are also places to display your individuality, so be creative… make a collage wall of all your old University posters; it could be a statement piece that creates some interesting date night conversation. Have interesting wallpapers printed; make your home unique to who you are. Nothing impresses more than confidence.
Dining style – Let's be honest, who has time to give a solid wood table a good old oil rub? As much as a well-groomed table might make a lovely statement piece, when a table is dressed, who sees it anyway, so rather opt for something that's solid, reliable and cost effective. Recycle cool elements like old doors, or something simple like trestle legs to create a talking point.
An aromatic home – Someone once wrote that your home should smell like a man lives there. Honestly, your home doesn't have to be saturated by artificial aromas that will induce chemically enraged 60s flashbacks. Find a hot florist and get them to make you weekly bouquets of fresh cut aromatic flowers that seduce the senses. This will not only add colour to your space, but give the home a lovely outdoor feel.
Make your bed – Quality! Quality! Quality! I couldn't express this point much more than that. There is nothing worse than itchy sheets or 70s porn movie satin sheets in summer. Cleanliness is next to godliness, so always ensure your sheets are good and clean and fresh! Keep the sheet set simple, and inject colour and texture with throws or scatter cushions.
Your bathroom – Good ventilation is key. Your bathroom is the one place you can kick back and relax. Embrace the metrosexual male in you, and give your body and mind the time to unwind. This is the space where less is more, but each to their own. If you find stimulation with bold prints that take your mind elsewhere, then go for it and make your space work for you. However, if you aren't the long soaking kind of guy, then boost your bathroom experience with a rain or jet spa shower. Your bathroom should be both inviting and practical.
5 things that men should never ever have in their homes
1) Wall art of the ex's – make your art personal to you, that's important. However, if you have to have images of sexy people on your wall, rather use generic images or paintings that appeal to your sense of taste.
2) Beds filled with fluffy toys – lets' be honest, no potential partner wants to have adult time in a room filled with fluffy toys. Your bedroom is a sanctuary, and should reflect maturity and sensuality.
3) A kitchen that shows that you have no interest in cooking – food is the music of love and can project a certain level of sexiness, so make sure your kitchen has high quality utensils and make sure you know how to use them.
4) A messy closet that does not house great hygiene products – a partner loves a man that looks and smells great, so make sure your closet is tidy and stylish. Do not have a wardrobe that is cluttered, and filled with outfits you don't wear anymore. A guy should always keep a collection of high end fragrances, and live out of a wardrobe with classic pieces that can be mixed and matched well.
5) If you live in a small space that has multiple functions, like a bedroom that becomes an office during the day, ensure that at the end of your working day your bedroom becomes that sensual space again, so keep your business clutter boxed and out of sight.
For more info contact Joao on 063 782 4788 or email route3designstudio@gmail.com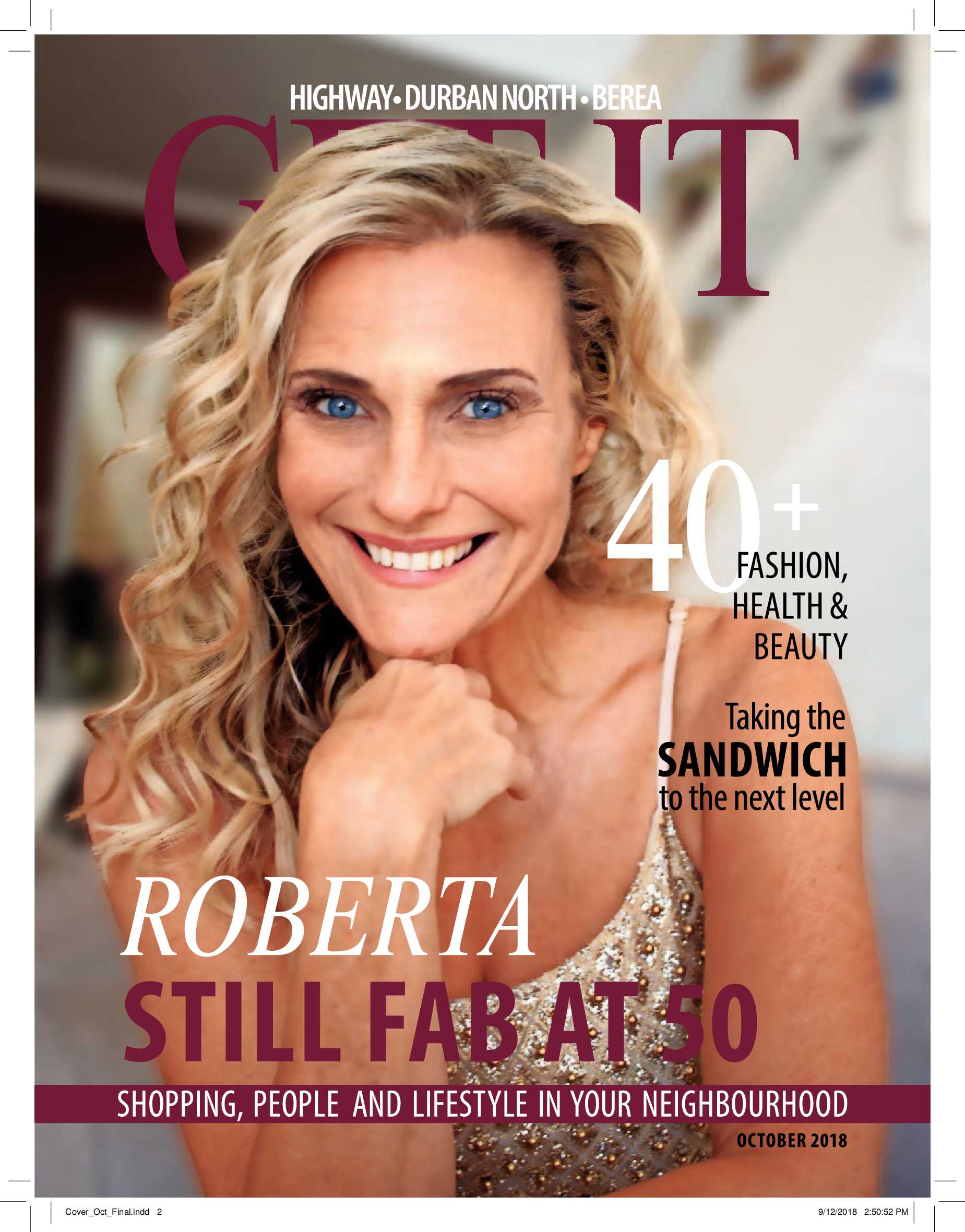 Get It Magazine Durban October 2018
Roberta still fab at 50
View magazine

Summer Spoil
Summer's looking more and more colourful. With shades of sunset pink, marine blue, grenadine and more, these Chameleon ICE watches go from the beach to the cocktail bar … beautifully!
It's wine o' clock
Whether you're partial to a crisp dry white, a fruity zesty rosé, or a ripe and full-bodied red with oodles of citrus or spice or rich mineral finishes, these are some really great bottles that should be in everyone's summer wine rack.
The Santa Run is Back!
It's the most wonderful time of the year; and what better way to enjoy it than with family and friends at this year's Santa Run powered by The Hub. KZN's very own Christmas themed 5km family run is a fun-filled experience that takes participants in, through, up, down, out and around the beloved Jonsson Kings Park precinct. And we have some tickets to giveaway!
Durban gets the nod for highly anticipated Calum Scott 'Only Human' South Africa Tour
Platinum selling singer/songwriter and Britain's Got Talent finalist, Calum Scott last month announced the South African dates for his 'Only Human' Tour in November with performances in Cape Town and Johannesburg. Following an overwhelming response from Durban fans via social media, Calum Scott has felt the love from KZN and has added 9 November at the Durban Botanic Gardens to the SA tour. And… we are giving away tickets!
Something new on your burger bun
Most of us love the idea of a burger, no matter what our food preference is, and burgers are certainly not for meat eaters alone. For those who are health conscious or don't eat meat, why not add this Pouyoukas recipe of spicy lentil burgers to your burger night as an extra option.
Summer scents
October Spoil
An afternoon of decadence.
21 reasons to open a bottle of FAT Bastard
Life, like FAT bastard, should be filled to the brim and enjoyed in large, delicious gulps. And this year, this well-loved, delicious, full-bodied range of wines, is celebrating 21 years of living large. So named because when first created by
Pinkies up, it's time for tea!
There's nothing quite like tantalising your taste buds in spring with a tall glass of iced tea, which is why we are over the moon that one of our favourite fruit juice brands, Sir Fruit, has introduced a bold, low sugar Ice Tea to its range.
It's fun, there is food, it's the Bierfest at Suncoast
Bierfest is back at Durban premier entertainment destination, SUNCOAST, with an offering of good food, music and beer at this year's TOPS at SPAR Bierfest!
is a national brand of premium free magazines available in centres across the country.
to see other Get It magazines in the network.