Look out, here comes the food truck
Experienced food truck owner and passionate chef behind Fudart strEATERY, Nardia Adams, is a huge fan of food trucking and her excitement and passion for serving up quality food in this contemporary style is catching. For Nardia, it all comes down to quality ingredients, the creativity behind an enticing menu, and the endless possibilities the future holds.
From gourmet burgers to fine dining, Fudart screams colour, fun and food. Wrapped in its bright orange skin with fonts in shades of purple and blue, this big 1978 customised Bedford Bus, which regularly features at events and shows around Durban, is an iconic and fun talking piece that can be seen a mile away before being heard. For anyone hungry and within aroma-wafting distance, the smells that come from the food truck's kitchen are simply heavenly – regardless of whether you have a savoury or sweet palate.
With solid local and international experience in the culinary field, including top positions at five-star hotel restaurants around South Africa, serving as a member on the National Board for the Chaine des Rotisseurs, as a personal chef to the deputy Chief of Mission at the US Embassy and cooking at a gala dinner for former American President George W Bush, Nardia loves nothing more than having the creativity and freedom to experiment. From compiling menus to finally getting a dish onto a plate, using diverse flavours, colours, textures and cooking techniques, she continues to extend herself in her profession.
"If you are passionate about cooking food, making people happy and also want to be your own boss, then this is an ideal industry. I prefer to be creative and different and I thought Durban needed a change, something different, so I thought I would bring this change to our city's streets. I was inspired to open a food truck by the excitement of designing it and its capabilities.  I was excited to know that I could drive into any venue and prepare a great meal. I also noticed a gap in the market for mobile kitchens needed at functions venues, exhibitions and festivals."
Armed with an eight-metre temperature controlled stainless steel kitchen, the Fudart strEATERY bus is self-sufficient with built in plumbing, electricity and gas. The type of equipment installed allows Nardia and her team to cater for various styles of cuisine and function-related food solutions from casual platters and upmarket street food to finer plated meals for exclusive private functions.
"From kerbside serving to queues of regular and new customers, to the capable hands of a professional team that can set up and serve your meal at your chosen venue or discreetly deliver to the kitchen door, it's quite a ride I'm on when I'm working in the food truck, and it's all about the food. From grilled items to fresh vegetables, our menu reflects a desire for fun, colourful, healthy and let's not forget delicious dining, eating, snacking, food trucking… whatever you'd like to call it."
And since variety is the spice of life, there's no doubt you'll love what's on the menu at Fudart. Picture this… a Harvest Table with jars of fresh salad greens and micro herbs, artisanal breads, Italian braised chicken, phyllo triangles and roasted seasonal vegetables , or a High Tea Table featuring dark couverture chocolate brownies, mini granadilla and lemon tarts, lavender and rose dressed doughnuts and Gorgonzola, spinach and caramelised onion quiches. There's the Food Truck menu featuring popular favourites such as the gourmet burgers, risotto and open tacos; a Canape Menu with Asian inspired roasted tomato and basil shots, roasted garlic and herb scented tomato and chevin tart tatin, and rose and cardamom pannacotta; and a Street Food Canape Menu featuring Thai prawn spring rolls dressed with a lemon and basil emulsion, a gourmet beef slider, designer dog and hand crafted ice creams topped with street sweets. If that's not enough, there's a menu full of AmazeBOWLS – mini bowls of warm meals like butternut and leek risotto or puttanesca served as an alternative to canapes and buffets; as well as a healthy School Menu of fresh sandwiches on brown bread, wraps, rolls and salads.
If you're on the lookout for that beeeeeg orange bus, you're most likely to find it at the exhibitions at the Durban Exhibition Centre, local markets, music festivals at Greyville Racecourse, Moses Mabhida stadium, the Botanical Gardens and Nardia's favourite venue, the ICC in Durban, because of the innovative events they host featuring both local and international visitors.
When she chose the name Fudart – it was based around Nardia's values for the culinary world, the art of food and everything about it.
"By now, I'm sure most people are aware of the fantastic food–truck phenomenon that's growing in Durban. I just can't believe how quickly it's taken off and how much I love it! Whether it be simple or contemporary – it's the respect and love I have for food and it's 'eaters' that excites me… the idea of good food, the adventure of serving upmarket food on the kerb. It goes without saying that fresh, good food is best for us. I wanted people to know that food can be brilliant, that there was something special to expect from us. Recipes made from scratch, from fresh ingredients and cooked well using passionate hearts and hands. Like any good product, the most important ingredient is always love."
For more info on where you can find this awesome food truck in the future, visit www.fudart.co.za  or call Nardia on 0832528885.
RECIPES
Smoked Salmon, Lemon Cream Cheese and Herbed Crumpets
Lemon Cream Cheese filling
Ingredients
250g cream cheese
1 lemon squeezed
Handful of chopped chives
Mix the items and season if necessary
Crumpets
Ingredients
500ml cake flour
45 ml sugar
Pinch of salt to taste
2 Eggs
250ml milk
125 ml water
20 ml baking powder
10 ml coriander chopped
10 ml chives chopped
All dry ingredients can be placed into a bowl. Separately beat all the liquid ingredients including the eggs. Mix the two bowls into one and fold in baking powder and herbs.
Fry the crumpets in a hot pan. 15ml will give you a small crumpet as in the pic.
Once you start to see the air bubbles, turn over to cook on the other side.
Method
Once cooled completely, top with 10ml Cream cheese, 10g smoked salmon and a micro herb garnish.
Notes: You can always add on Fudart's Chilli Onion Jam, Wasabi Caviar, toasted Sesame, Herbed Pestos or marinated Peppers for garnish.
Poached Prawns and Thai Tomato Shots
Ingredients
Prawns – 12 queen sized, cleaned with the tail tip on
Water in a pot to poach with the following ingredients placed inside:
3 garlic cloves peeled
1 bay leaf
Salt and pepper to taste
Half a lemon
50g butter
Method
Bring the poaching liquid to a boil and reduce right down to simmer when there is only a slight steam coming off the top.
Place the prawns inside until the skin becomes firm and pink.
Remove and place in a bowl of iced water to stop the cooking process
Thai Tomato Soup
Ingredients
1 onion Chopped
2 cloves of garlic peeled and crushed
15ml of Thai green curry paste – shop bought from the Chinese supe market is fine
10ml sugar
Salt and Pepper to taste
1 tin of Whole Peeled Tomatoes 400g-
Fresh coriander – handful, chopped and kept aside until the end
In a pot, heat the oil and sauté off the onions until translucent.
Add the garlic, sugar and seasoning.
After 2 minutes, add the curry paste and cook for a further 2 min.
Add the tin of tomatoes and cook down until well flavoured.
Blend until smooth. Season if necessary with sugar, salt or pepper.
Add fresh coriander and a squeeze of fresh lemon wedge
Serve in small Tot glasses.
Method
Garnish with prawn tails as per pic and garnish with micro basil for presentation and extra flavour
Tomato and Goats Cheese Tartlets
Pastry
Ingredients
250g cake flour
150g butter
1 egg yolk
10ml icing sugar
Pinch of salt
60ml cold water
Pinch of thyme flowers
Pinch of white pepper
Method
Place butter into a bowl. Sift flour and sugar in and blend with your fingertips. Separately – beat the egg, water, seasoning and thyme. Add the liquid into the blended mix and using a butter knife, cut the liquid into the dough. Trick is not to use your warm hands too much. Final bits can be brought together using your hands – wrap and rest in the refrigerator for 1 hour and 45 minutes or longer. Only once rested, roll out the pastry on a cool surface and line the 12 mini tartlets. Allow to rest in the fridge for 20 min.
In an oven of 200 degrees Celsius – bake  blind by placing grease proof paper and baking beans on top of each tart. Remove, and fill with the following ingredients
Filling
Ingredients
1 punnet cherry tomatoes, halved and tossed with 10ml olive oil, pinch of salt, pinch of sugar and freshly ground black pepper
2 mini loaves goats cheese cubed
Handful fresh basil leaves
3 eggs
250ml cream
125ml milk
50g Parmesan
Method
In a bowl, beat the cream, milk and eggs. In each tart, place the 3 cubes of hoats feta, basil leaves and 3 tomato halves. Top with Parmesan and bake for approx. 15-20 min. The egg mix should be firm and lightly golden when removing.
So, this is a recipe for a Handcrafted Herbed Beef Burger – 200g Beef Patty layered with Balsamic Onion Marmalade, fresh seasonal greens and Lemon and Rosemary Potato Wedges.
Handcrafted Herbed Beef Patties
Ingredients
600g ground beef mince
200g onions, peeled and finely chopped
20g rosemary finely chopped
30g flat leaf parsley finely chopped
2 garlic cloves
pinch of salt
pinch of sugar
pinch of white pepper
1tsp paprika
1tsp cumin powder
Method
Mix through the patty mix in a bowl, test a small teaspoon of the mix by frying in a pan. Season if necessary and then shape into 4 equal rounds. Grill or braai the patty until desired doneness. Approx.  six minutes on either side, on a medium heat will take it to medium.
For the burger
Ingredients
1 burger bun
20ml mayonnaise of your choice
10g lettuce, washed
2 slices of salad tomatoes, seasoned with salt and pepper
Cucumber ribbons
1 beef patty (recipe attached)
30g Fudart balsamic onion marmalade
20g Danish feta, cubed
20ml mayonnaise of your choice
Sweet Pea shoots
Method
Slice rolls in half. Spread a thin layer of salted butter on both sides. On the bottom, add a thin spread of mayonnaise. Place the lettuce, cucumber ribbons and sliced tomatoes on and top with the grilled beef patty. On top, add the balsamic onion marmalade, feta and garnish with the sweet pea shoots
Rosemary and Lemon Potato Wedges
(This is to serve a few servings)
Ingredients
1kg potatoes, washed and cut into even size wedges with skin on
2 lemons, cut into wedges
6 cloves of garlic, peeled and roughly chopped
4 stalks of rosemary
100ml oil
100ml water
Method
In a baking pan, place potatoes in with a drizzle of the oil and water. Season with salt, pepper and two stalks of rosemary. Squeeze the lemons onto the potatoes, toss and roast in the oven covered in foil until tender. Remove foil and roast for a further 10 min to provide colour.  Remove the pan from the oven. Squeeze out the remaining juices of the roasted lemon wedges onto the potatoes and toss in the remainder of the rosemary
Photo credits: James Howard-Davies.
Canapes – Credits go to Shirley Berko.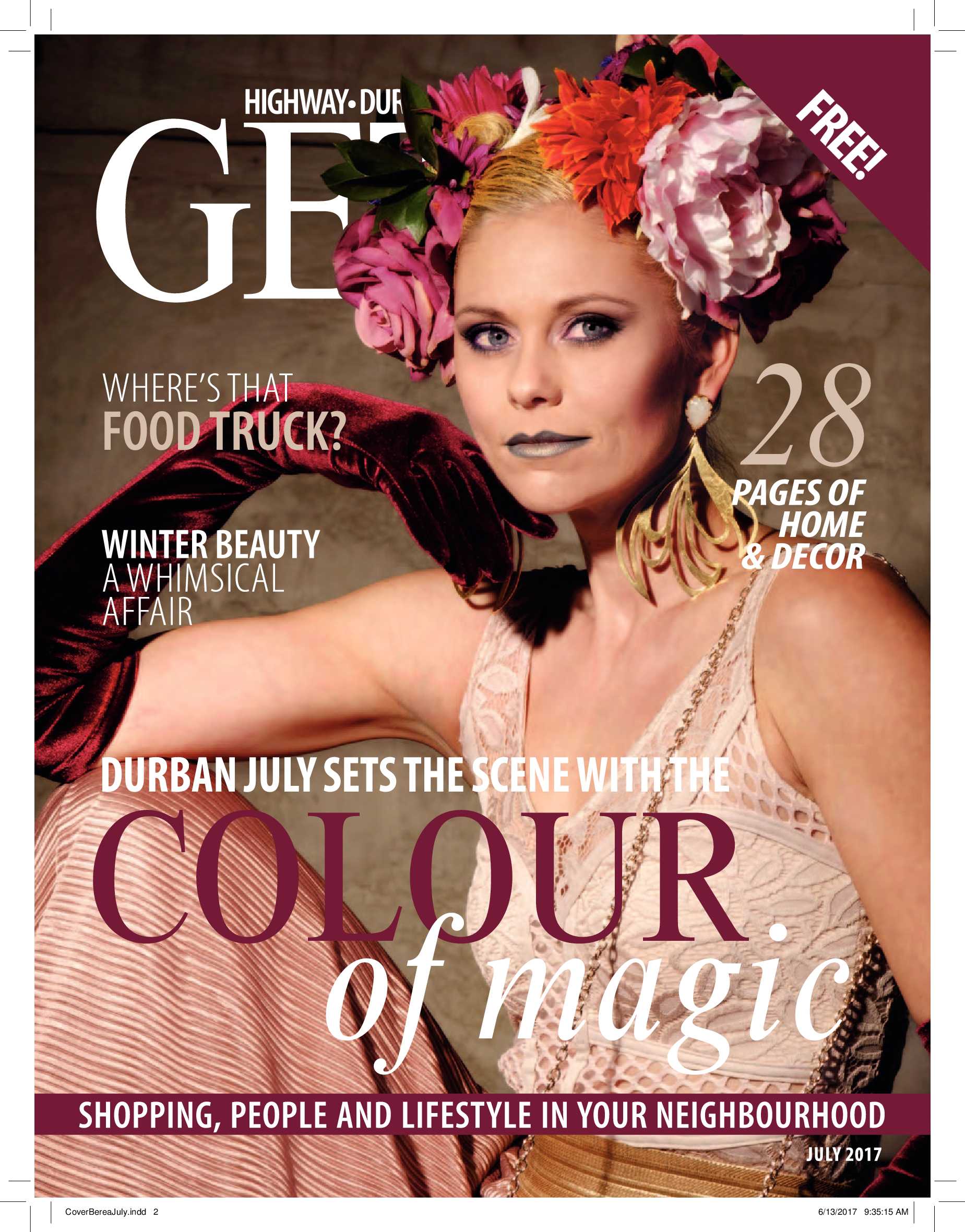 Durban Get It Magazine – July 2017
Durban July sets the scene with the Colour of Magic.
View magazine

Luxurious, chocolaty secrets
Don't like dark chocolate because of its bitter taste? We've got just the right fix for you… Lindt's Excellence Mild 70%.
Dream it! Plan it! Live it! at The Wedding Expo in Durban
Calling all blushing brides-to-be, bridesmaids, mothers of the bride and even the handsome groom! We know that planning a wedding can be such a tremendous and daunting task, where do you even begin? The answer is simple: The Wedding Expo at the Durban Exhibition Centre on the 5th and 6th of August!
Paisleys & Posies
Yes, we know it's not officially Spring yet but let's face it, here in Durbs winter isn't really a thing. In anticipation of the up-coming new season, we've taken a sneak peek at the nine new fabrics that have joined Lou Harvey's troupe of beautiful, bright and functional lifestyle accessories, and we've already started shopping!
Andre The Hilarious Hypnotist returns!
Durban favourite Andre The Hilarious Hypnotist returns to UKZN's Elizabeth Sneddon Theatre for two weeks this August, and you could win tickets to see the show!
Self-reflections: Ageless beauty starts within
The buzzword on everyone's lips at the moment is collagen – Pro Collagen, consisting of natural bovine collagen, offers a non-invasive supplement solution to combatting everyday aging, sun damage and scarring, as well as speeding up the body's healing processes.
Win with Pediasure
Children naturally have high energy requirements to support their growth and development, in addition to what they need for activity, sport and play time. If they do not get enough energy from food, they may become tired, irritable, and have poor concentration, losing their interest in being active. PediaSure® Complete is a nutrient-rich, lactose-free drink that provides balanced nutrition for children from age three to ten, experiencing growth challenges. Long-term clinical studies using two glasses of Pediasure® Complete daily has been associated with improved appetite and physical activity and a reduction in the number of sick days.
Airtushi – The Inflatable Travel Highchair
The Airtushi is an inflatable booster seat for kids. You can use it on planes, and attach it to almost any seat as a high chair.
July Spoil
Crabtree & Evelyn is renowned around the world for beautiful gifts and everyday luxuries that capture the essence of British style. Rich, indulgent body butters, nourishing cleansers, intensive, award-winning hand therapies – all the essentials your body craves. And then… they created La Source… a wealth of therapeutic marine goodness for head to toe nourishment, and we just love the stuff!
Win with the TOPS at SPAR Wine Show
Welcome to WINEderland where the stars are red, white and wild! For the second event of the 2017 national tour, the TOPS at SPAR Wine Show will be back at Suncoast, Durban to present a spectacular "pourformance" of South Africa's most loved wines and bubbly from 8th – 10th June 2017.
Handmade with love
Anything made locally and with love is something we just have to own, which is why we can't stop raving about the stunning range of heirloom artisan pendants from Home-Industry, in particular, their Unity Necklace (valued at R1380) consisting of four sterling silver organic rings beautifully displayed on a rolo slide chain and personalised to your liking.
is a national brand of premium free magazines available in centres across the country.
to see other Get It magazines in the network.