Meet the lady behind Cupcakes of HOPE – Sandy Cipriano
Today, the founder of Cupcakes of HOPE, a non-profit company and a Public Benefit Organisation with the aim of raising awareness and money for families in need of medical assistance, Sandy does everything, just as the name implies, through for love. Cupcakes of HOPE has several events during the year, however, their main event is National Cupcake Day 4 Kids with Cancer, which takes place annually in September, which is Childhood Cancer Awareness Month. This year's event is scheduled for 30 September.
With tenacity, patience and a will do more, last year Cupcakes of HOPE raised a whopping R1.2 million and Sandy's efforts are getting the recognition they deserve with many corporates starting to sponsor her cause.
With that said, we asked Sandy to tell her story…
Who is Sandy…
Sandy Cipriano is a University of Free State human resource graduate; Together with her husband Ciio Cipriano started a yearly fundraise for children with cancer as part of their restaurant Rio Sol's CSI program.
Sandy currently lives in Ballito and has two teenage boys, Ricardo and Tiago. In her spare time she loves photography, travel and camping with the boys.
Sandy has made it her mission to help educate parents about the early warning signs of childhood cancer as early detection can SAVE a child's life. For more please visit – www.cupcakesofhope.org
● In 2011 they set a new world record for the most cupcakes on display – 21 000. This event raised over R200 000 for children with Cancer.
● In 2012 she founded the non profit company Cupcakes of HOPE, a community driven project. The aim is to create awareness and raise funds for children with cancer, they do this through their love of baking cupcakes. In the same year they hosted South Africa's first National Cupcake Day in September, Childhood Cancer Awareness Month.
● In 2015 she was part of the group who set the new Guinness World Record for the BIGGEST Cupcake Mosaic in the world… a total of 33 660 was used to build a stunning mosaic of the South African flag.
● In 2016 Cupcakes of HOPE fund raising events were held at more than 50 malls across South Africa and they raised R1,8 million on the day. The funds raised so far has helped more than 500 children by paying for their medical or day-to-day expenses.
Sandy hopes that her foundation will inspire others (AKA Cupcake Angels) to also make a difference in someone's life, no matter how small the act of love is, it WILL make a difference in someone's life.
Sandy's motto: You do not need money to make a difference
Sandy had an Oprah "Aha! Moment" when she watched an Oprah show and realised that she does not need money to make a difference in this world, if we have a bit of time and loads of LOVE, we CAN make this world a better place. One of her dreams was to attend an Oprah Show in America, but to her surprise, Miss Oprah has actually visited Rio Sol Restaurant on a few occasions… This has definitely been one of her career highlights.
Her role model is Mother Teresa, a woman who dedicated her life to help the poor and sick. Her favourite Mother Teresa saying is: "Not all of us can do great things, but we can do small things with great love".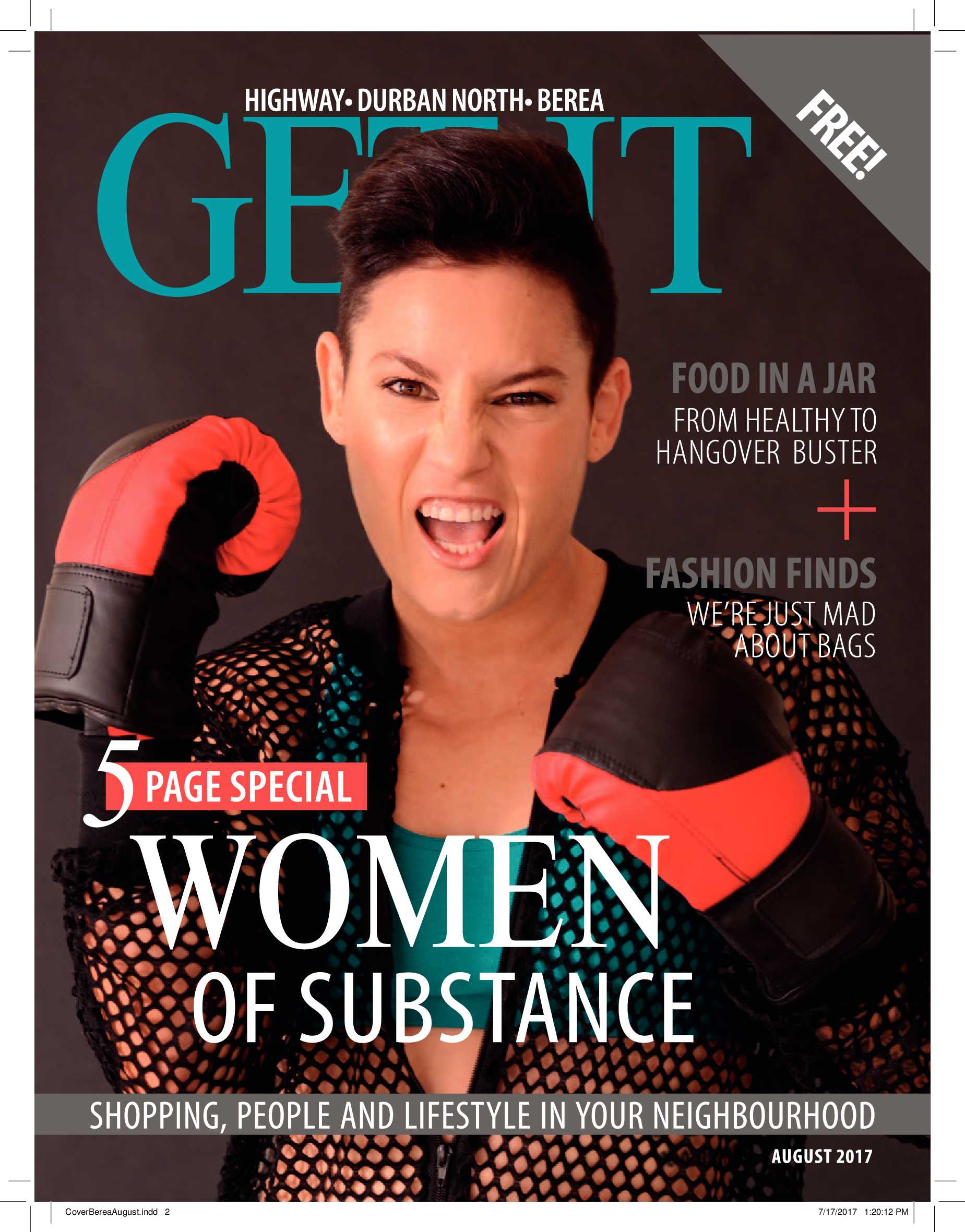 Durban Get It Magazine – August 2017
Women of substance
View magazine

Autostyle Motorshow 2017
The 14th edition of the Autostyle Motor show is back. Please save the date Sunday 17 September 2017.
Giveaway- a night of hilarious stand-up comedy entertainment at Butler's Restaurant in Hillcrest
Win 4 Tickets to a Stand-up Comedy Night! …proudly brought to you by On Fire Comedy, Savanna Cider and East Coast Radio! Date: Saturday 02 September 2017 Venue: Butler's Restaurant (24 Old Main Rd, Hillcrest) Start time: 8:30pm Closing Date: 30th August
8-TREK: The economical all-purpose ointment
8-Trek has grown in popularity and now it is available in two sizes, the small 25ml for bags and travel and a bigger 50ml tube which is for the home.
Luxurious, chocolaty secrets
Don't like dark chocolate because of its bitter taste? We've got just the right fix for you… Lindt's Excellence Mild 70%.
Paisleys & Posies
Yes, we know it's not officially Spring yet but let's face it, here in Durbs winter isn't really a thing. In anticipation of the up-coming new season, we've taken a sneak peek at the nine new fabrics that have joined Lou Harvey's troupe of beautiful, bright and functional lifestyle accessories, and we've already started shopping!
Win with Pediasure
Children naturally have high energy requirements to support their growth and development, in addition to what they need for activity, sport and play time. If they do not get enough energy from food, they may become tired, irritable, and have poor concentration, losing their interest in being active. PediaSure® Complete is a nutrient-rich, lactose-free drink that provides balanced nutrition for children from age three to ten, experiencing growth challenges. Long-term clinical studies using two glasses of Pediasure® Complete daily has been associated with improved appetite and physical activity and a reduction in the number of sick days.
Airtushi – The Inflatable Travel Highchair
The Airtushi is an inflatable booster seat for kids. You can use it on planes, and attach it to almost any seat as a high chair.
is a national brand of premium free magazines available in centres across the country.
to see other Get It magazines in the network.