South African Student accepted into Princeton University
Tyler Hollingsworth, co-founder of Aspire Atlantic and USA Scholarships, who assisted Guy with his application, is thrilled with the news. "Guy is a highly talented individual, demonstrating immense character by achieving an 'A' academic average, upholding his duties as Head Boy, keeping his golf handicap down to a scratch and achieving the top SAT score of any Aspire Atlantic or USA Scholarships candidate. We are privileged to have assisted him in finding his dream university."
Guy will begin his journey at Princeton in July 2017 as he has been invited to attend the Freshmen Scholars Institute programme that the university offers. "I am really looking forward to being a part of the history that Princeton University boasts and getting involved in the vast array of opportunities both in the classroom and on the golf course. I'm intent on playing my best golf and getting the best degree I can, and from there see what opportunities present themselves."
Guy will be playing for the Princeton Tigers golf team.
Guy has had a passion for golf from the moment his father put a plastic golf club in his hands. From here, his competitive golfing career started at the age of 6 through "Little Kids Golf," a golfing tour designed for ages of 6 – 14 years. On this tour Guy experienced stepping up onto that first tee box with all eyes watching. "My dad was my caddy and with his guidance I learned much about life and golf." Since then Guy has represented Gauteng and KZN Schools at the highest junior level (U18). Guy's golfing highlight came in 2015 at the South African u17 championships. "In the final round I shot a bogey free 6 under 66 to finish 3rd. This round has been pivotal to my golfing mind-set as I proved to myself that I can compete with the best. I was awarded the honour of Head of school in my final year and I believe that golf was the one sport that taught me to balance the day to day challenges along with the 'curved balls' that are always about."
In grade 10 he went on an exchange to Woodberry Forest in Virginia USA. This experience really opened him up to the opportunities that life has to offer. "During my stay a golf instructor arrived at the school to teach us. When he learned I was from South Africa he walked up and said: 'Howzit boet?' From here he gave me his thoughts about the possibilities golf can provide at receiving a world class education and having a competitive golfing opportunity. Once back home I set about researching universities that I felt could provide me with a great education and a strong golfing programme. Then in 2015 my father and I received tickets to go to the Masters from one of the 2 South African members at Augusta National. We decided to go to the States a little early and visit some of these universities. One of these was Princeton. The allure of an Ivy League and the incredible scenery immediately grabbed my ambitious thoughts. We met the golf coach and stayed in contact over the years. I wrote my SATS and did reasonably well. I completed my Common App having done all I could to try and show off my better side. On our return, my dad put me onto Aspire Atlantic to try and extend our communications to USA universities. I met with Tyler Hollingsworth and Tamryn White of Aspire Atlantic who succinctly laid down the workings of how one stands the best chance of acceptance. This was hugely beneficial as I was introduced to other golfing opportunities throughout the USA and as a result of the assistance received from Aspire Atlantic, offered scholarships."
Tyler affirms that acceptance to an Ivy League University (such as Princeton) is not easy; it takes dedicated hard work, the correct systems and the right people. "Aspire Atlantic consultants spend an average of 70 hours per student securing an acceptance/scholarship and ensuring all university admission requirements are fulfilled. Most people do not have the time, are not willing to put in the hard work, and they often struggle with contacting the right colleges, coaches, registering with the NCAA, preparing for the SAT and applying for Student Visa's; which is why so many people do not think it's possible. Aspire Atlantic acts on the student's behalf, introducing them to the best universities and coaches while helping them navigate the complicated and lengthy acceptance/scholarship process."
And when they successfully place a student?
"It's hard to put into words the feelings I get when we successfully place a student at an international university. It is exciting, humbling and satisfying all at the same time because we really are changing people's lives. The students who go through our programme, only a few months earlier, thought international study was but a dream. That's what is so amazing about what we do here at Aspire Atlantic, we get to make dreams come true, and I am extremely privileged to be able to do this for a living," Tyler adds.
What Guy loves most about golf is the test of how well you know yourself. And once you think you know yourself, it all changes. "In my opinion, golf is the most mentally challenging physical sport out there and requires extreme mental toughness. I love its ruthlessness and the unrelenting belief that you can always get better."
Guy's advice for aspiring golfers is as follows: "Work hard in the classroom as well as on the golf course. Universities are looking for more than one dimension. Being 'smart' is great, but does not get one into some of these universities who have between 30 000 and 40 000 applicants per annum, with an acceptance rate of around 6%. The students who apply are expected to be 'smart,' so be sure you have something special or extra to offer that may give you the edge. From there, it is just good luck that takes you over the finish line."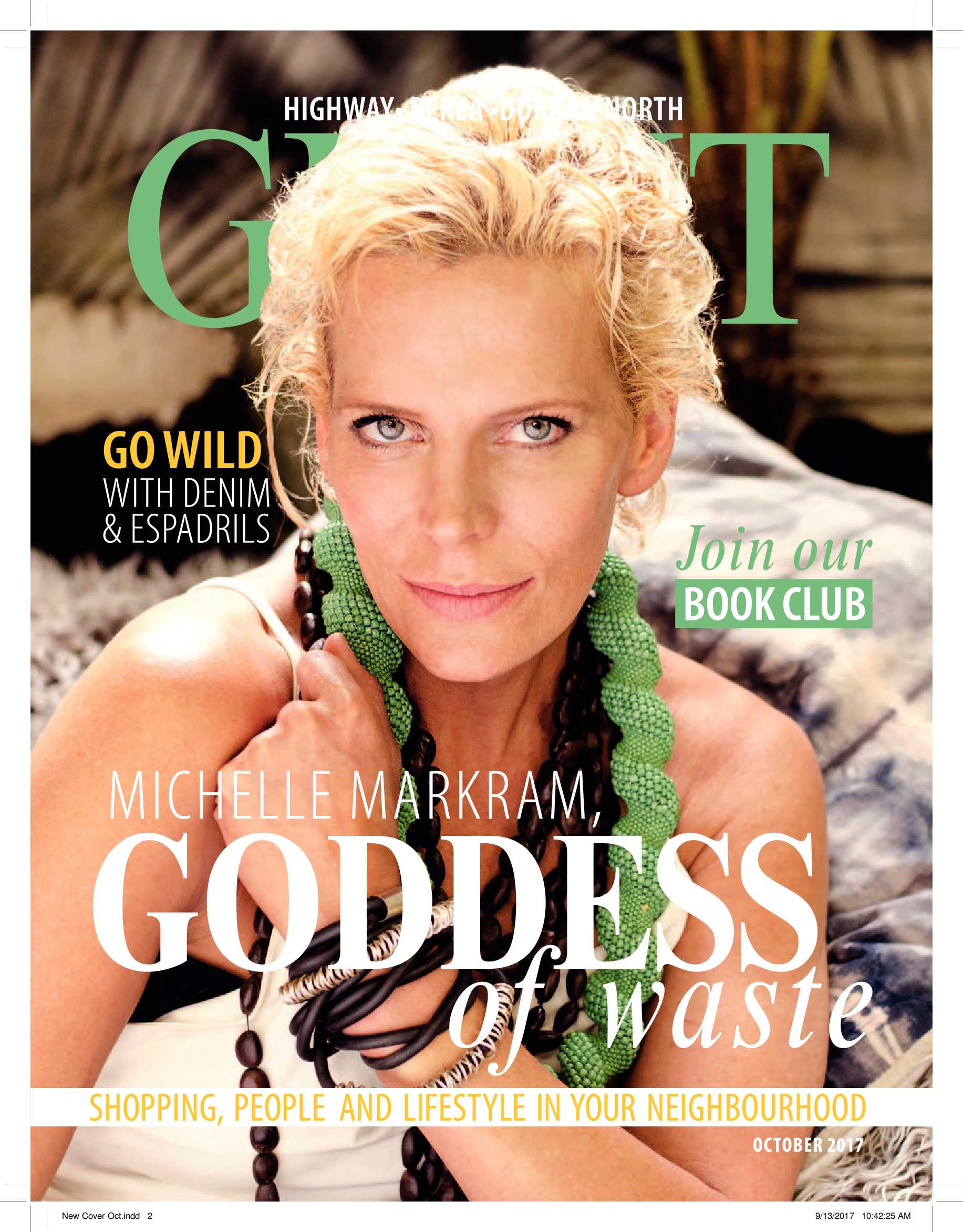 Get It Durban October 2017
Michelle Markham, Goddess of waste
View magazine

Wanna win a R500 Col'Cacchio voucher?
Hey pizza lovers! We are offering you the chance to win a R500 voucher from Col'Cacchio, the popular Italian inspired franchise known for its gourmet thin-base wood-fired pizzas, hearty pasta and crisp fresh salads.
Wealth Movement Event
Interested in Wealth Movement? We are giving away two tickets to the event below at Coastlands Hotel, Umhlanga on 31 October 2017.
Yusuf Cat Stevens ticket give-away
British singer-songwriting legend and Rock and Roll Hall of Fame inductee, Yusuf / Cat Stevens is touring South Africa for the first-time next month, and you could win a set of tickets to the Durban show.
The Midlands Kitchen
Motorists driving the long slog of the N3 highway will soon have an exciting new stopping point that's promising to deliver a taste sensation.
Durbs: can you handle all the heroes?
The Color Run is back! In 2017, it's bringing The Superhero Tour to Durban's shores. Strap on your capes – it's gonna get colourful.
October Spoil
Time for a classic, and oh-so-beautiful, timepiece.
Sense by Hollandia
A sense of wonder for the bedroom.
is a national brand of premium free magazines available in centres across the country.
to see other Get It magazines in the network.